Members' Stitching During Lockdown - Summer 2020
1. ​Val House, summer 2020: 2. June Withers, summer 2020 i : 3. June Withers, summer 2020 ii: 4.Shirely Stride, summer 2020: 5. Rosy Wilson, summer 2020: 6. Marion Clegg, summer 2020, : 7. Heide Jenkins, summer 2020 i: 8. Heide Jenkins, summer 2020 ii: 9. Heide Jenkins, summer 2020 iii: 10. Rosy Wilson, September 2020 i: 11. Rosy Wilson, September 2020 ii: 12. Rosy Wilson, September 2020 iii: 13. Cathy Garrety i, design by Helen Richman, Bluebird Embroidery: 14. Cathy Garrety ii, designs by Corinne Lapierre : 15. Cathy Garrety iii, design by Dizzy and Creative.s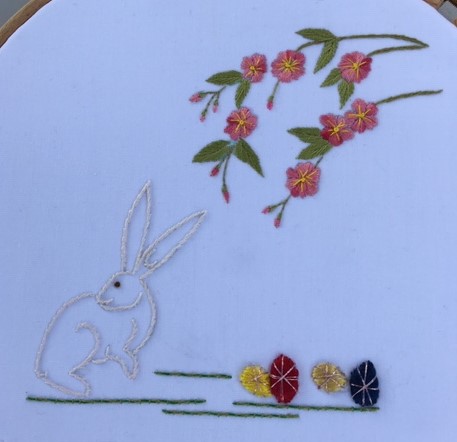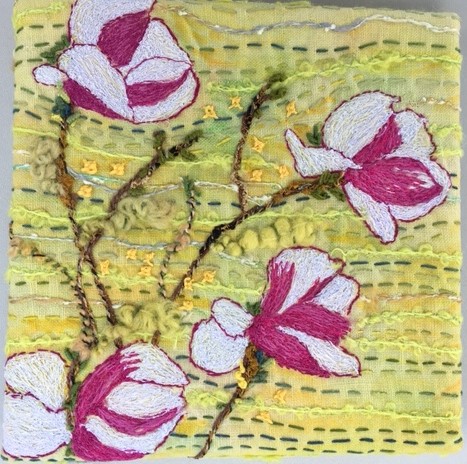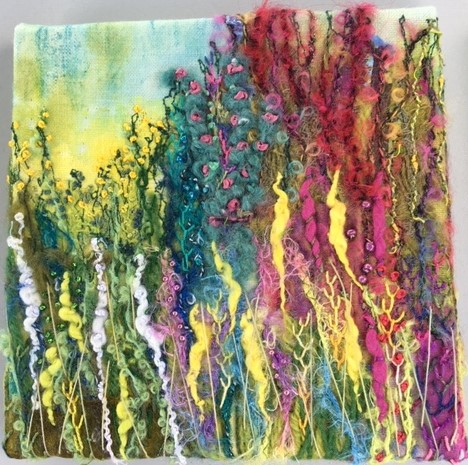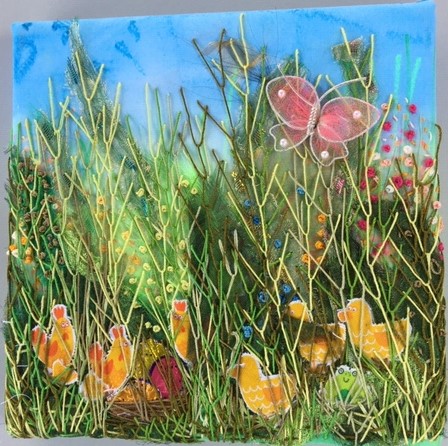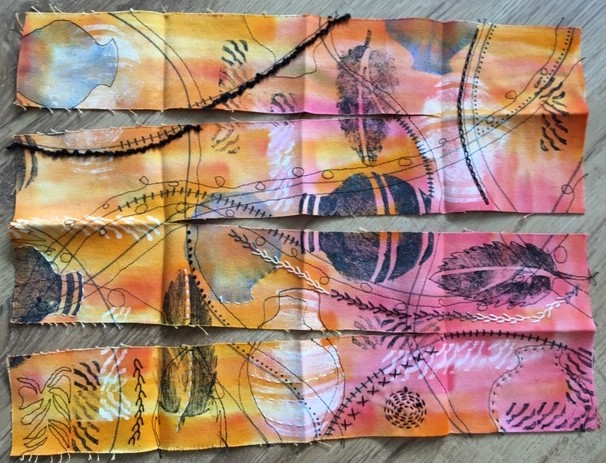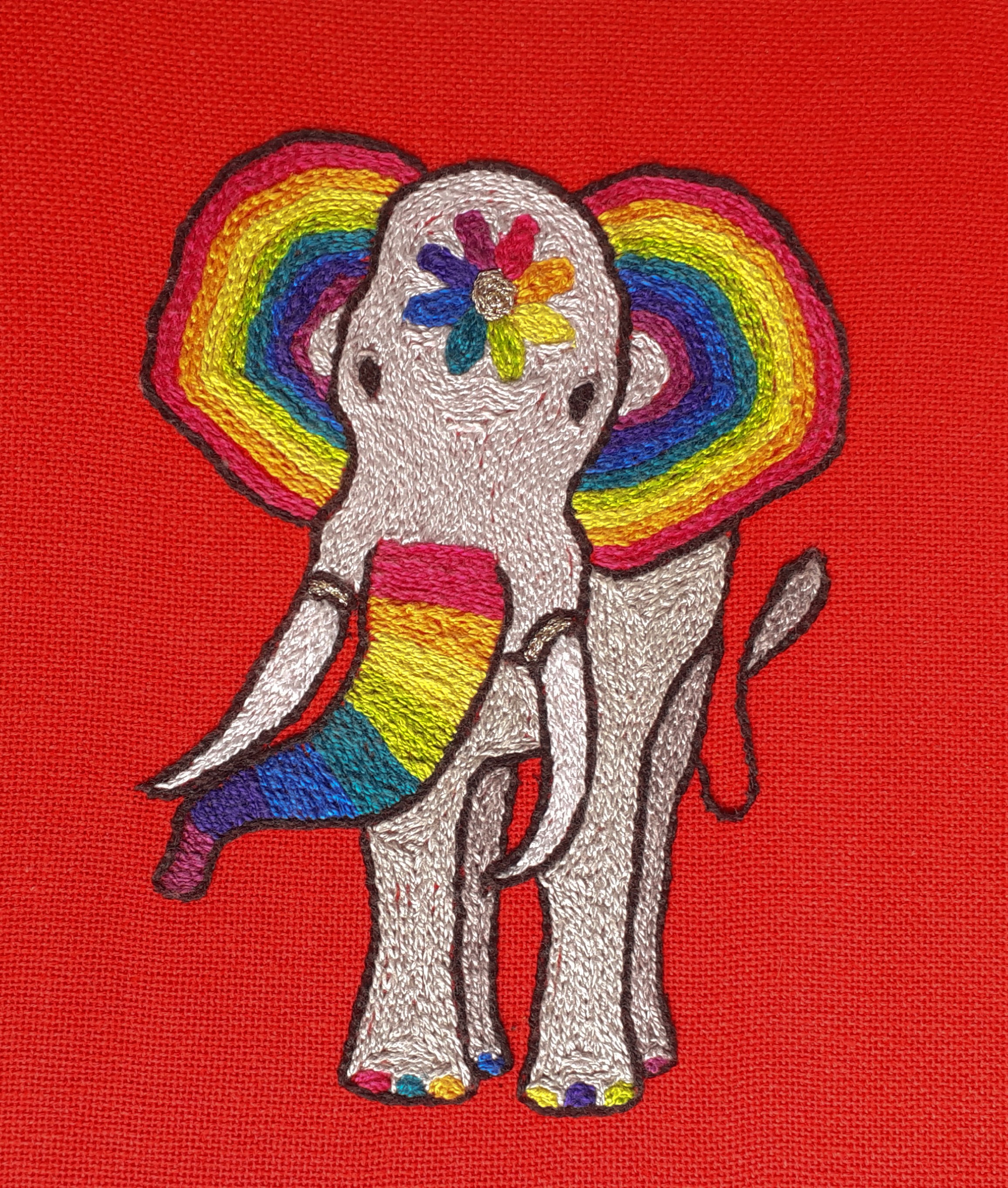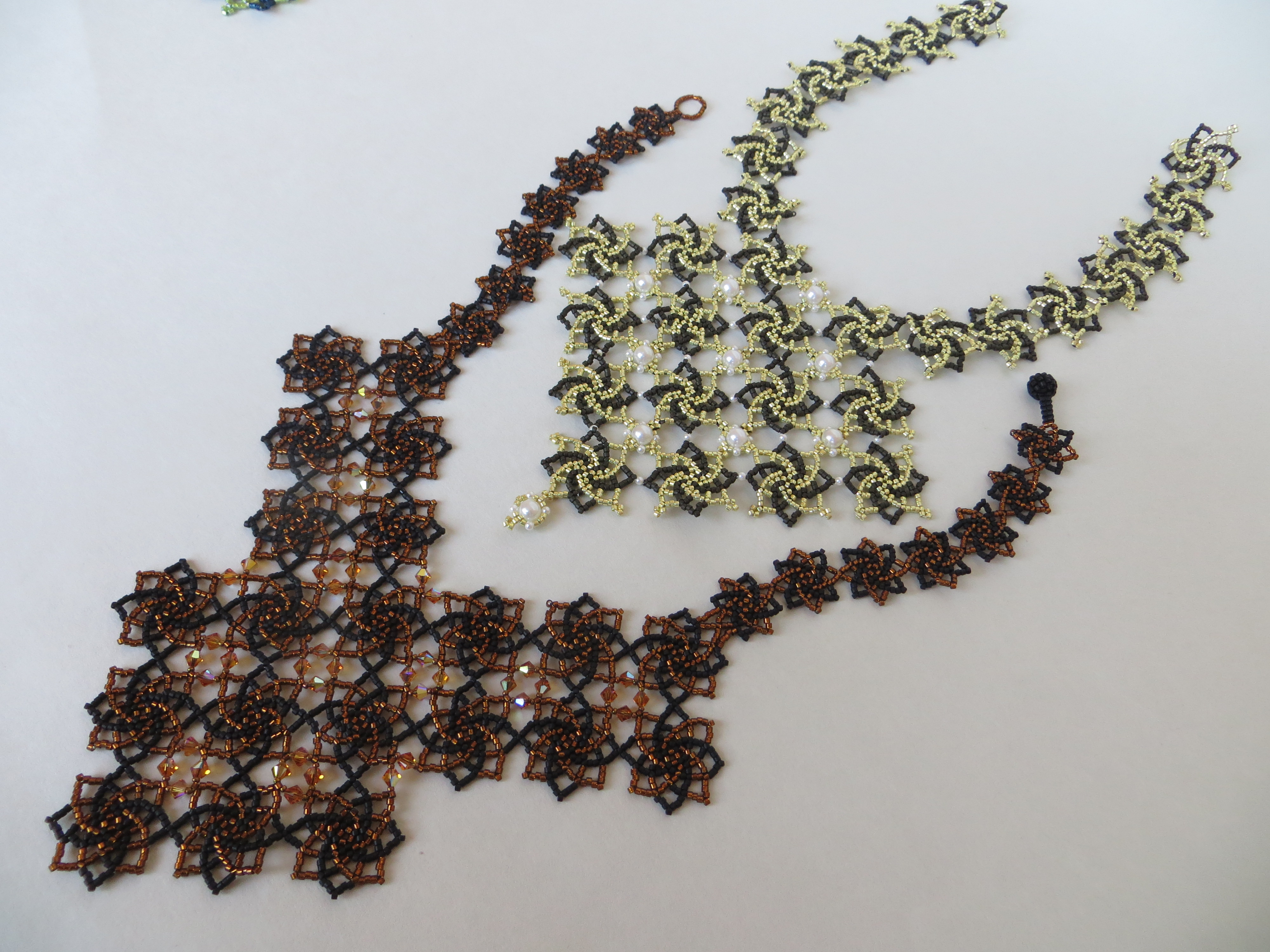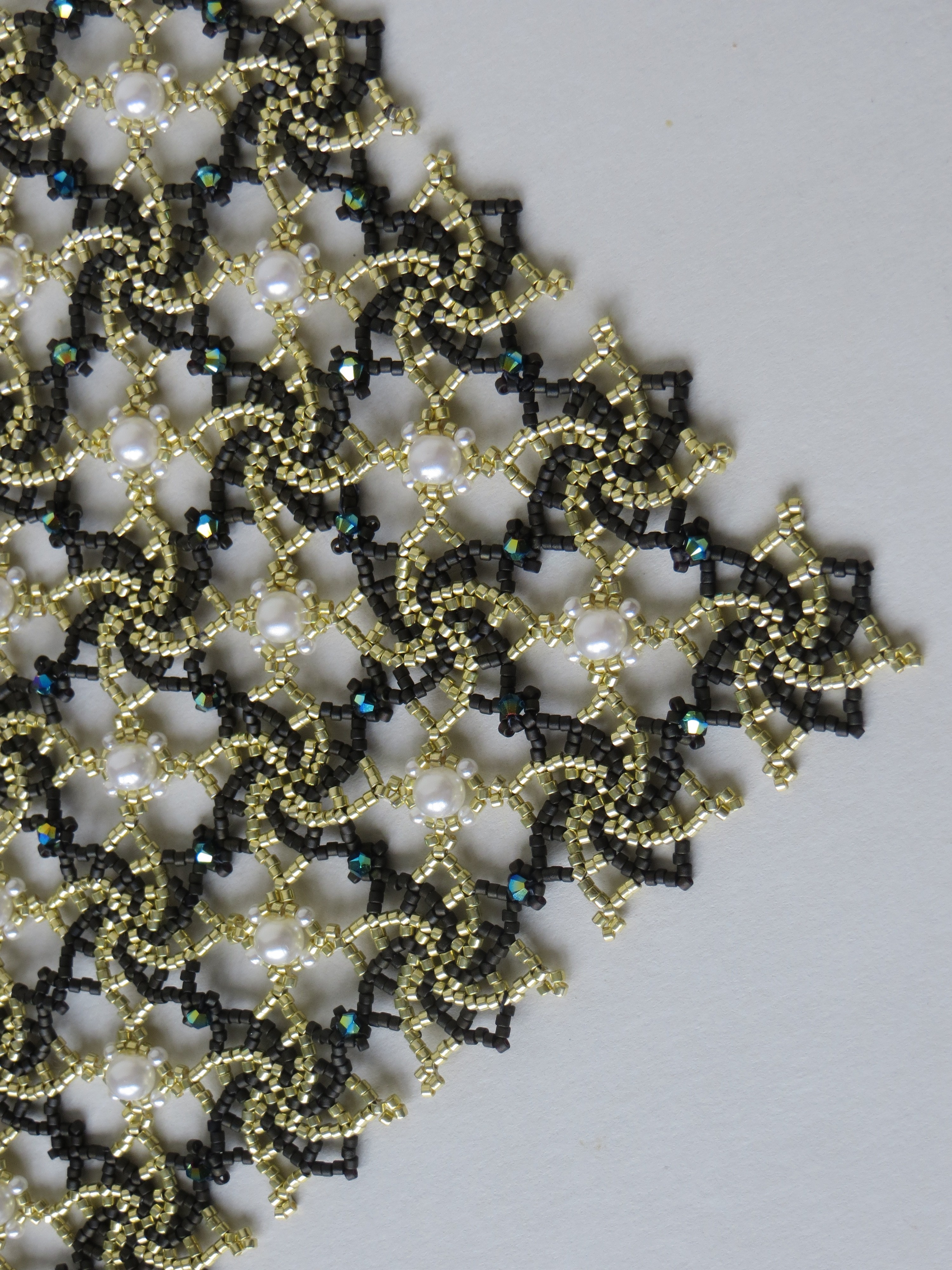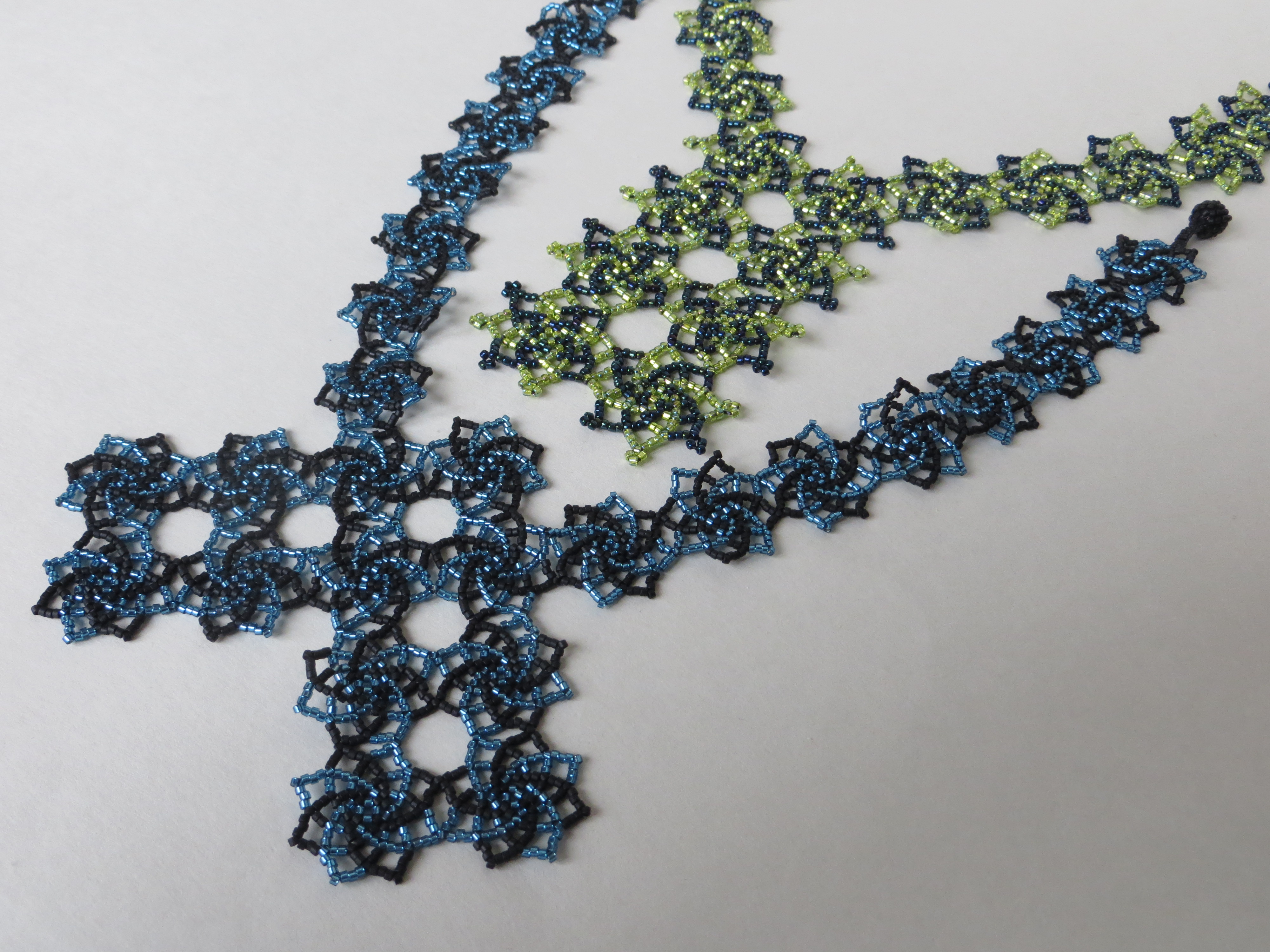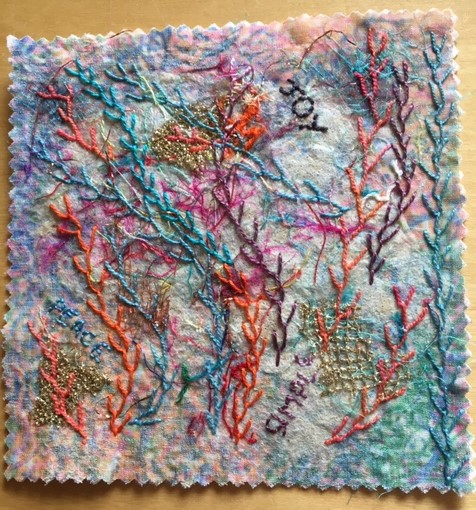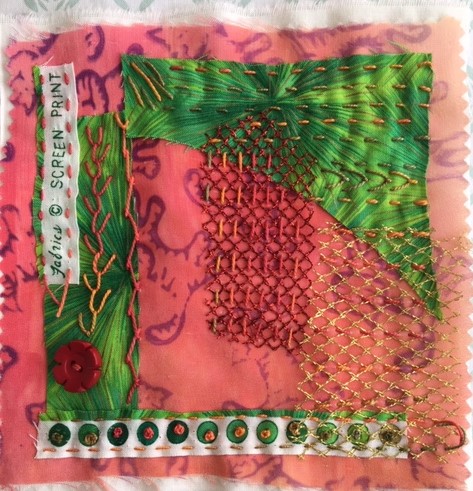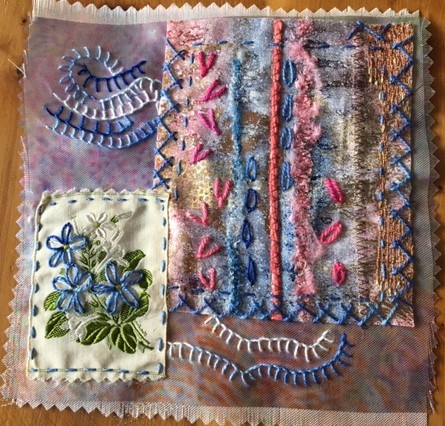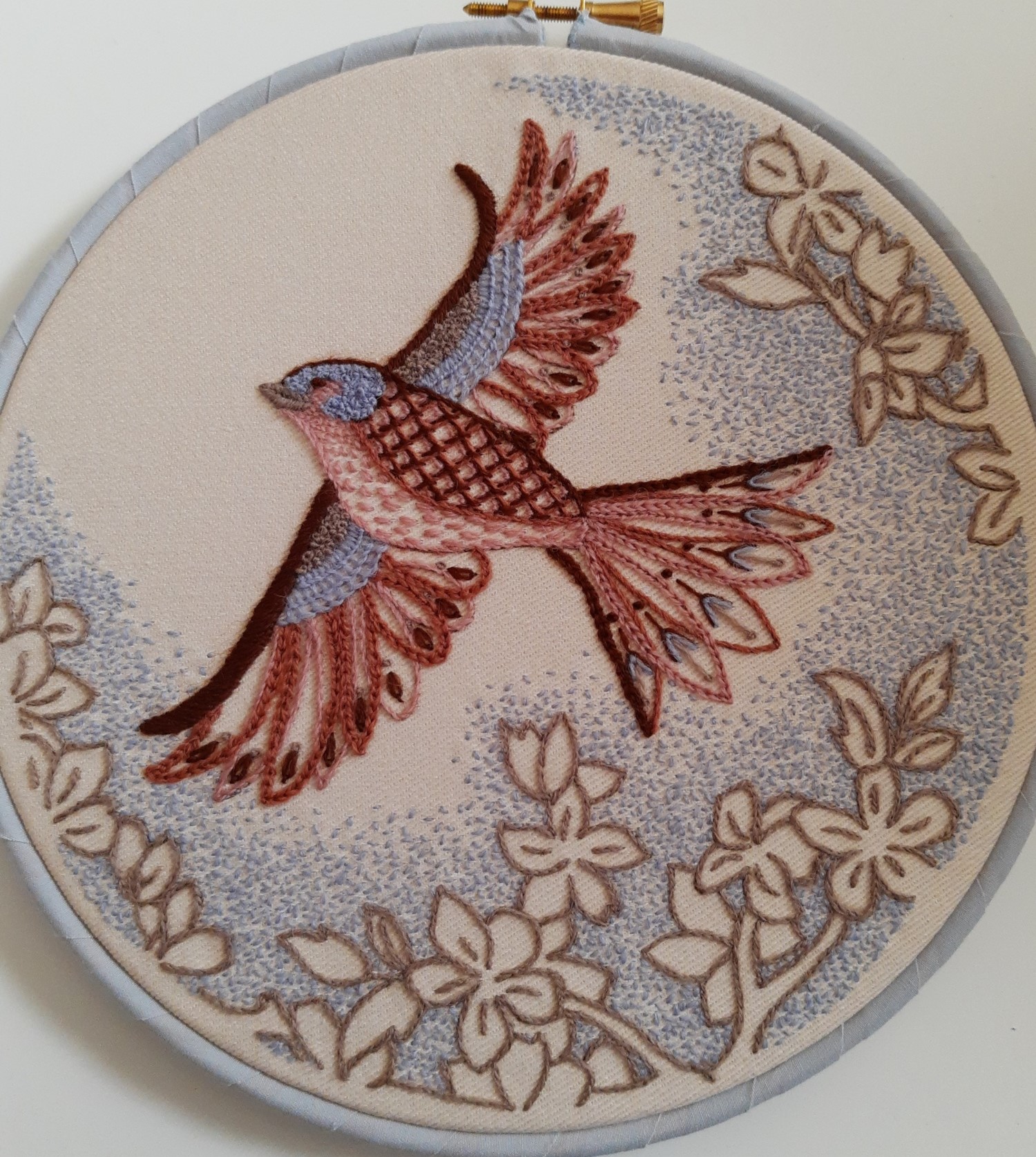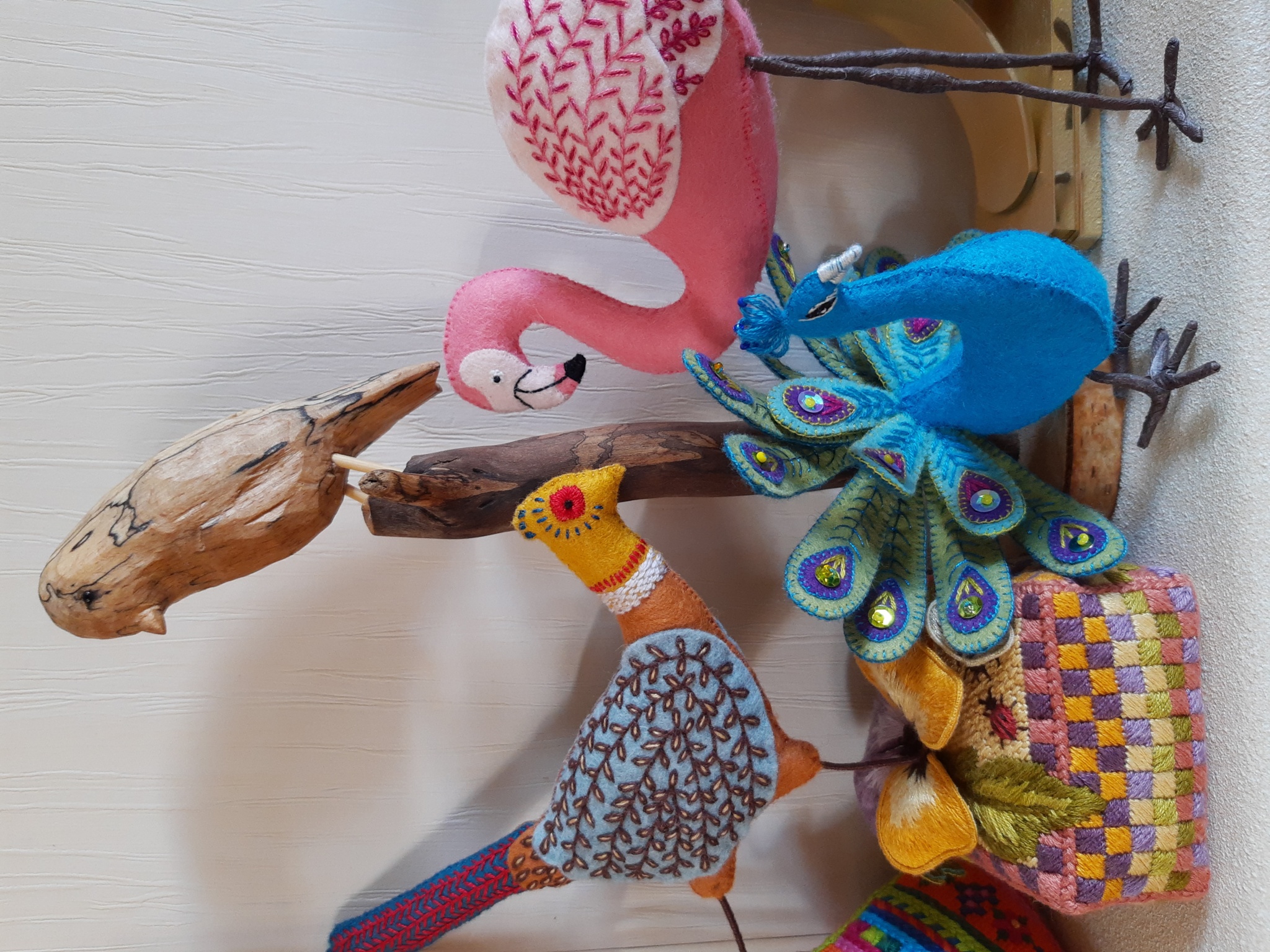 Beadwork part 2 with Heide Jenkins and Angela Schmid
​Samples of beadwork necklaces for the class on May 27th 2020.
Beadwork part 1 with Heide Jenkins and Angela Schmid
​Sample of beadwork pendant for the class on April 29th 2020.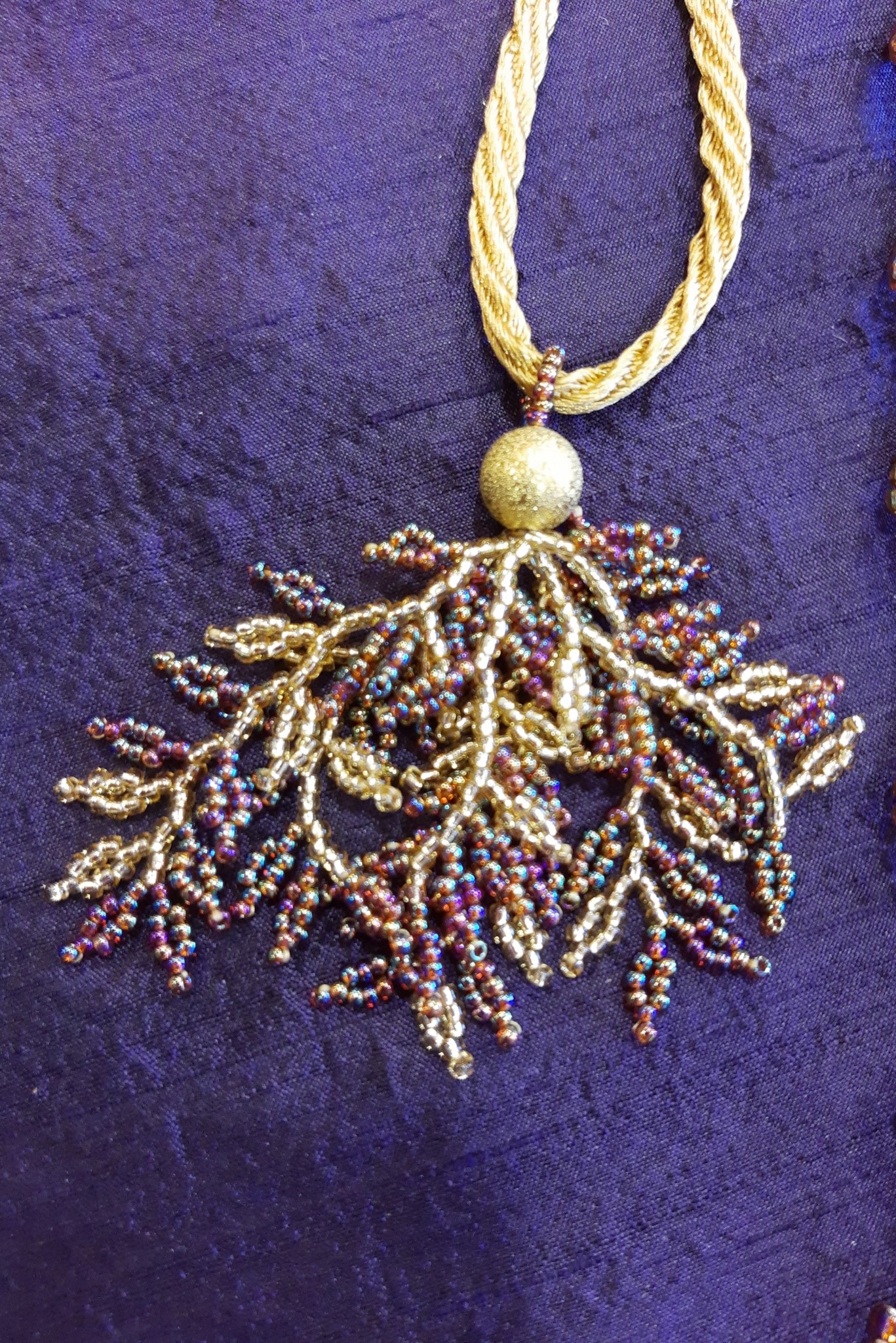 Mixed Blackwork with Colour Jill Green - March 2020
​Sample of Blackwork courtesy of Cathy.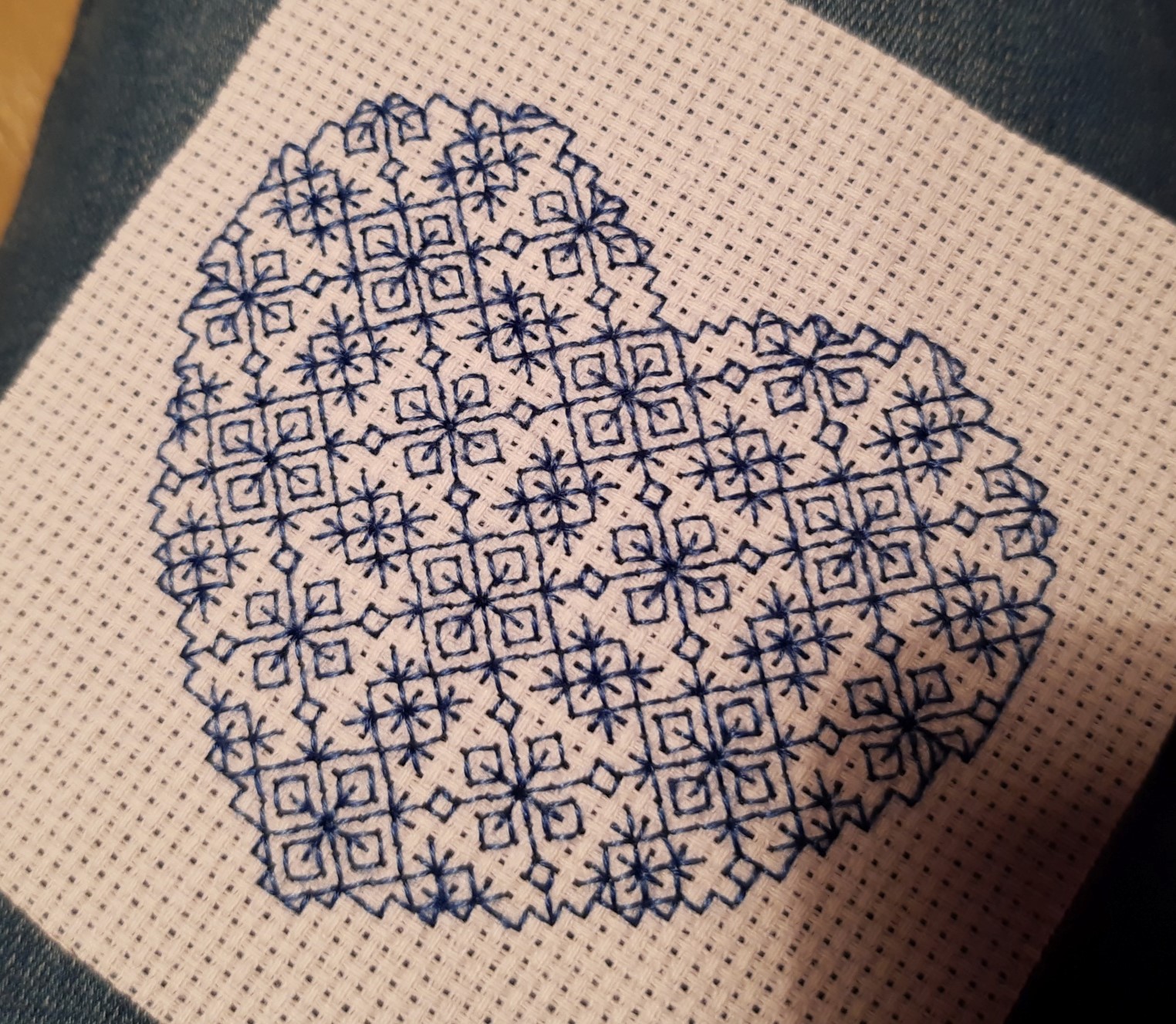 Members' Stitching 2019
​Photos thanks to Cathy Garretty.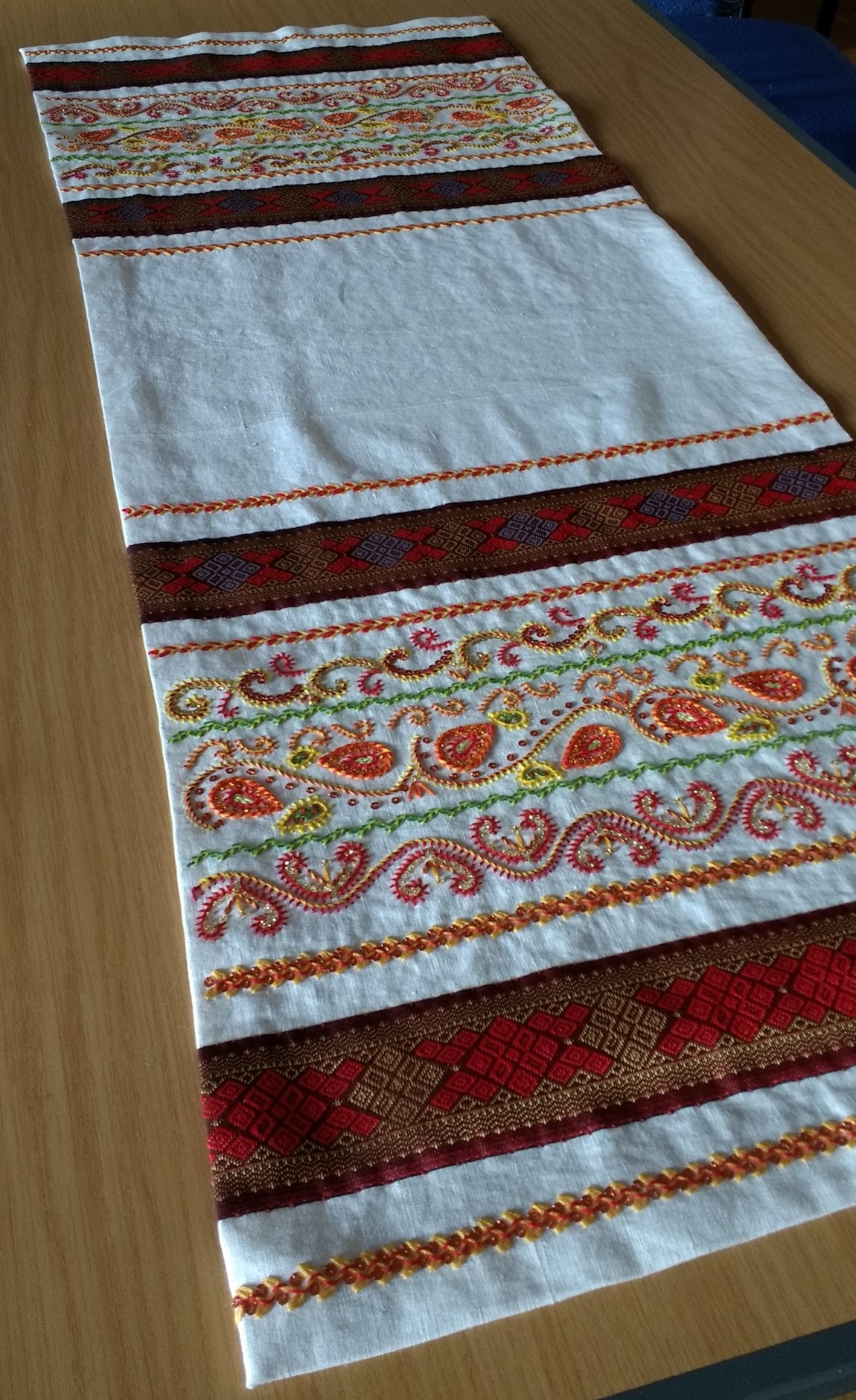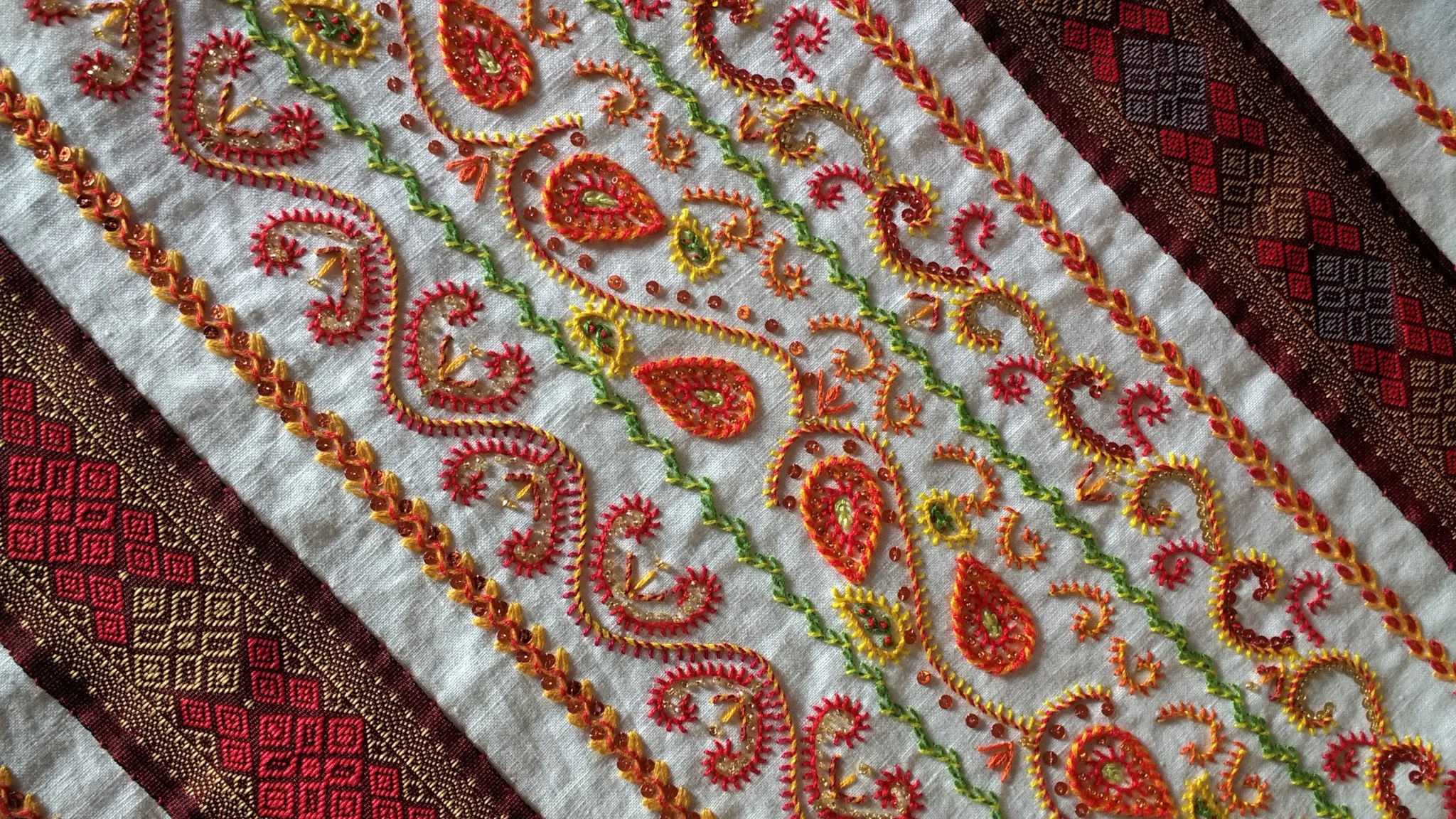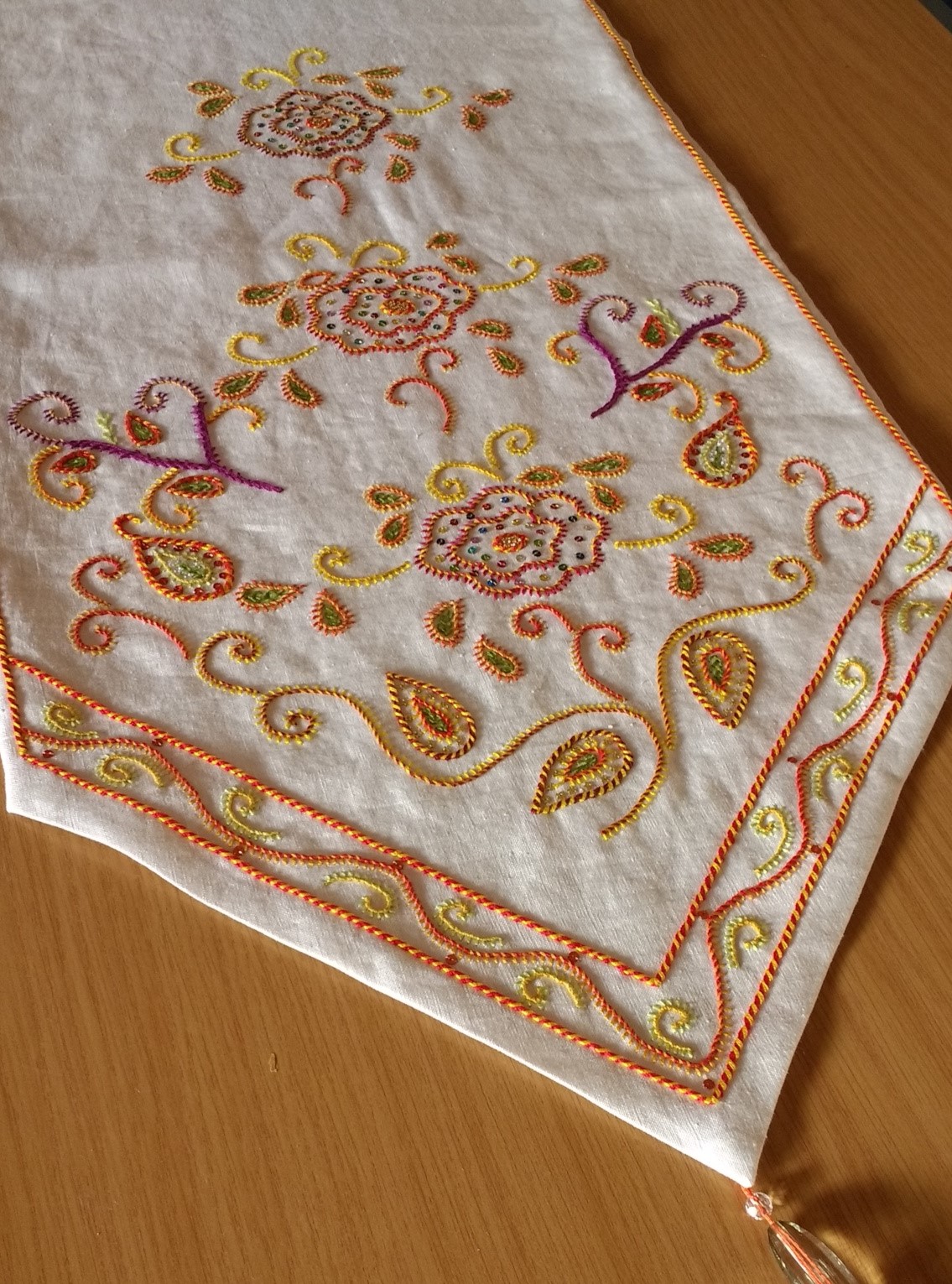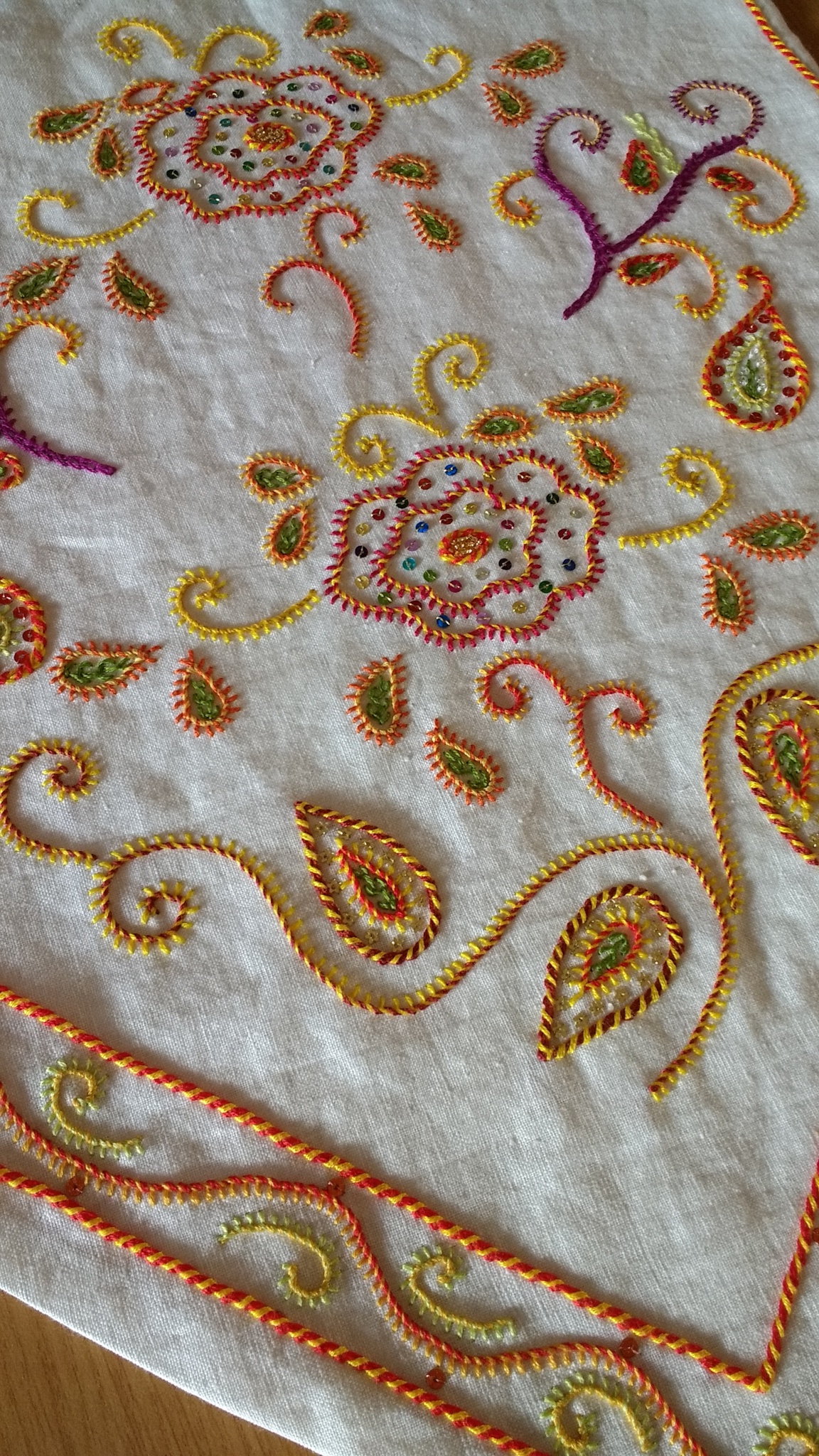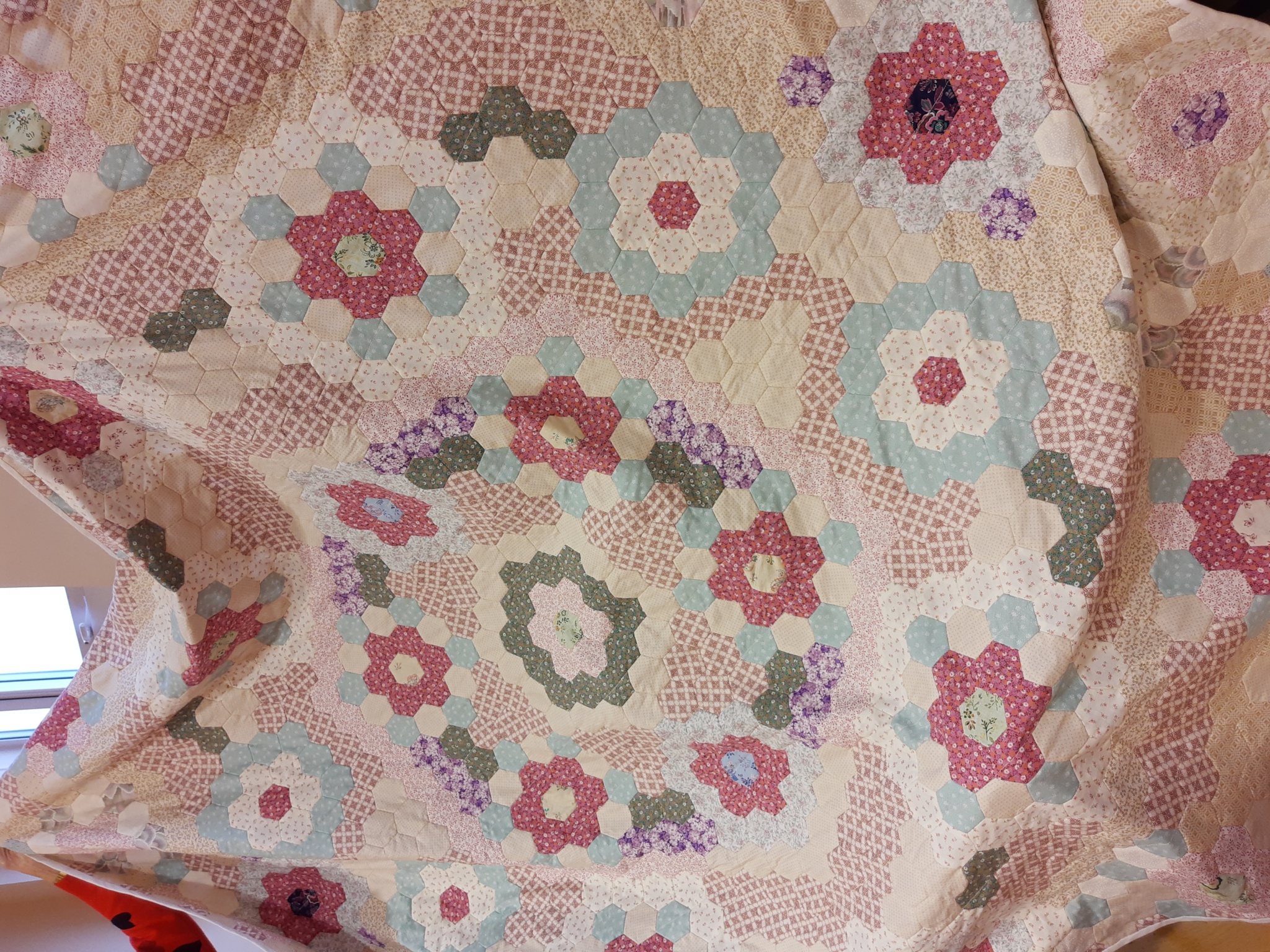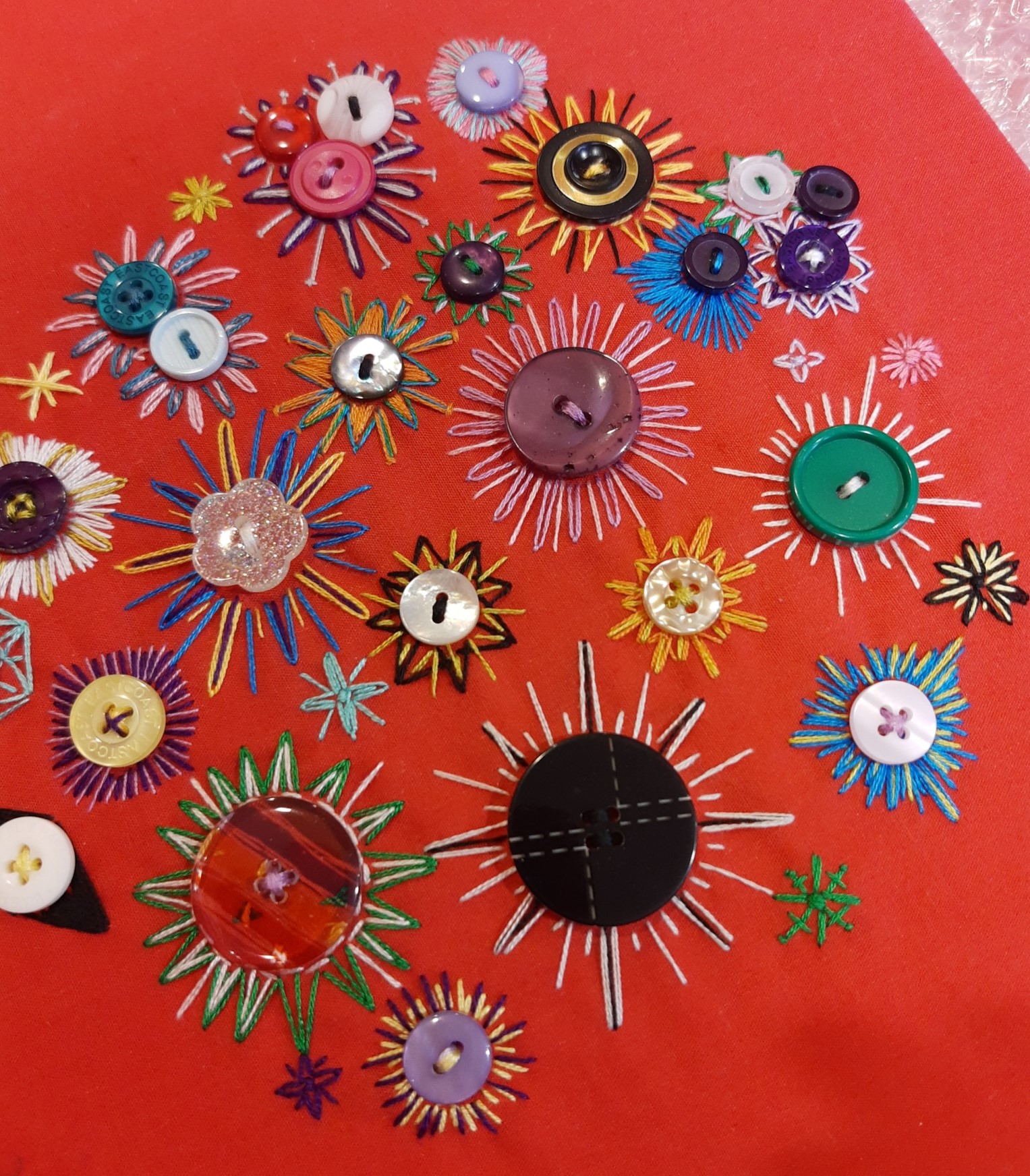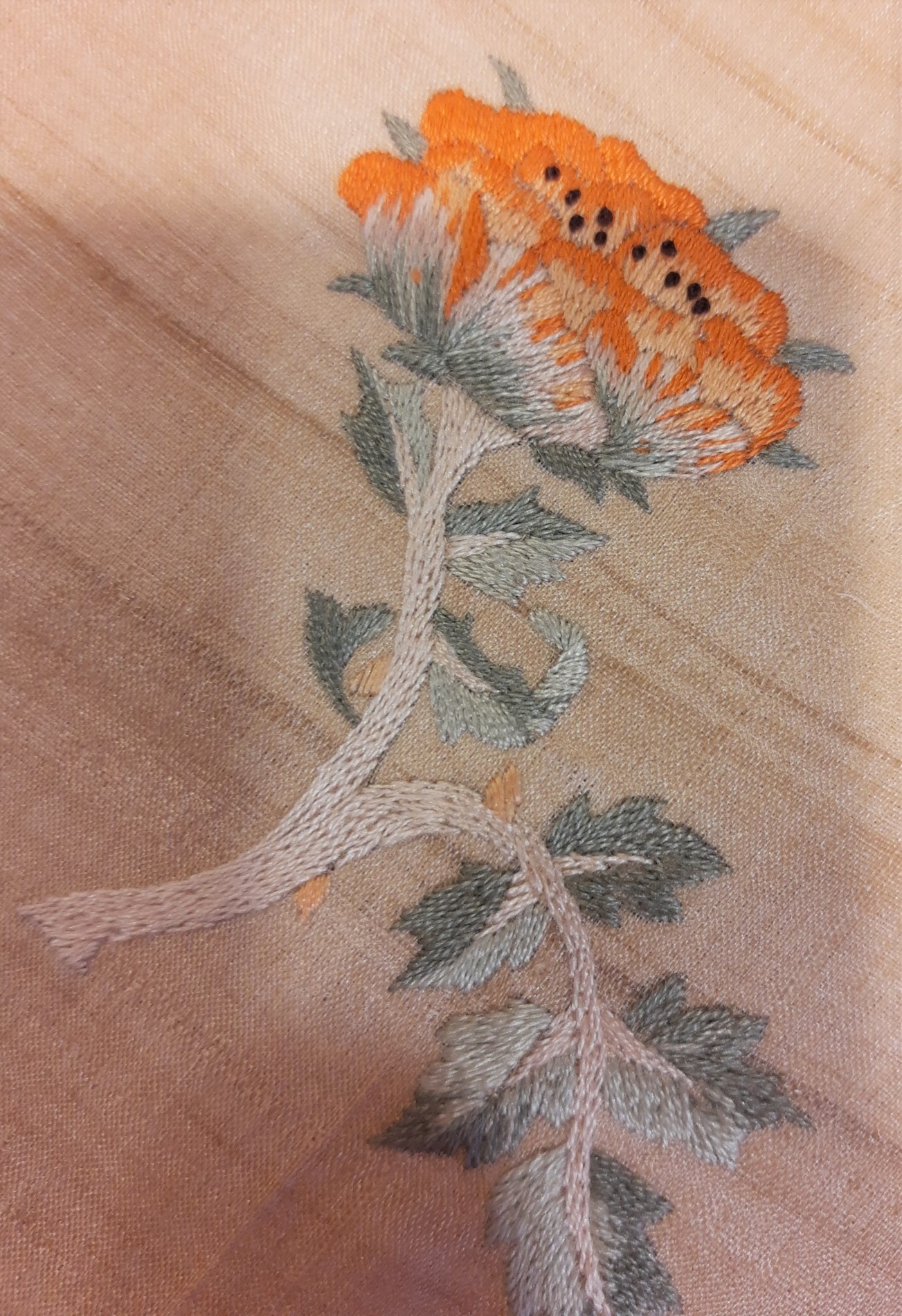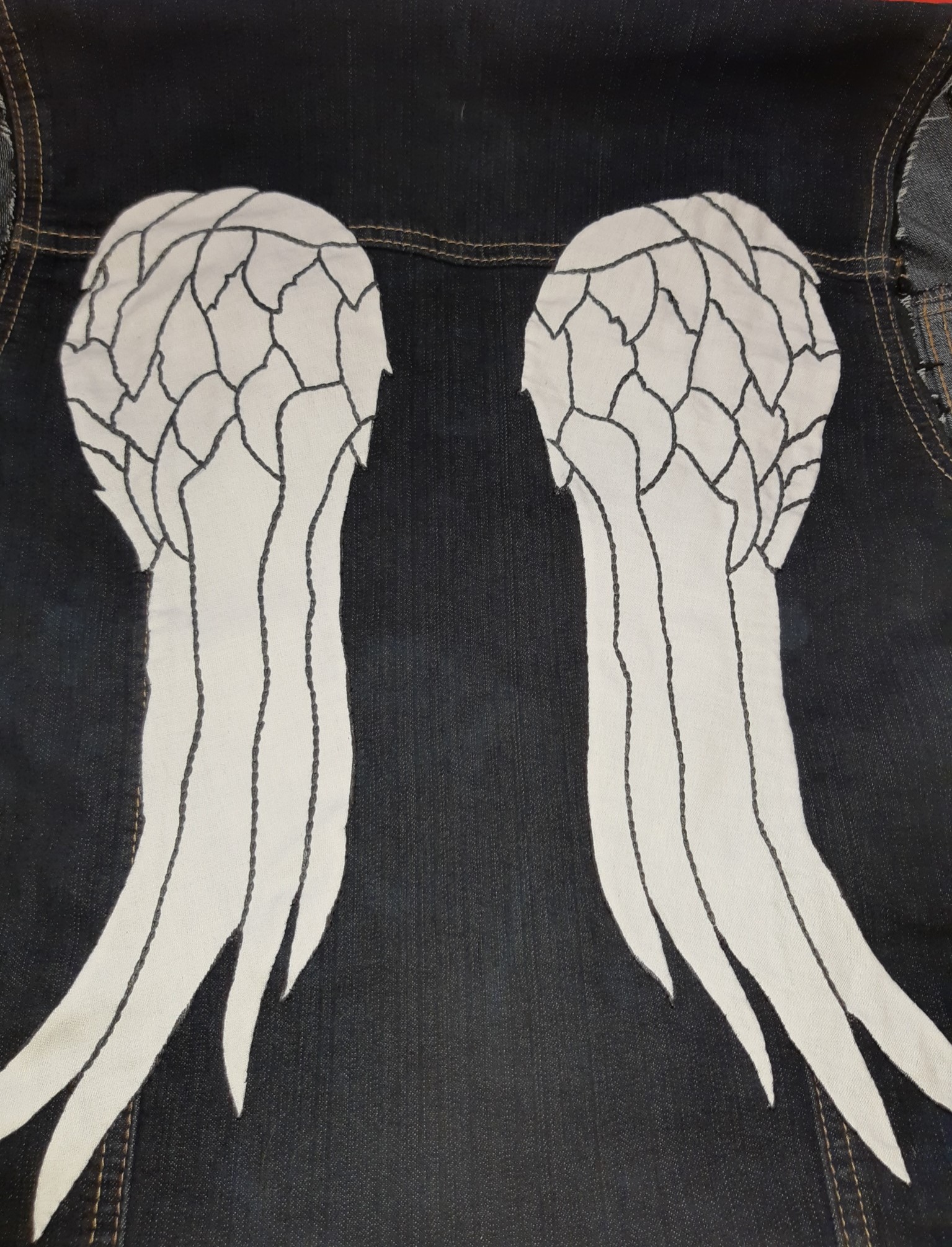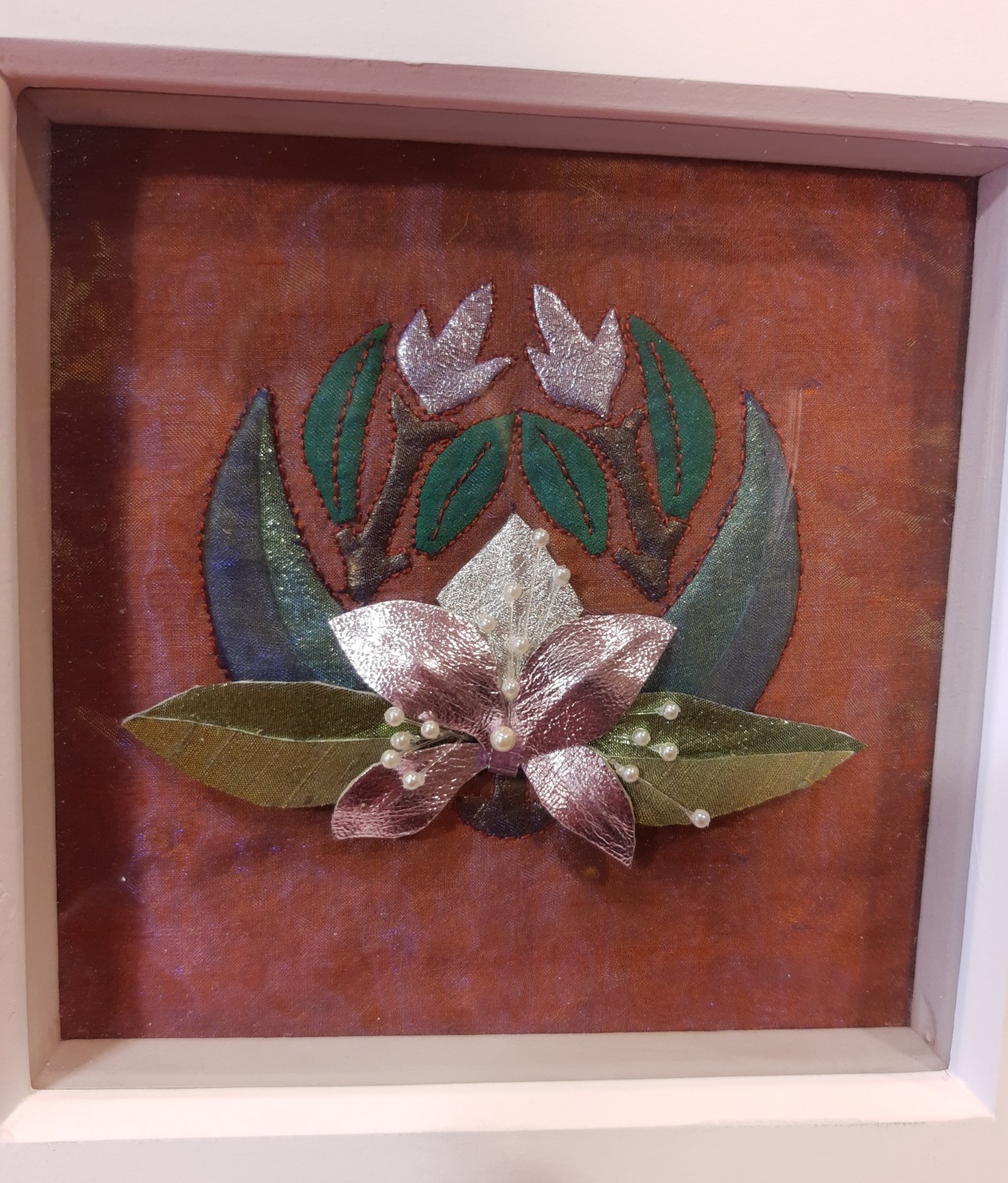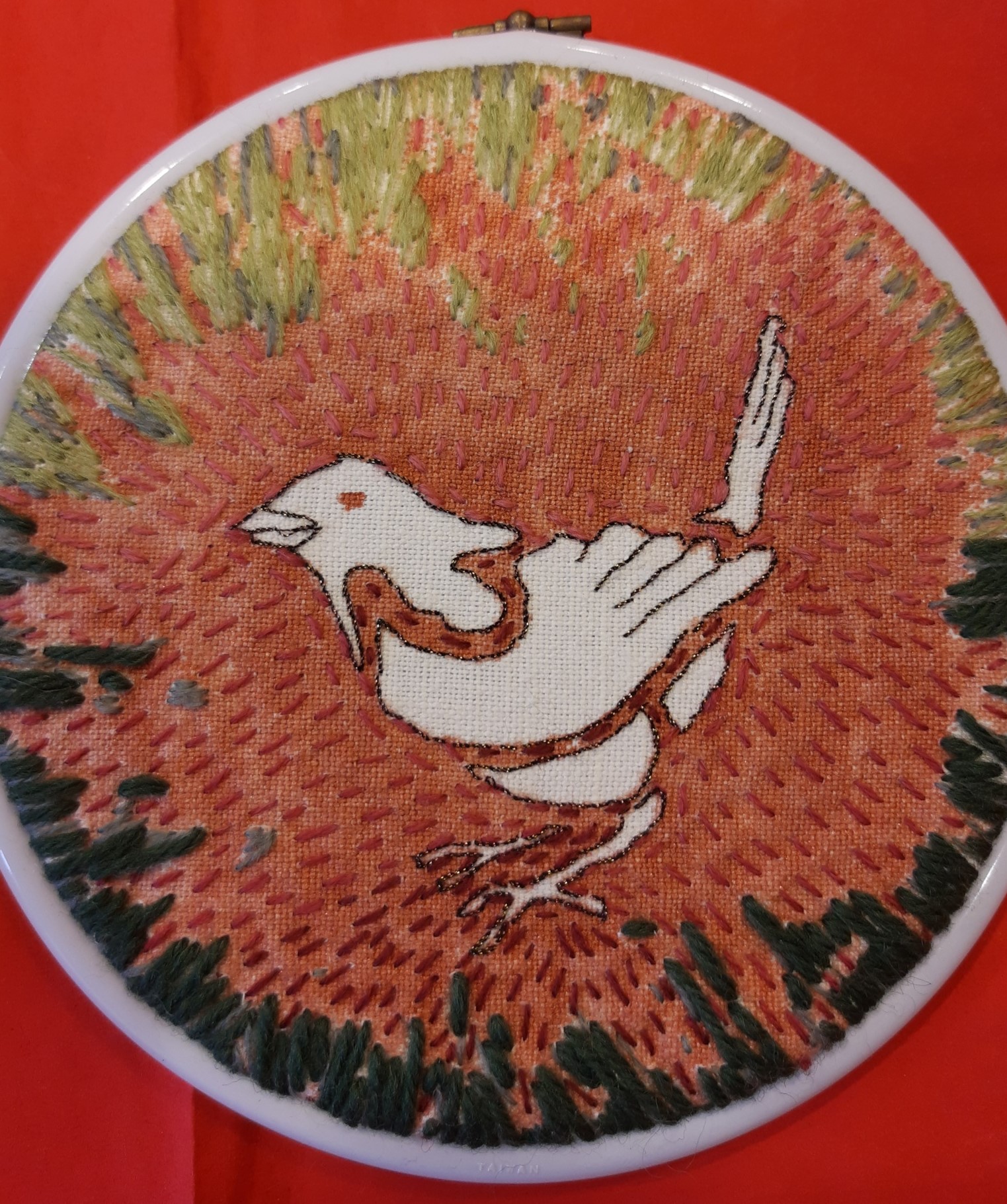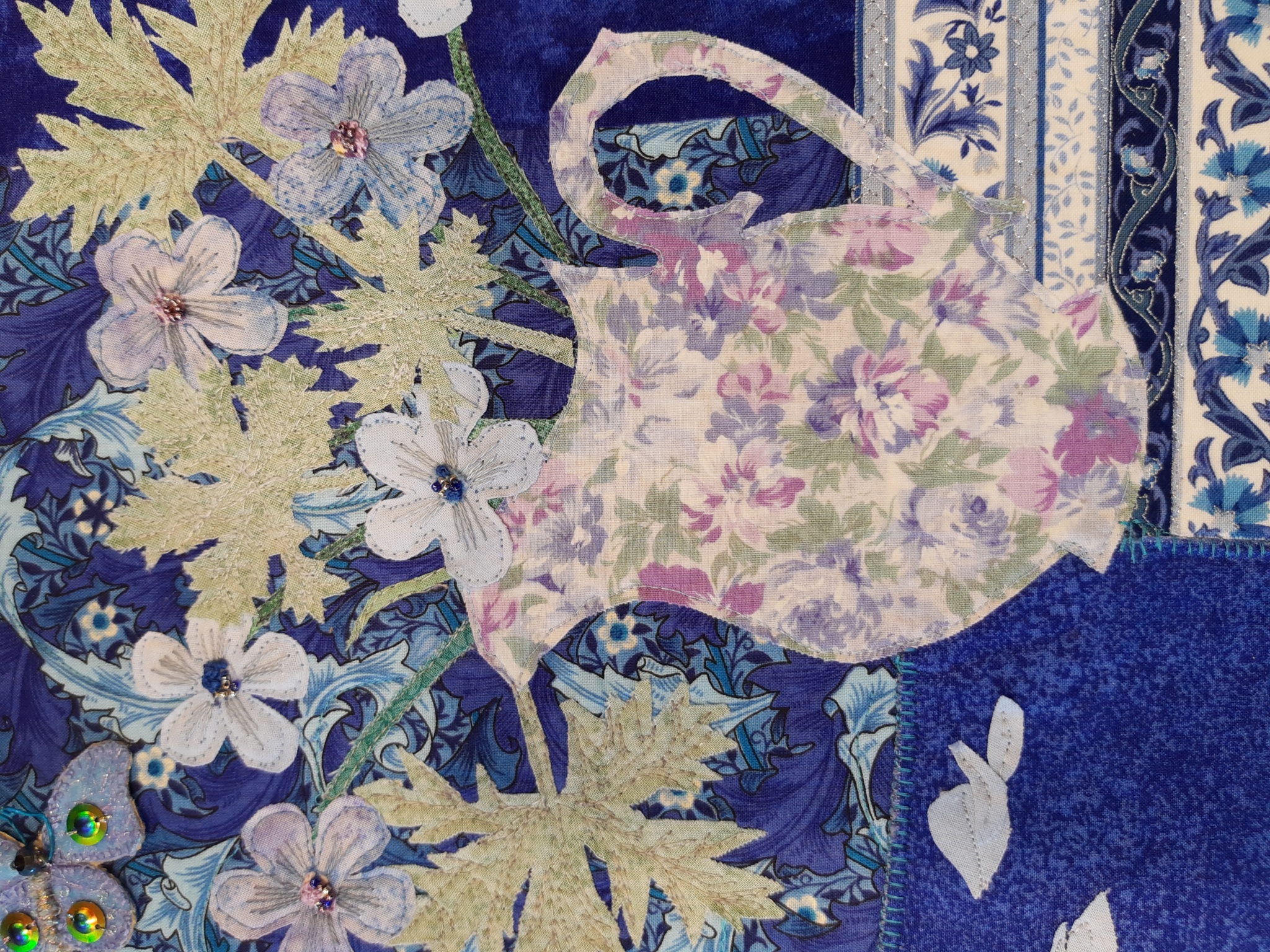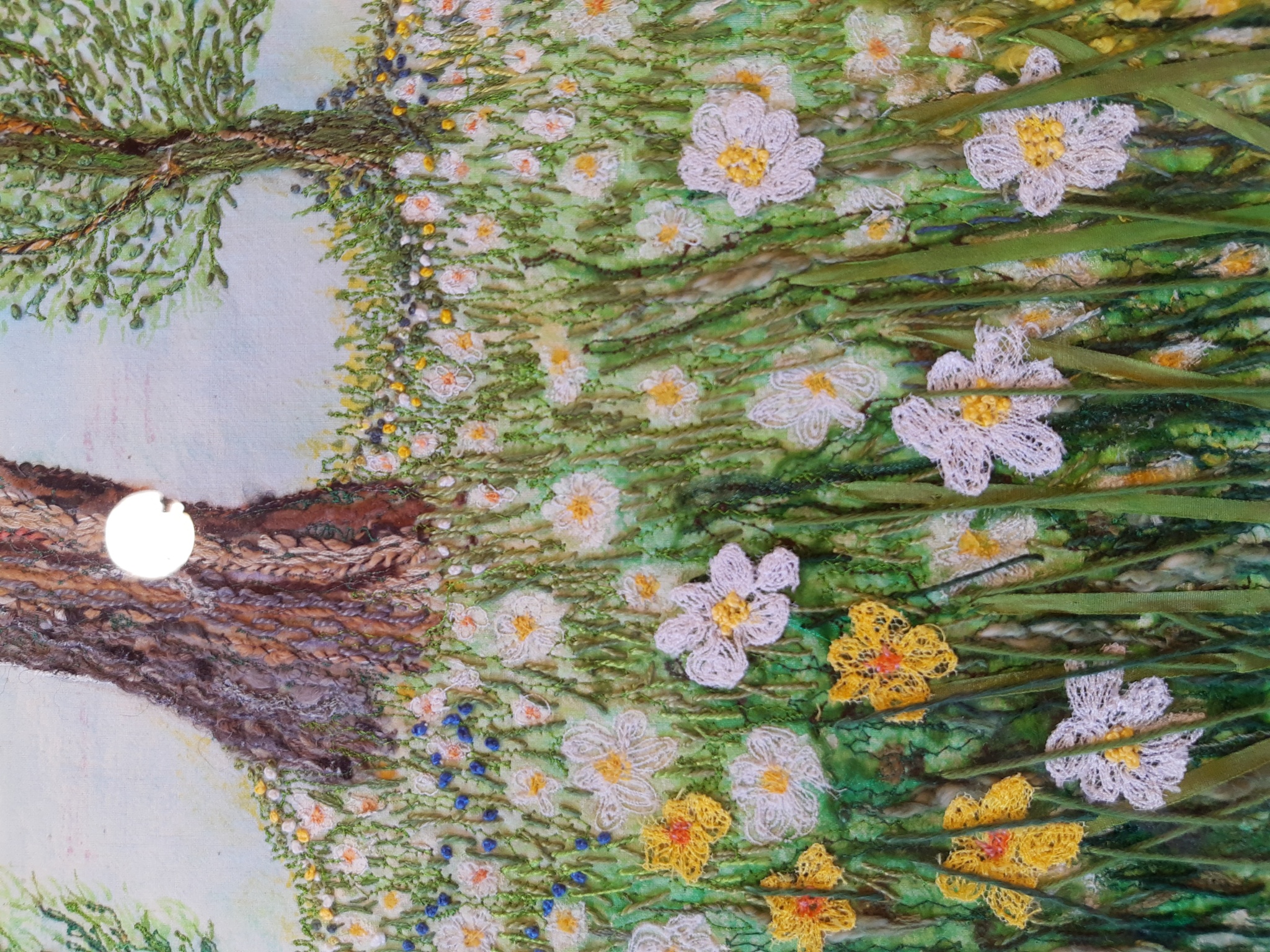 Christmas 2019
​Photos thanks to Cathy Garretty.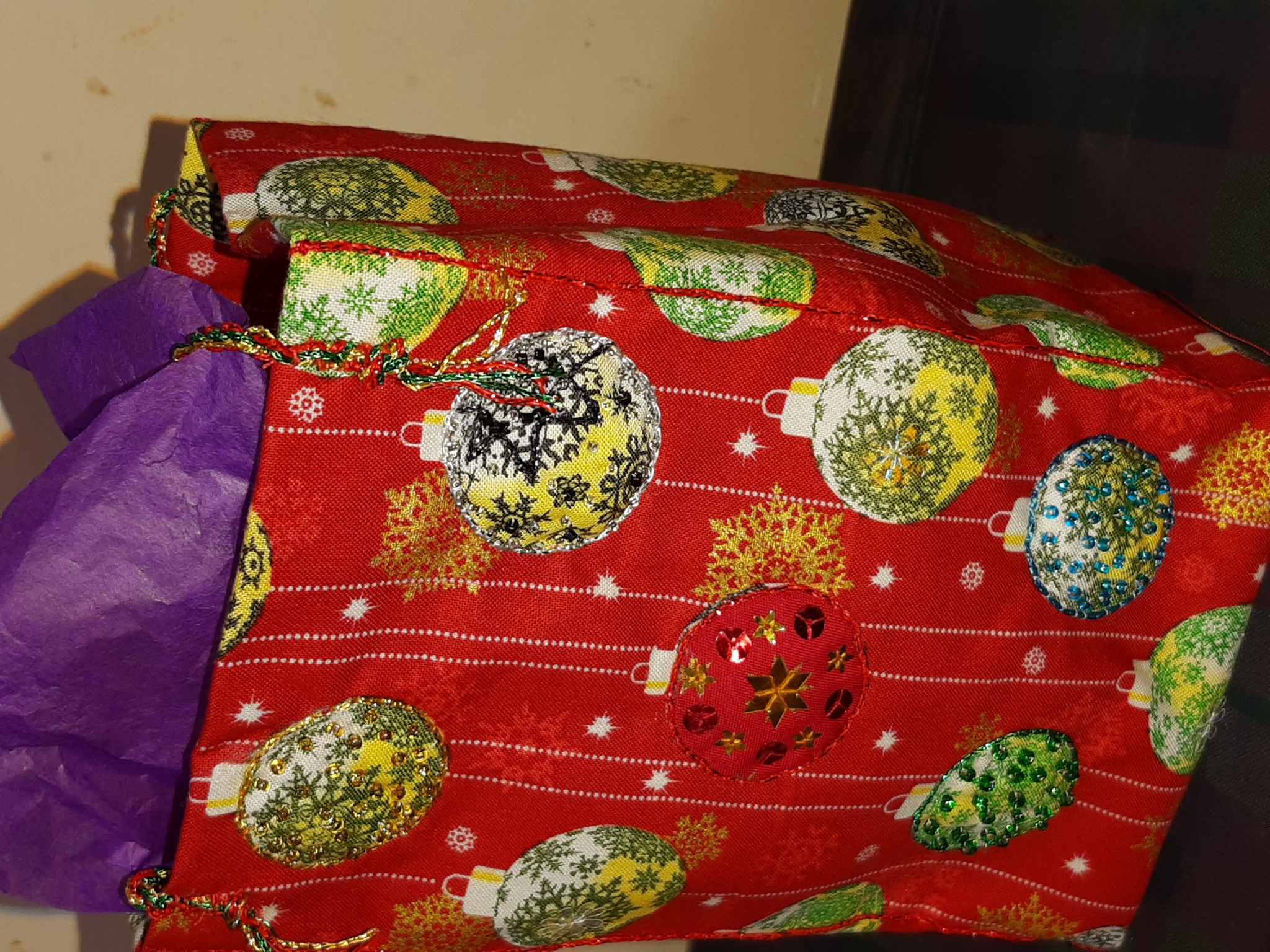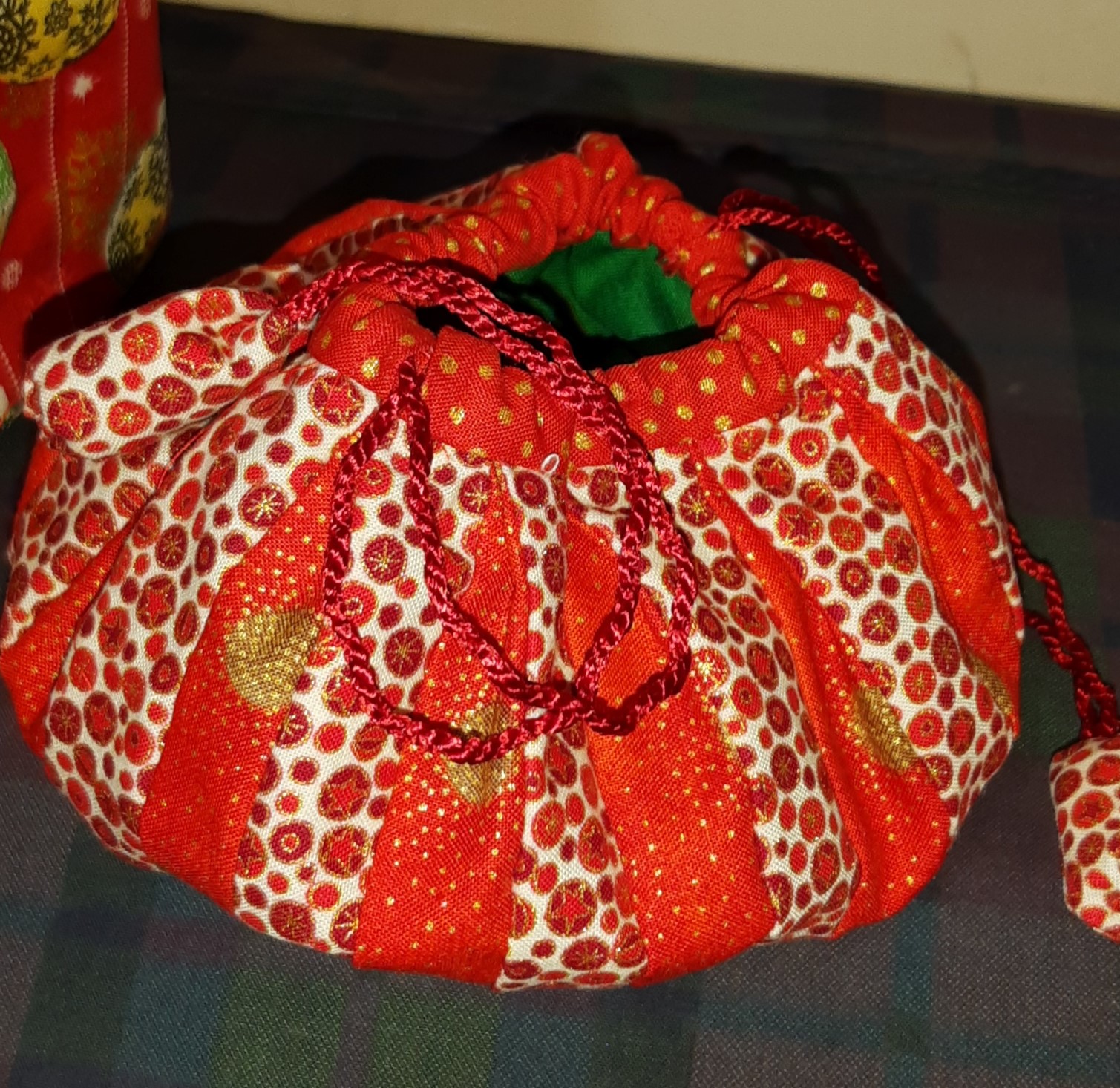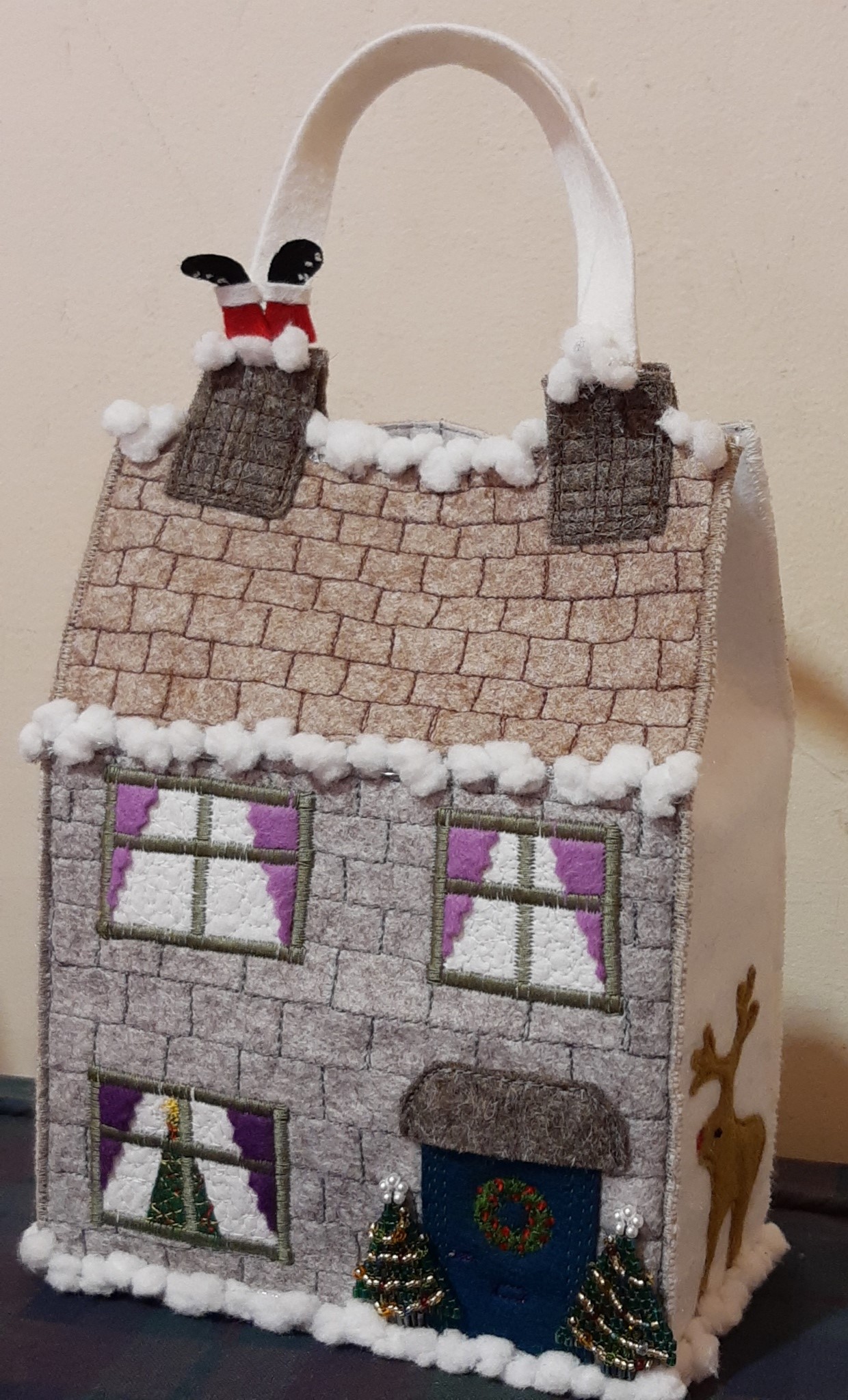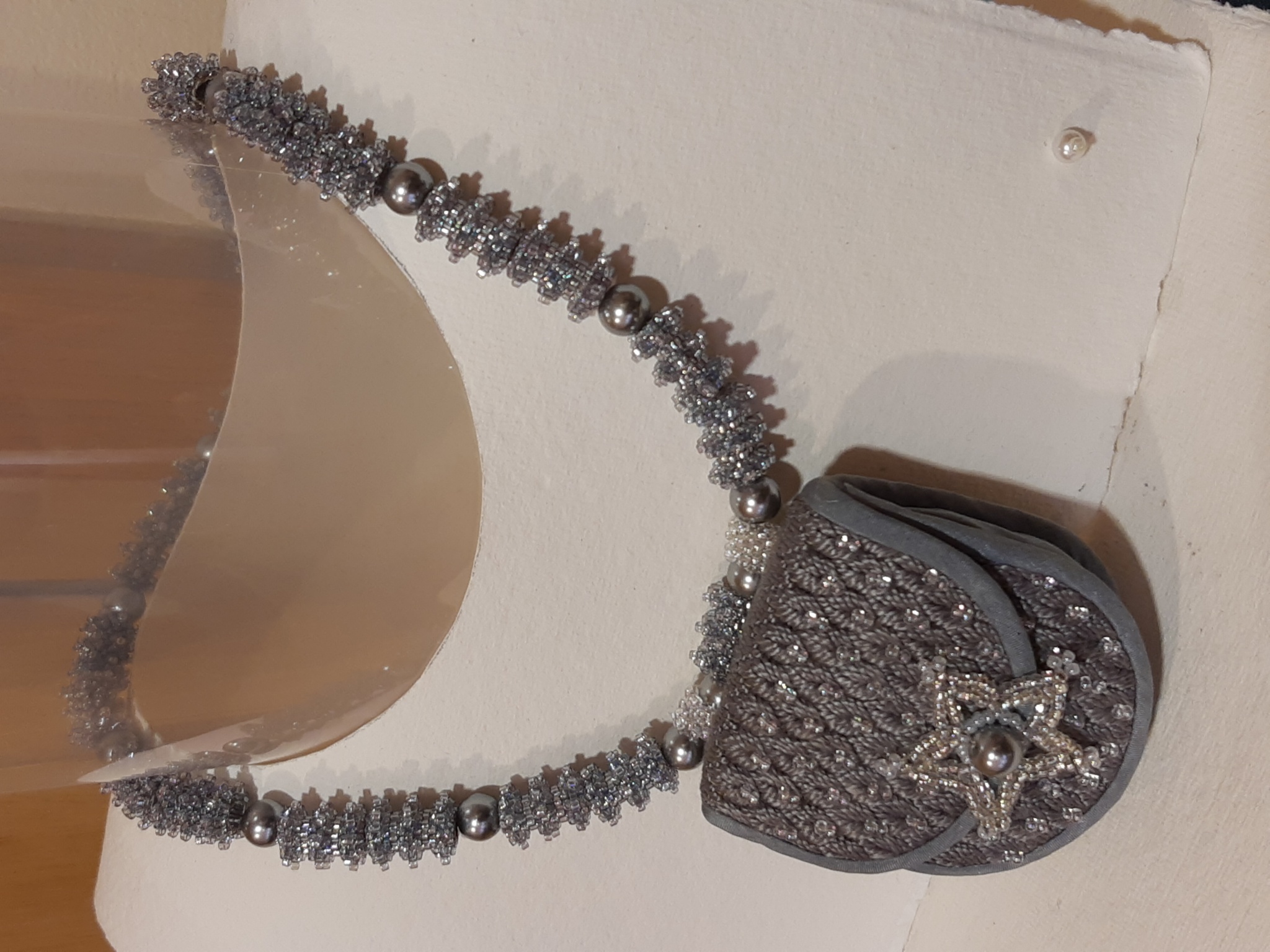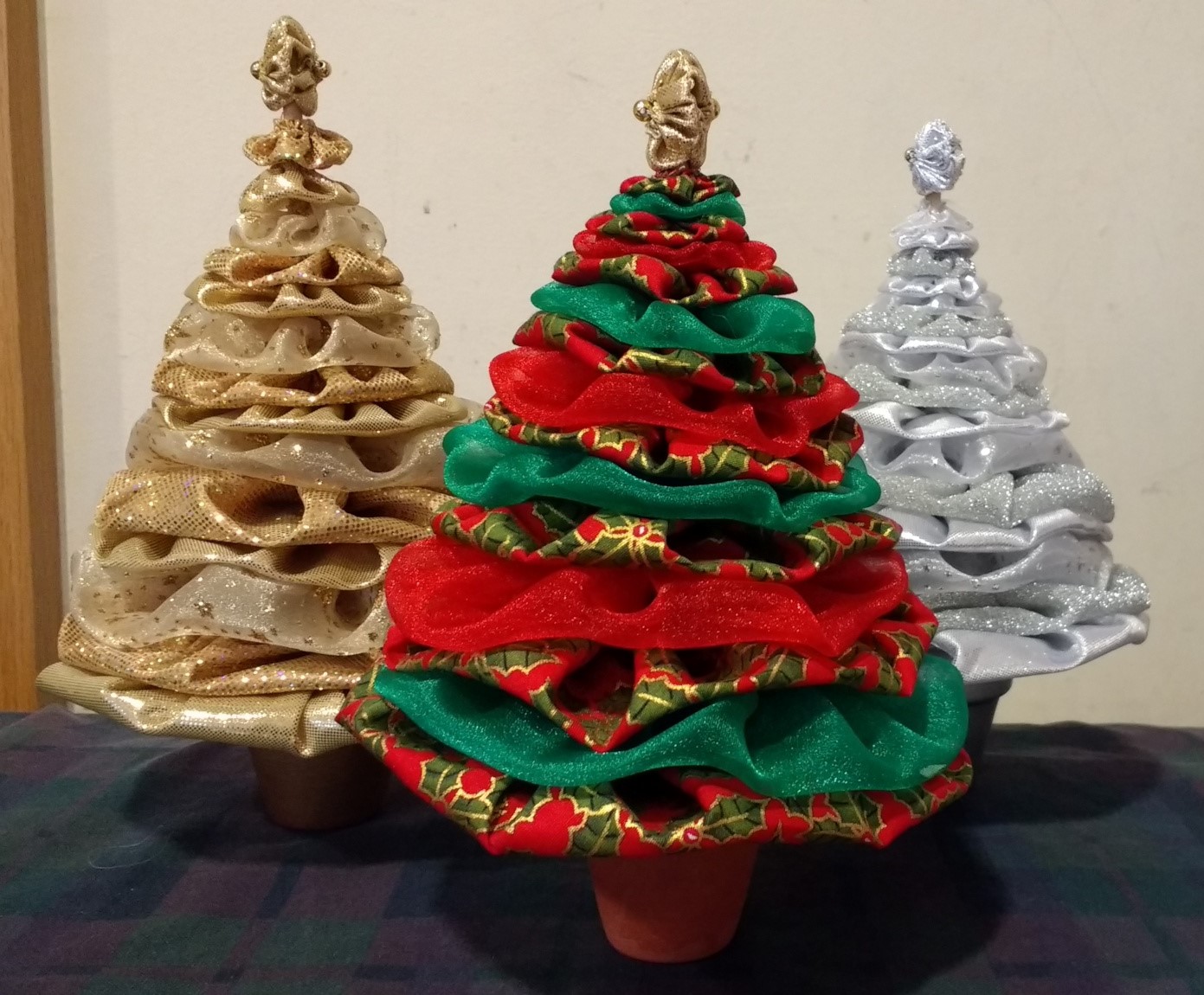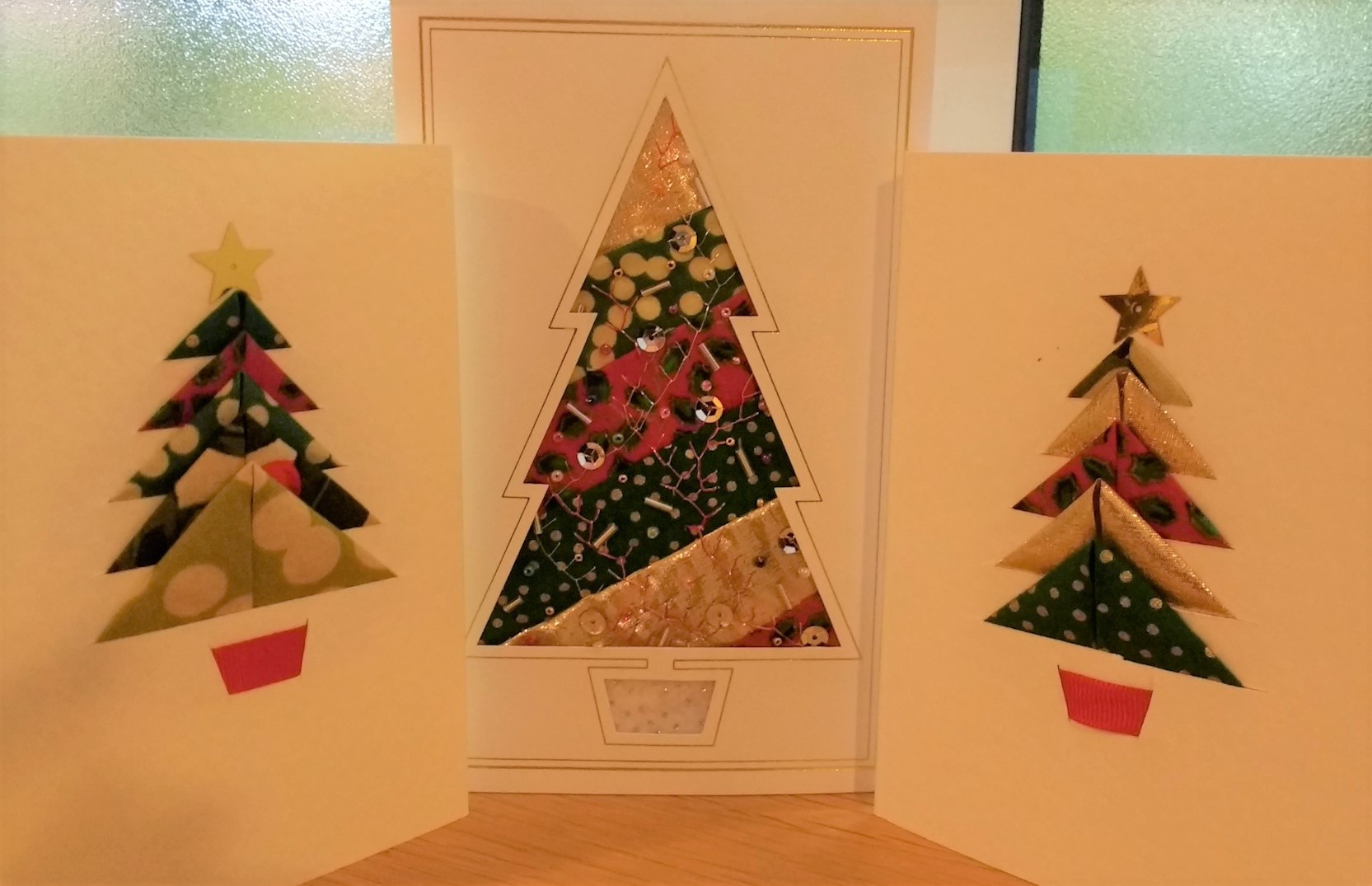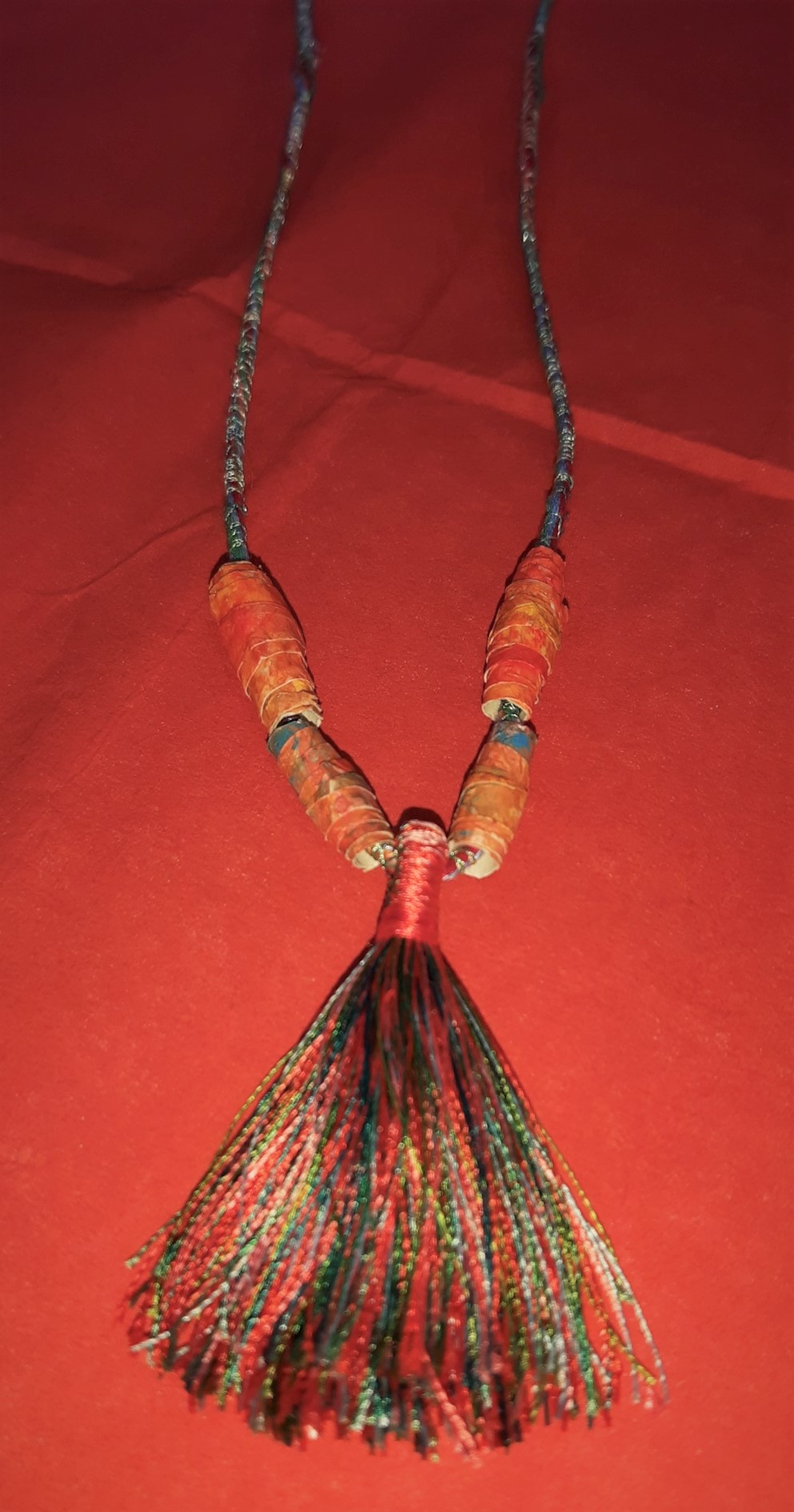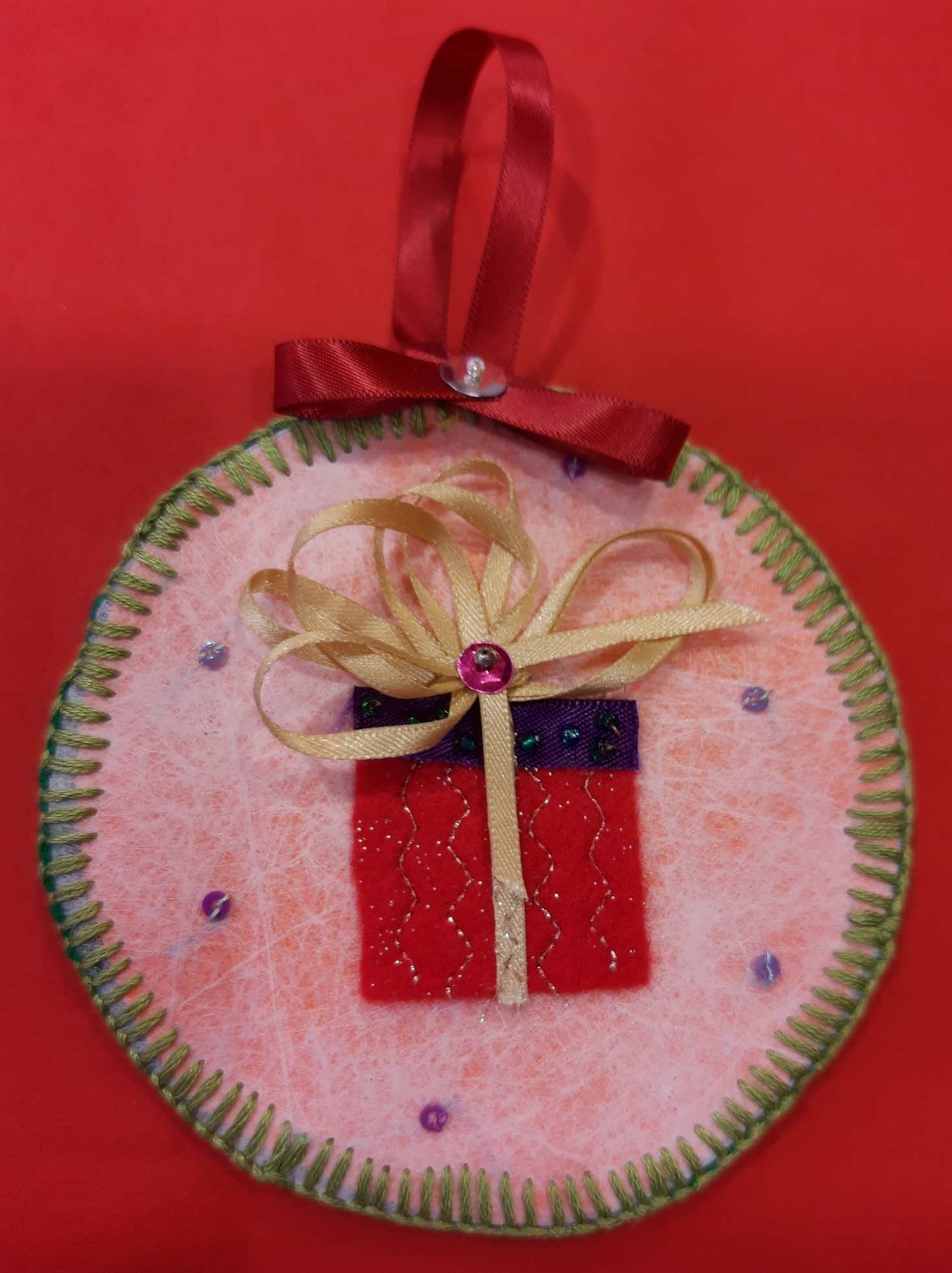 Beautiful Butterflies October 2019
​Photos of the butterflies stitched in the class thanks to Cathy Garretty.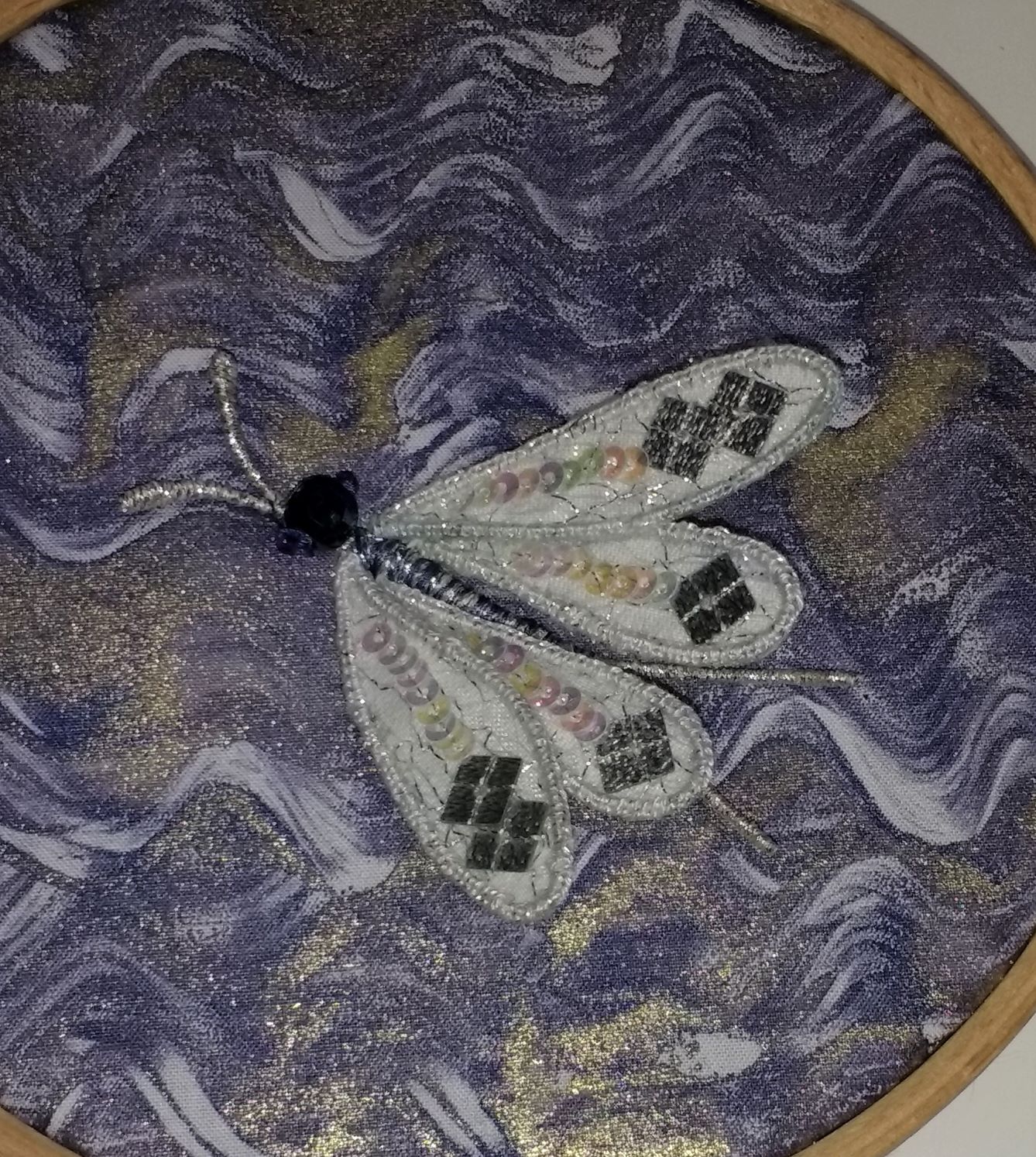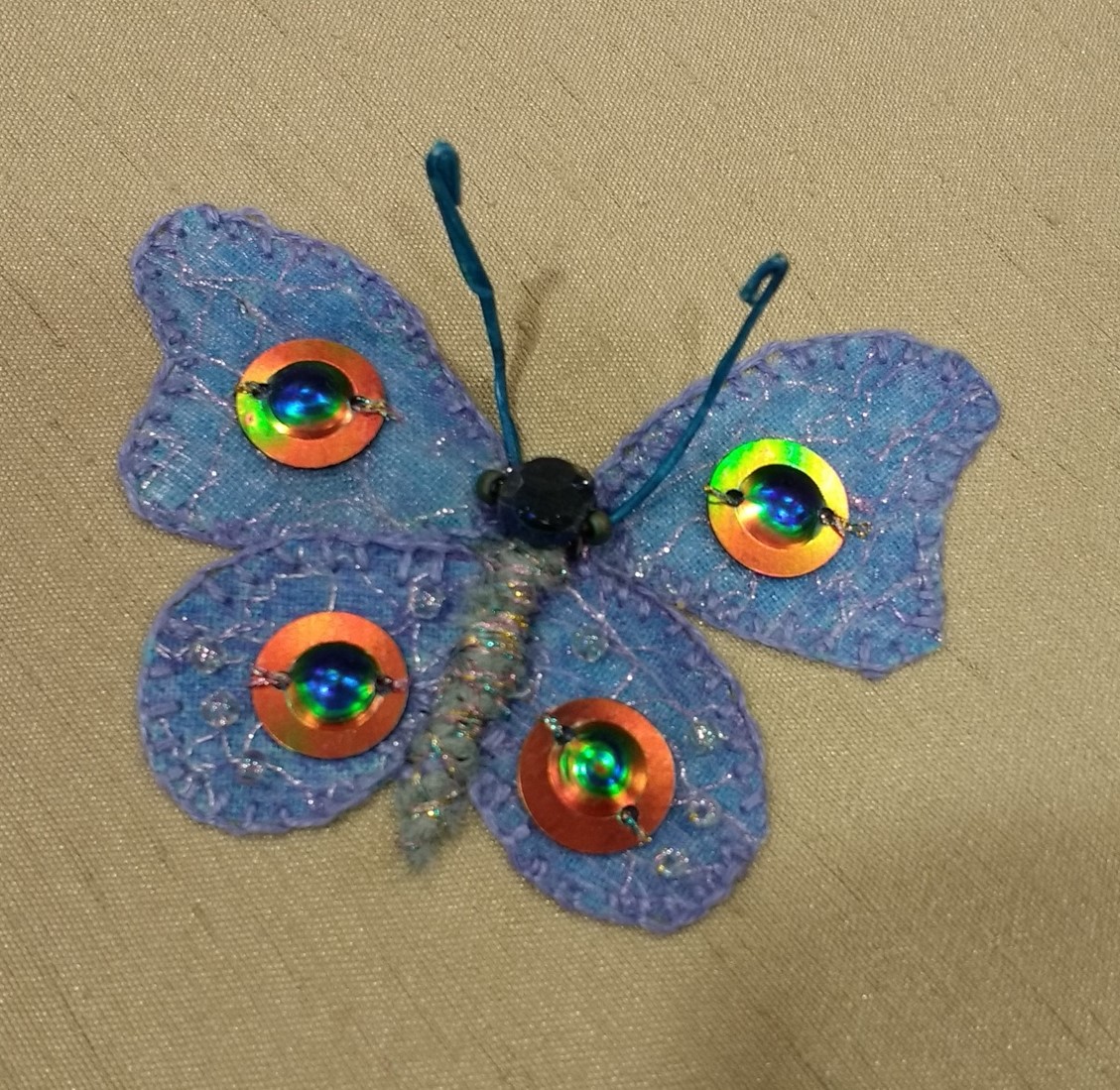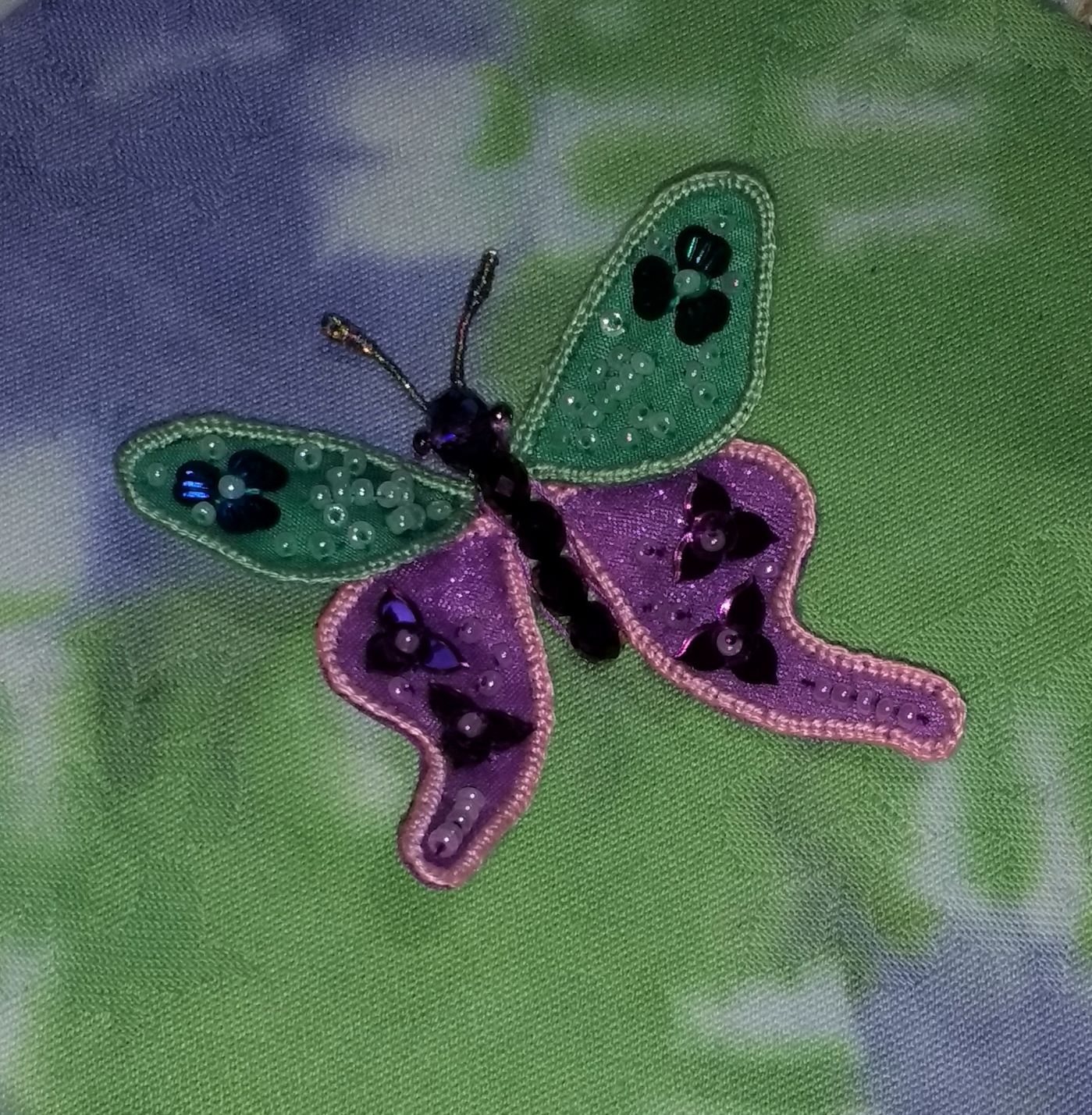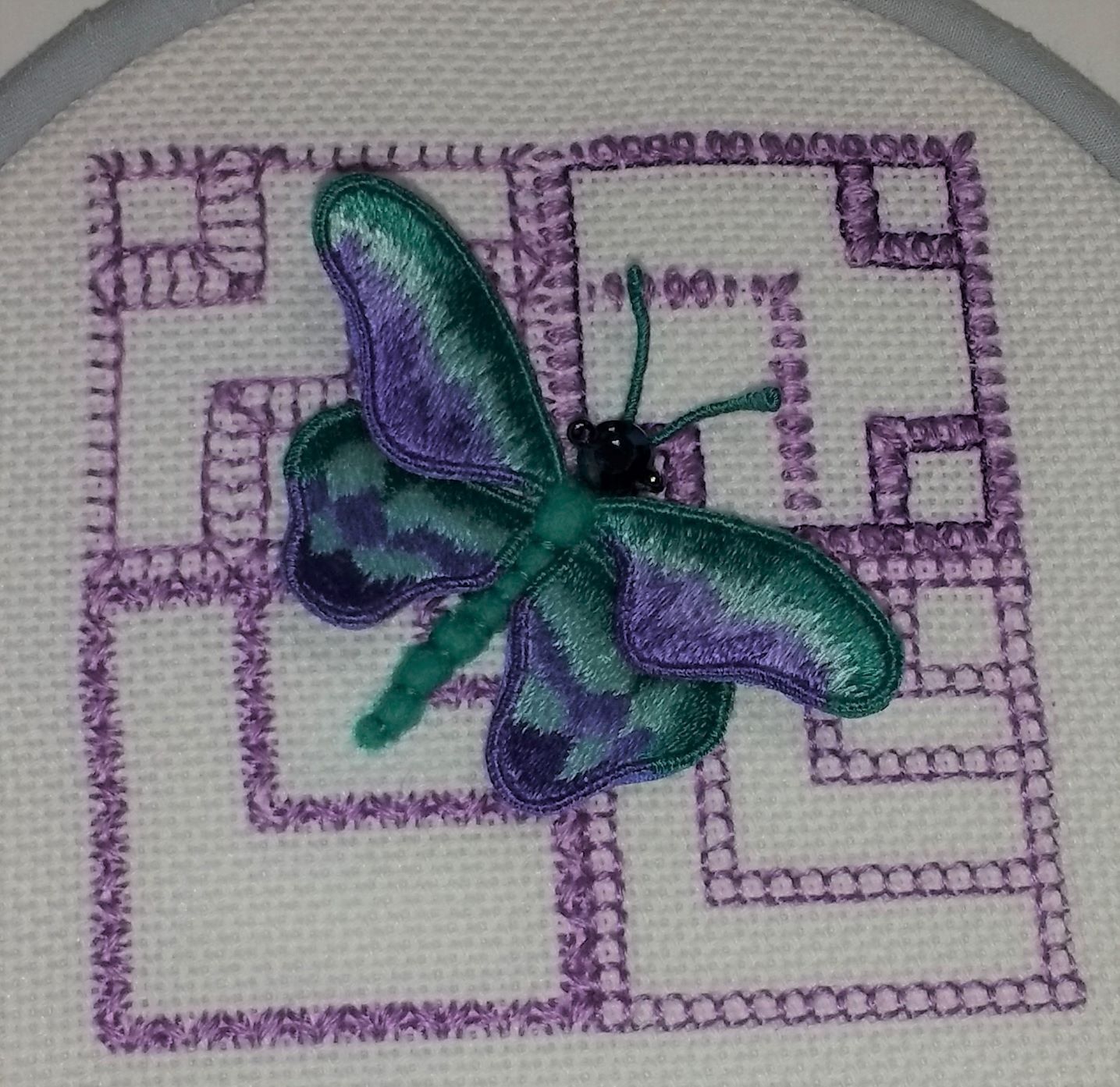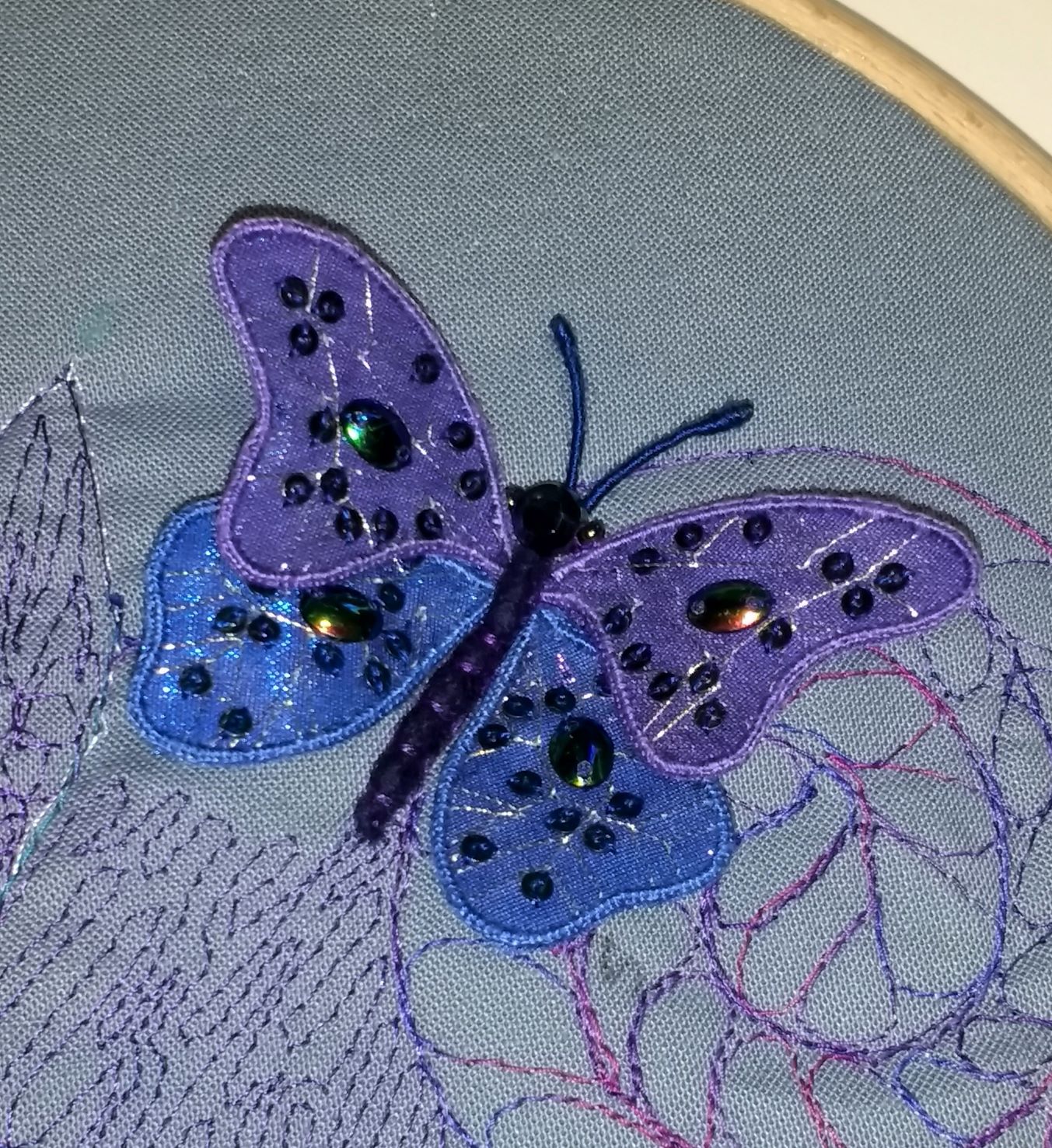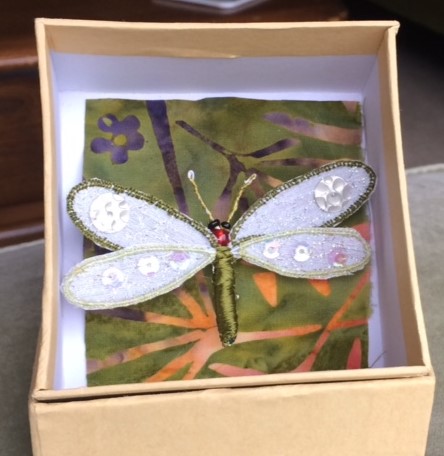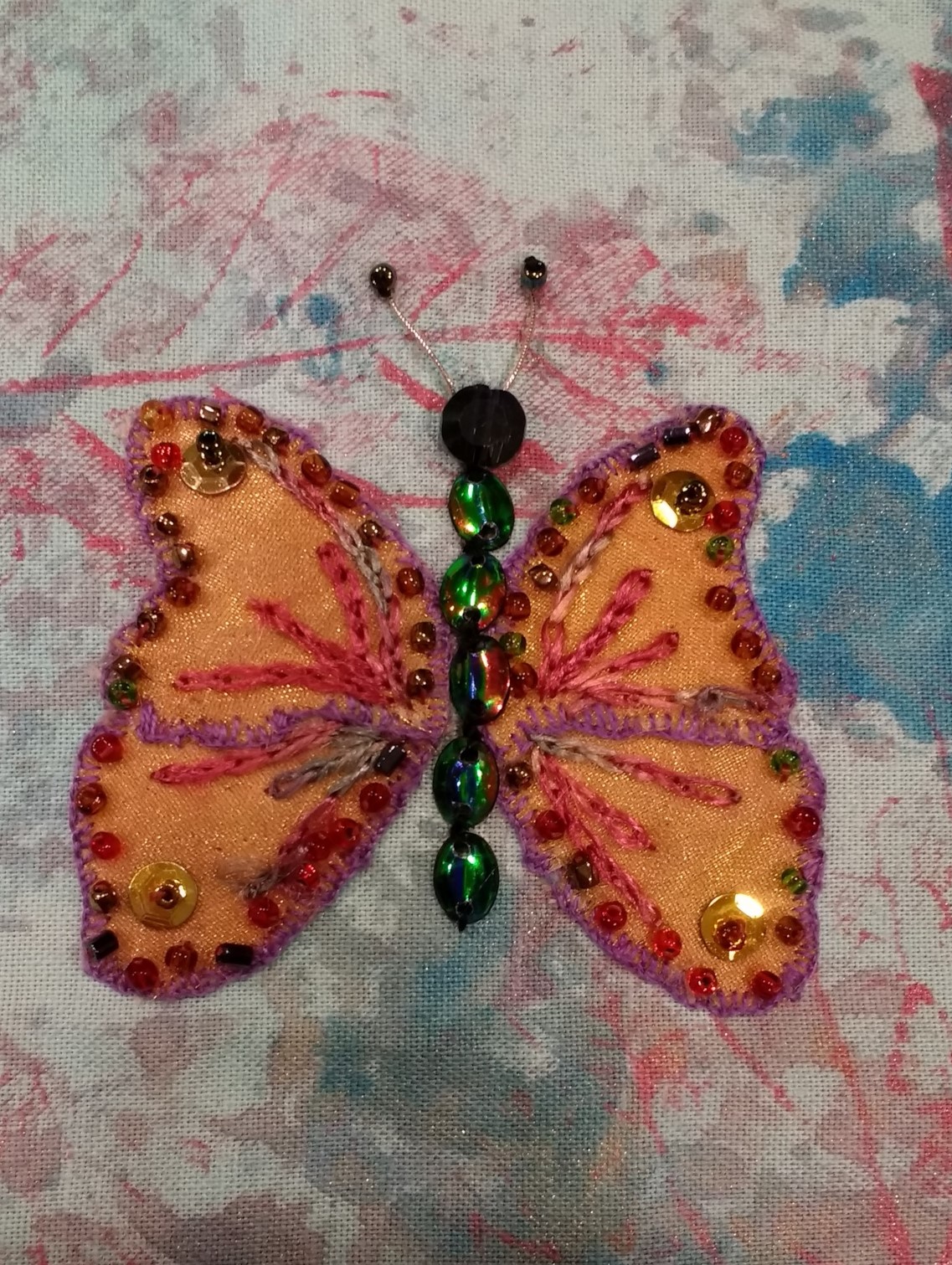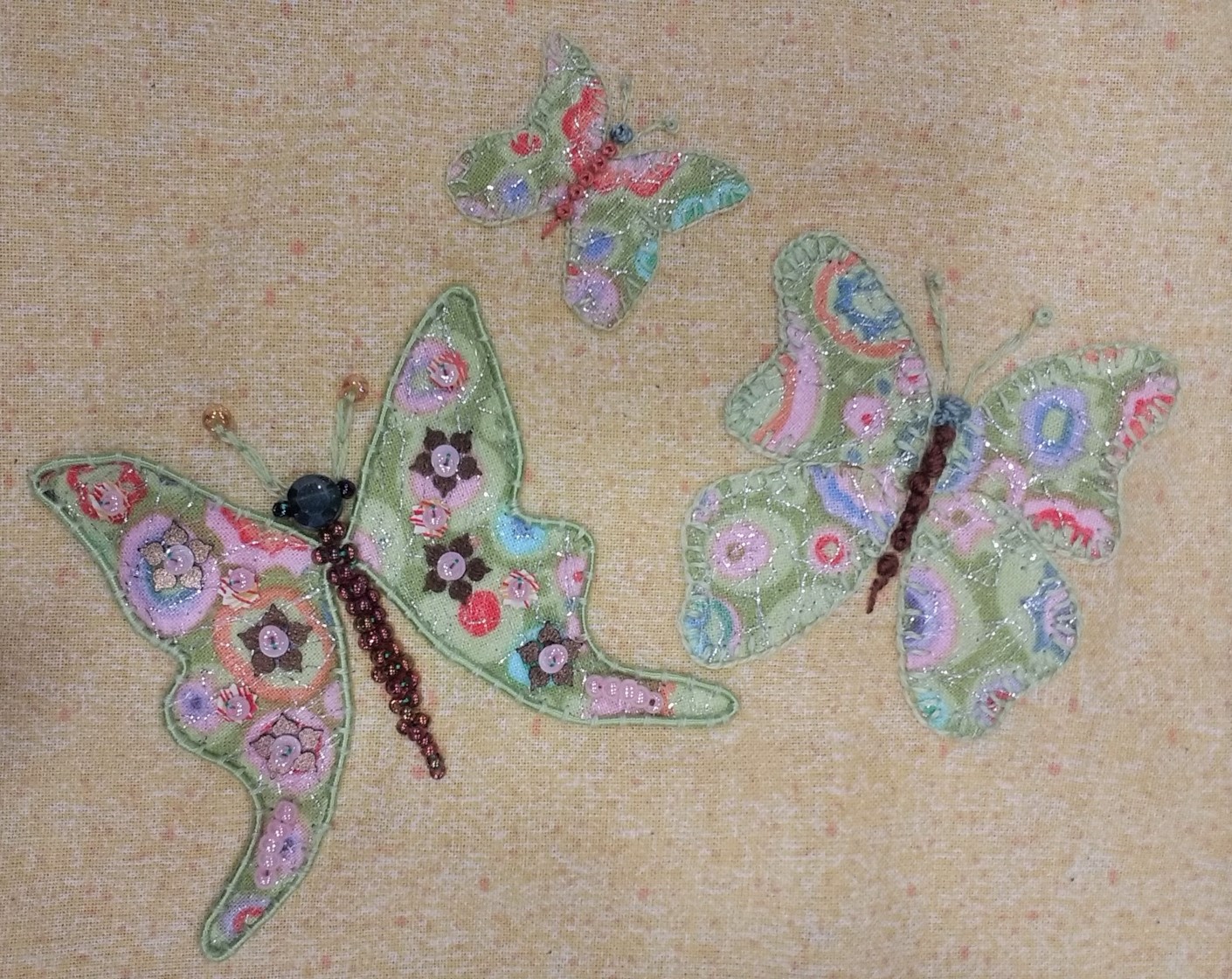 Drawn Thread with Ann Richards
​An example of Ann's work for the Morning Class on 26-02-20.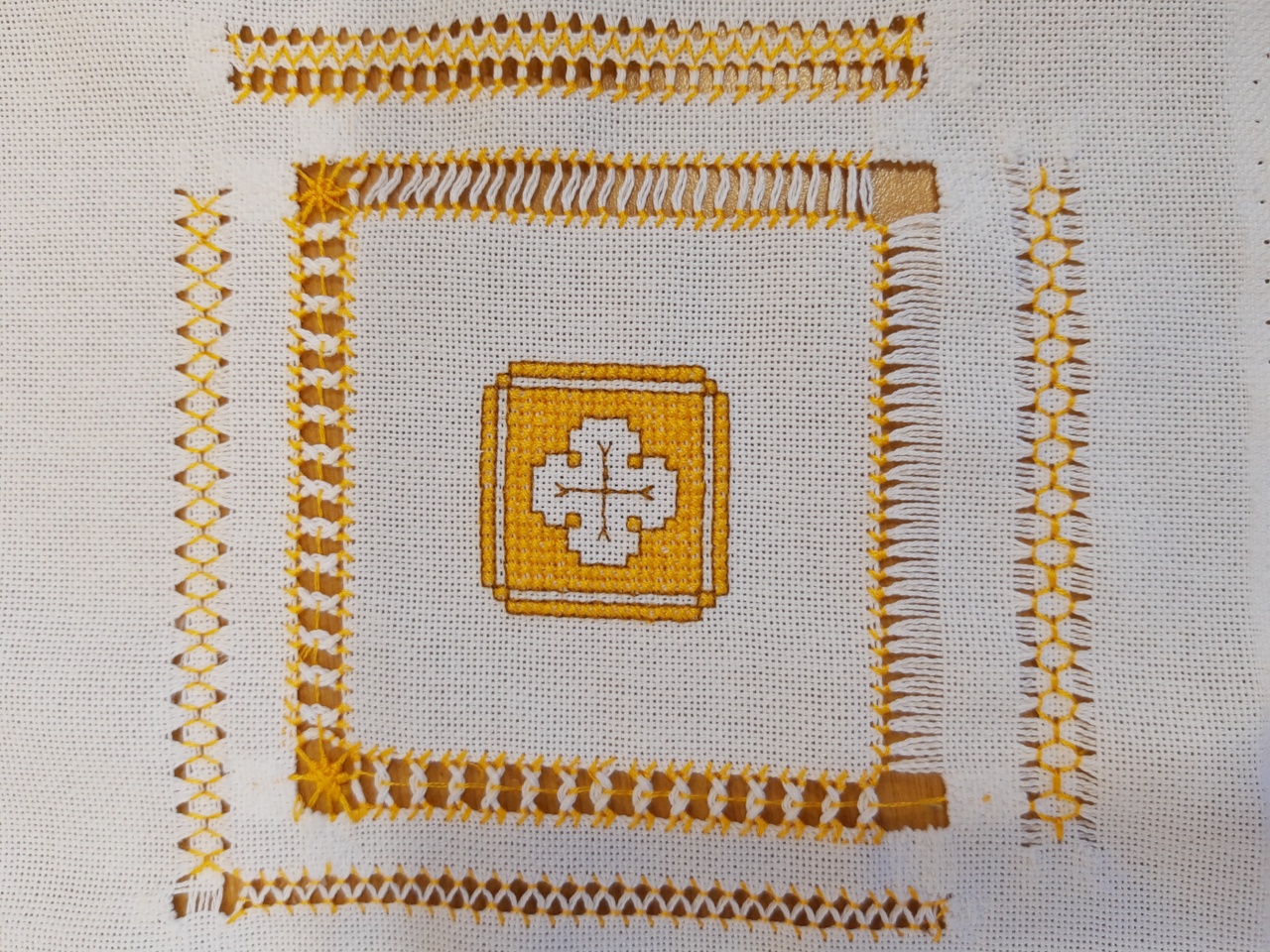 Embroidered Fabric Pictures Workshop with June Withers
​Examples of June's work for the Day Workshop on 12th Feb 2020. Plus member's picture. Photos thanks to Cathy.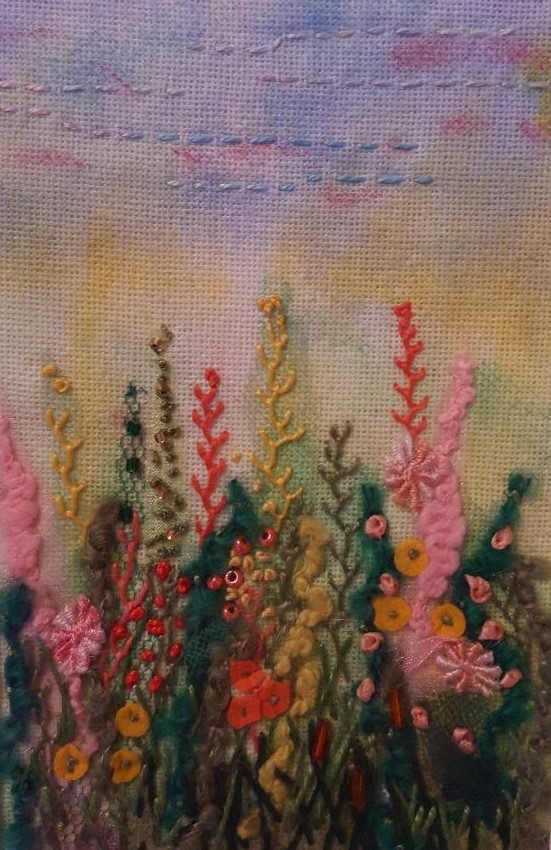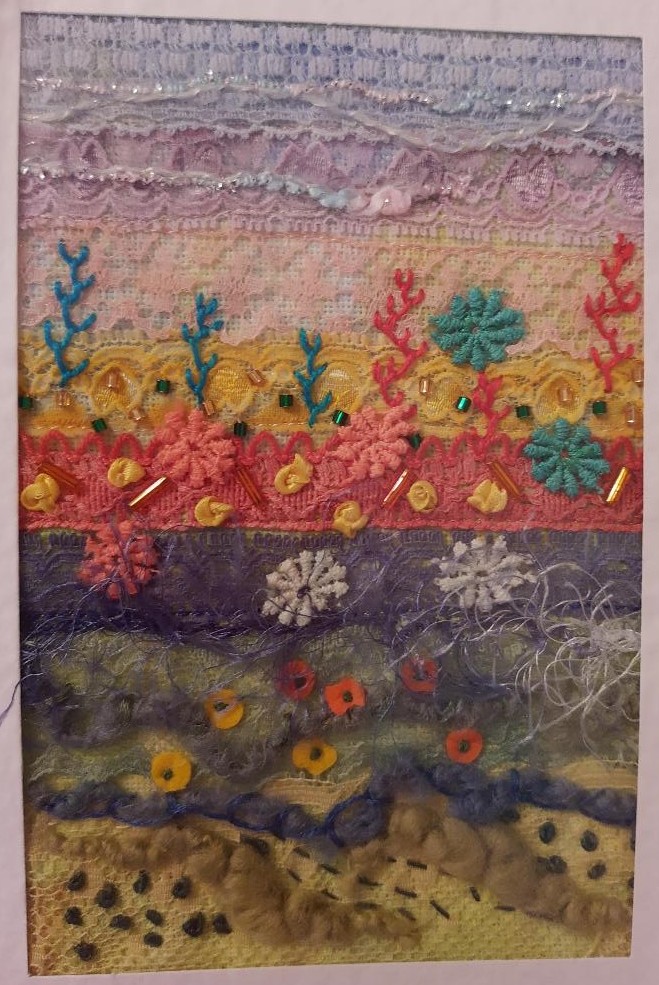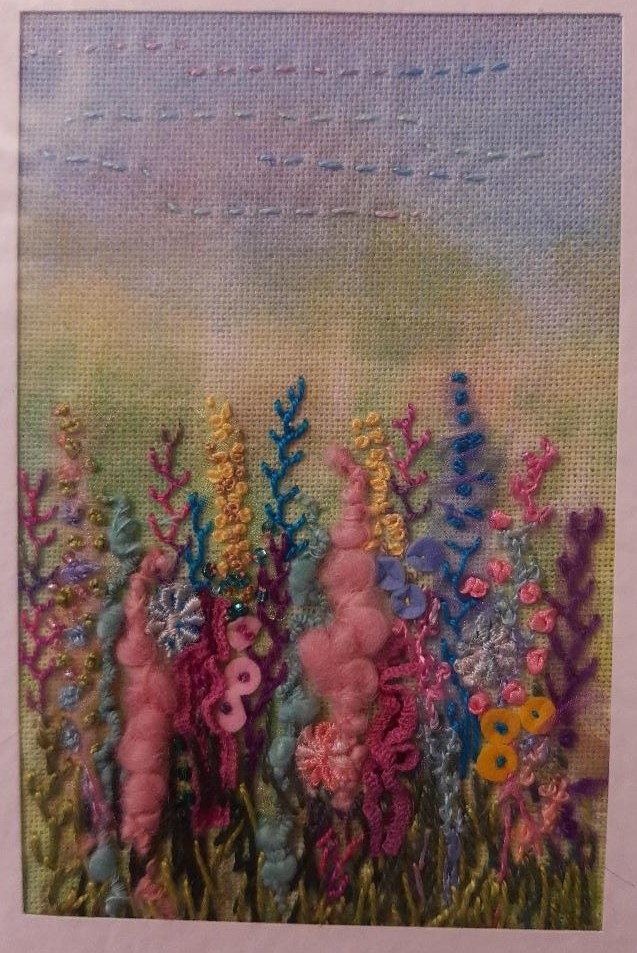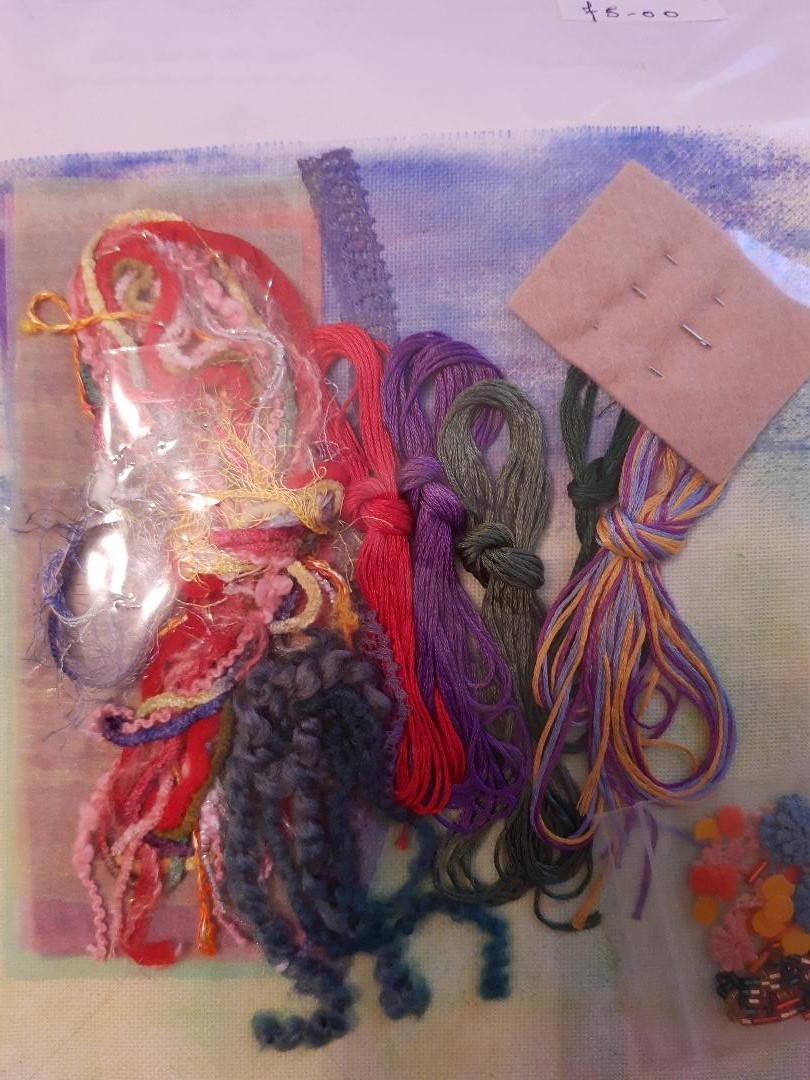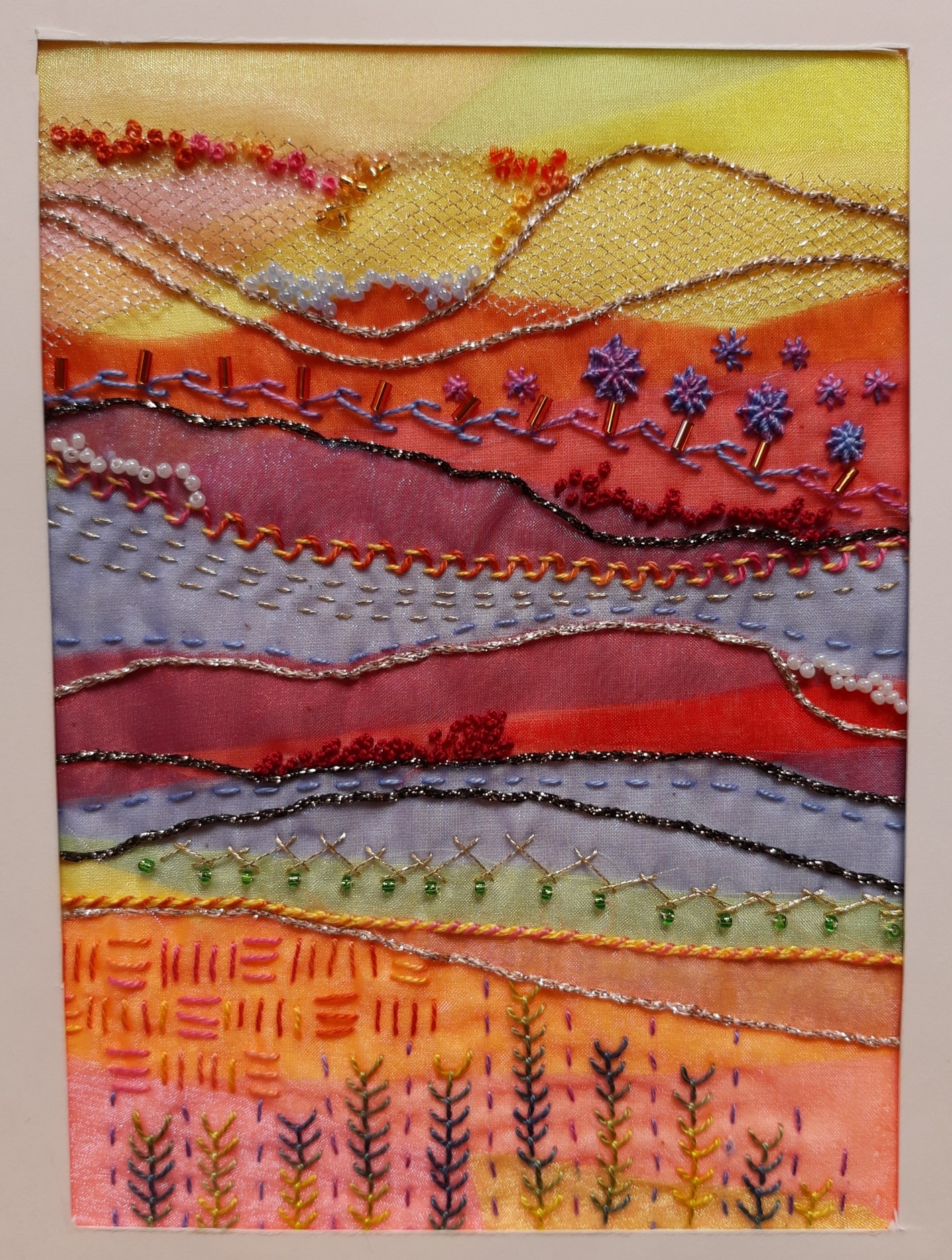 Embroidered Buttons - June Withers
​Examples of June's Buttons, photo 1, for the class, Jan 2020. Followed by pictures of members' buttons. Photos thanks to Cathy Garretty.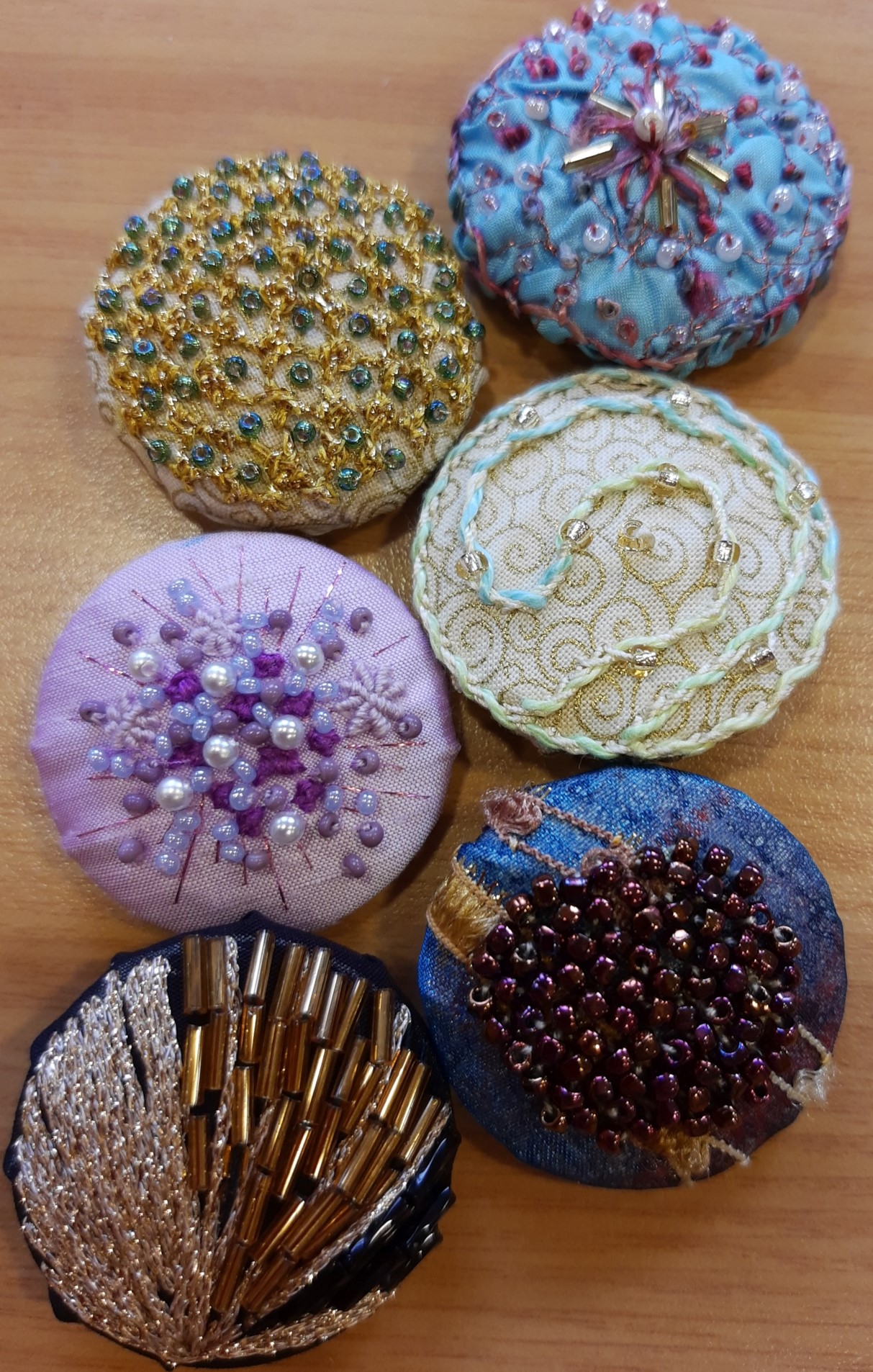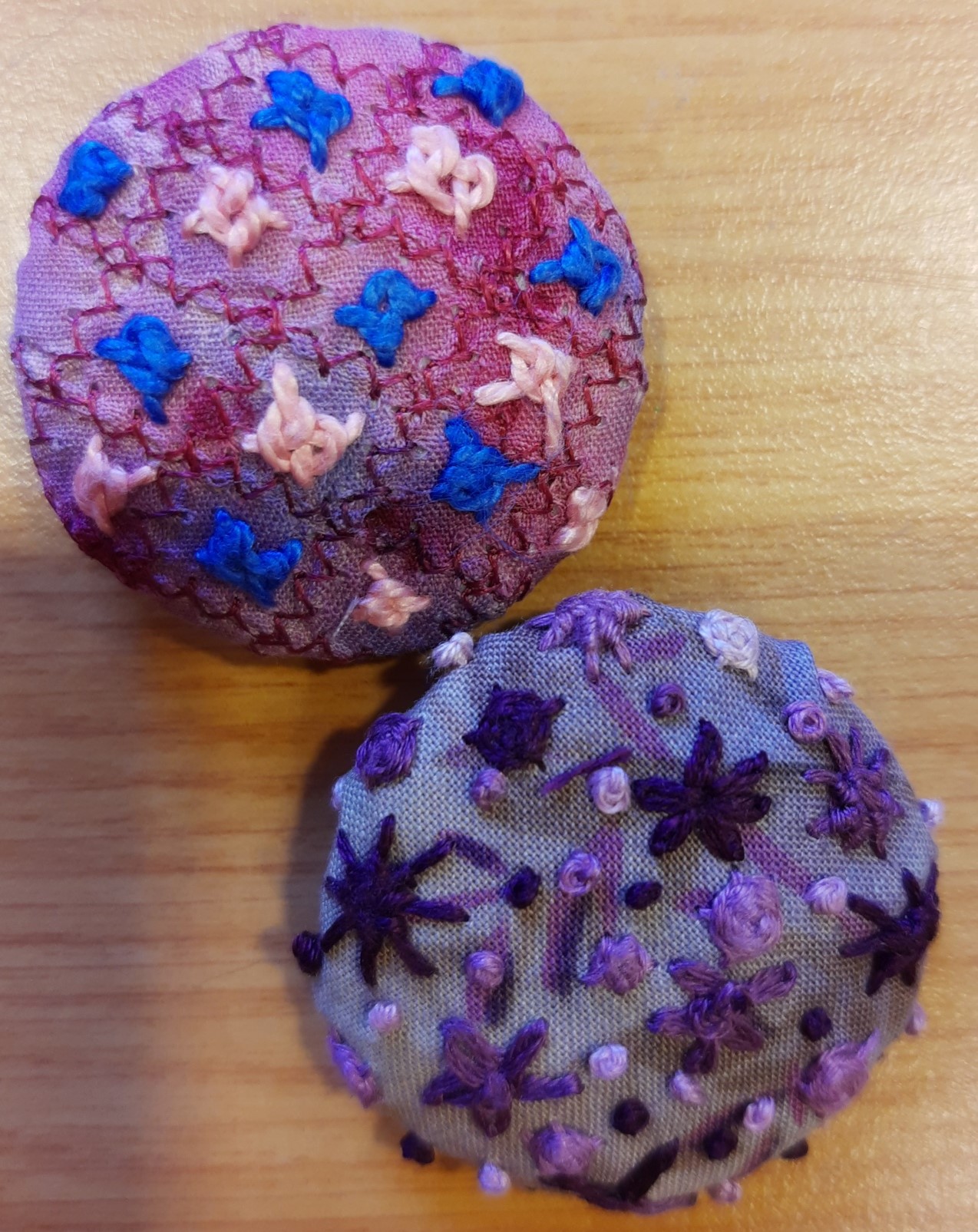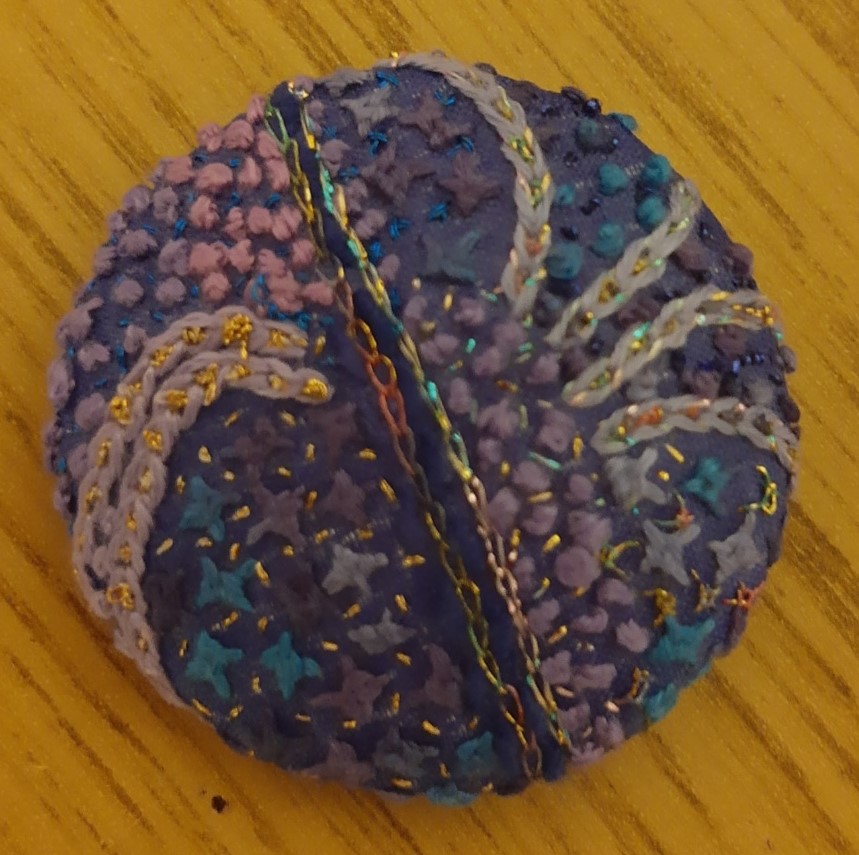 Pincushions with cathedral window patchwork
​Tutor Ann Richards. Pictures Rosy Wilson.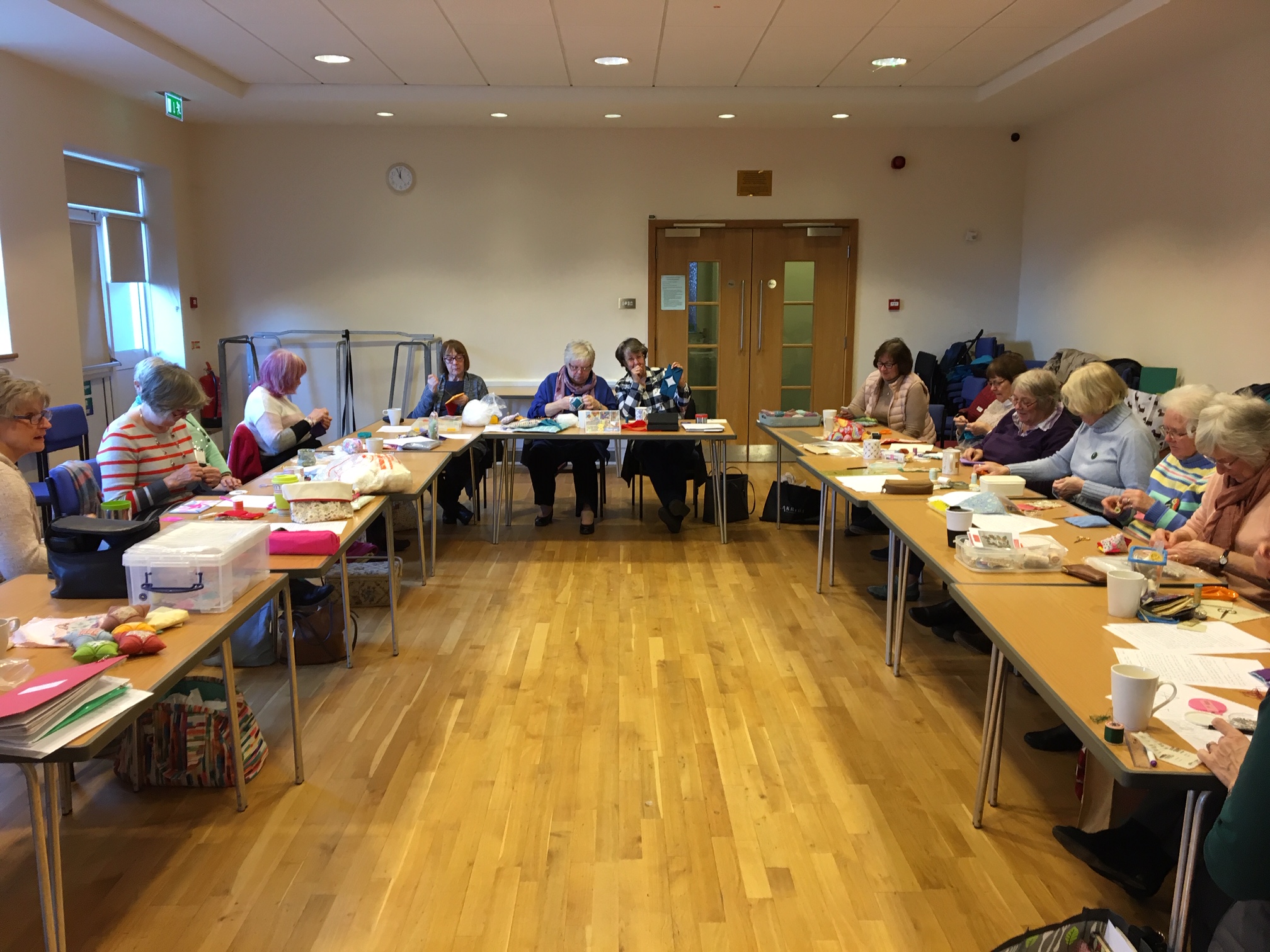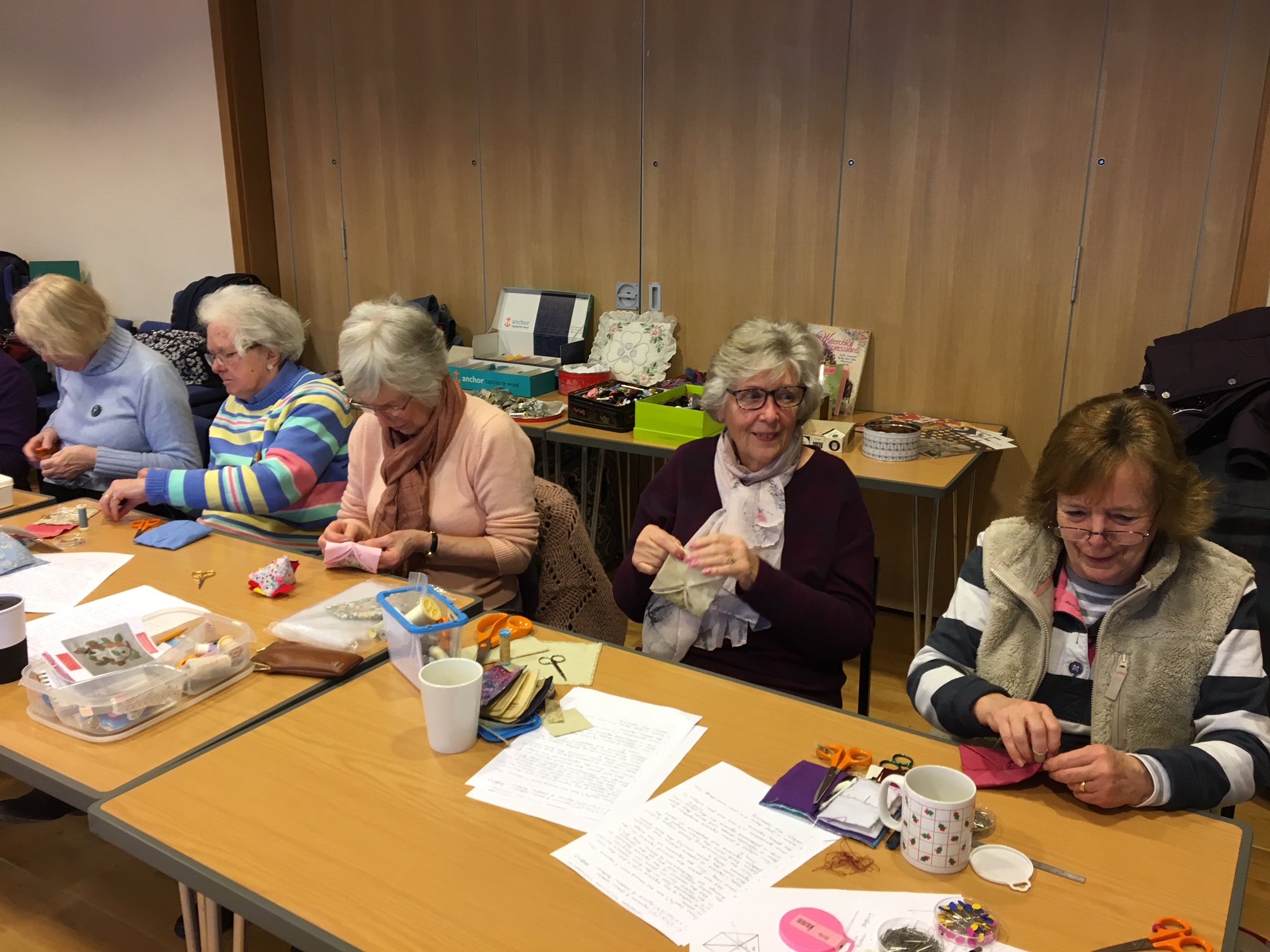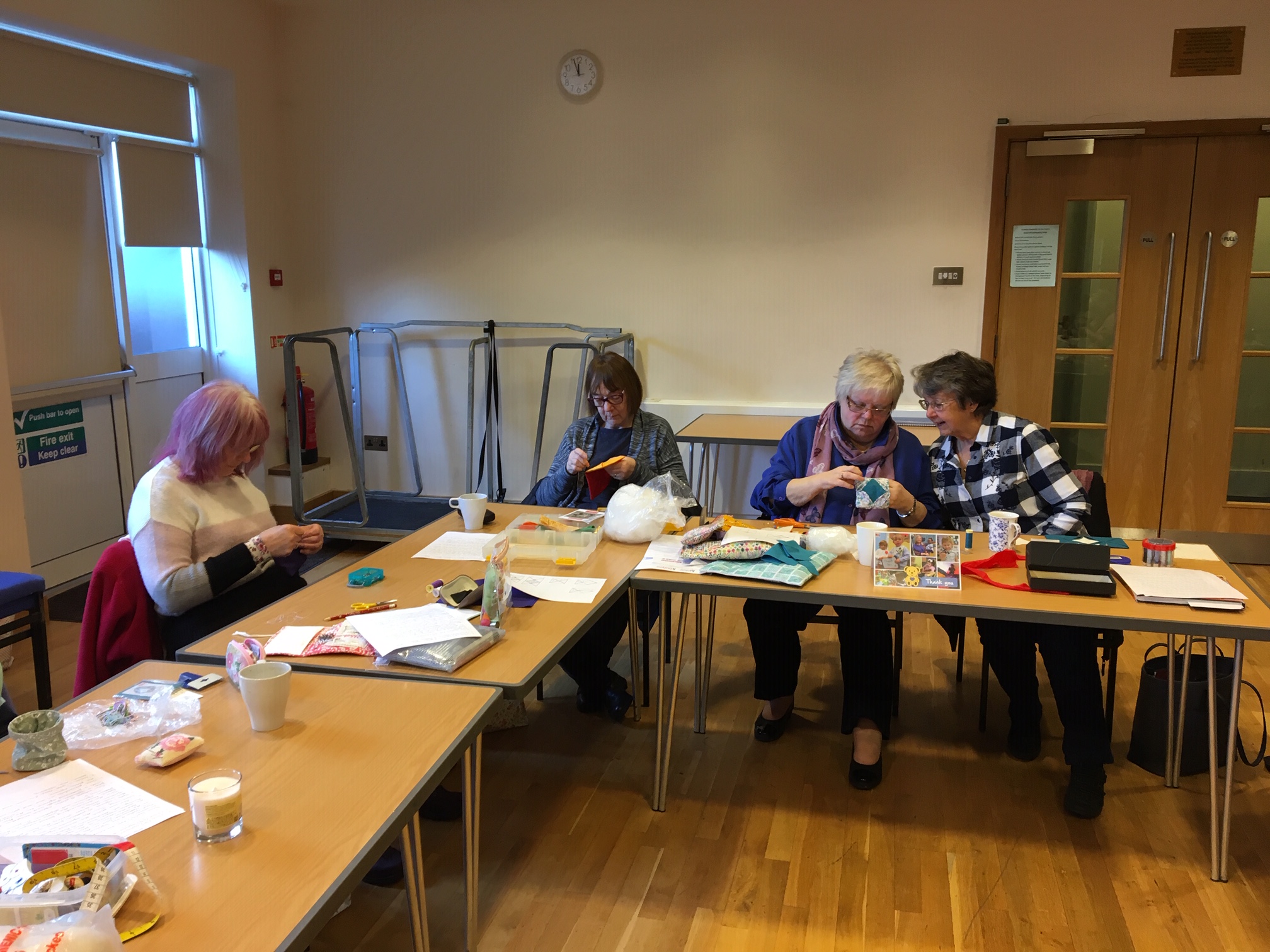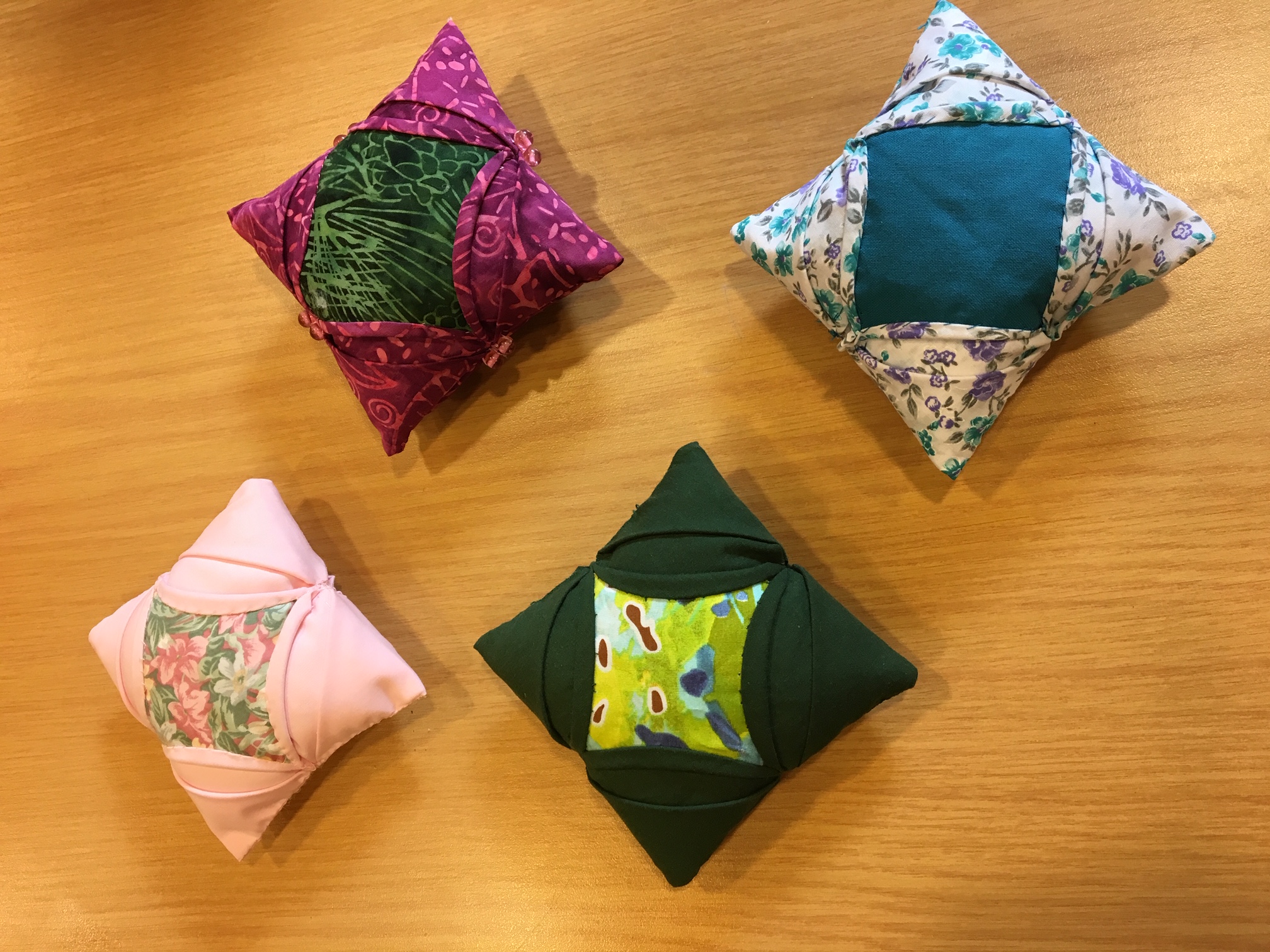 Goldwork Bee with Loetitia Gibier
​Work in progress. Photos by Rosie.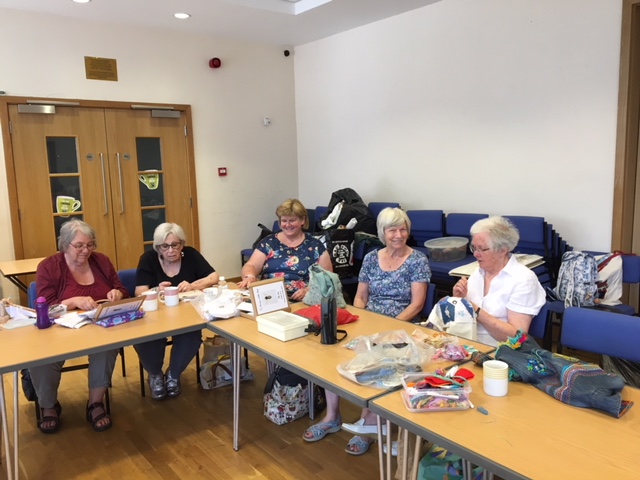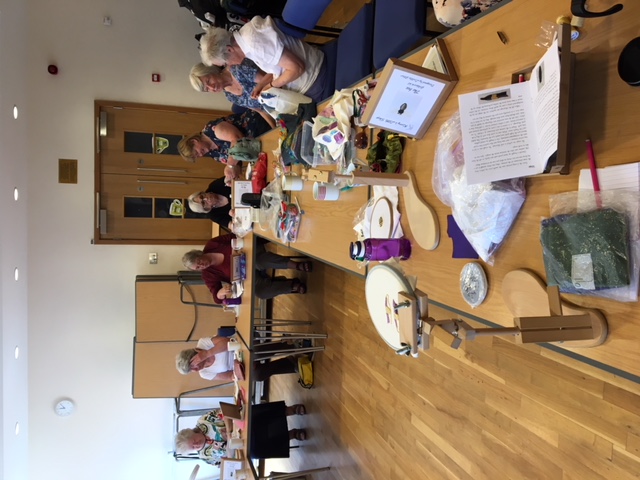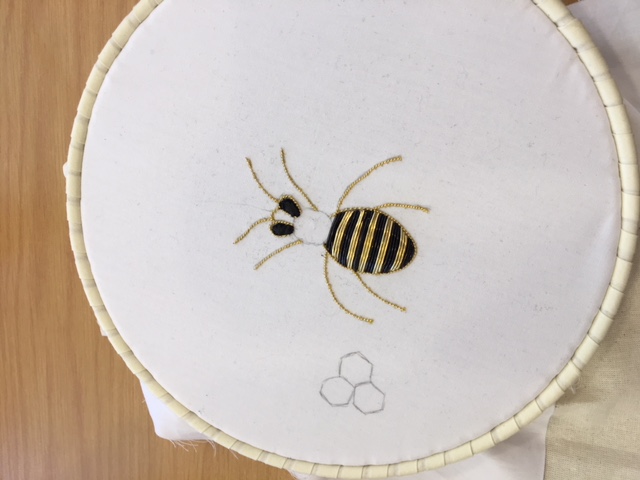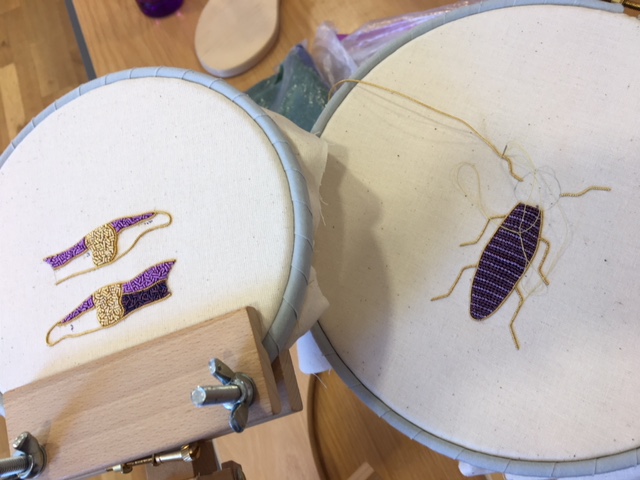 Paper Fabric Paint Stitch with June Withers
​Ann's finished piece with painted paper inspiration. Photo thanks to Rosie.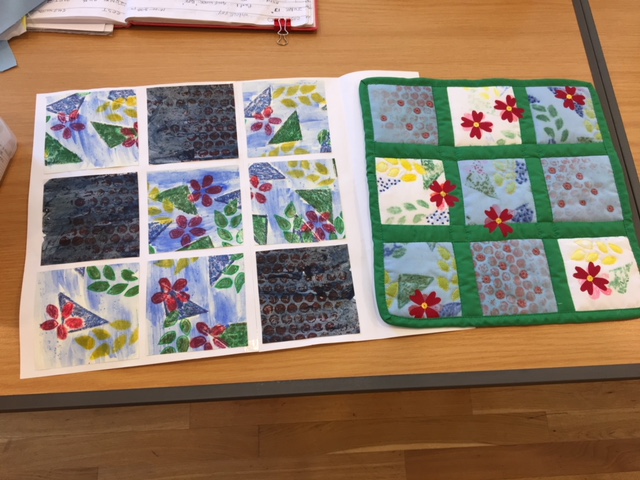 Crazy Patchwork with June Withers
​Photos by Rosie.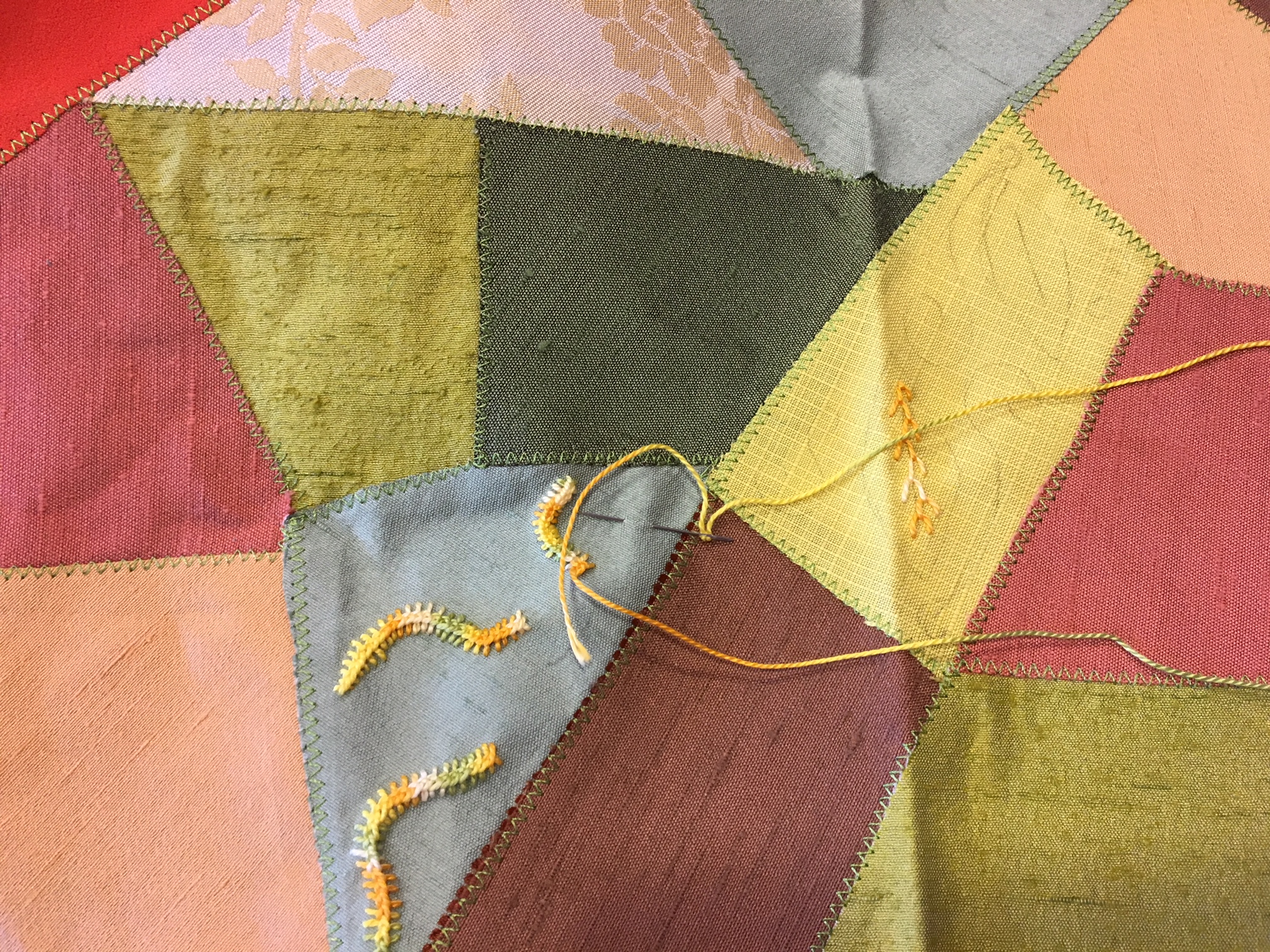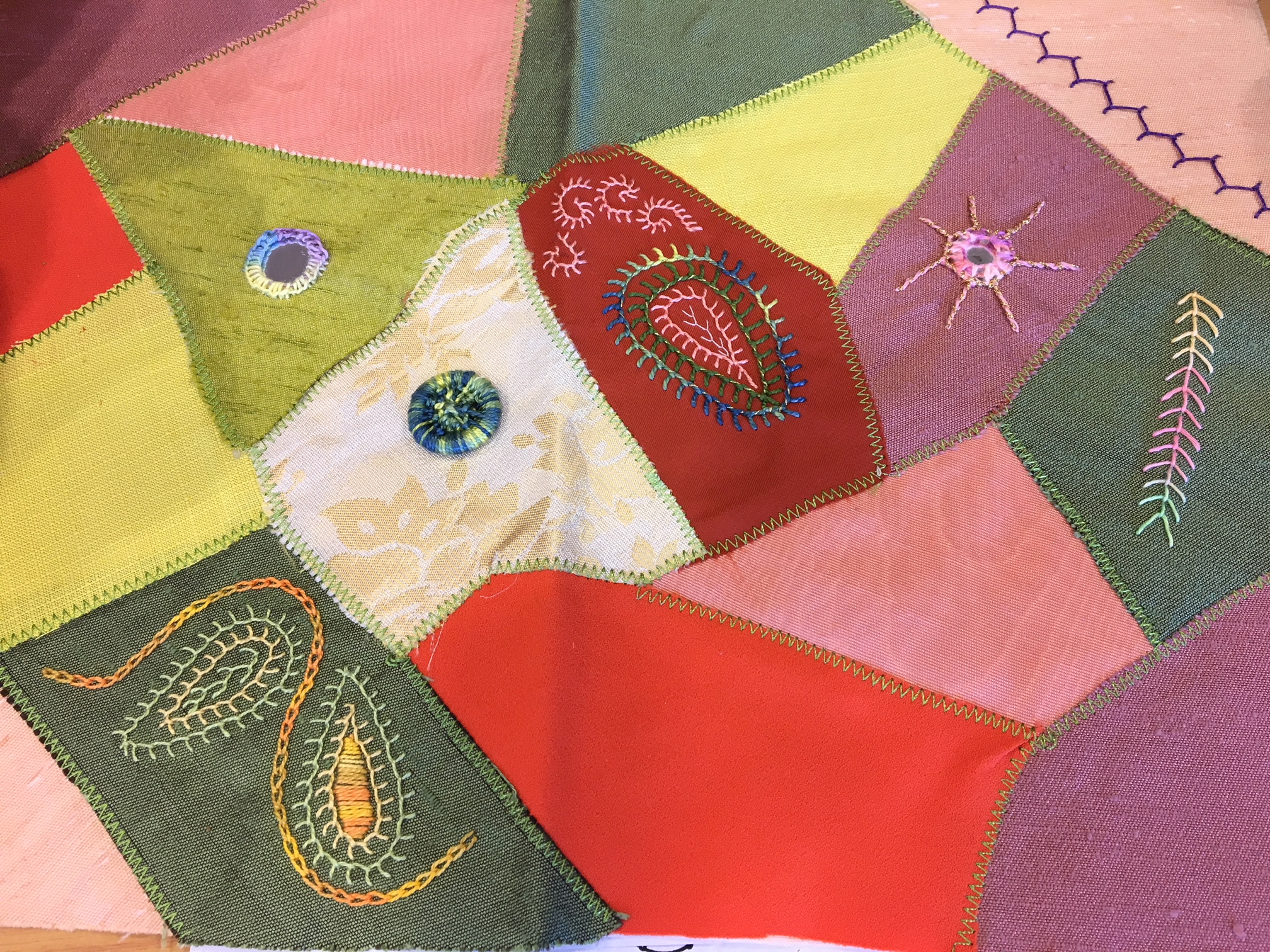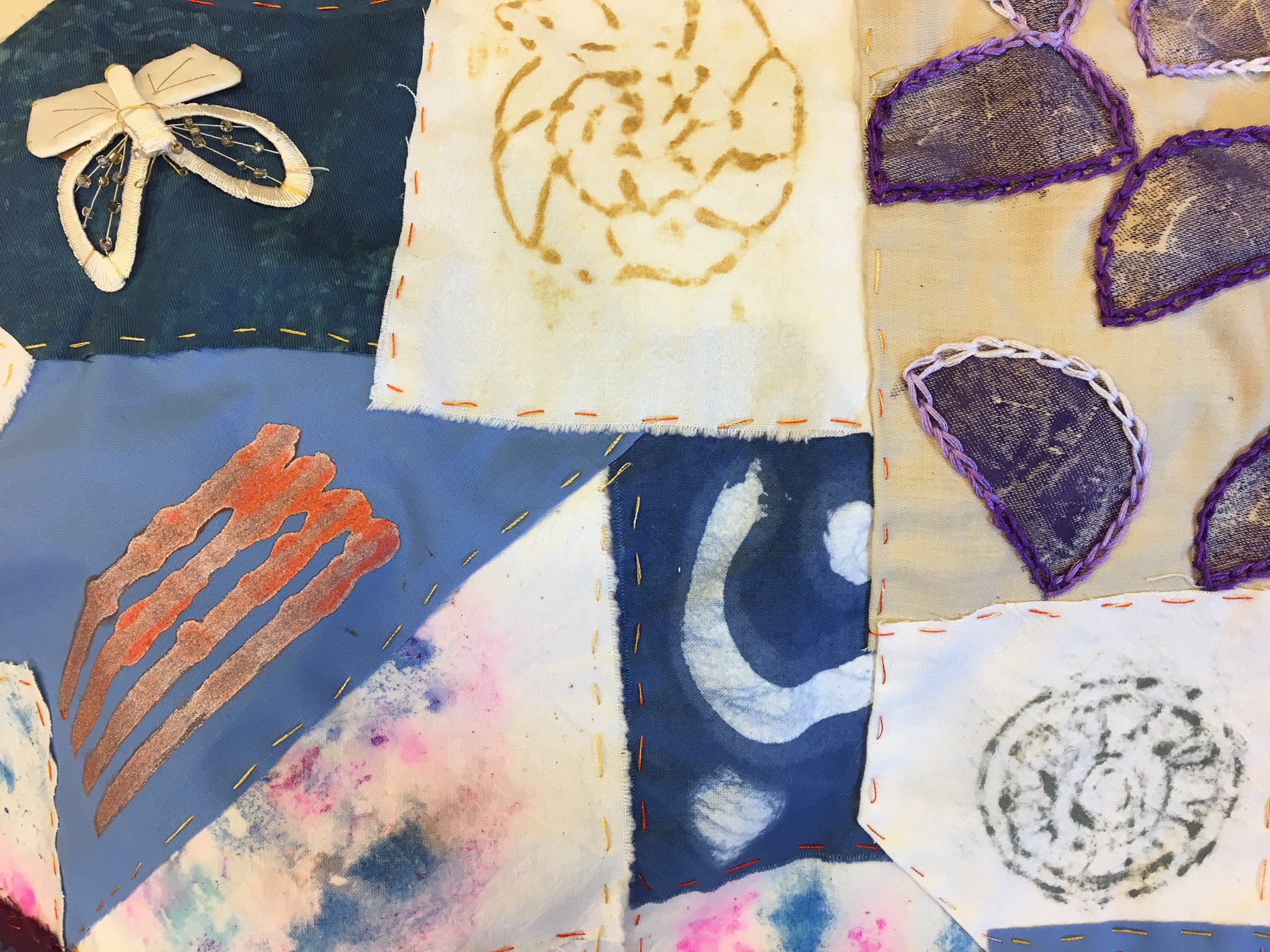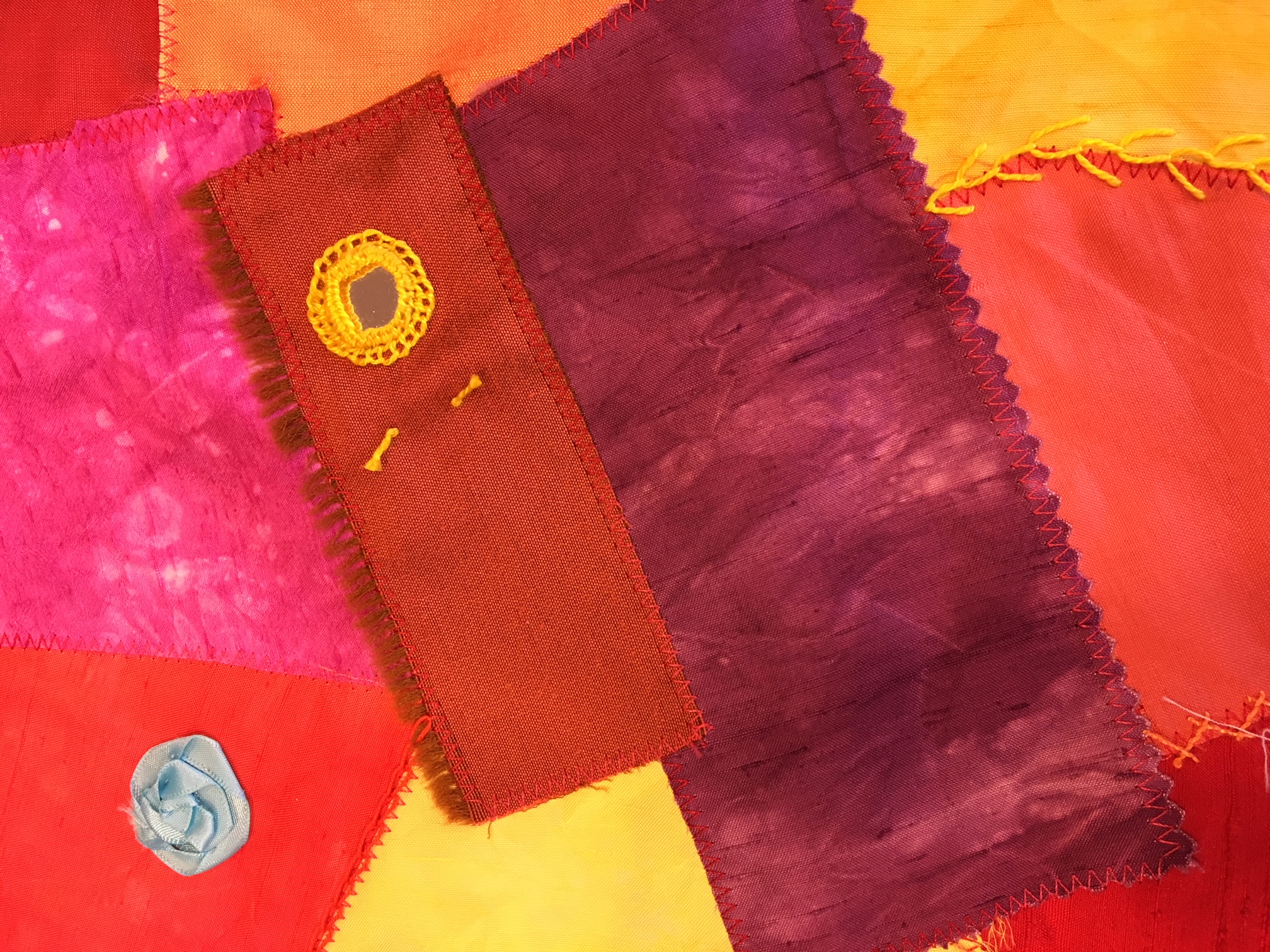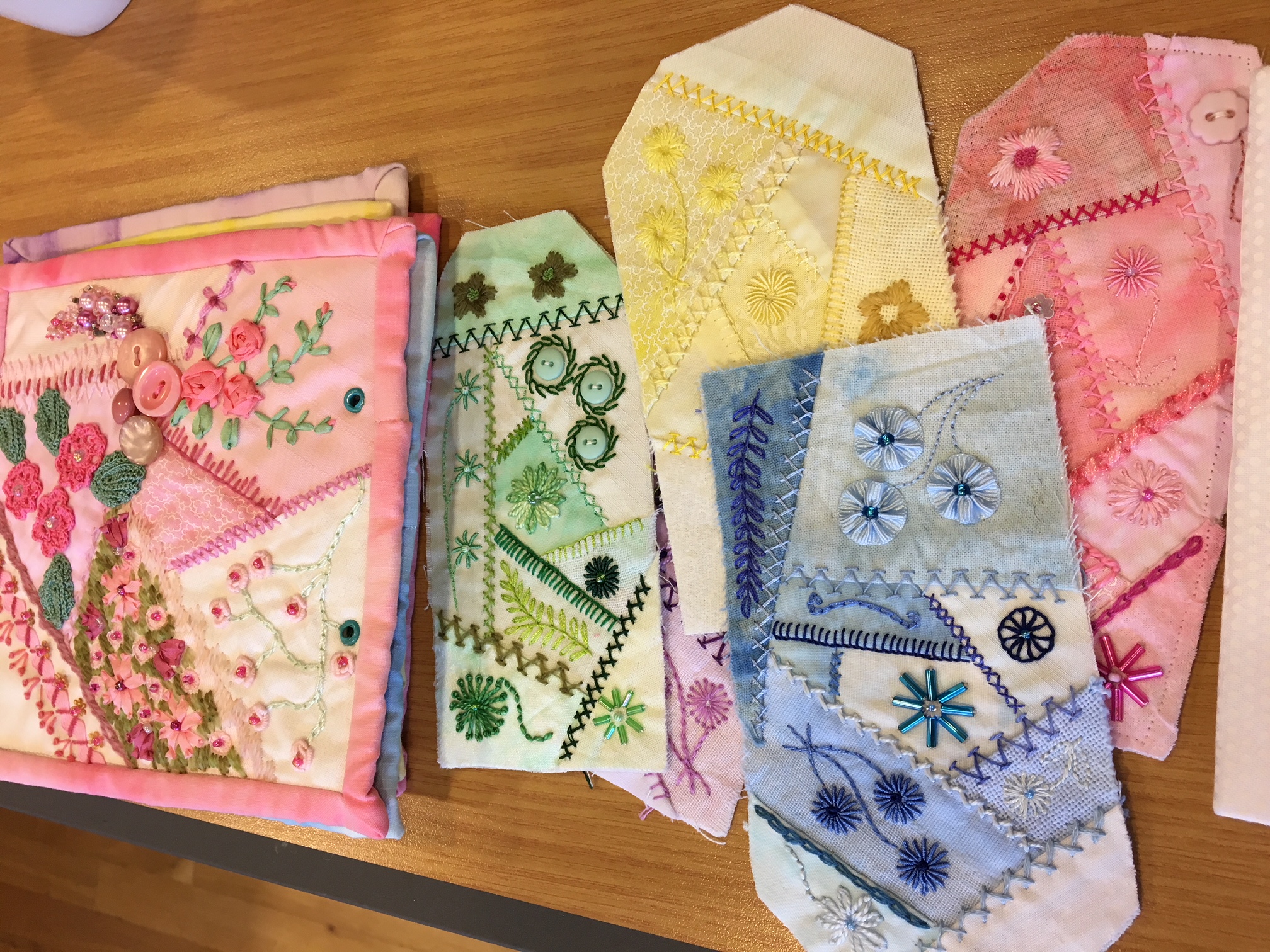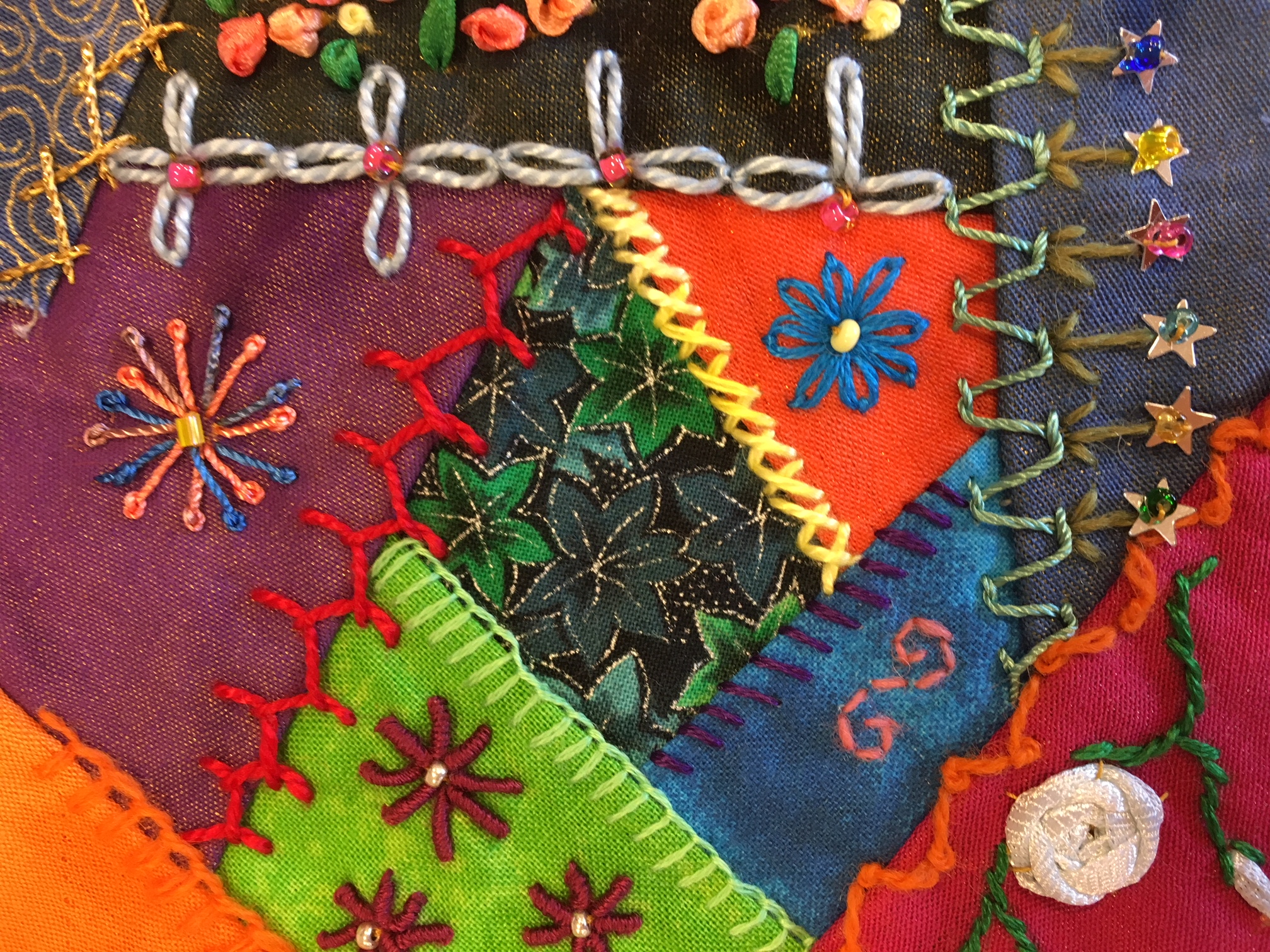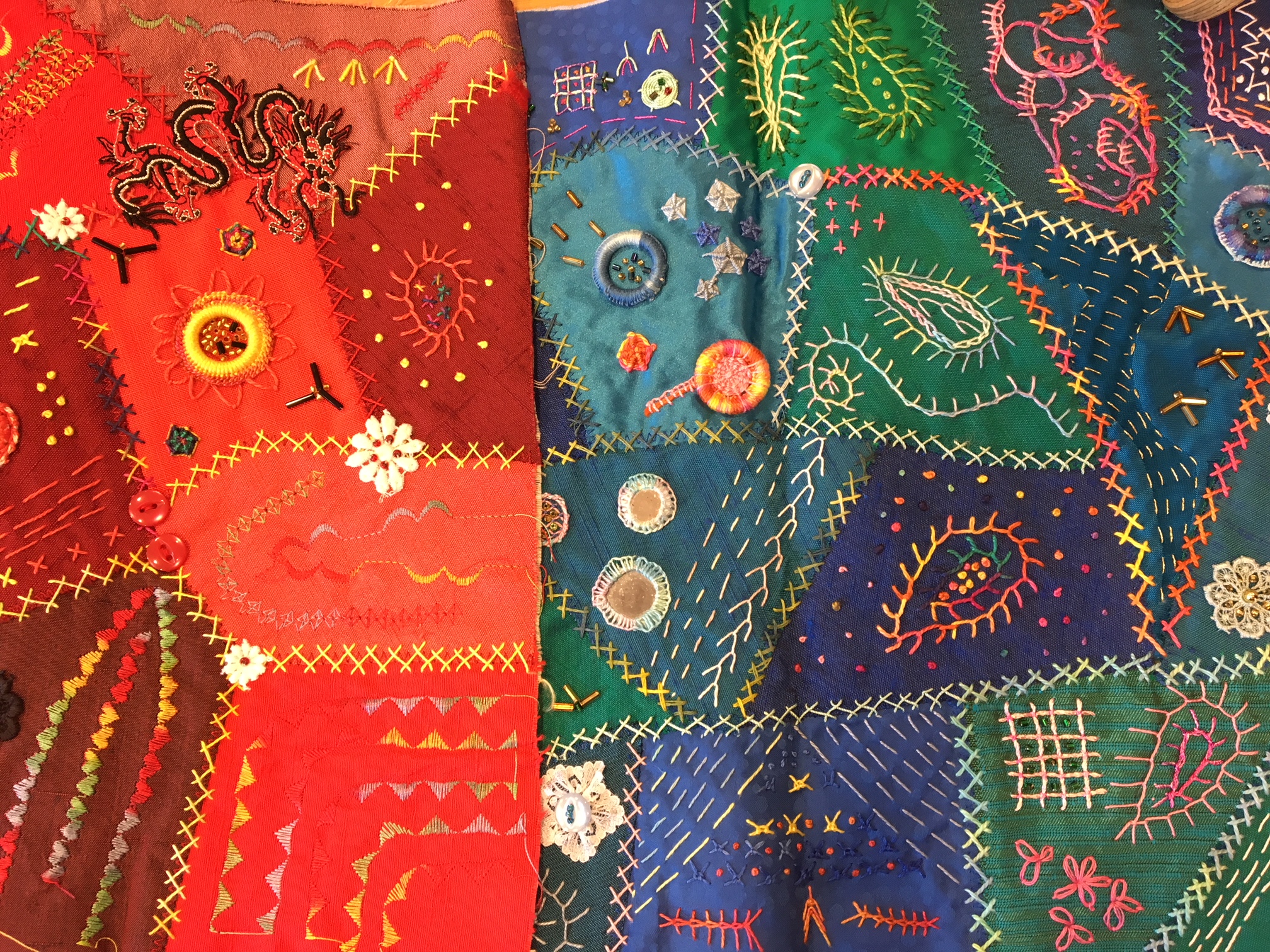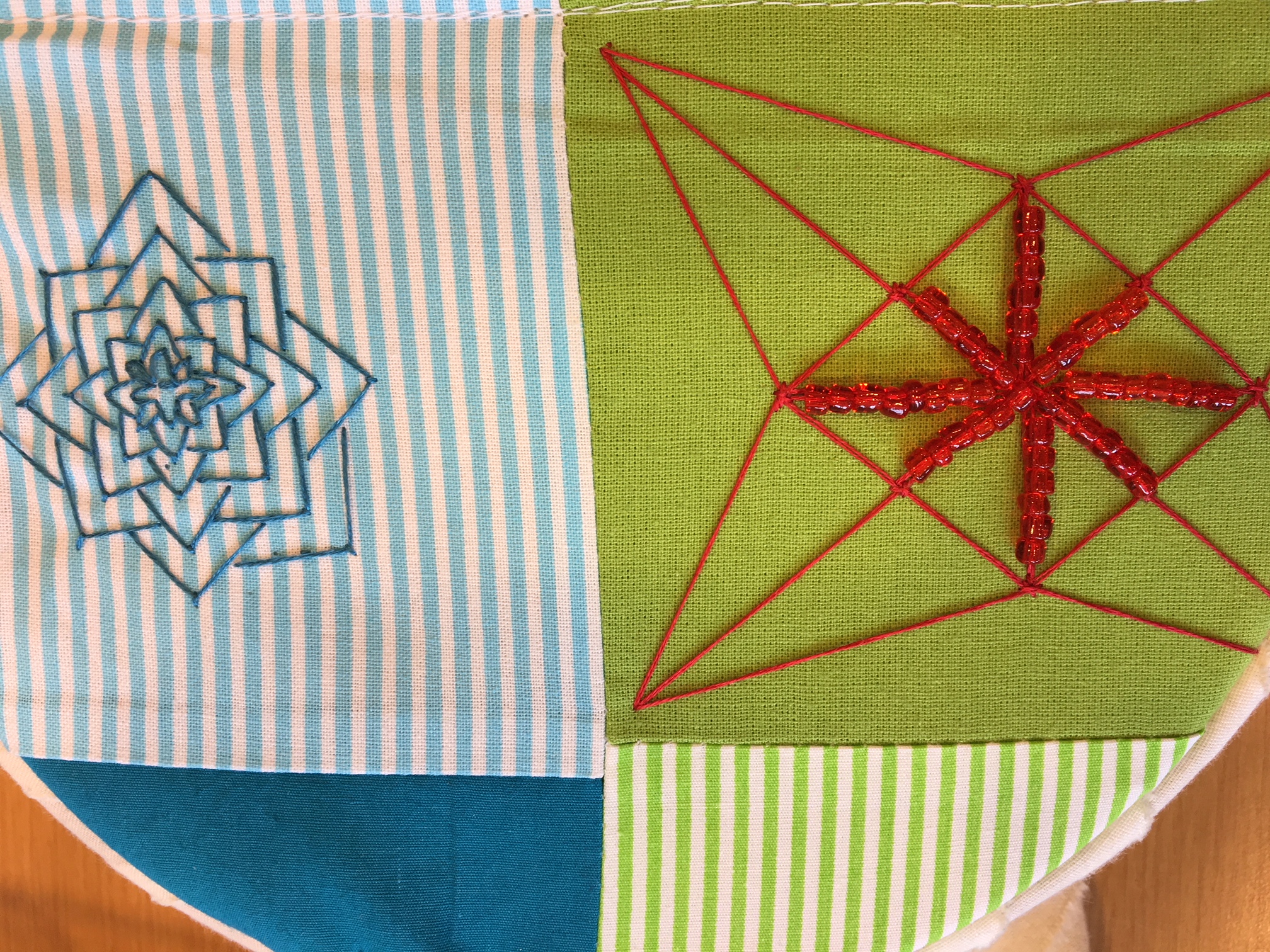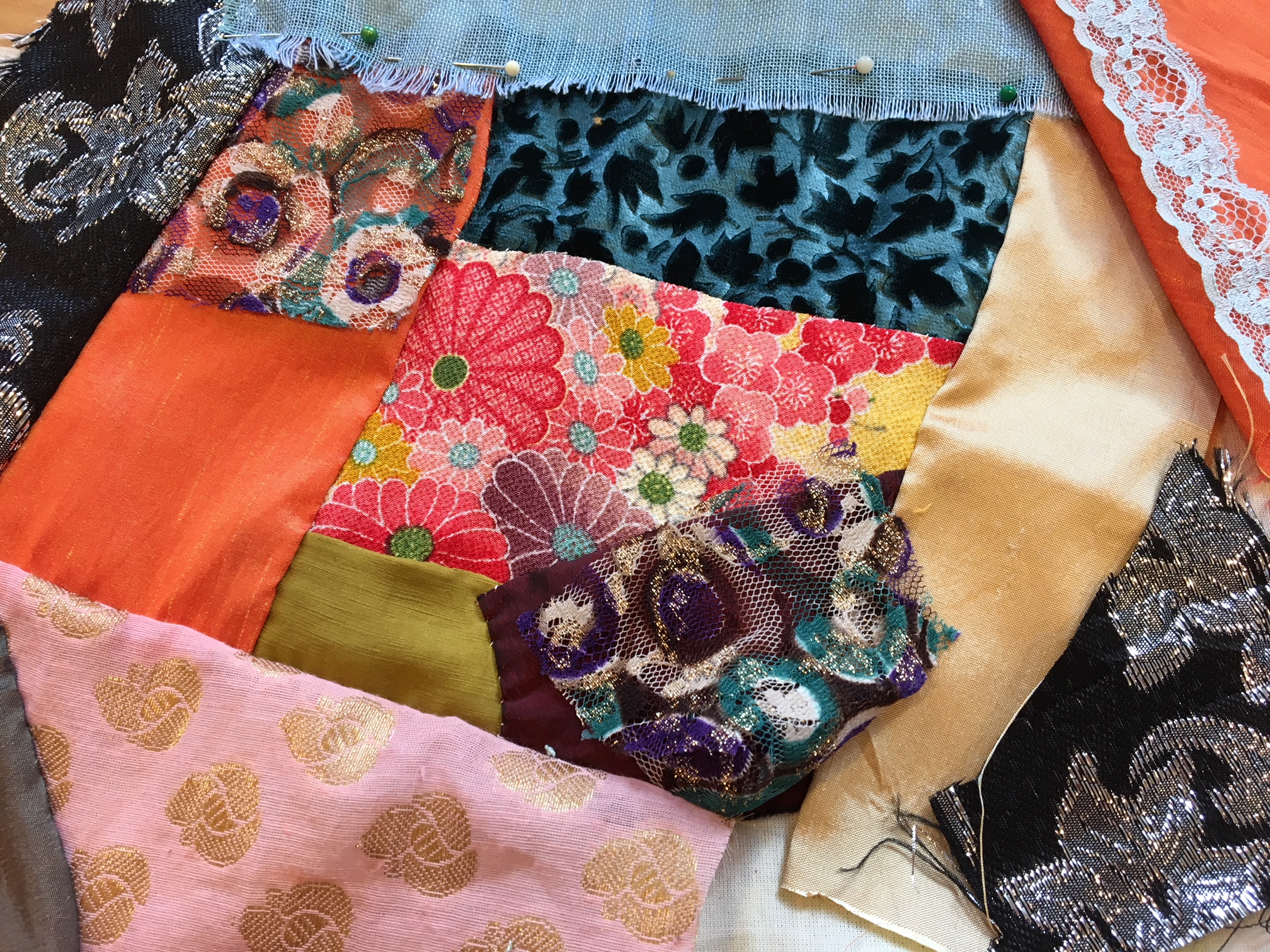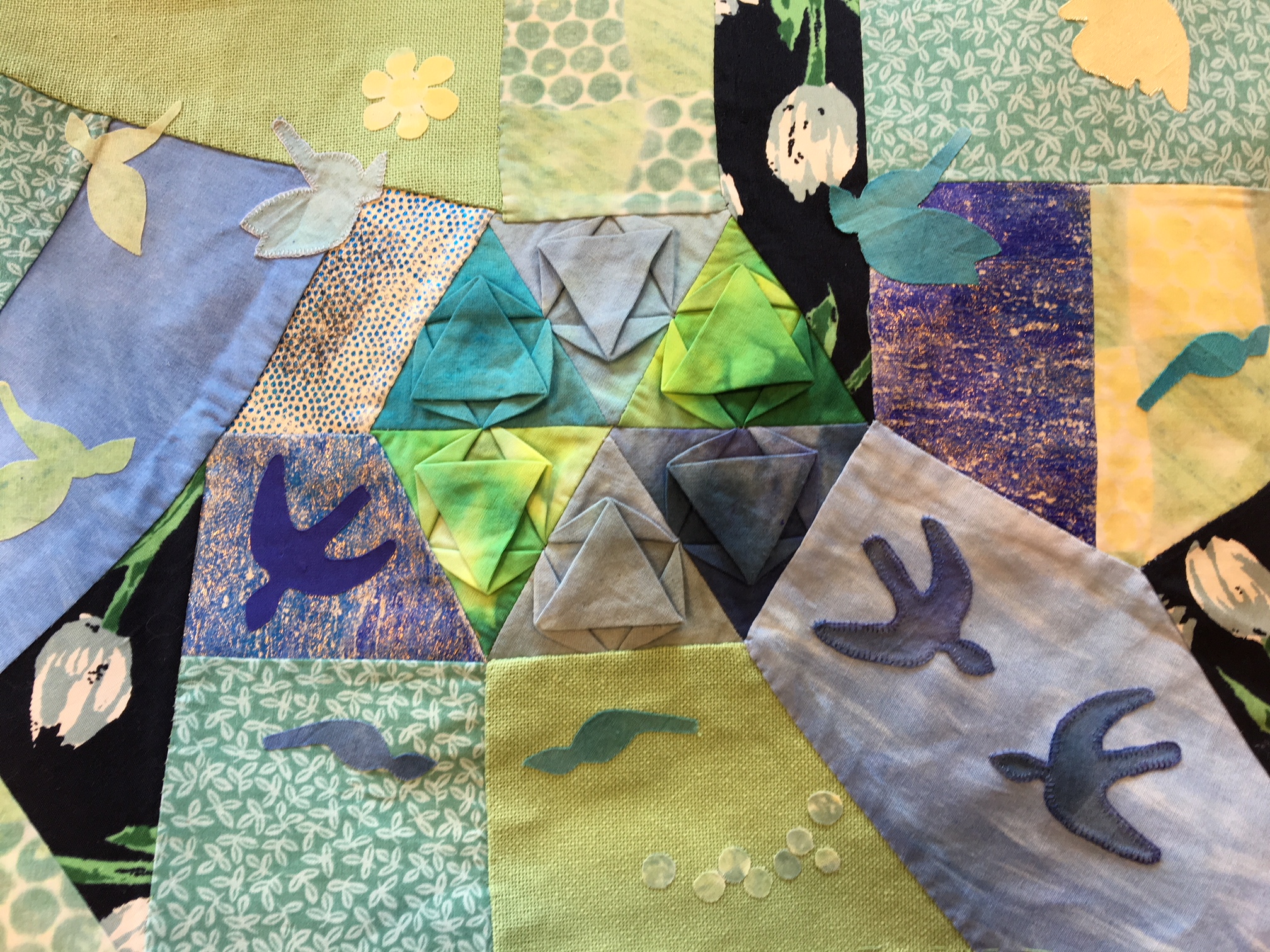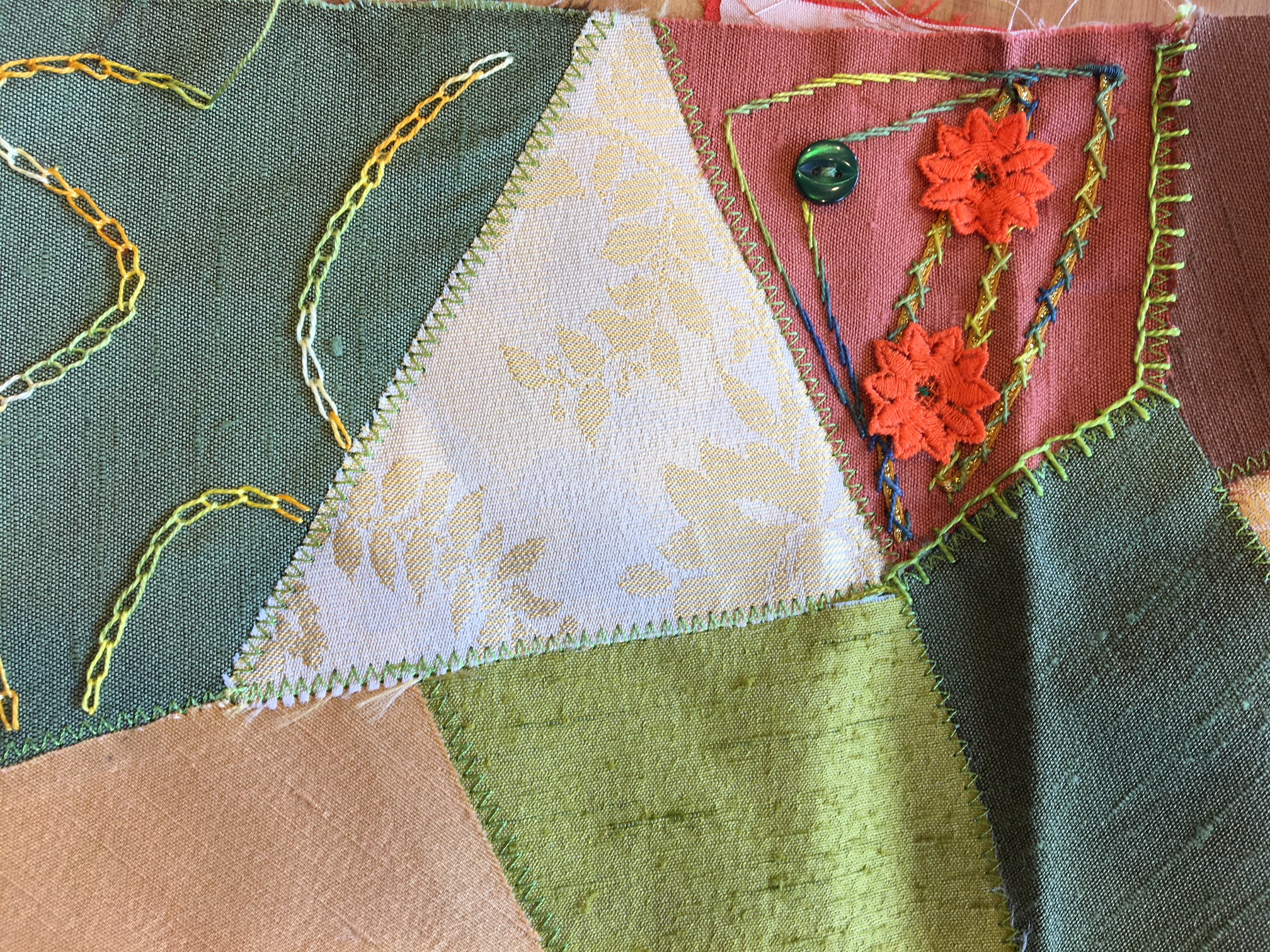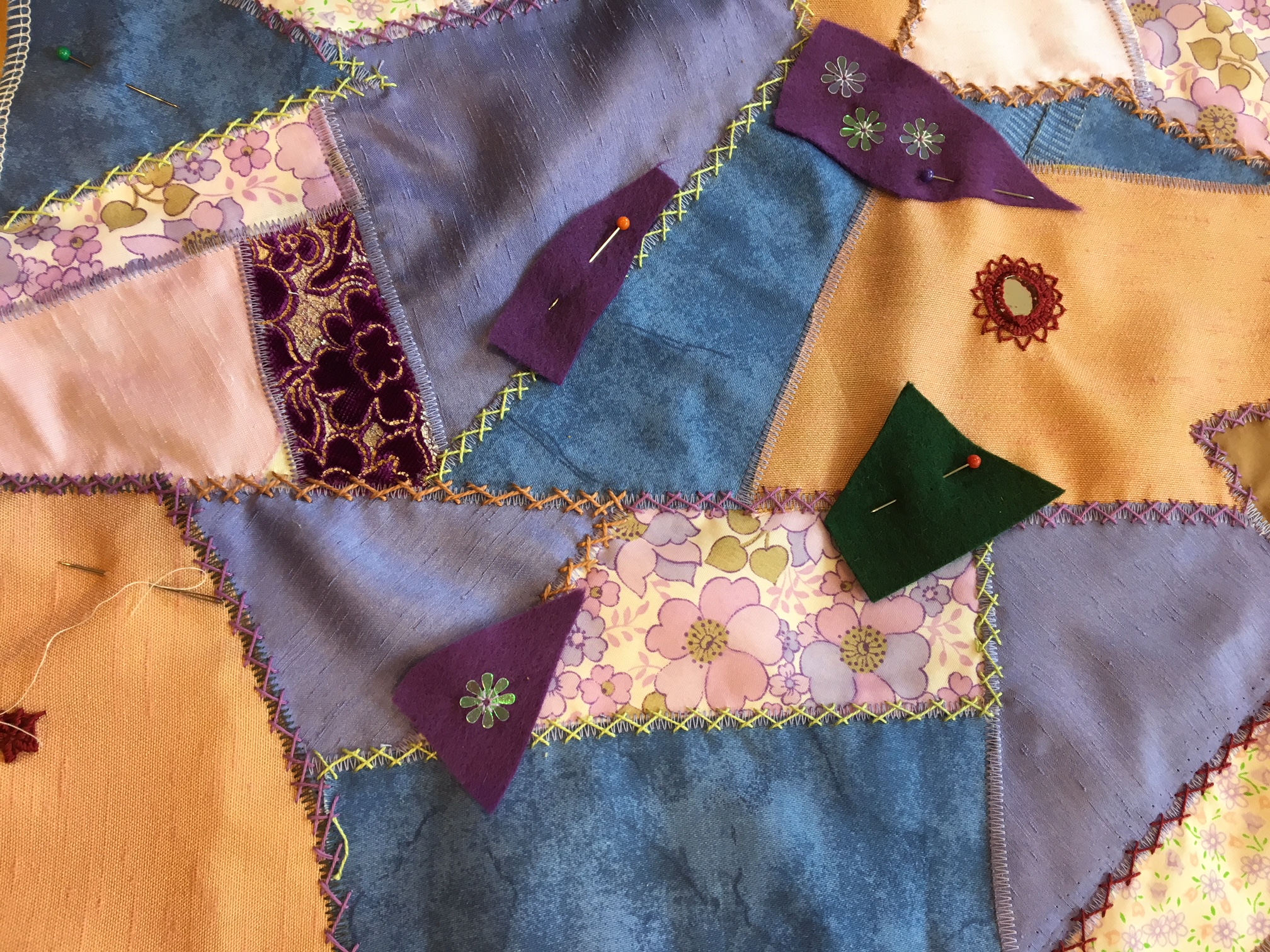 Celtic Embroidery with Dr Lynn Hulse
​A celtic peacock designed for us by Lynn Hulse. Photos thanks to Rosie.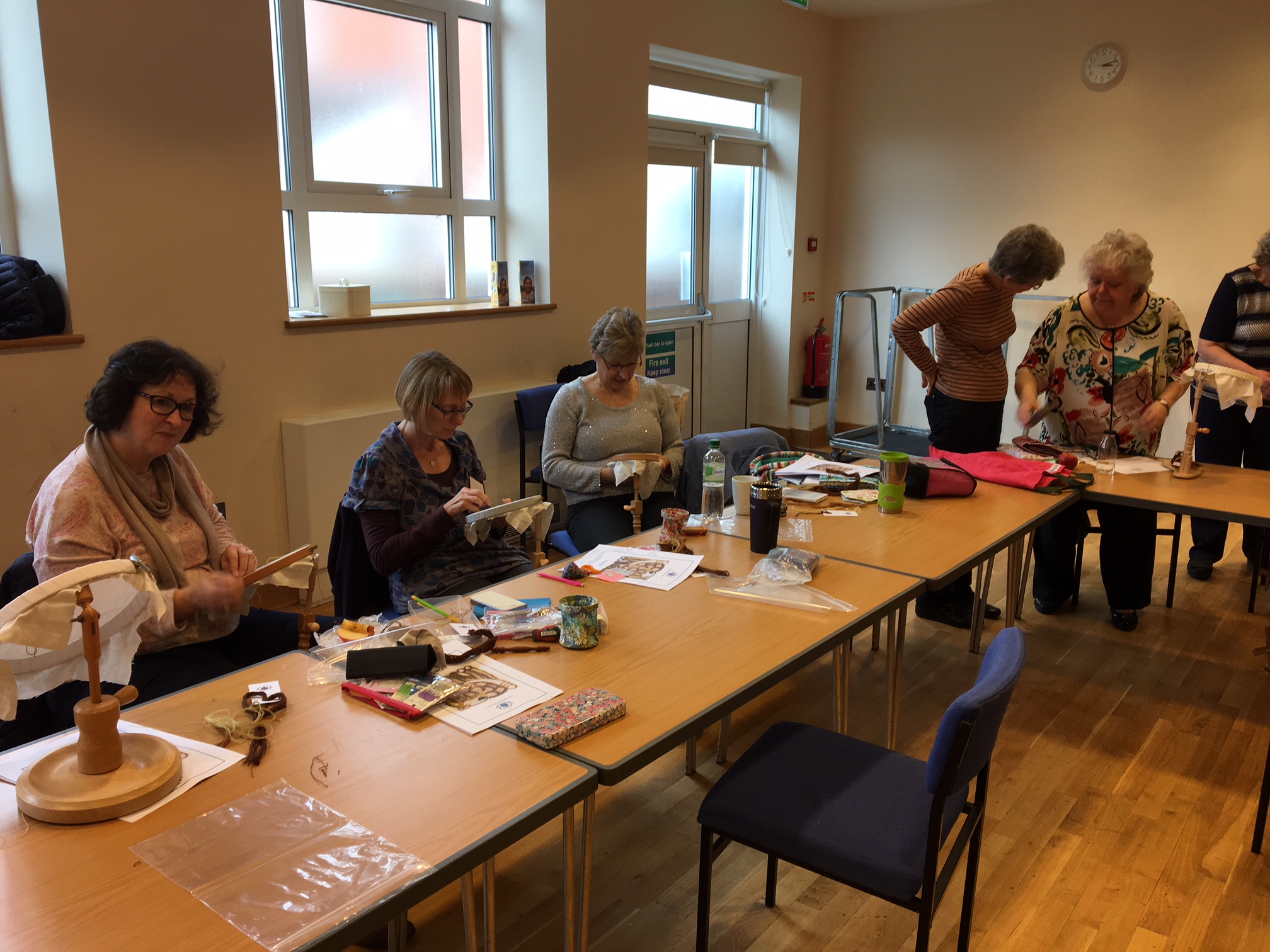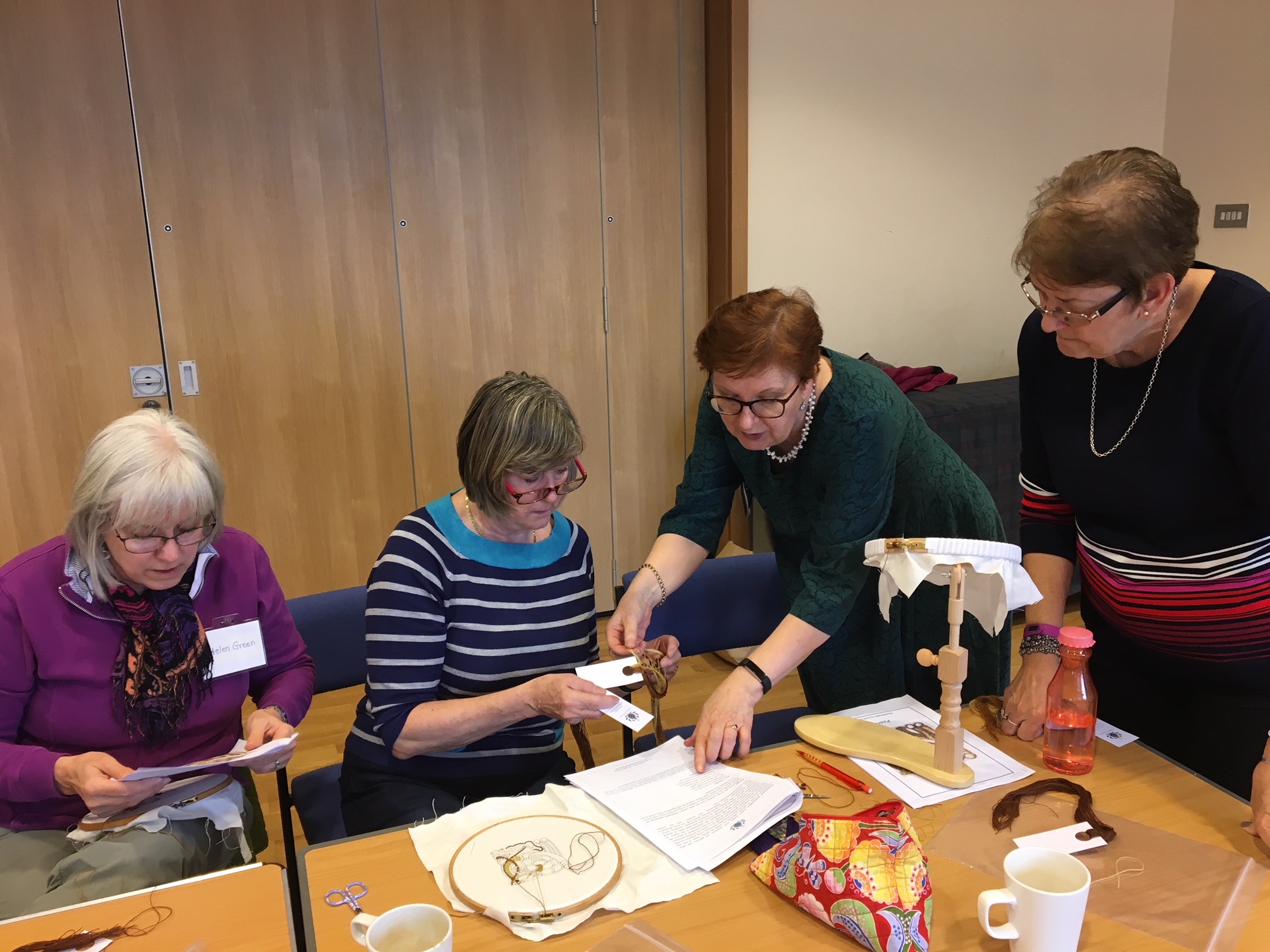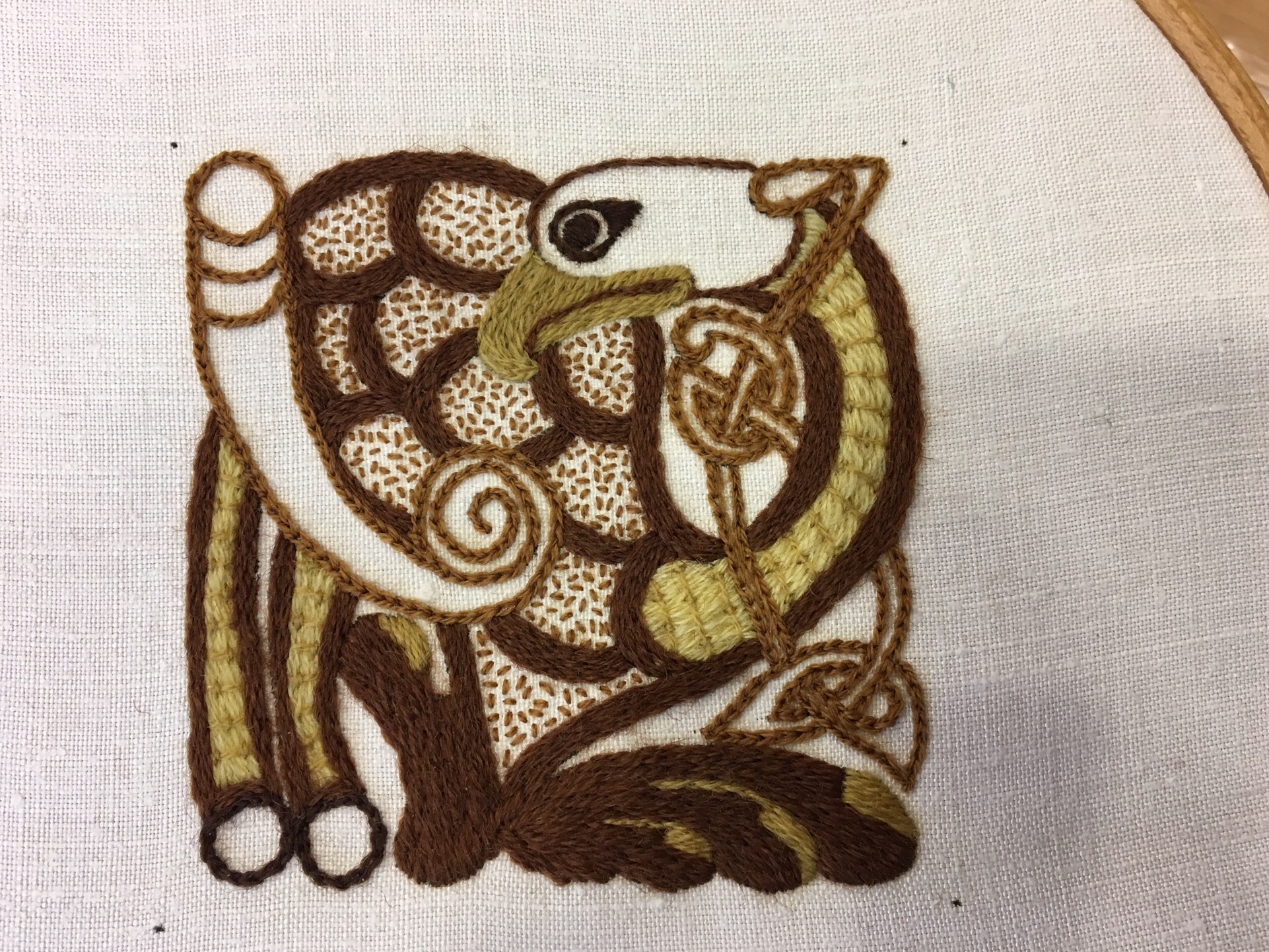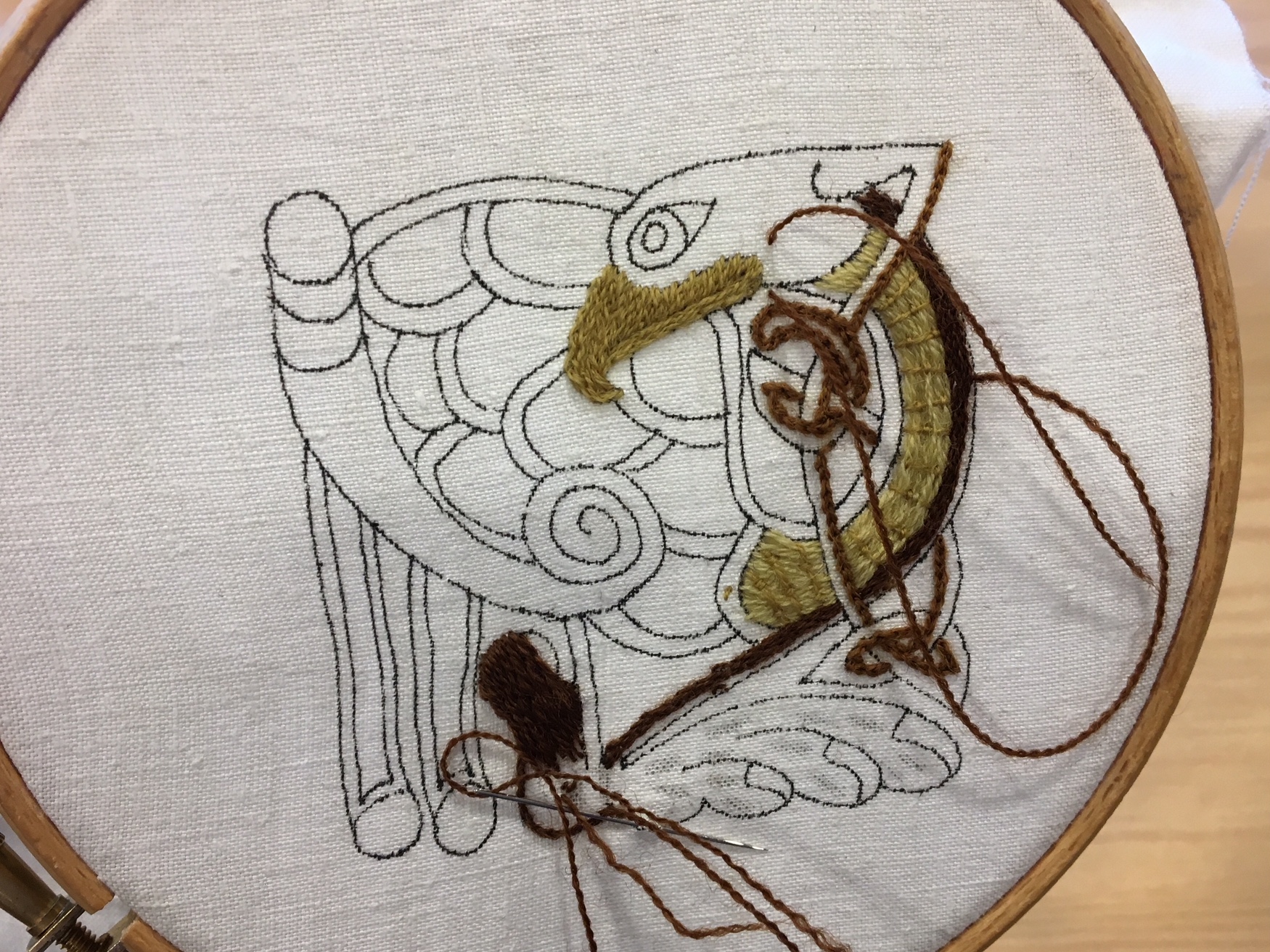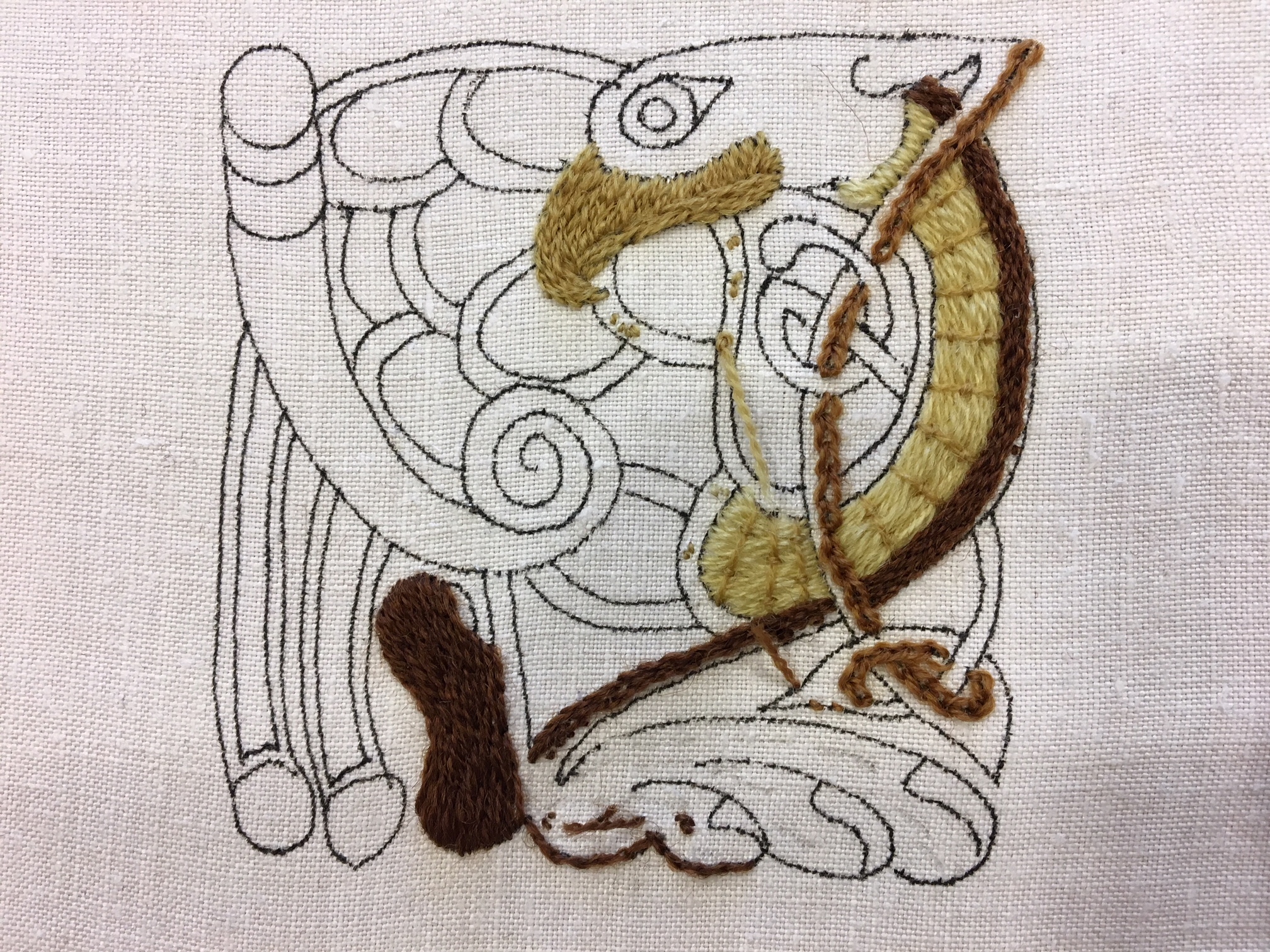 Thread Painting with Roz Cundick
​Photos thanks to Rosie. Apologies that they are sideways.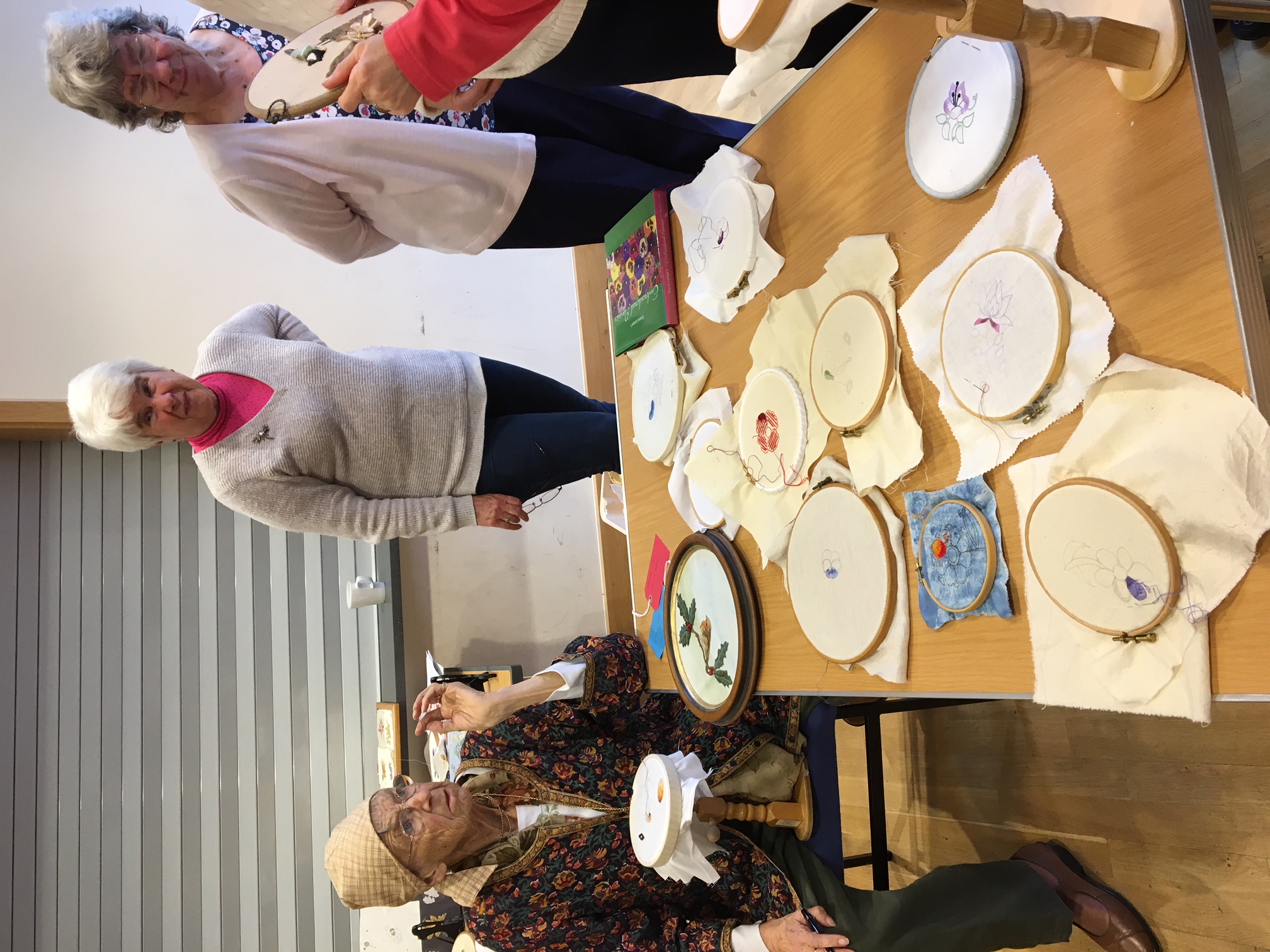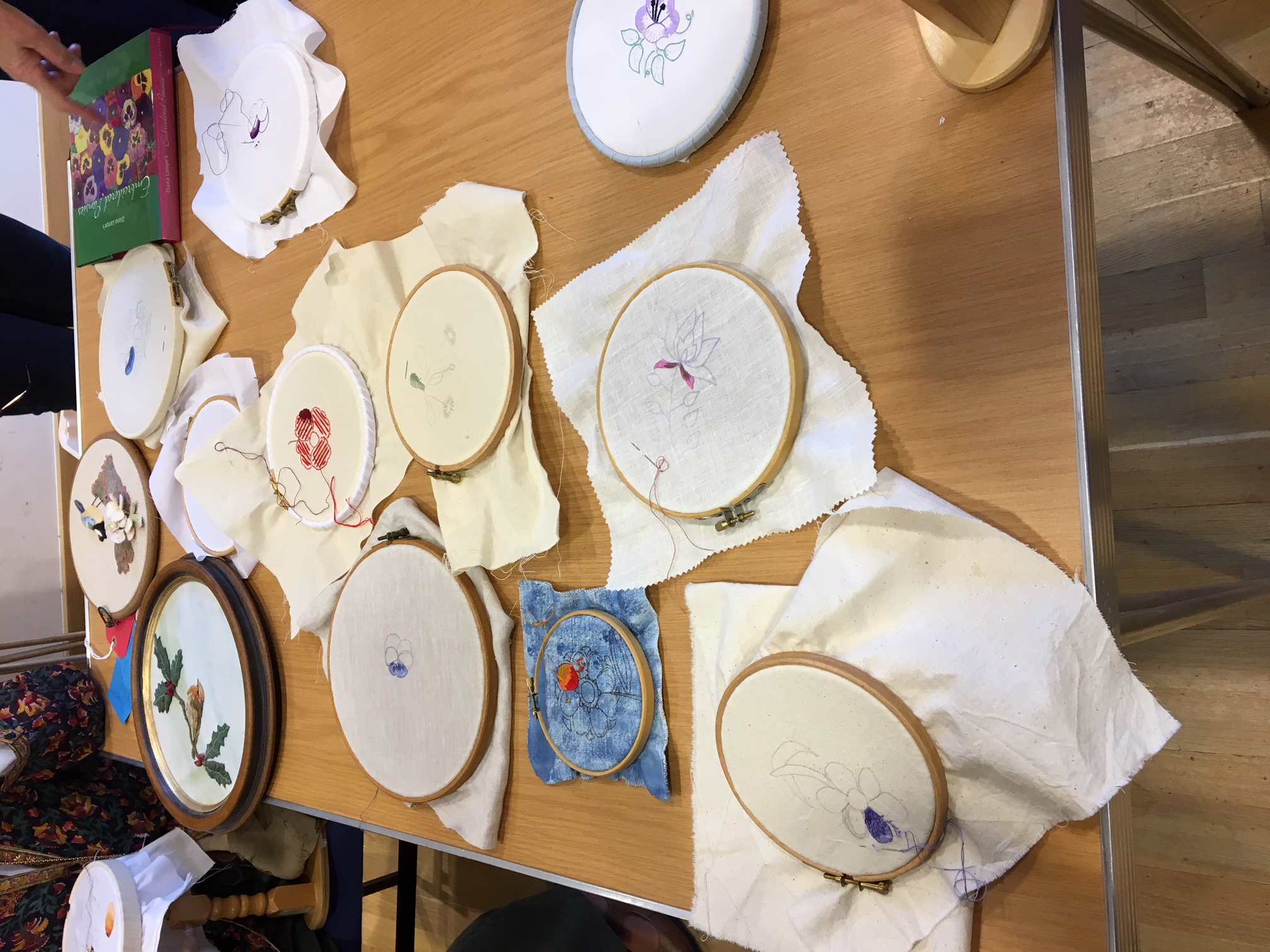 Embroidered Notebooks with Barbara Wright
​Photo courtesy of Rosy.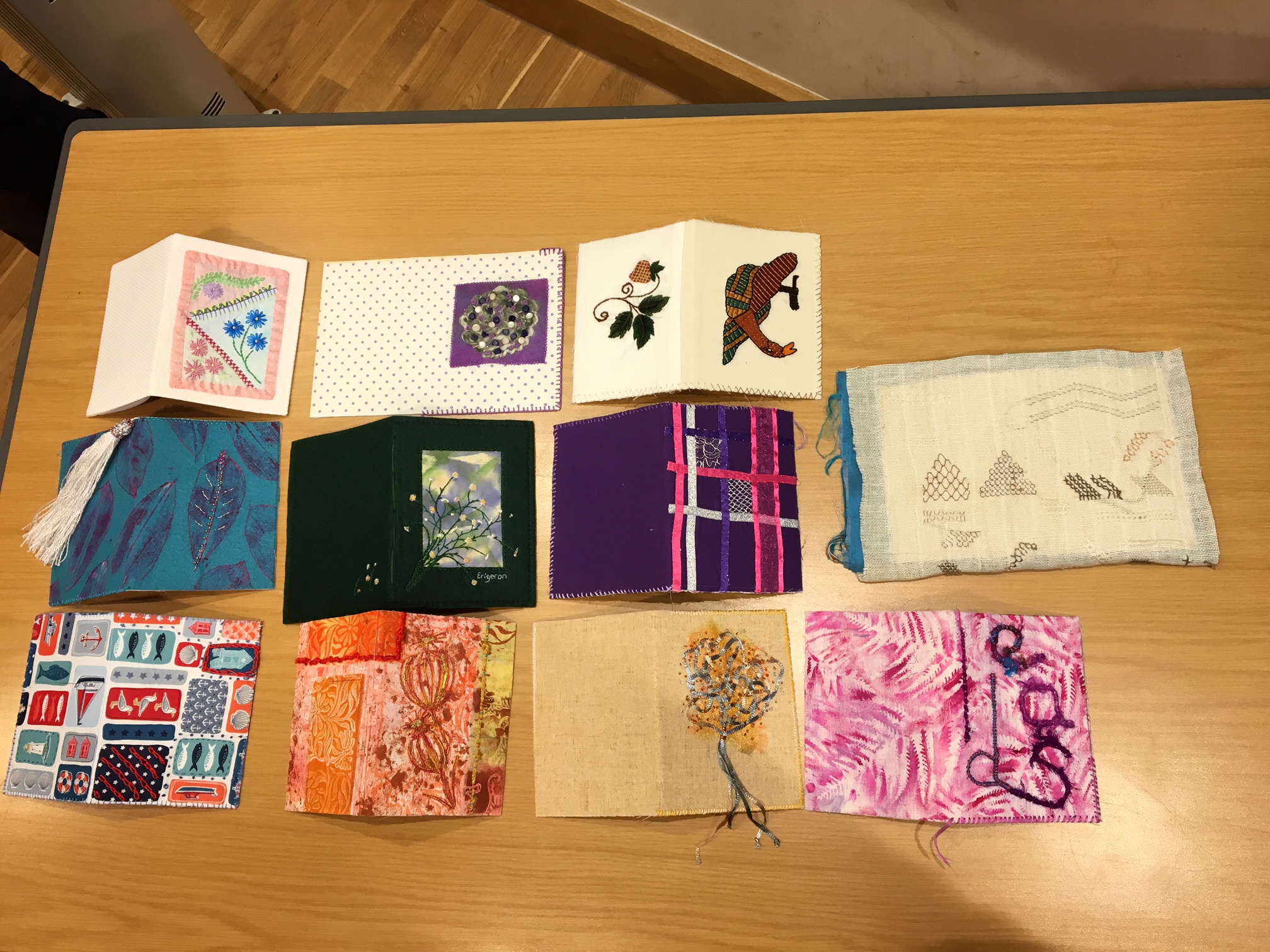 Dorset Posies with Morag Stewart
31st Jan 2018 ​A variation on Dorset Buttons based on an article in Stitch Magazine. Photo by Rosy.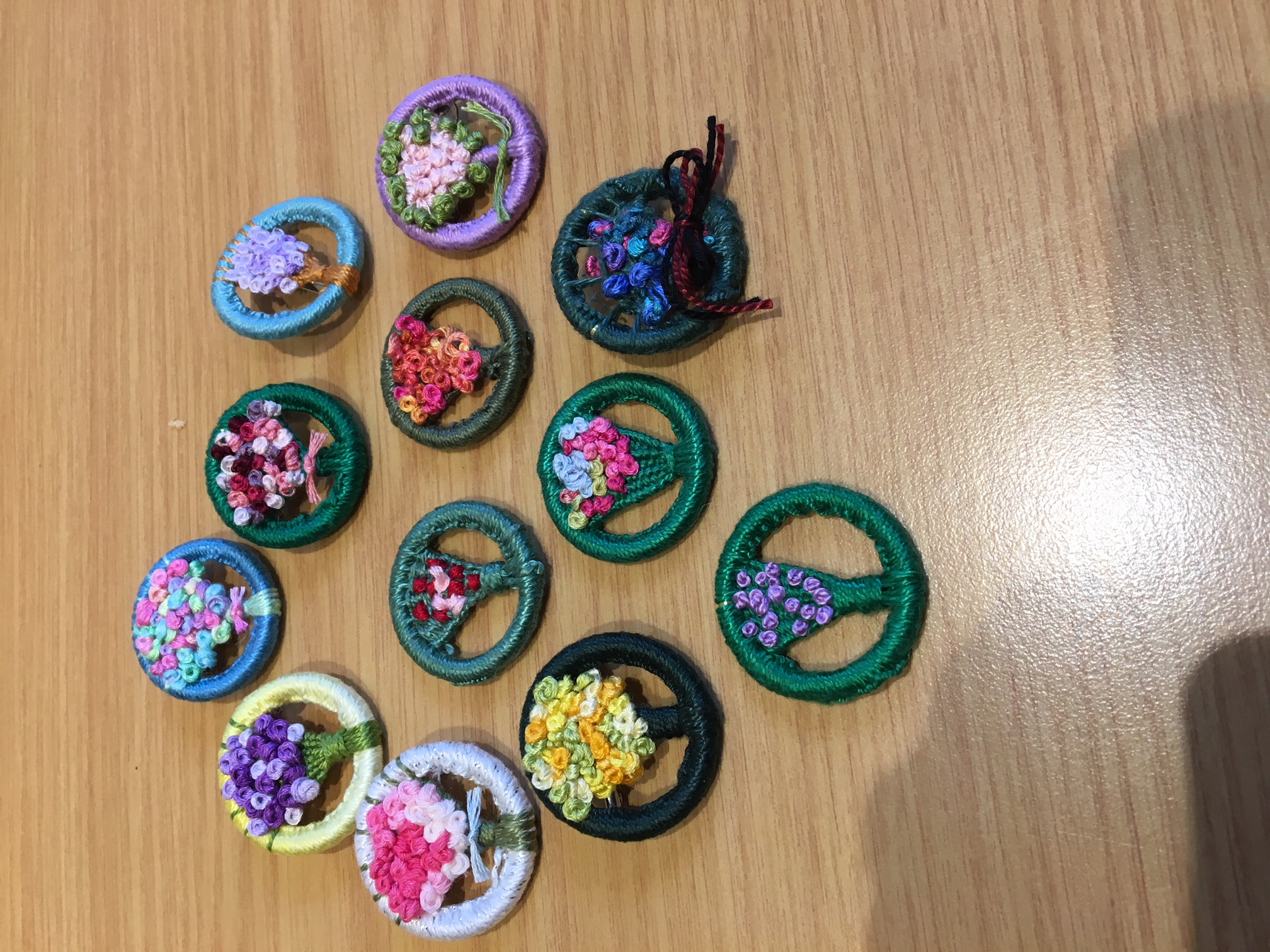 Christmas Party 2017
13th Dec. ​Christmas competition - a wrapped parcel. Followed by a selectionof show and tell pieces. Photos by Rosy. Apologies that all the pictures are shown as landscape.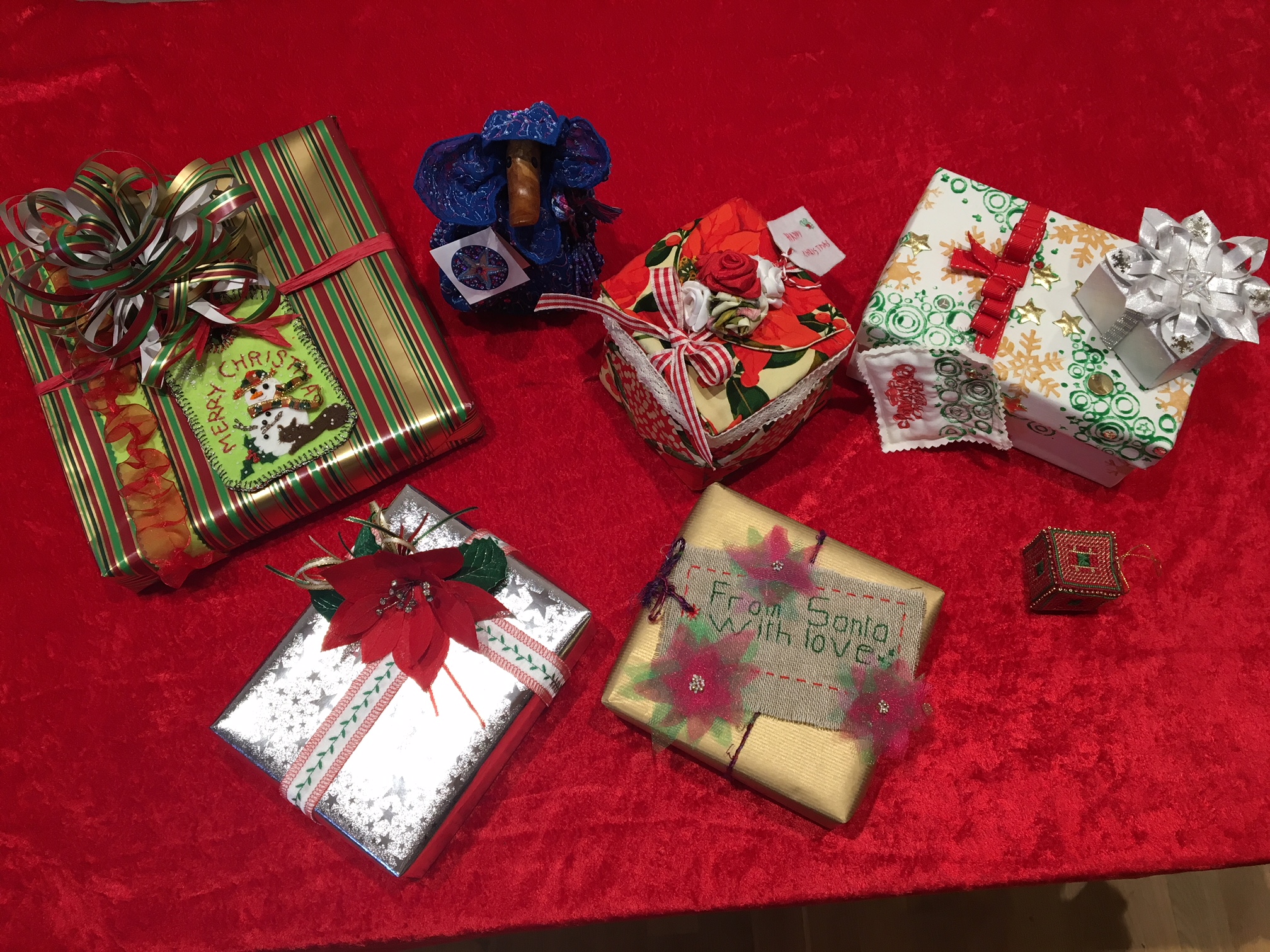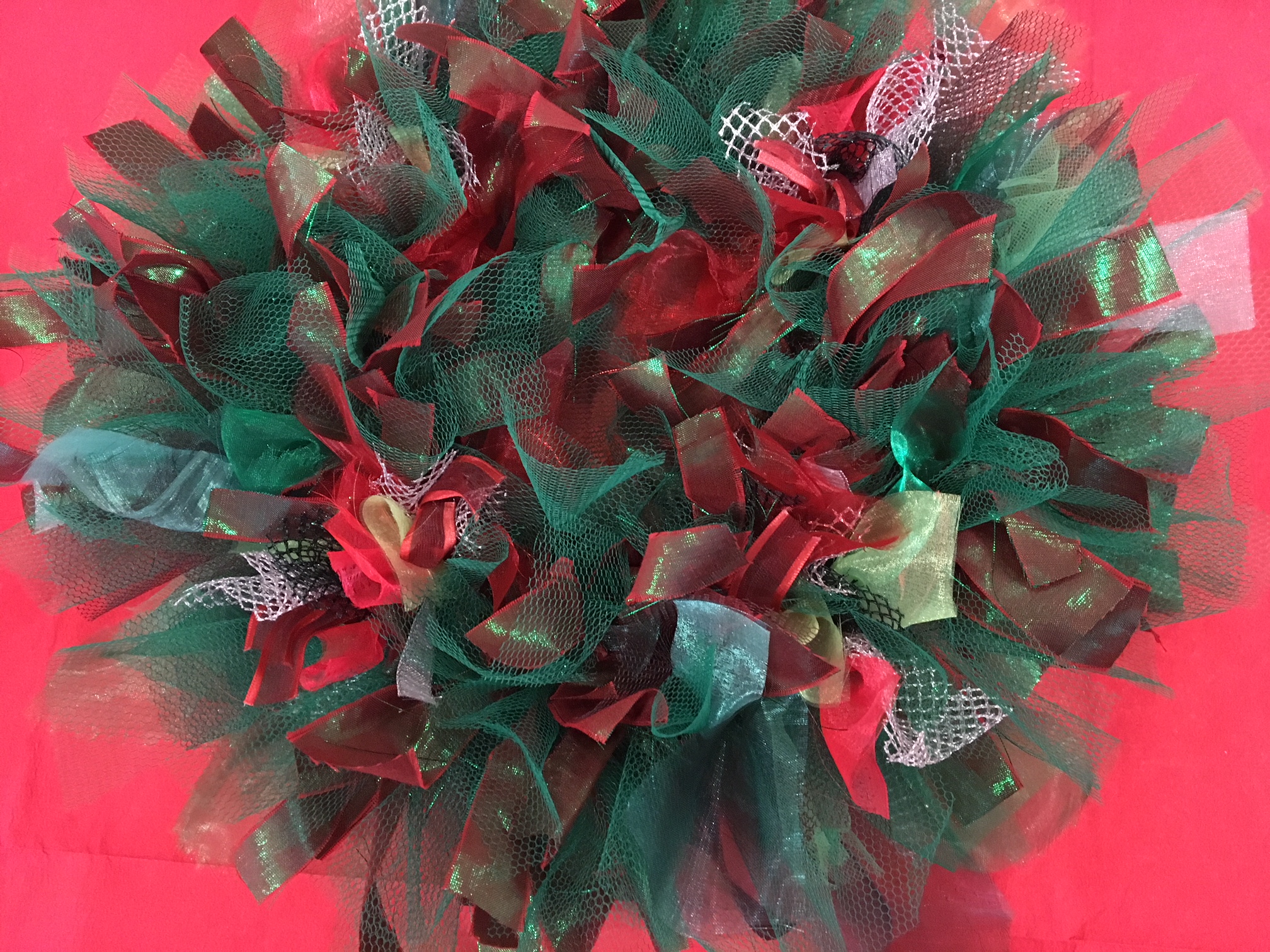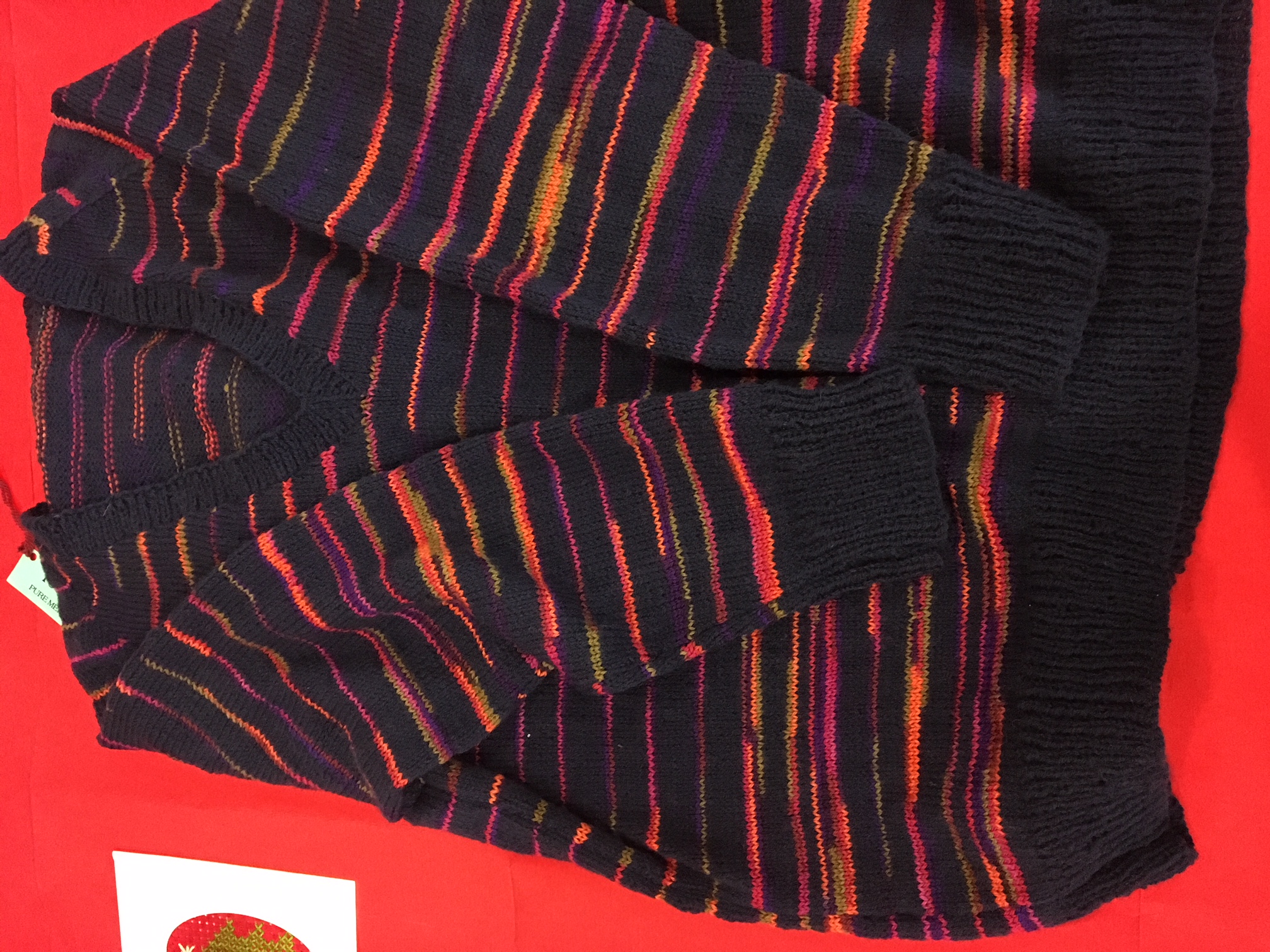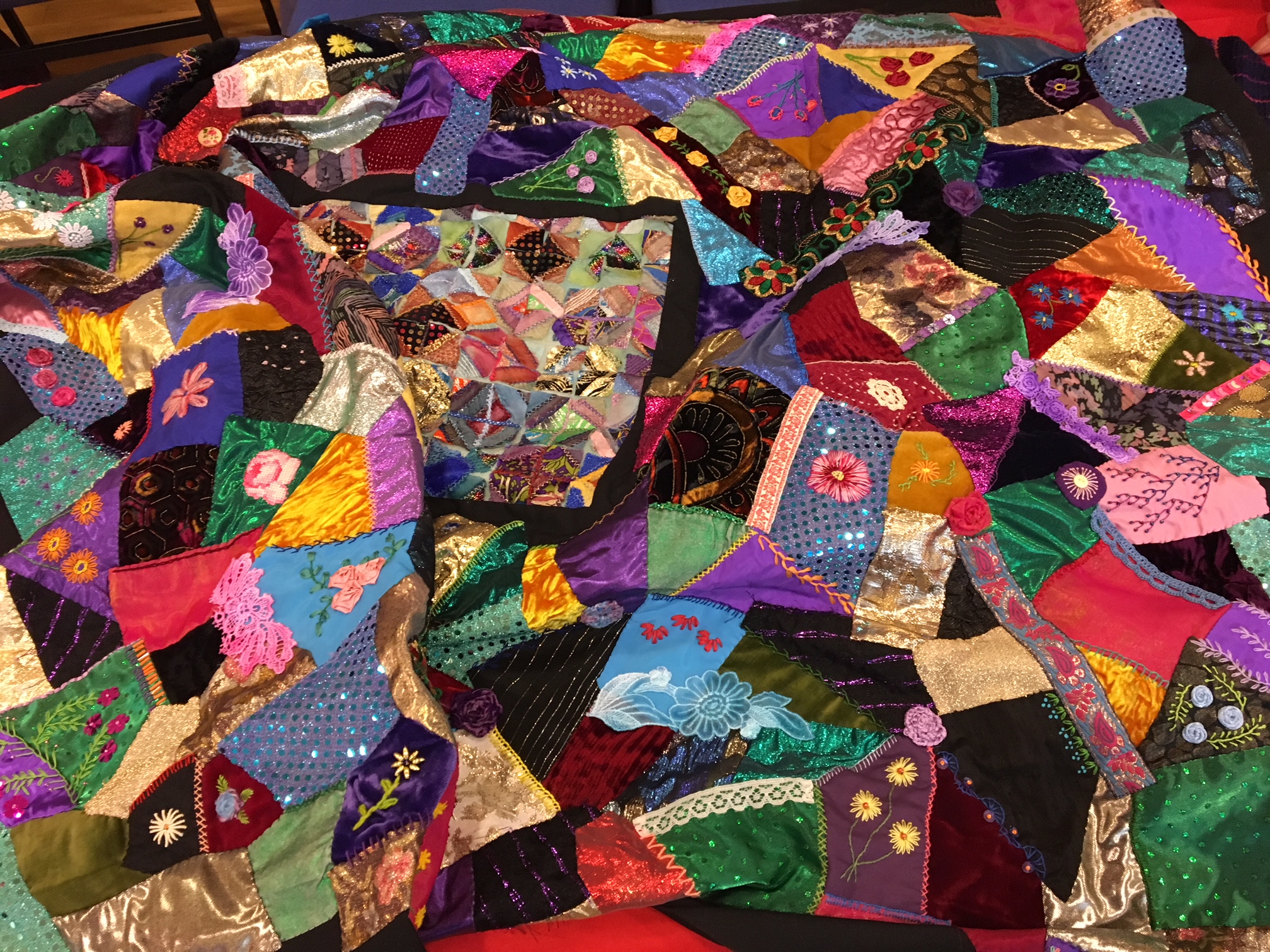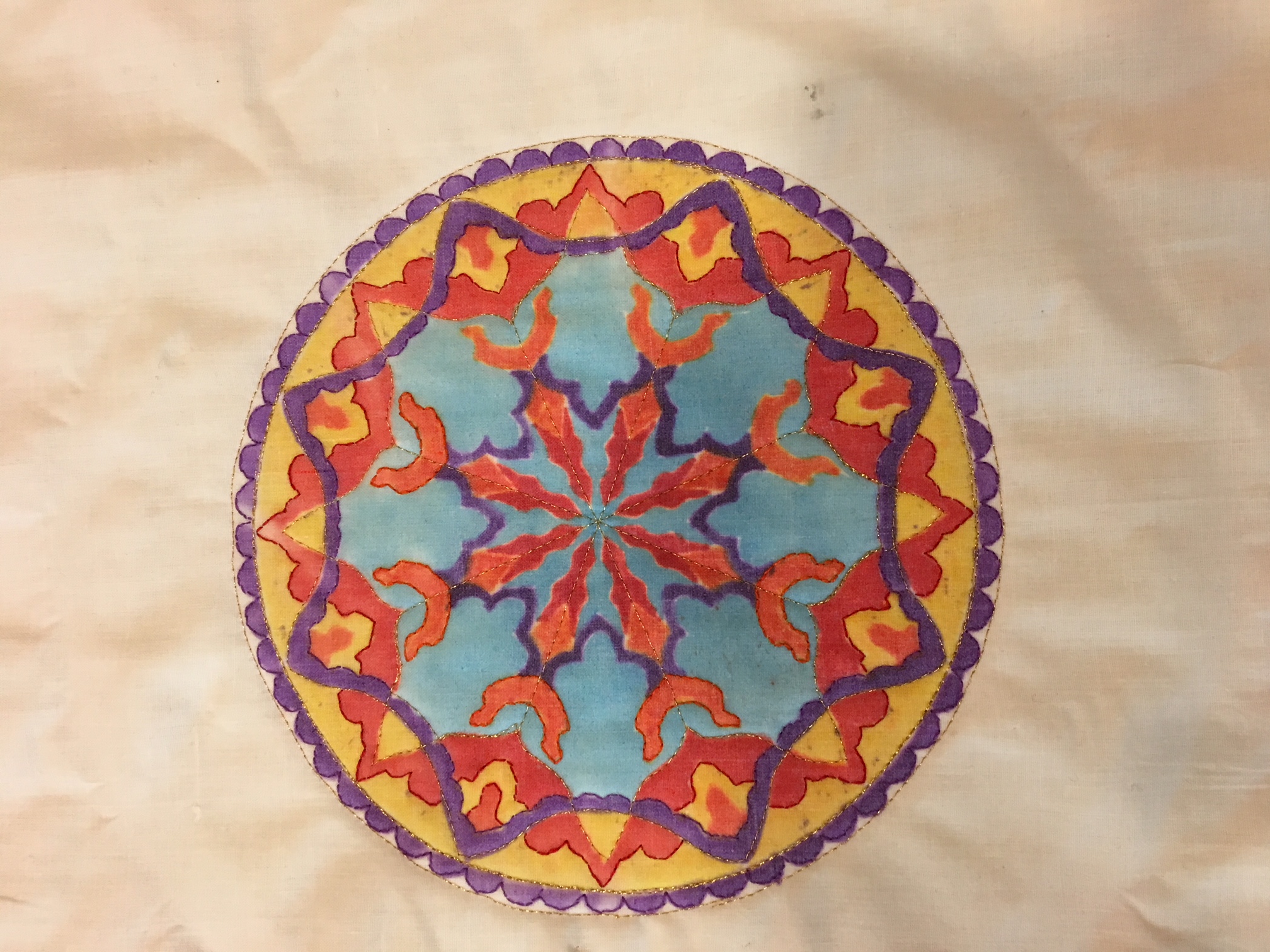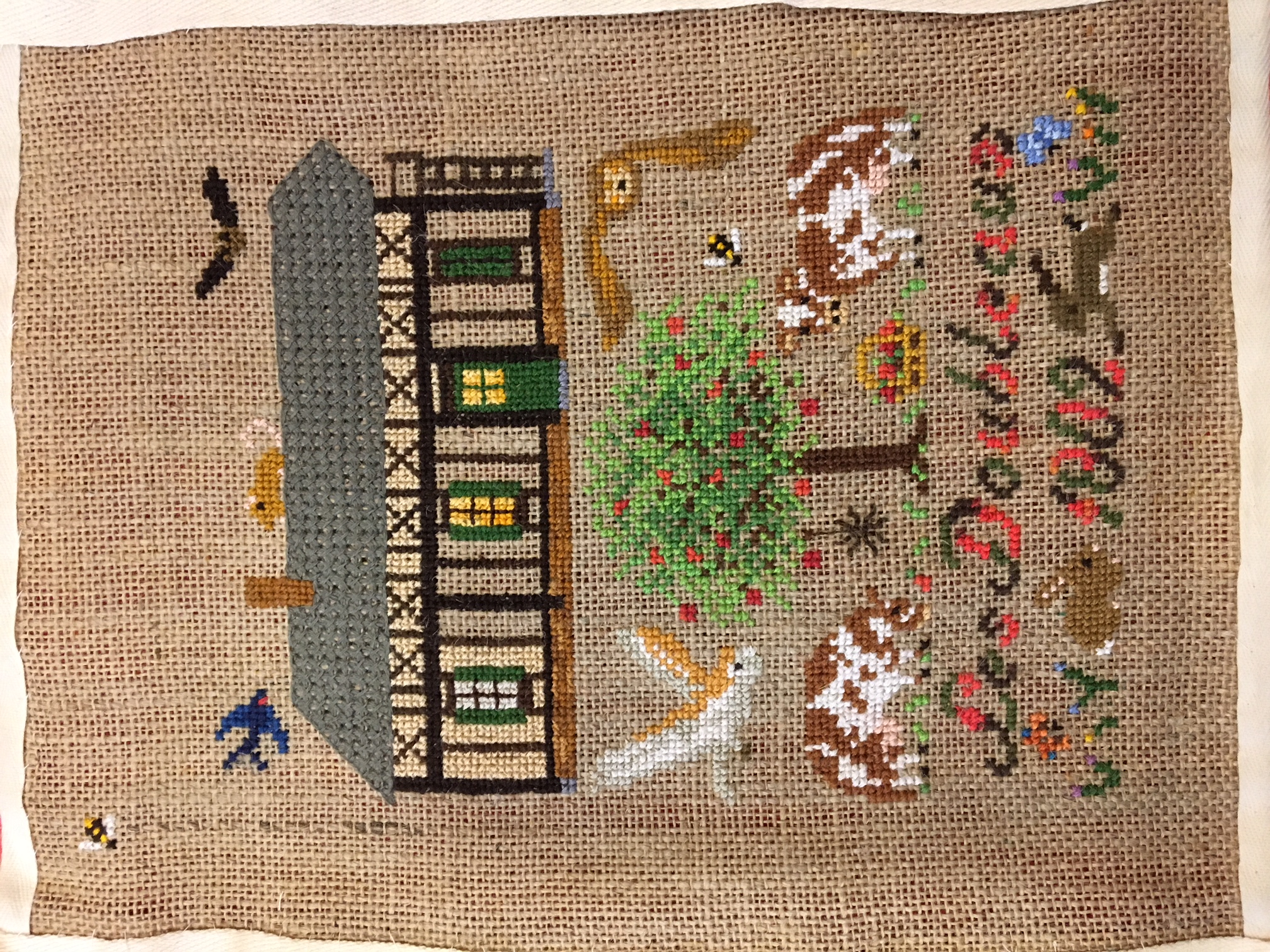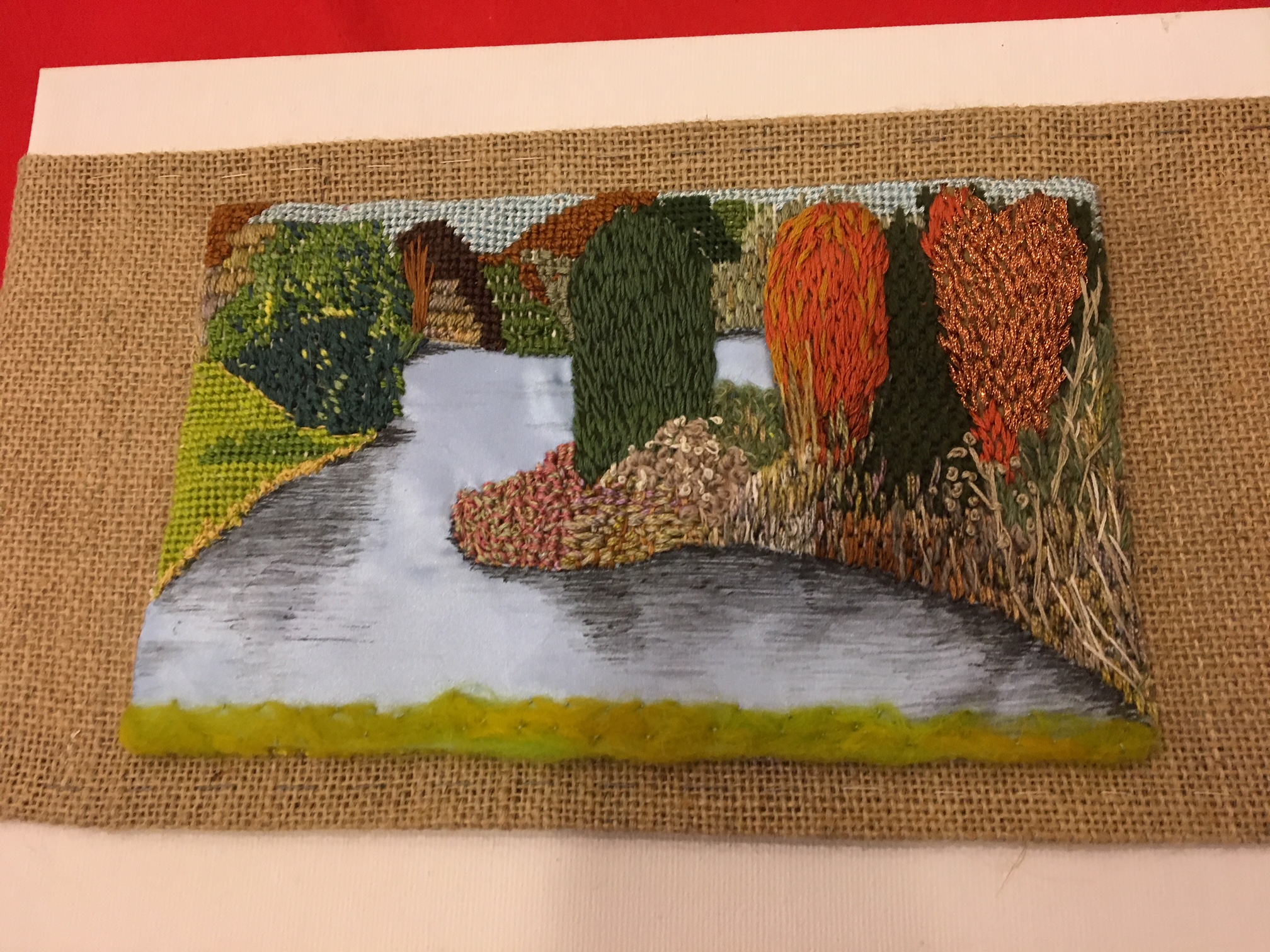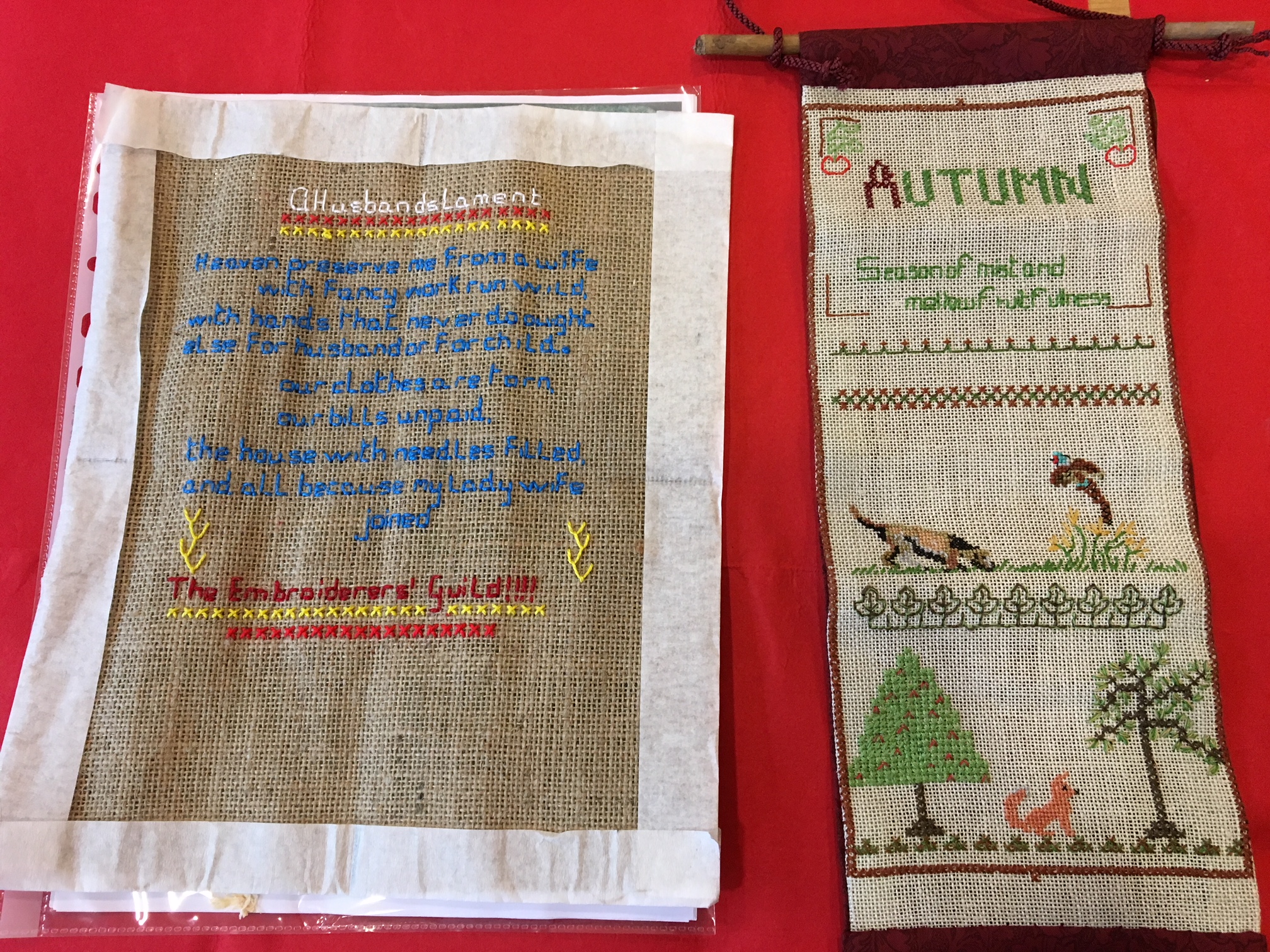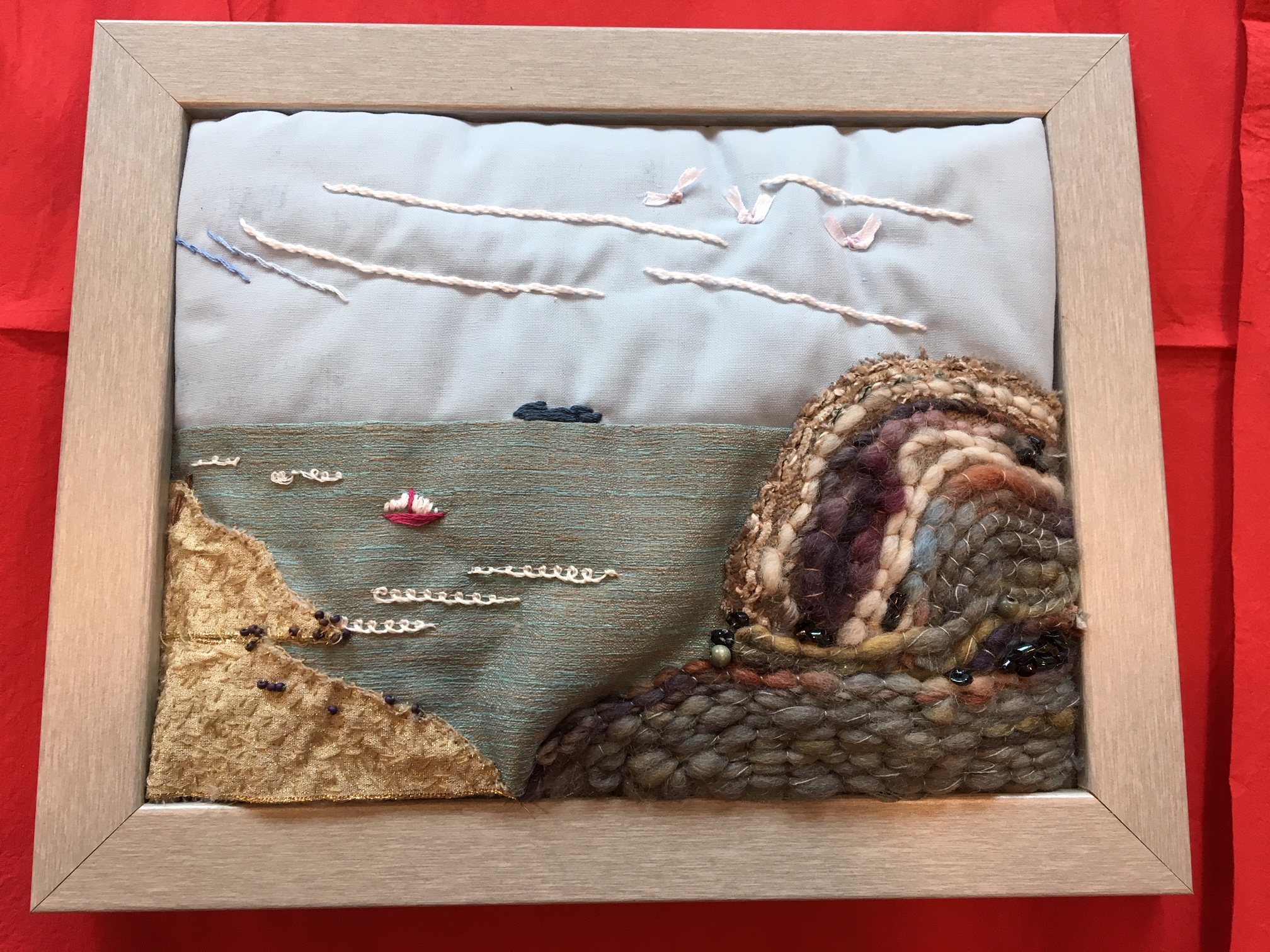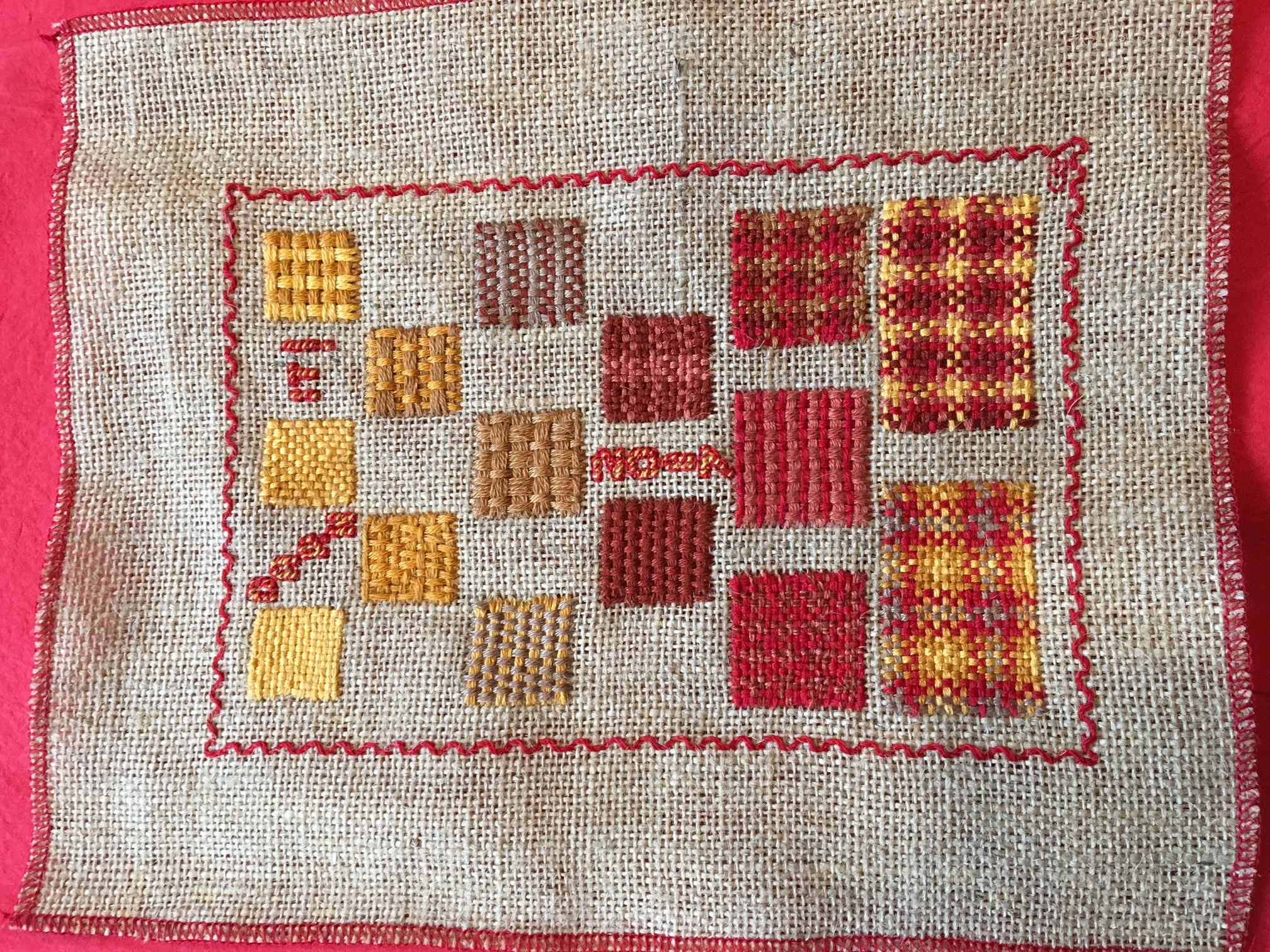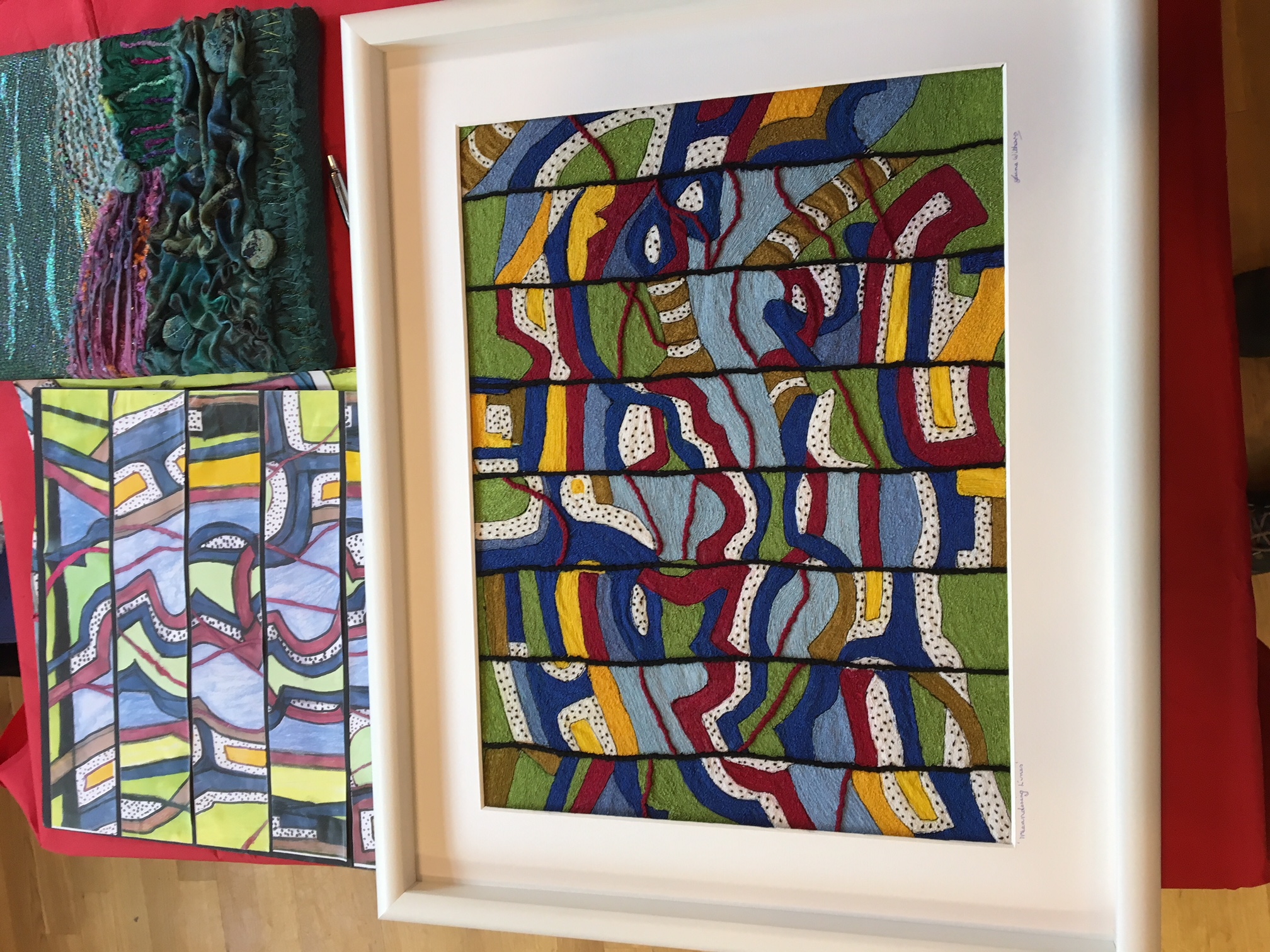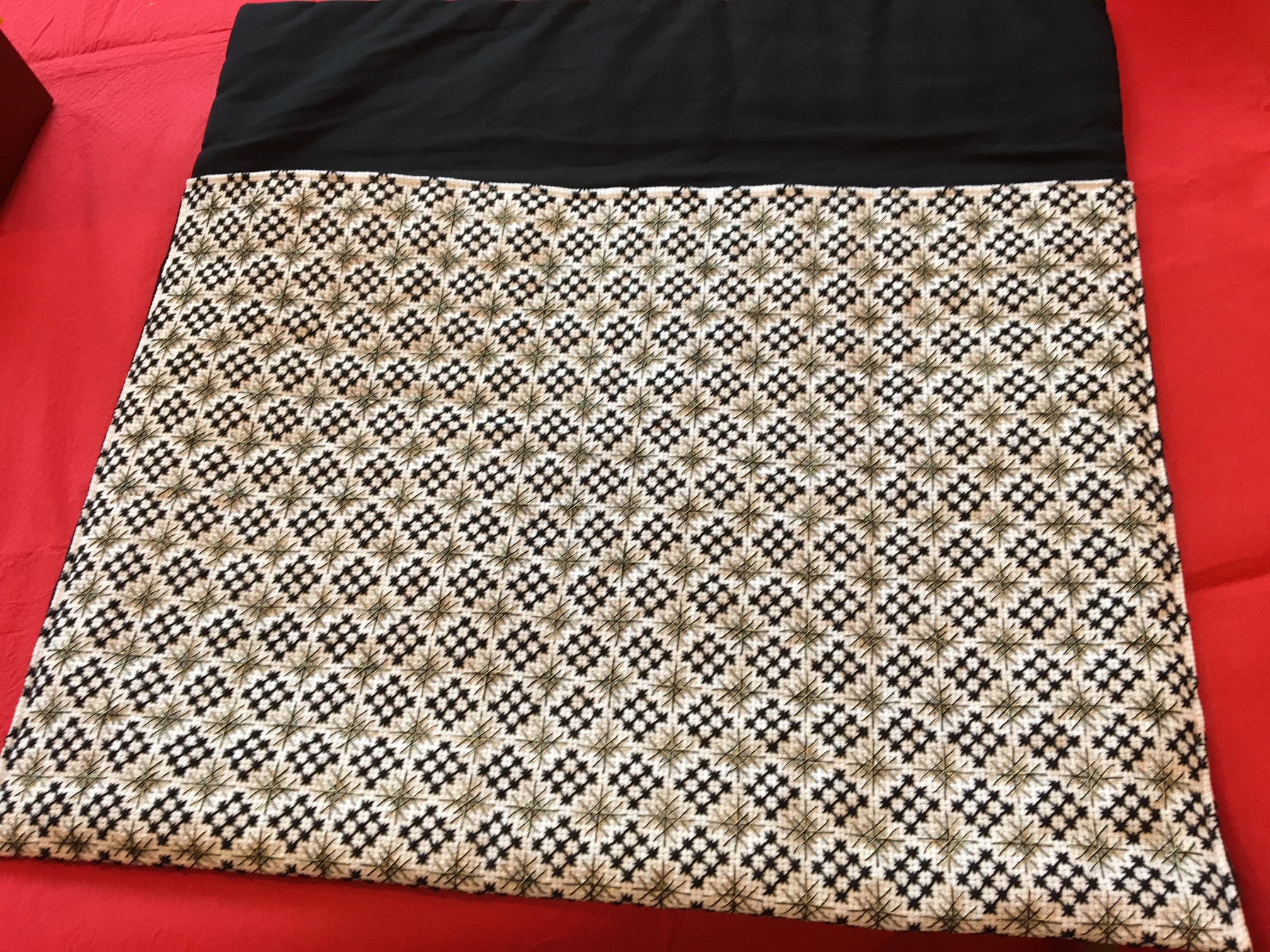 Christmas Decorations
29th ​November 2017 Tutors: Ann Richards, Maxene Davis and Marion Clegg. Photos by Rosy.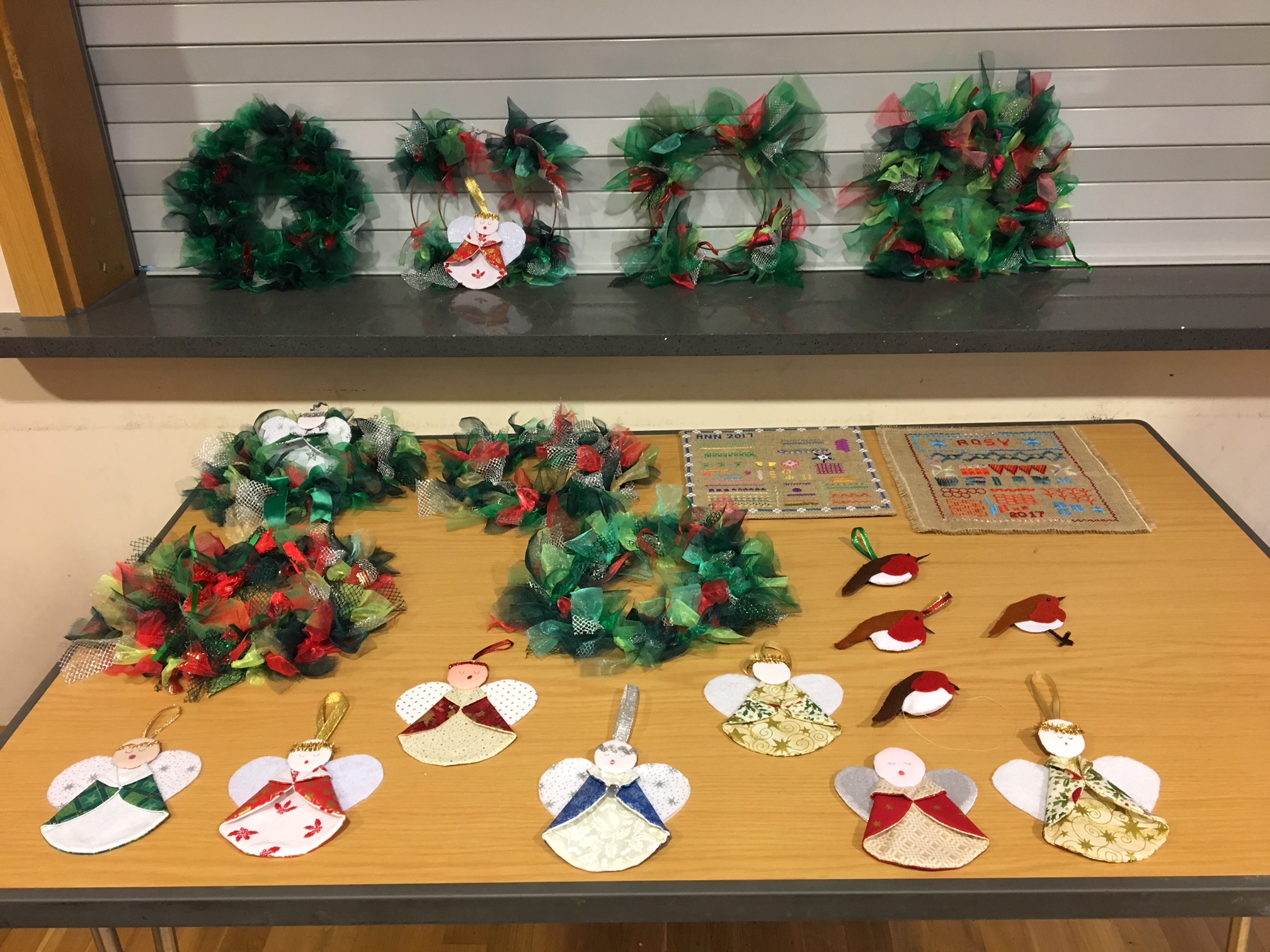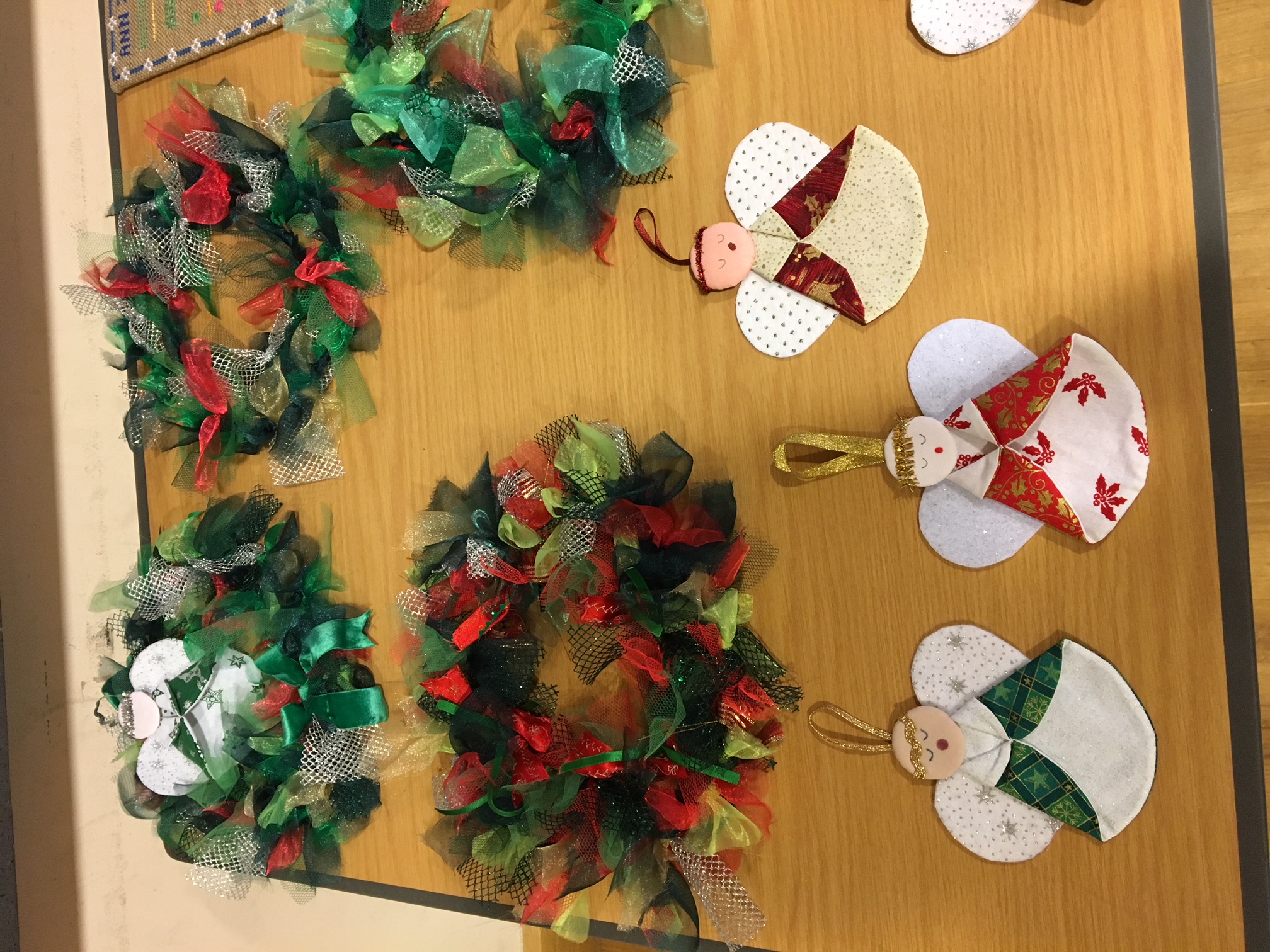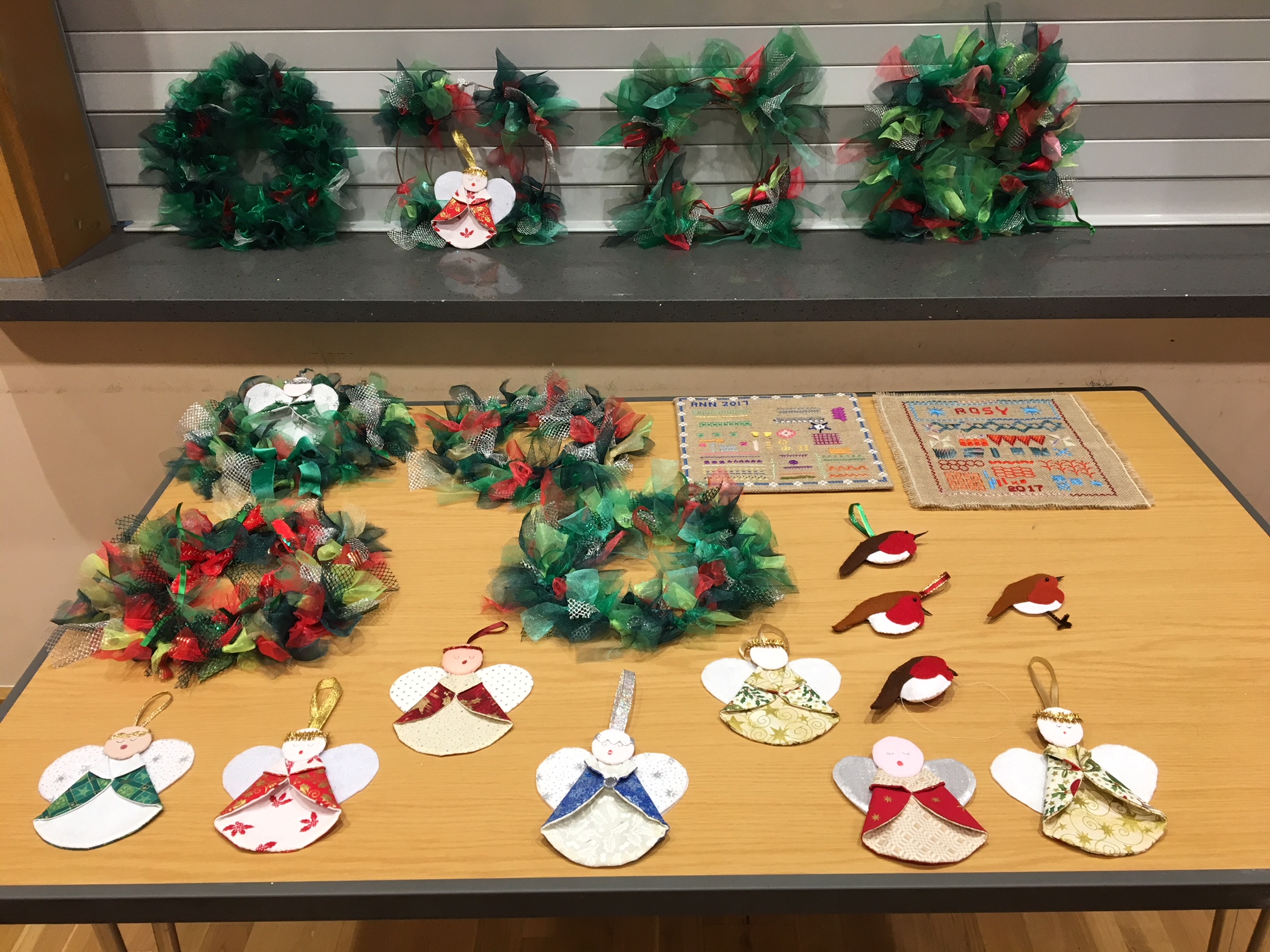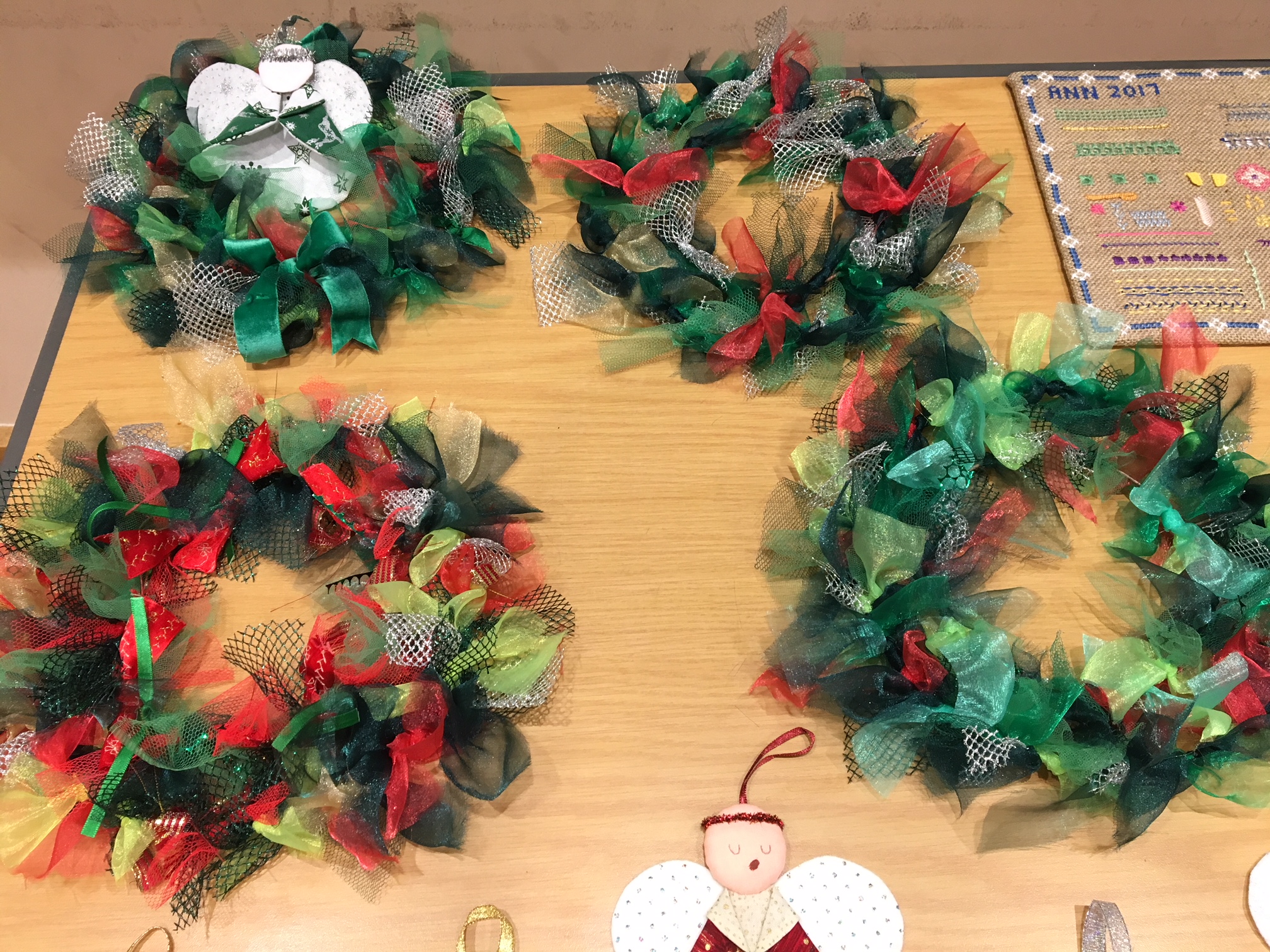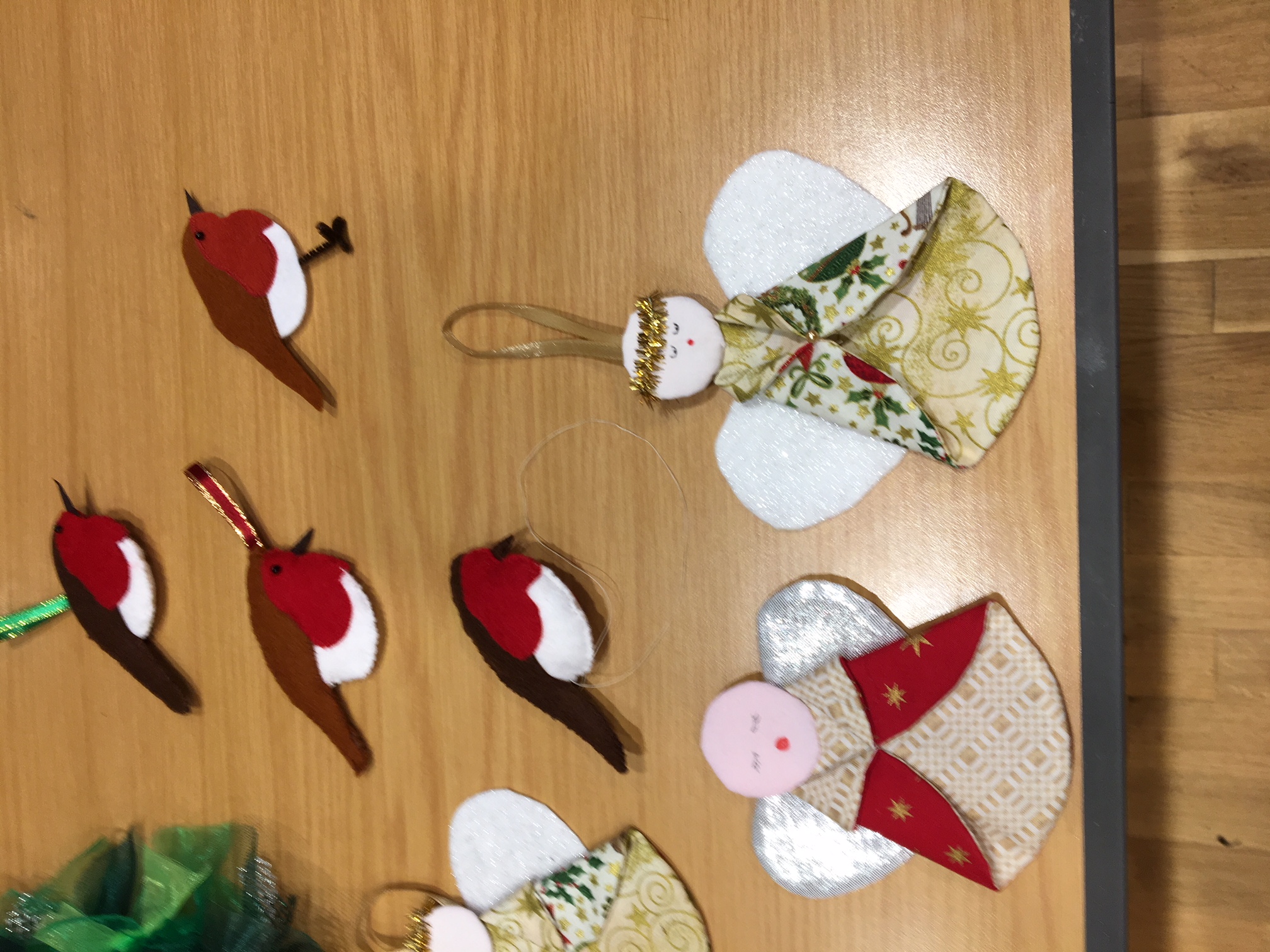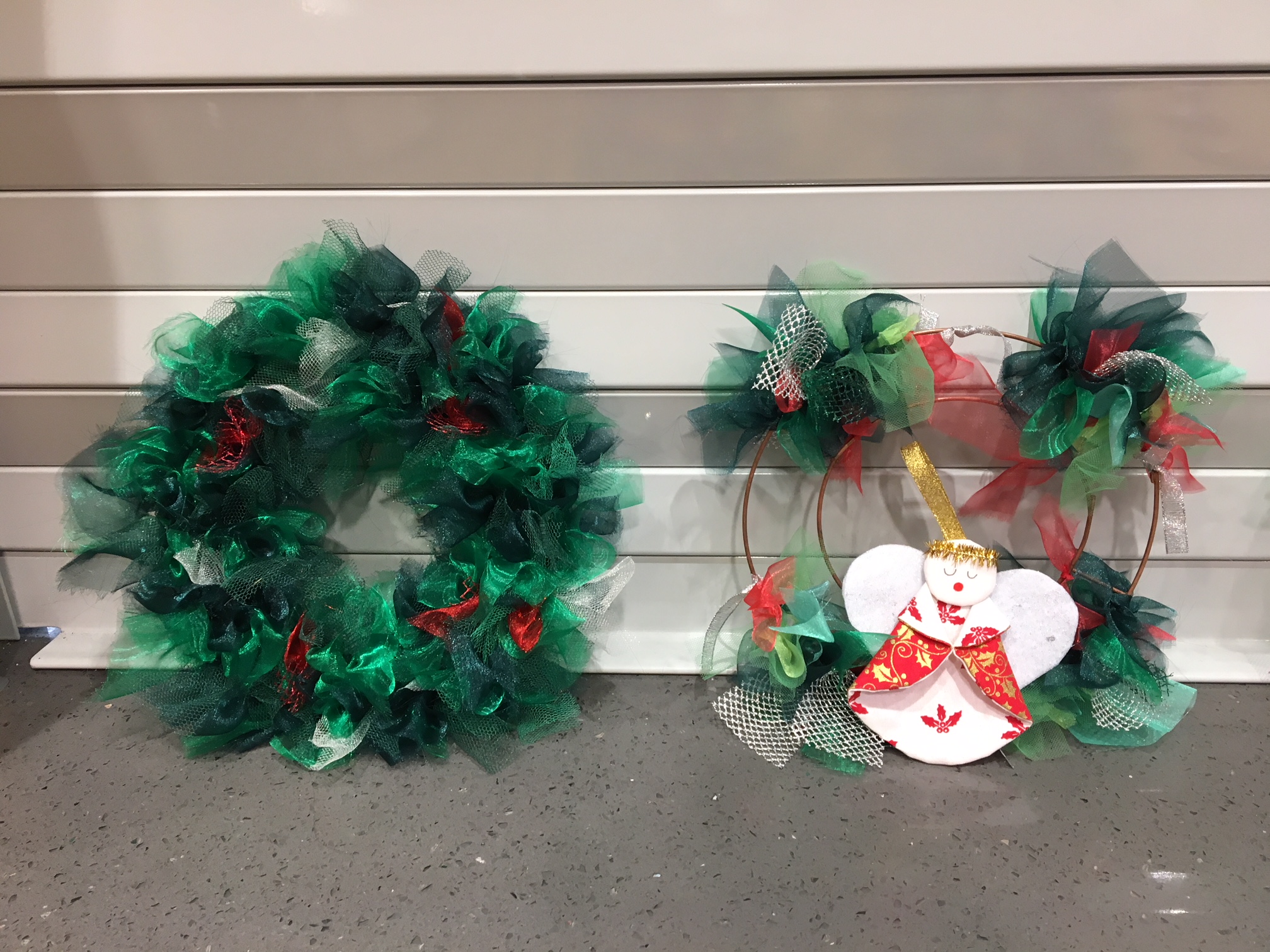 Samplers with Angela Schmid
October 2017 ​Pictures by Rosy.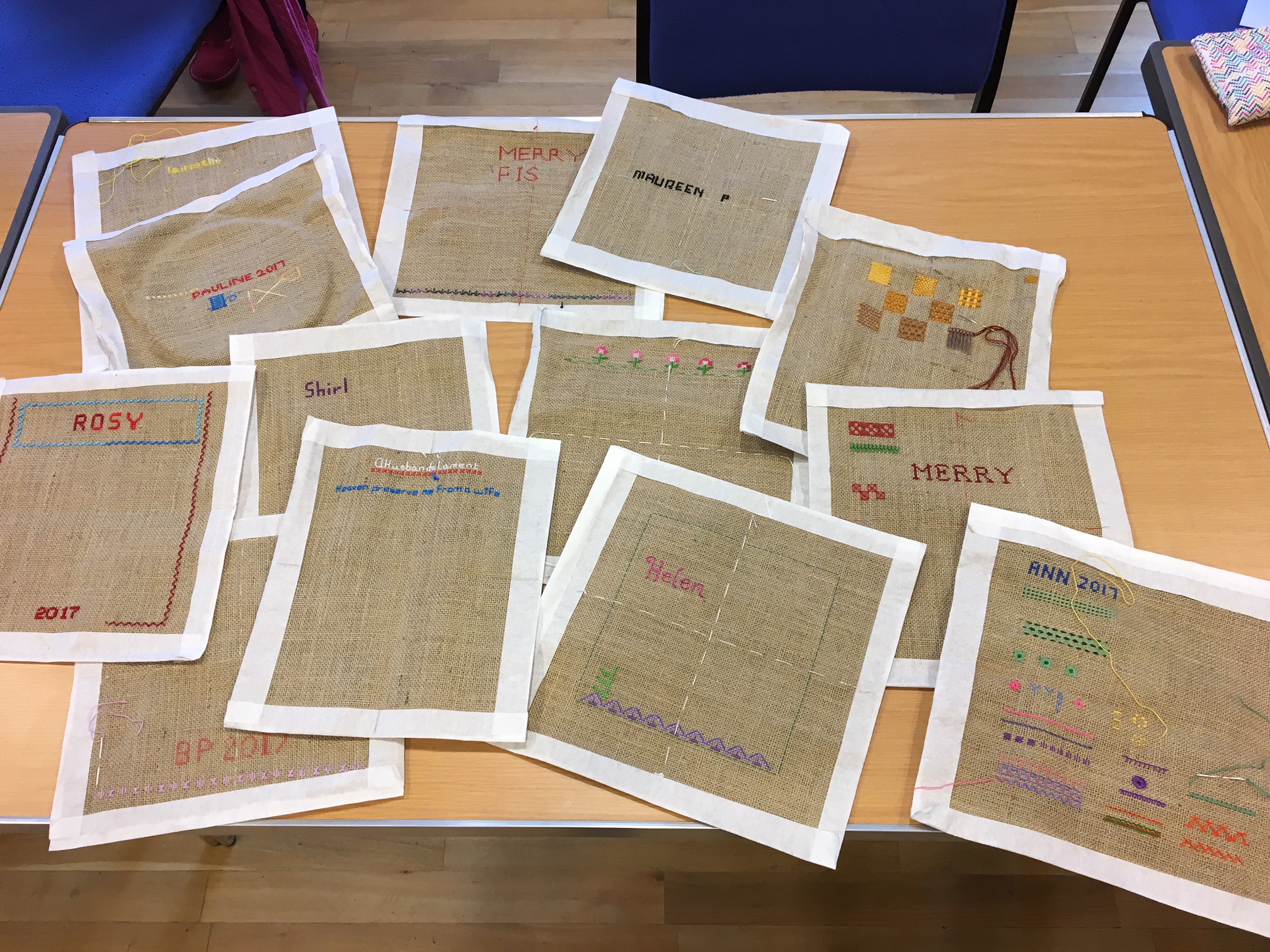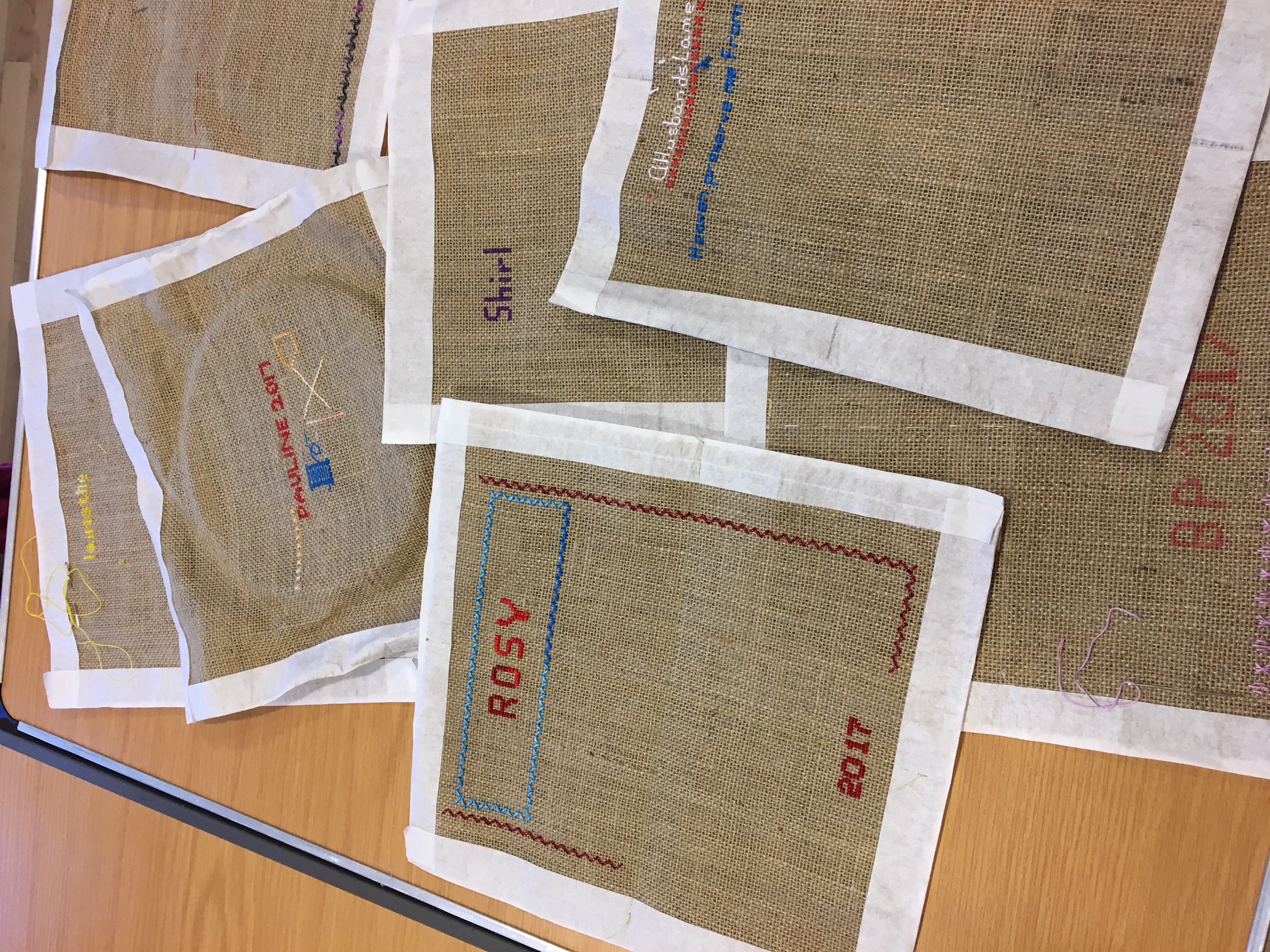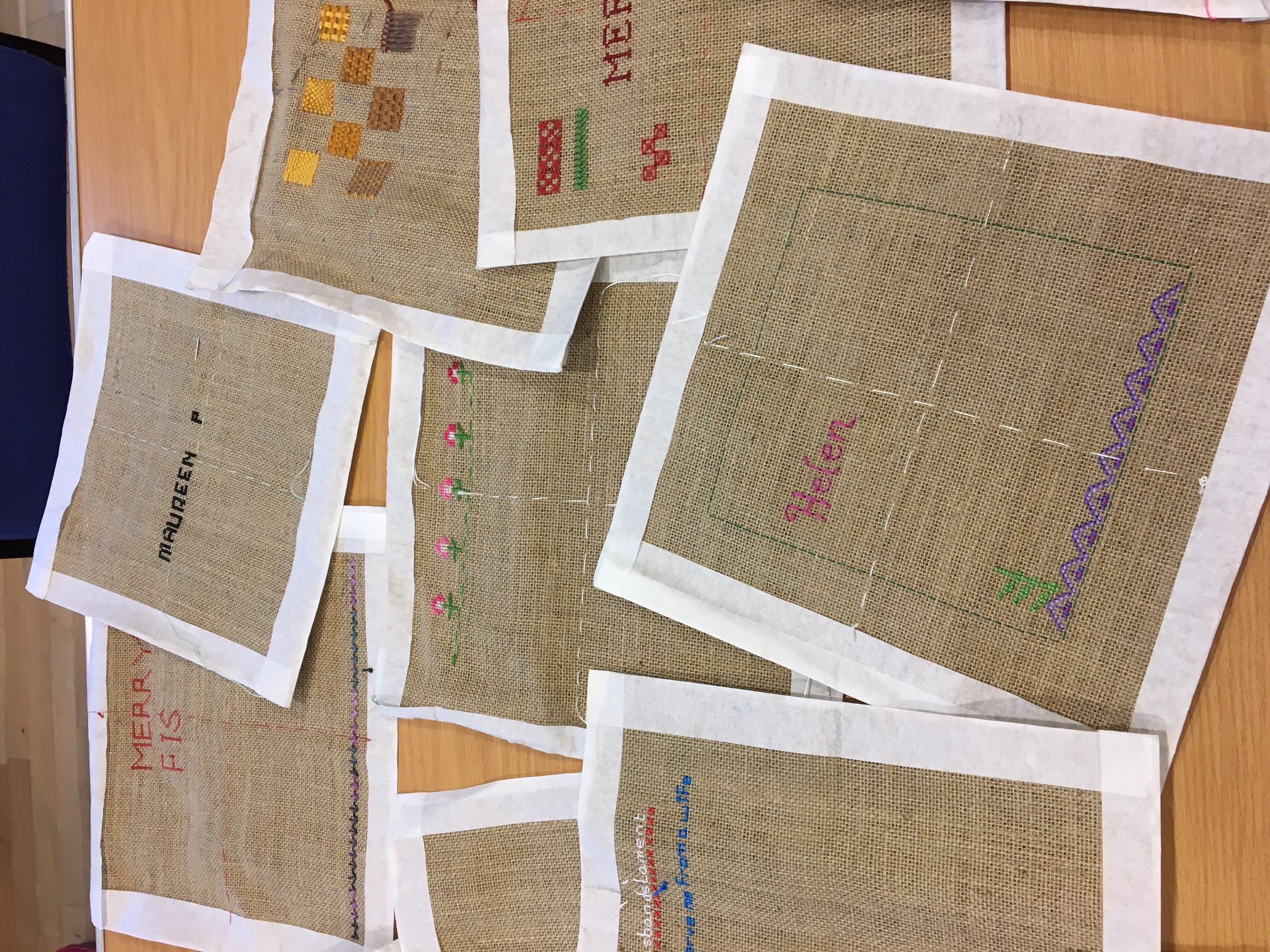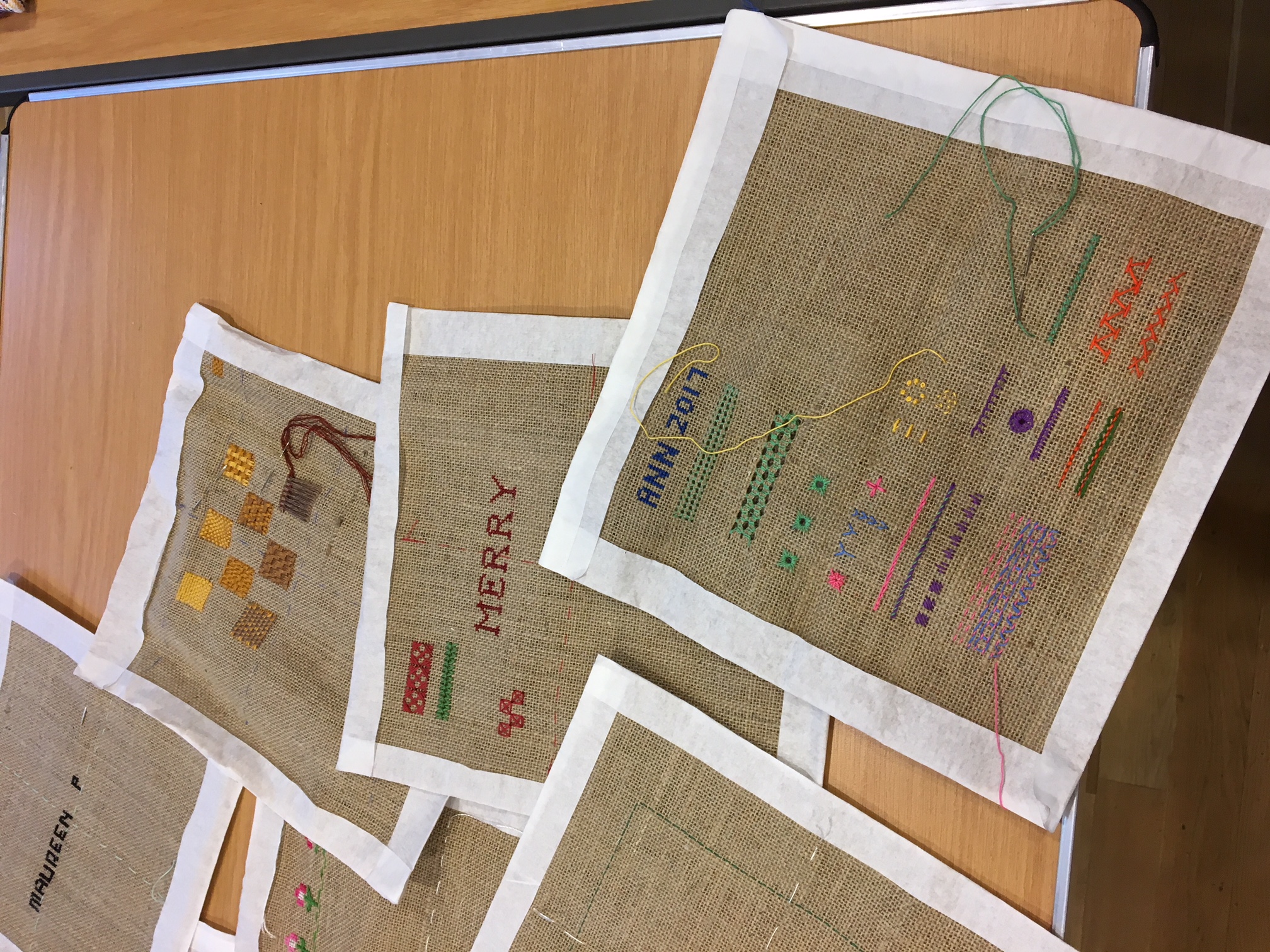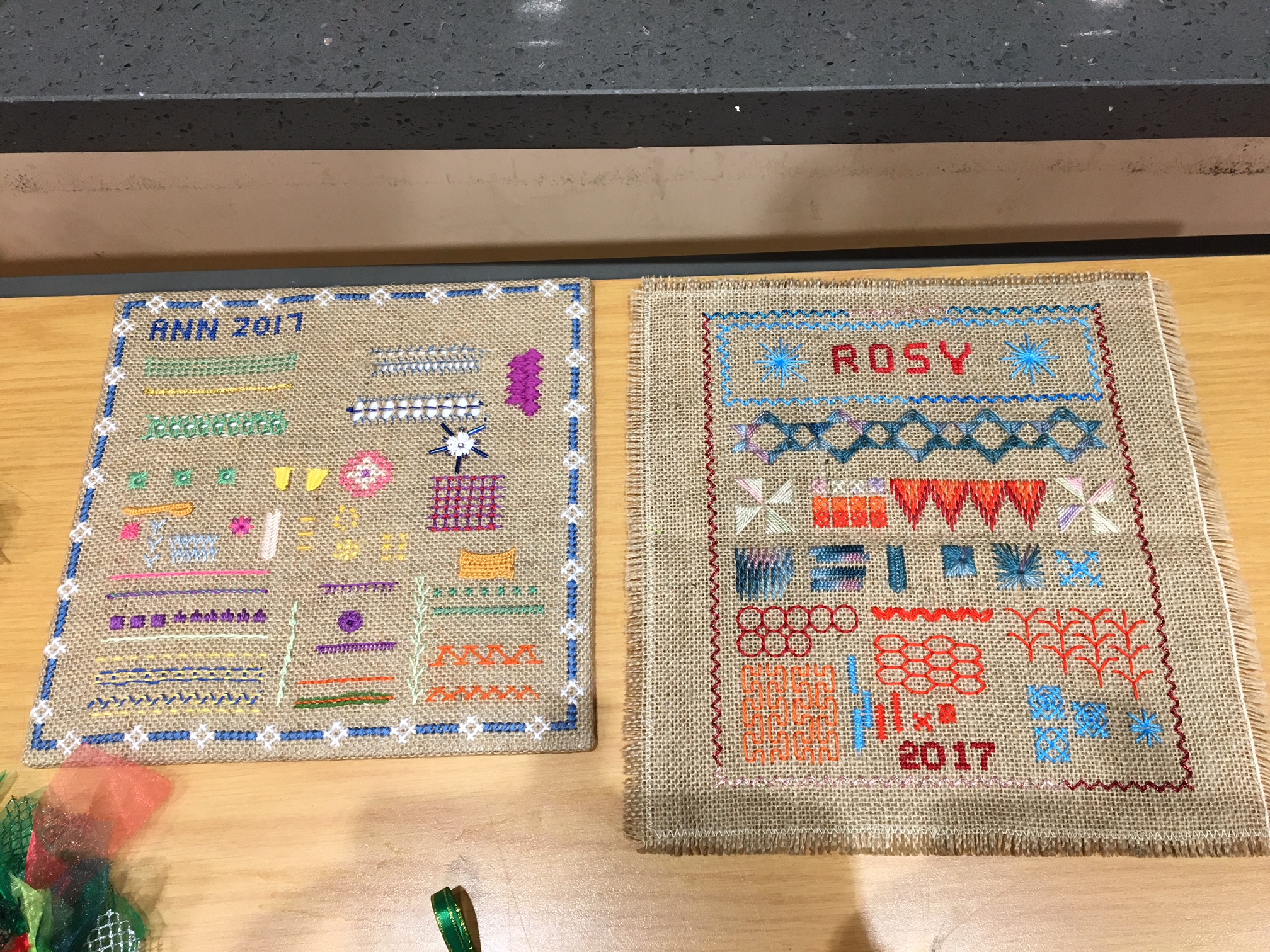 Folded Secrets
​Ruth Smith held a very successful workshop on 11th October 2017. These pictures were provided by Rosy.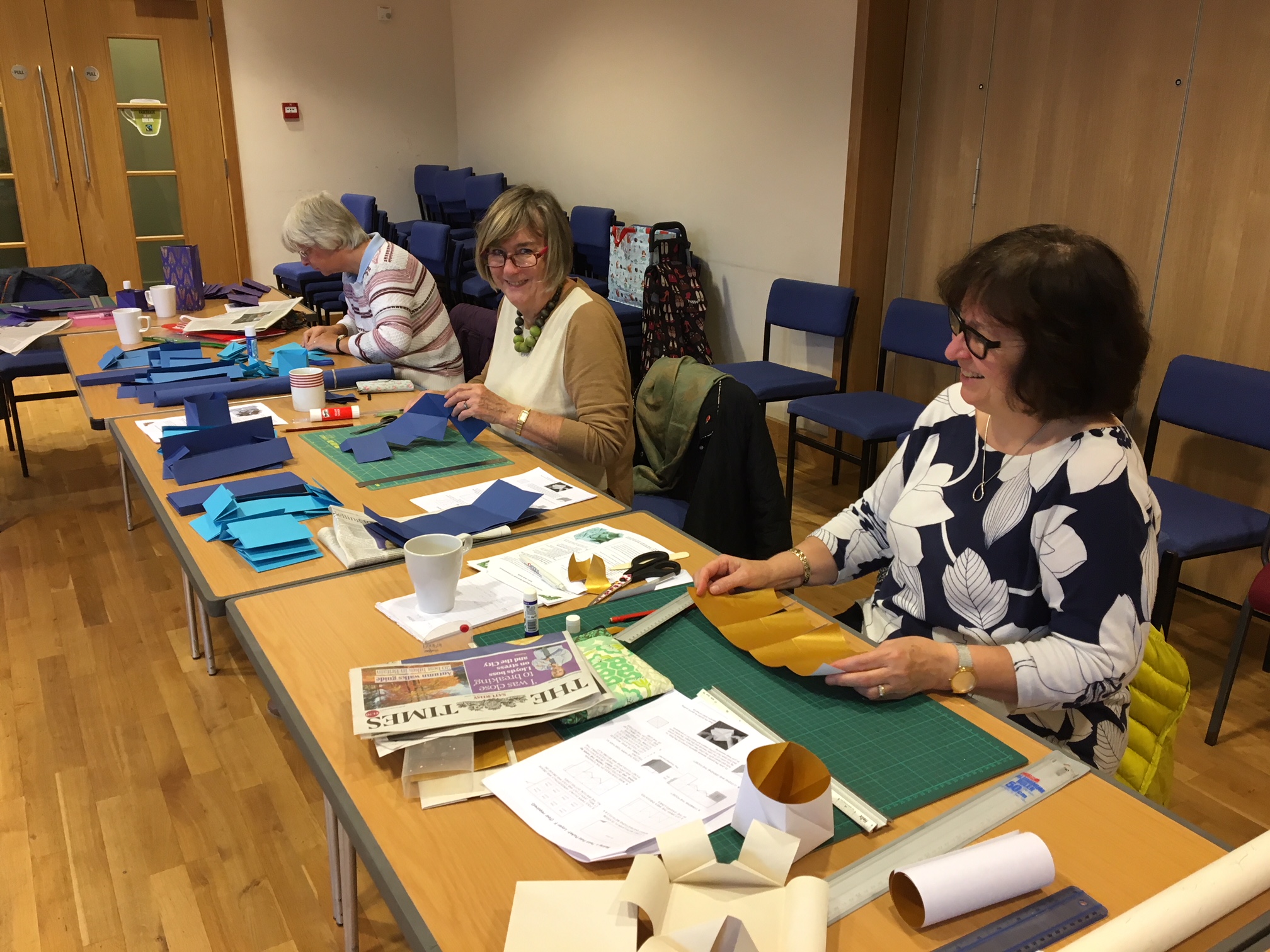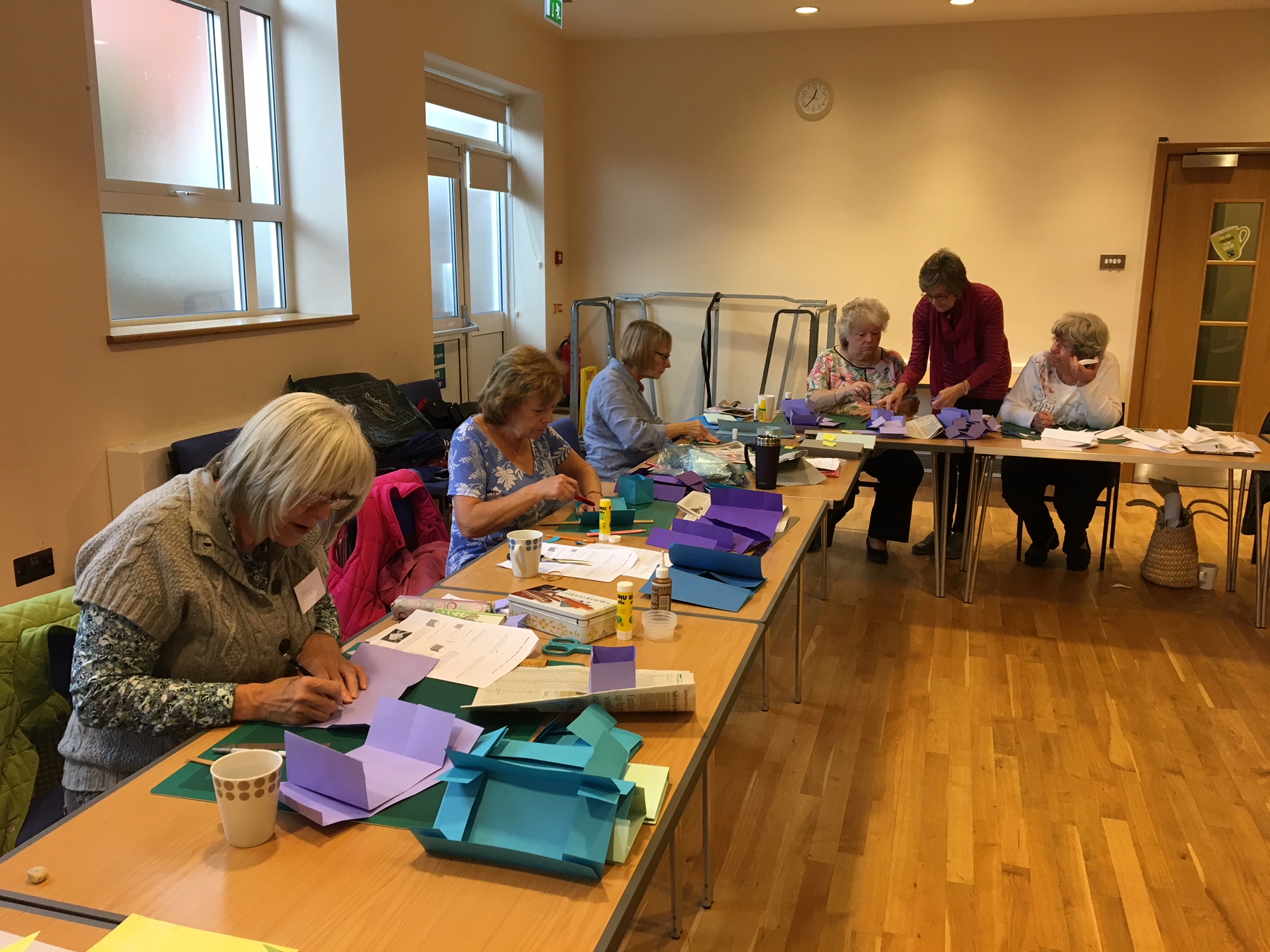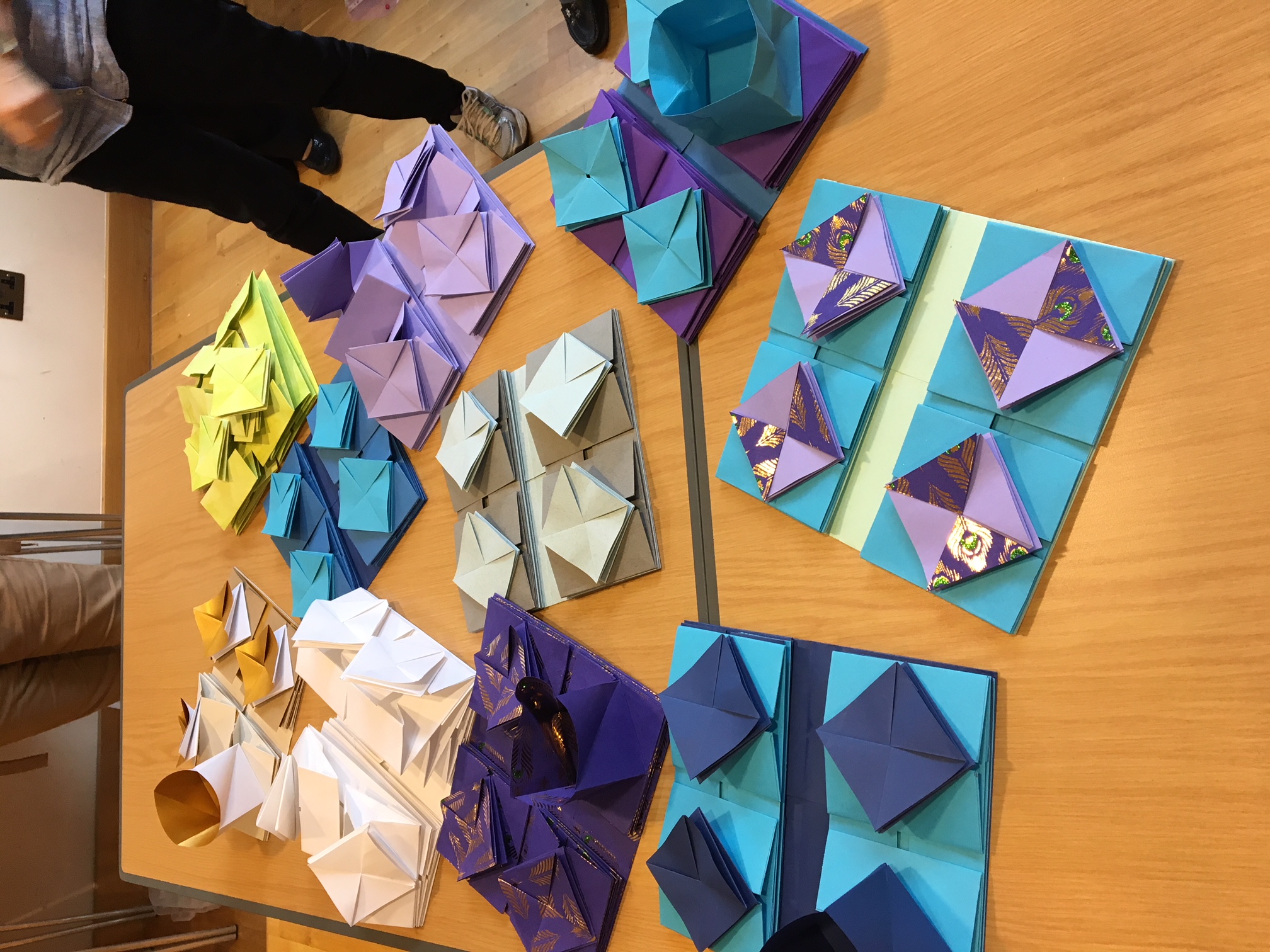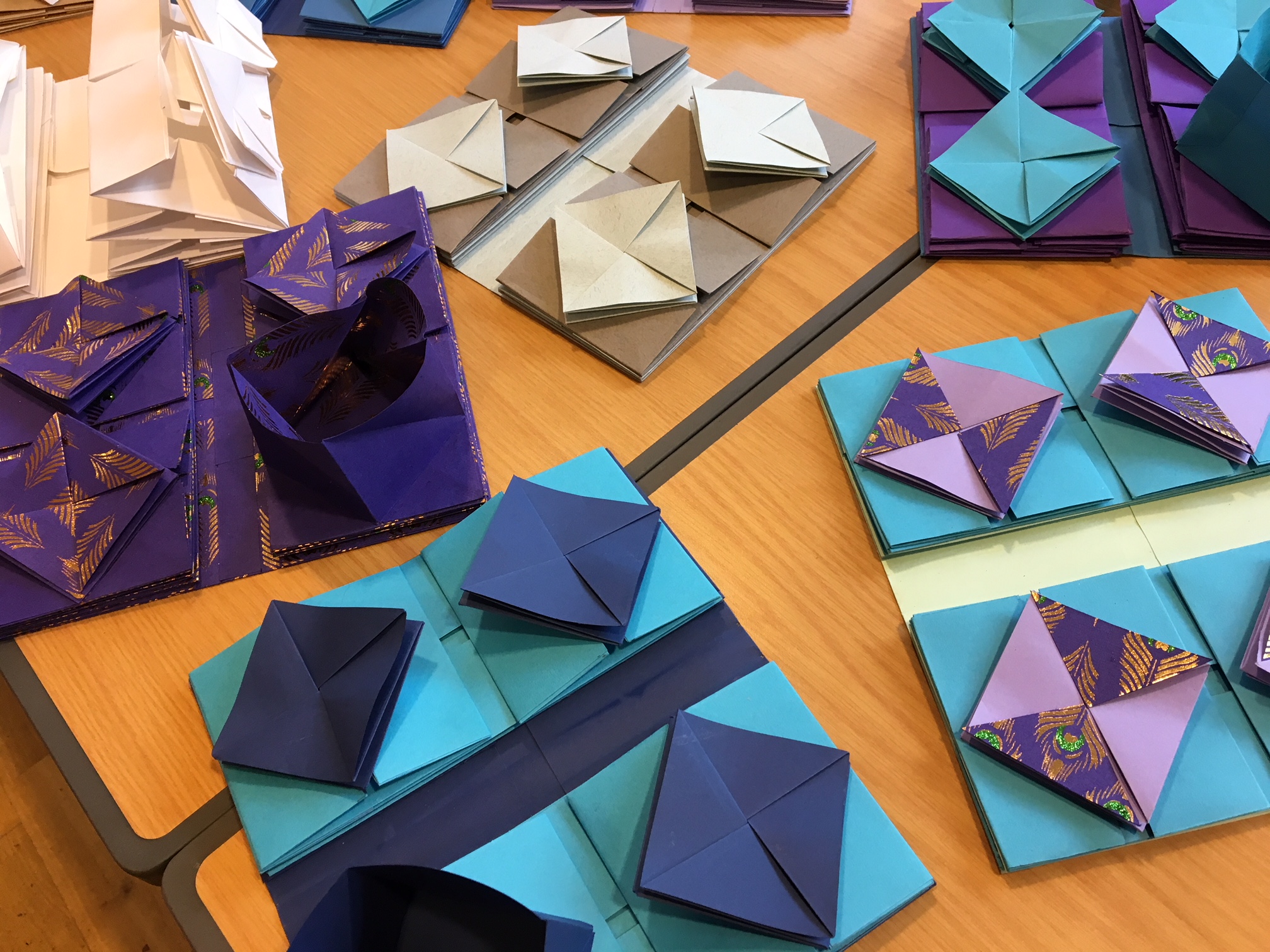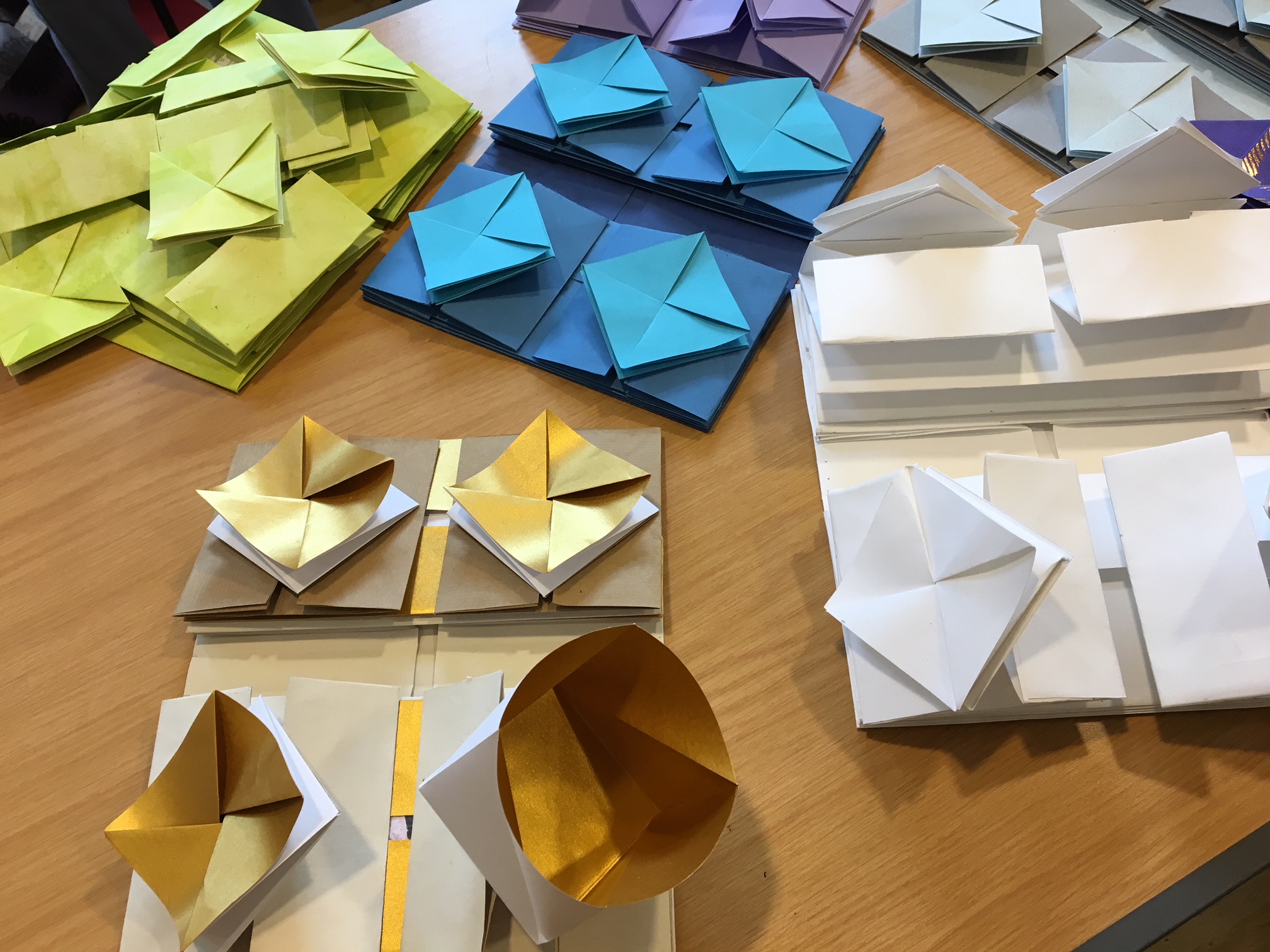 Christmas Party 2016
​Thanks to Carol Hughes and Heide Jenkins for teh photos of the Christmas Party, the candle competition and the Capability Brown exhibition. Apologies that the winning candle by Ann richards is on its side - I will try to work out how to upload it the right way up.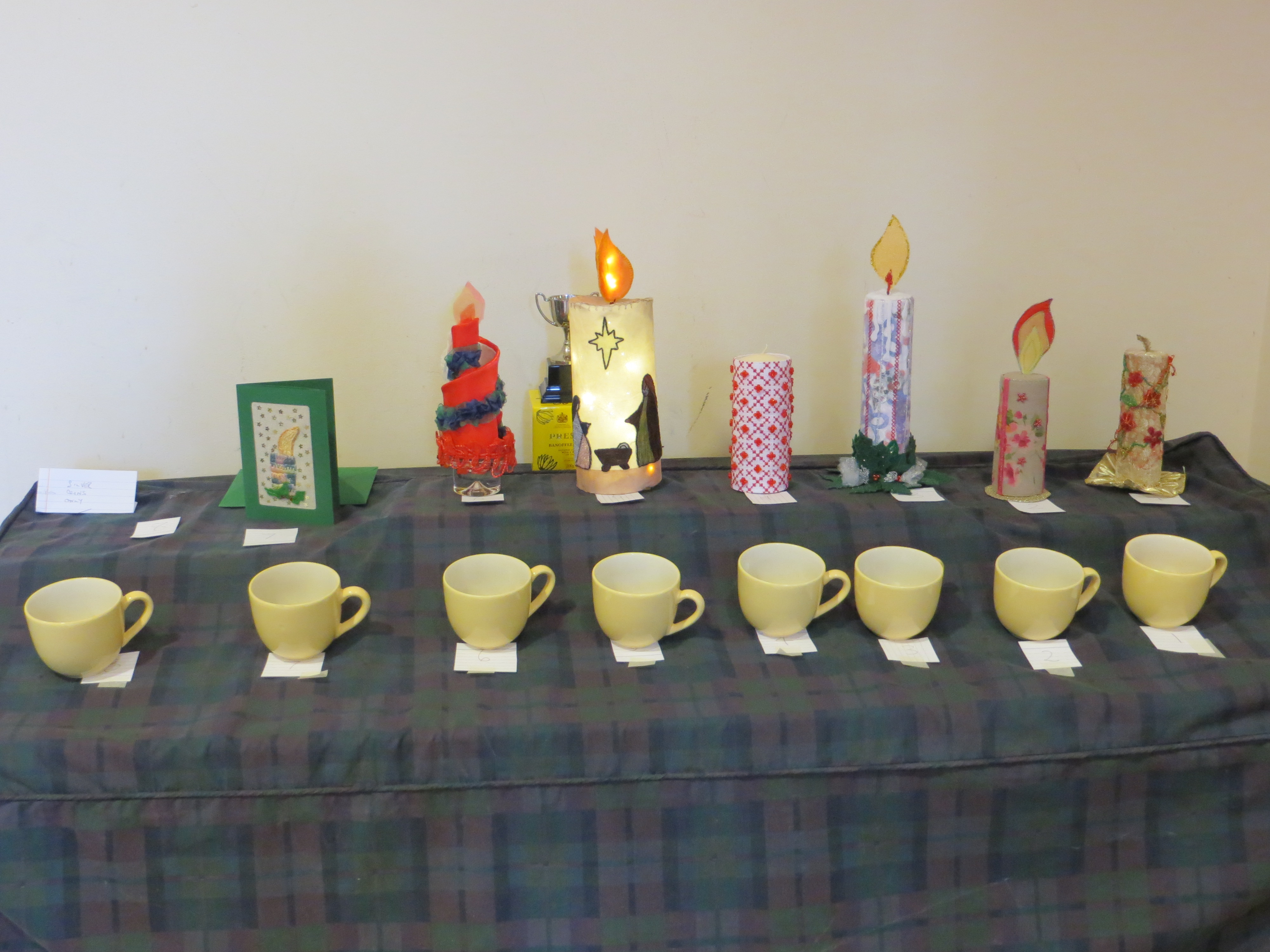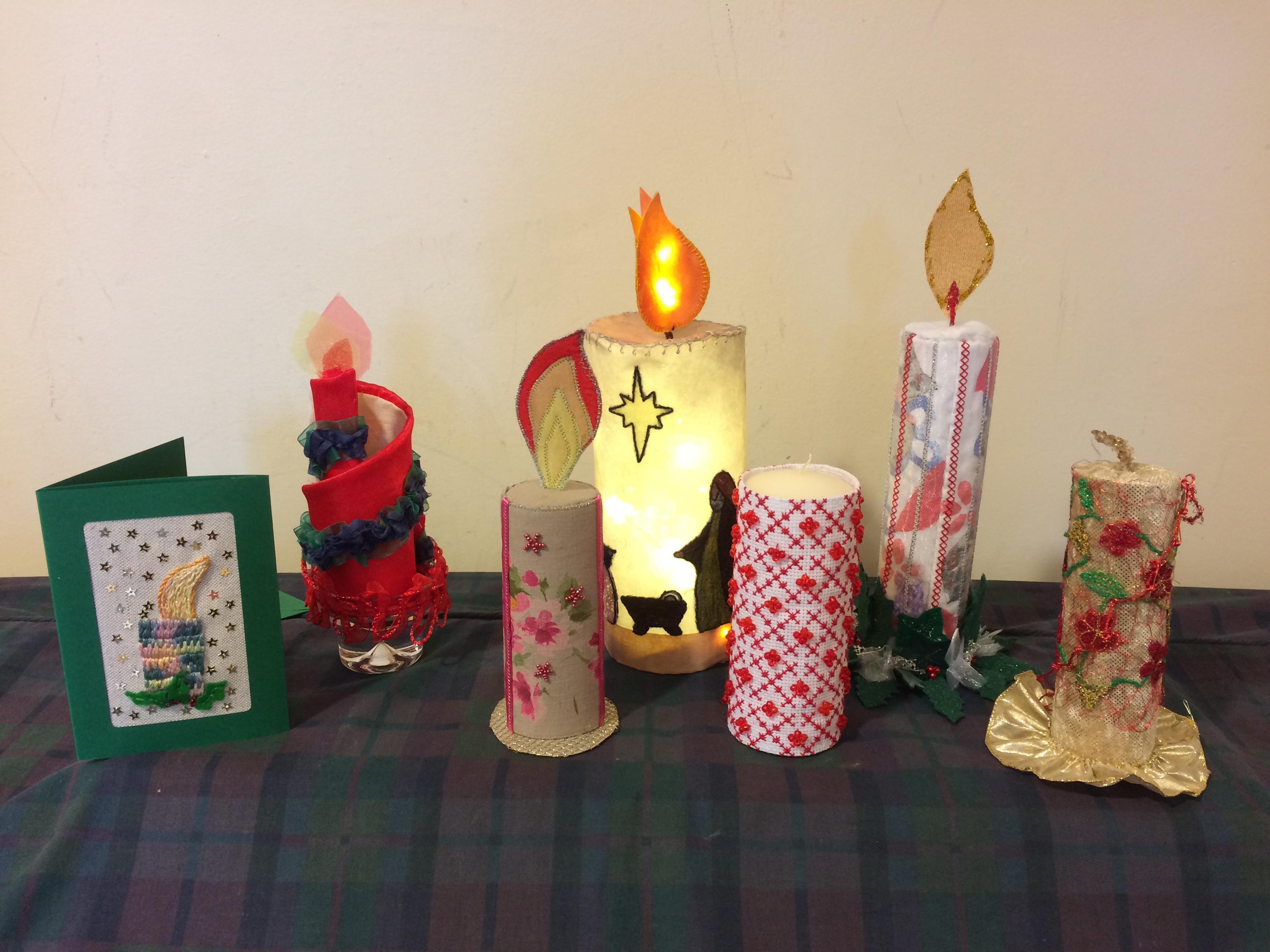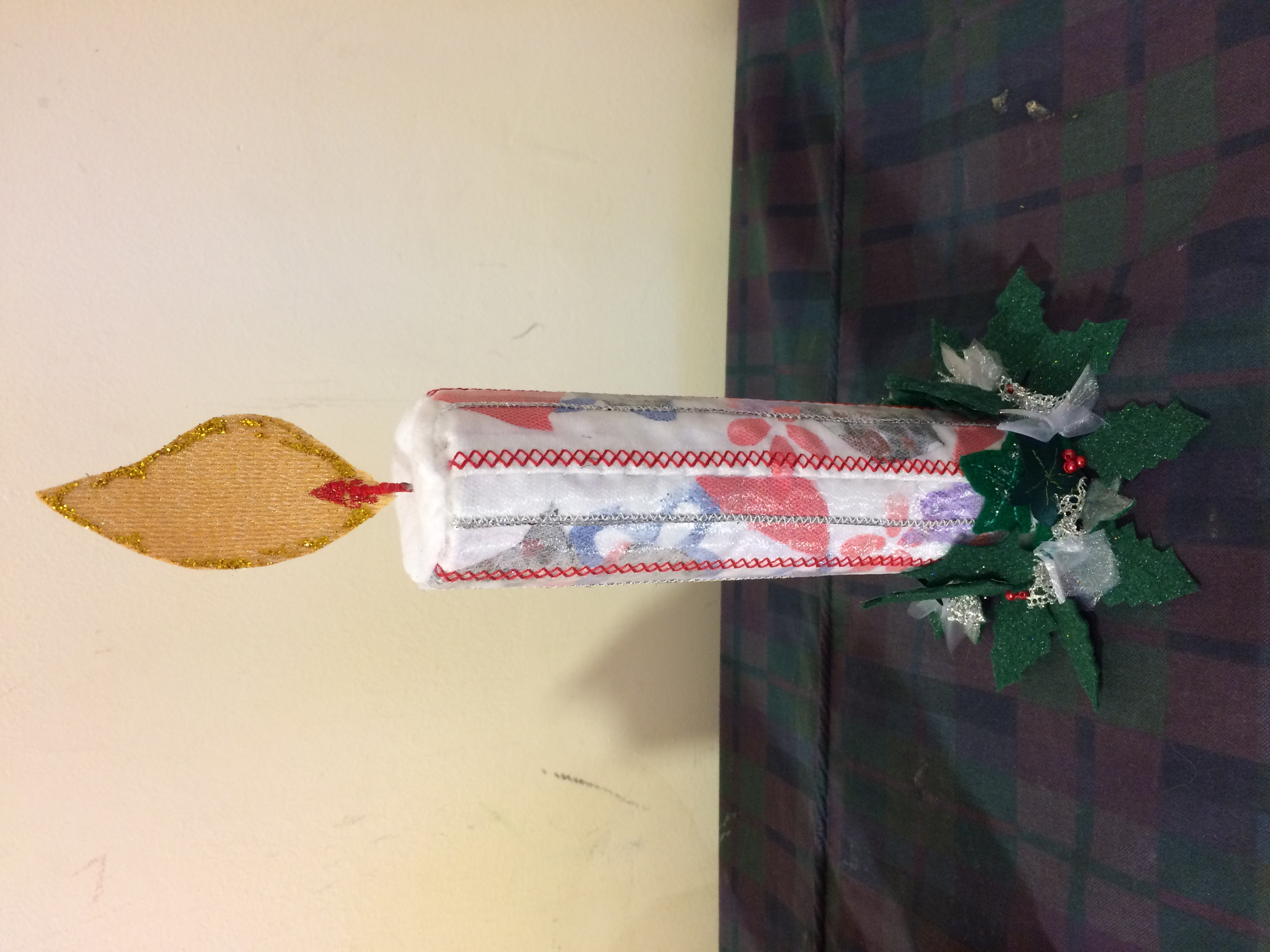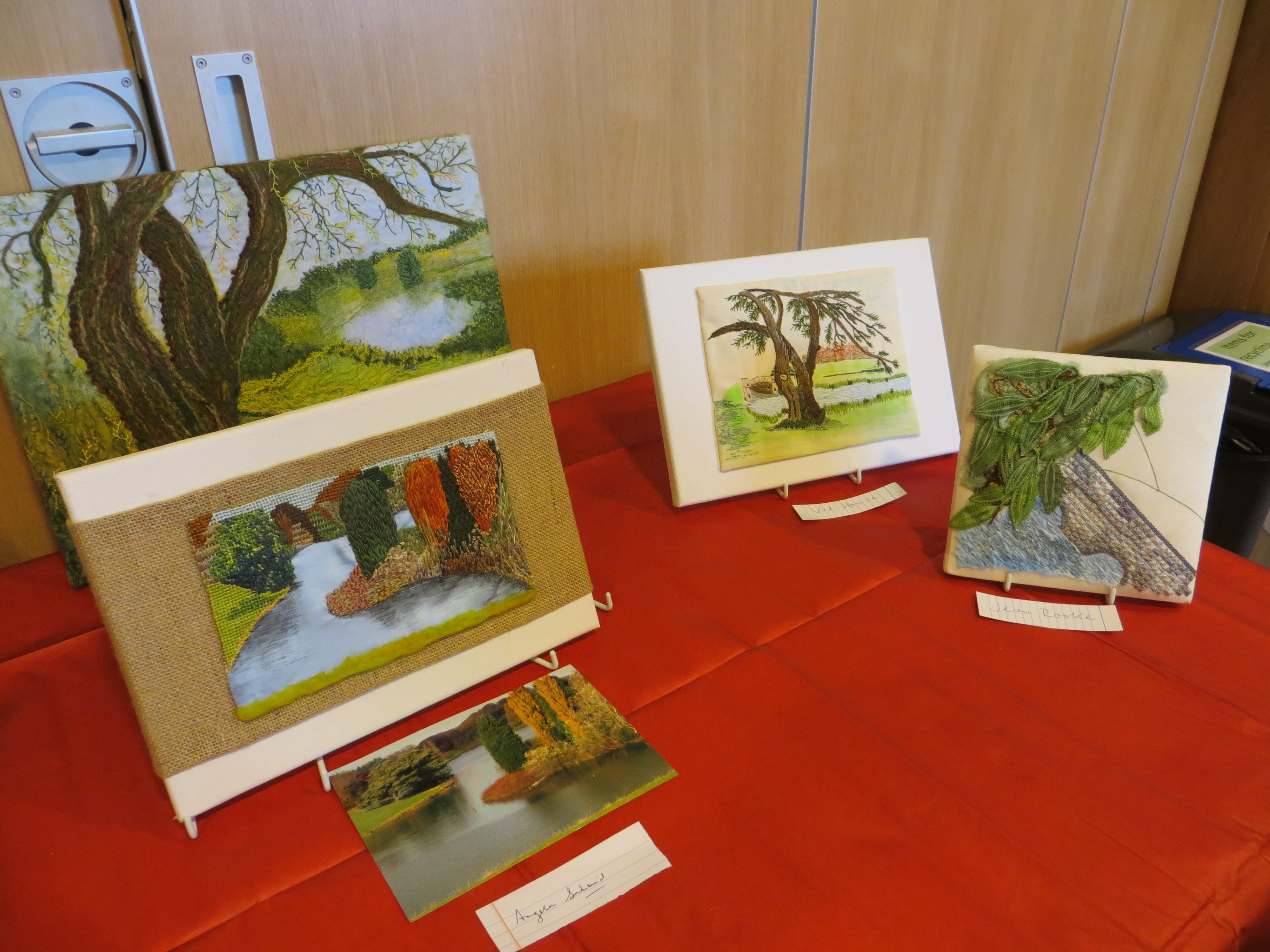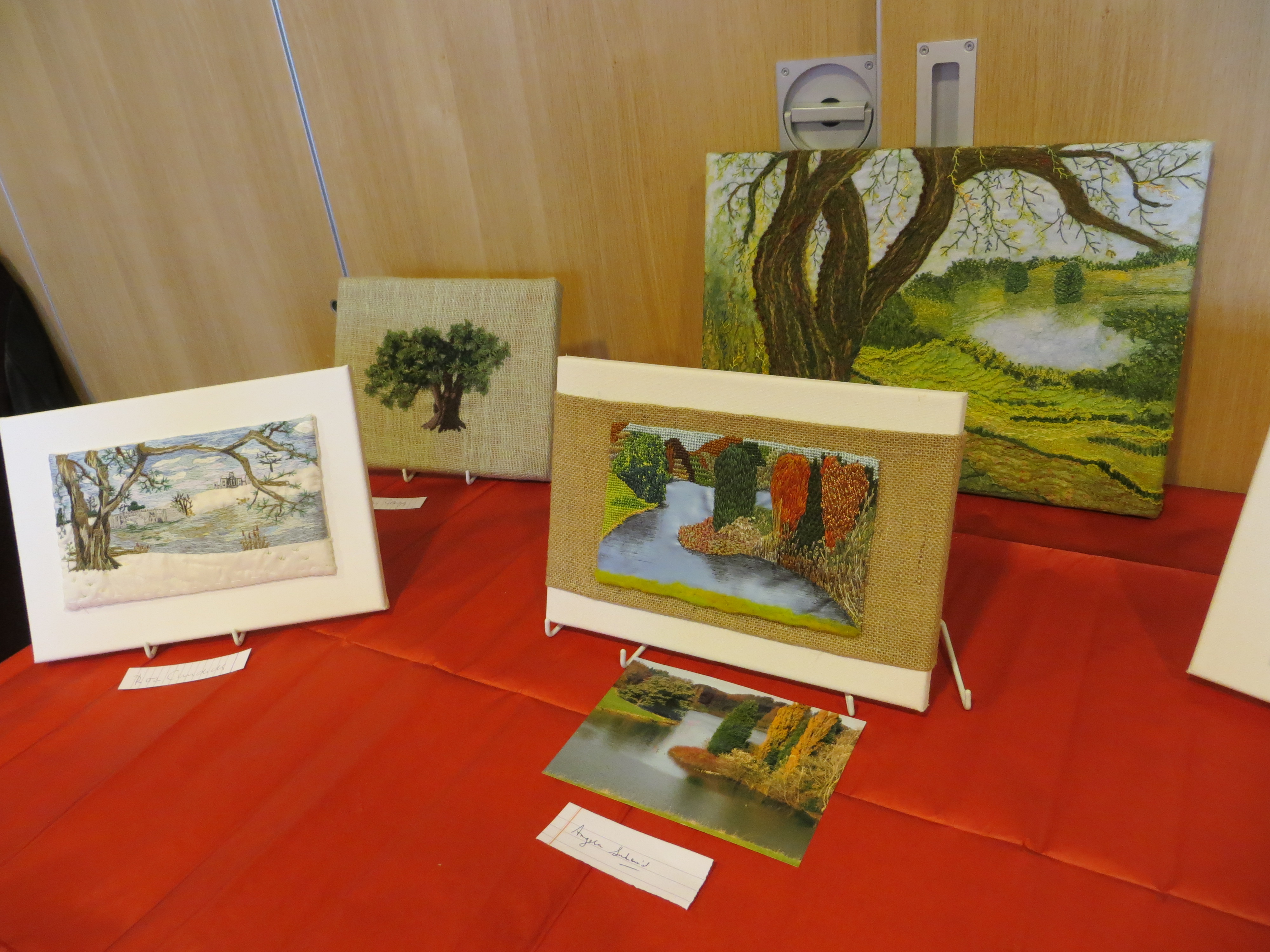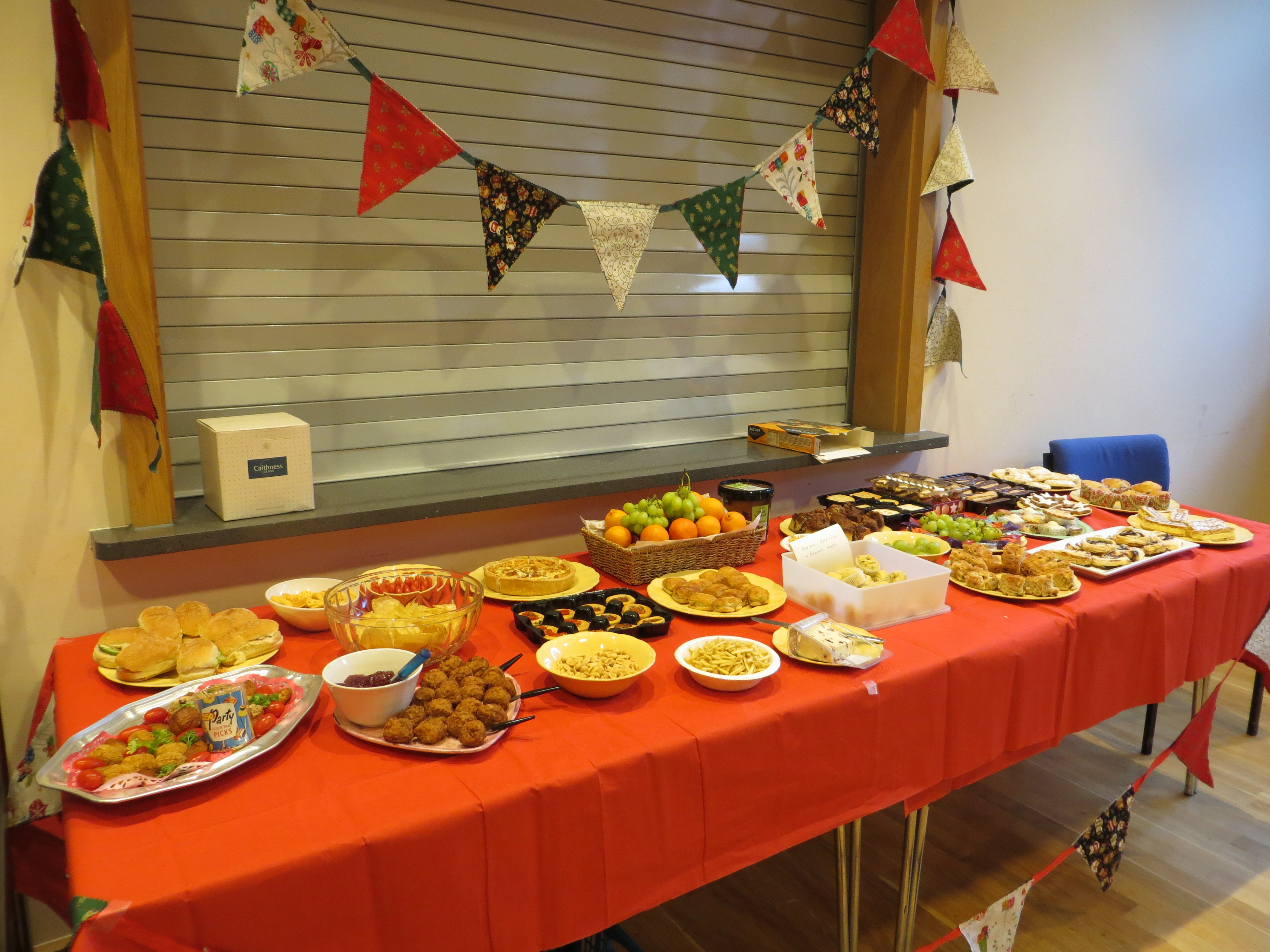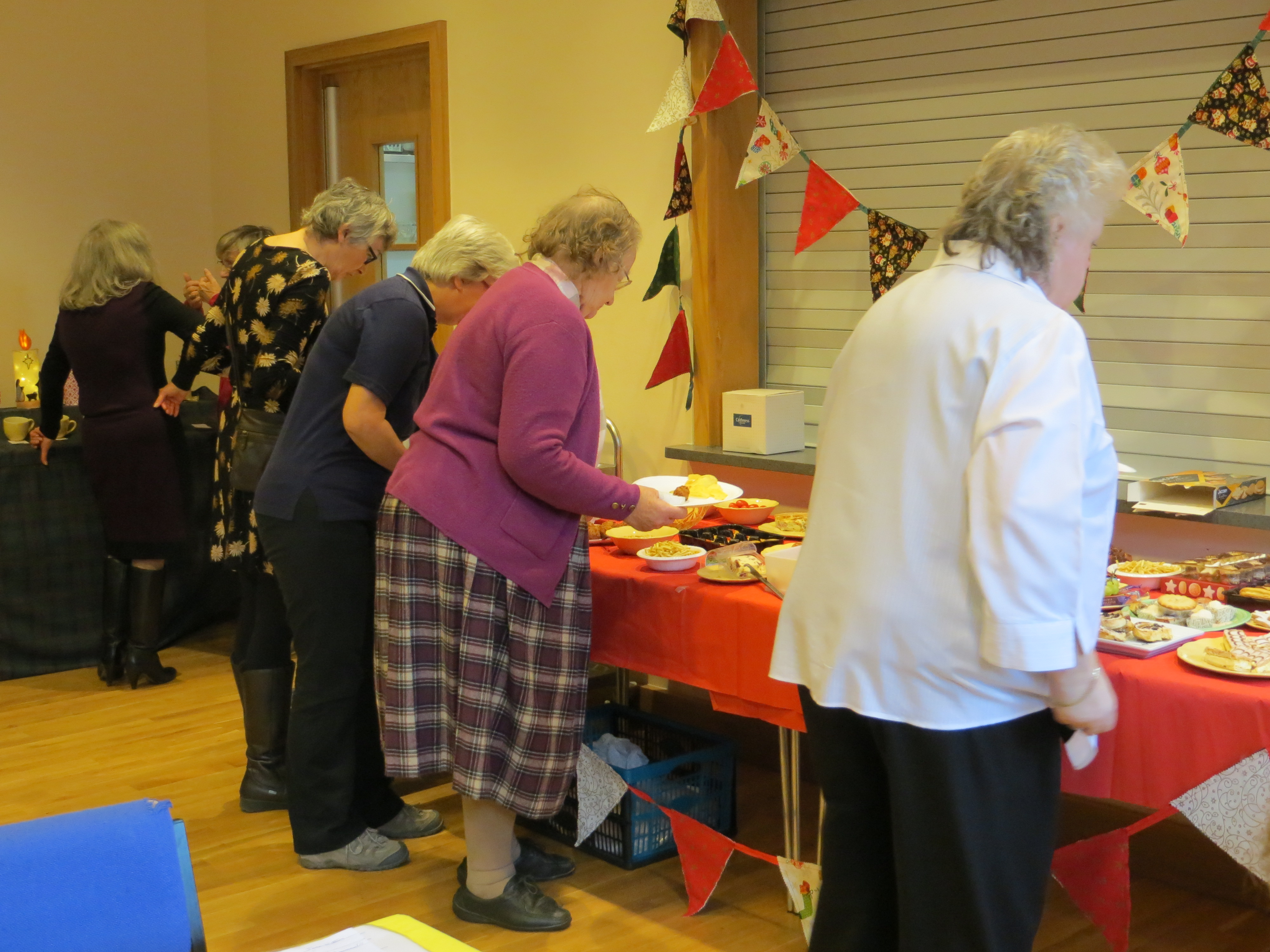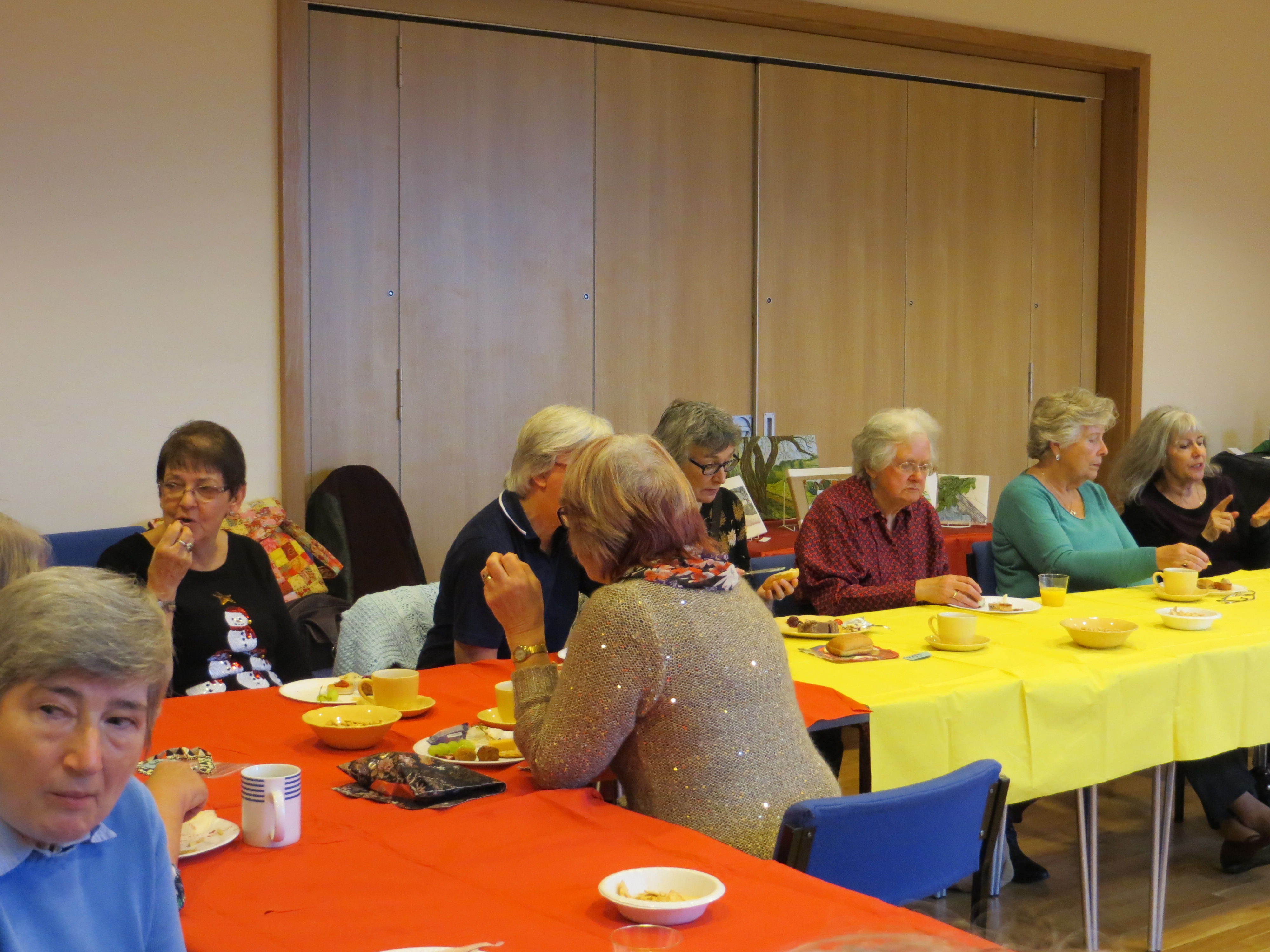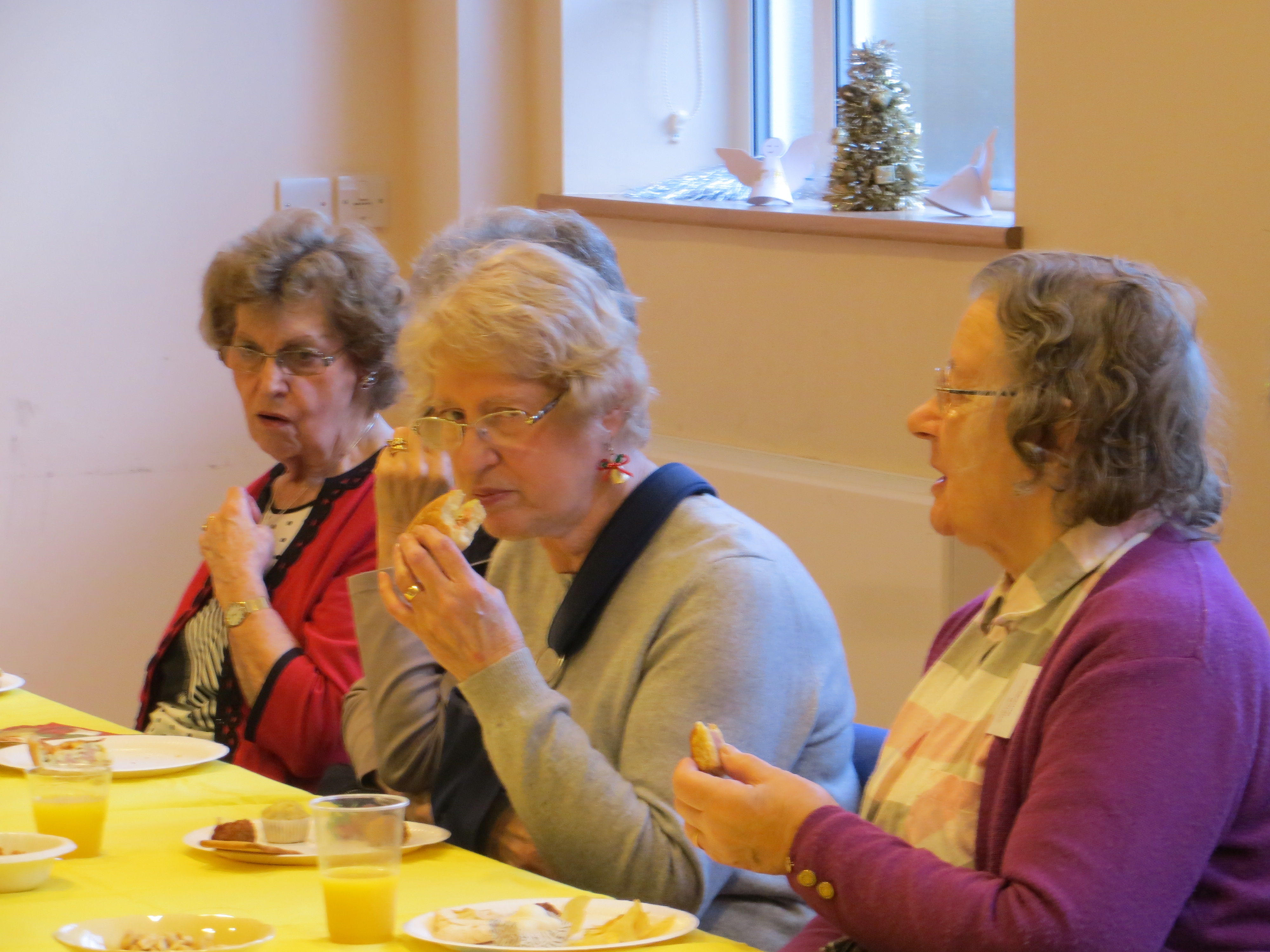 Capability Brown Pictures
​Here are the beautiful stitched pictures that members did for the Capability Brown Exhibition this year. The talented stitchers were (from the left) Marion Clegg, Roz Cundick, Jean Rooke (apologies for getting the angle of the photo wrong), Angela Schmid, Val House and June Withers. Well done everyone.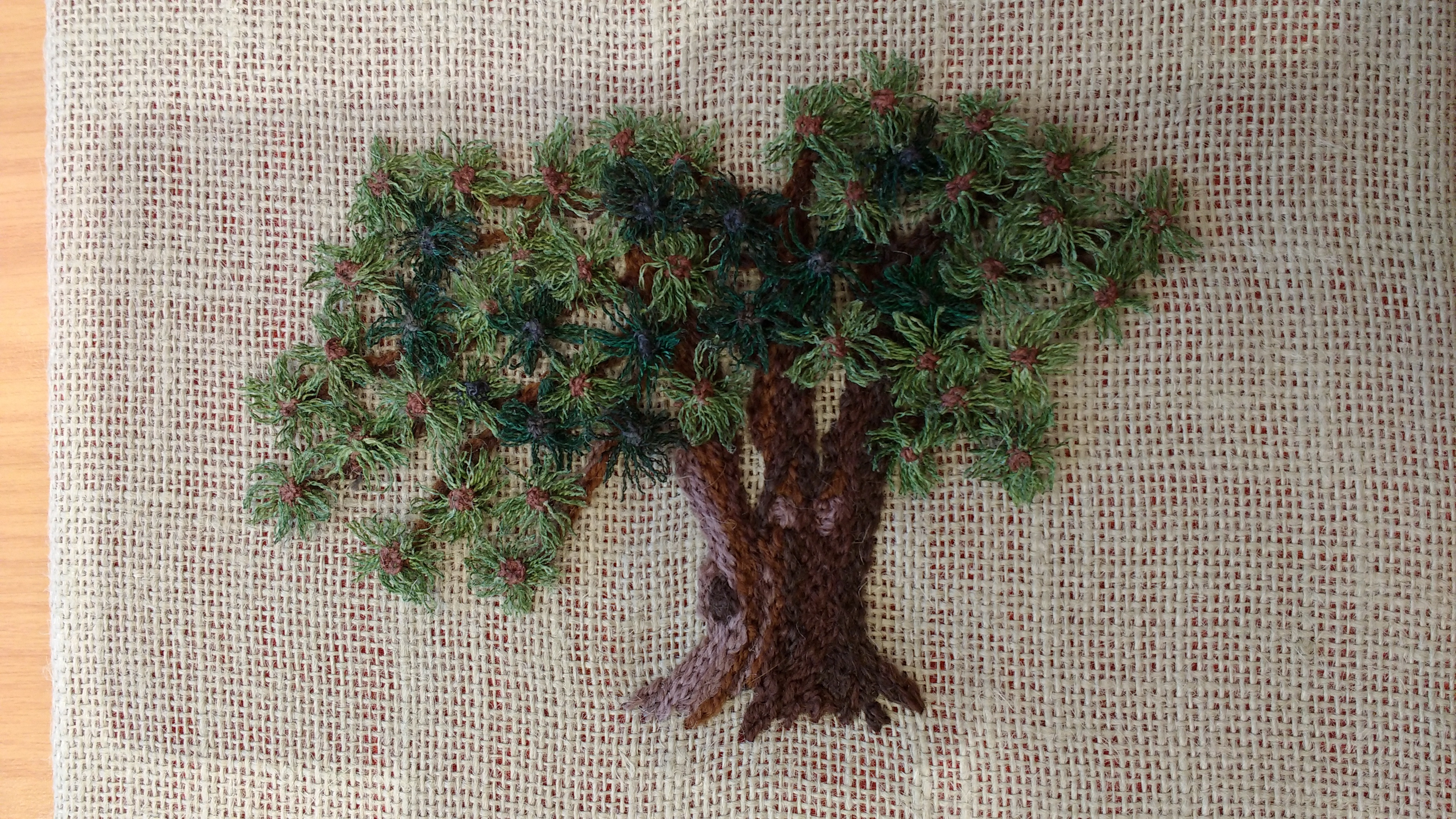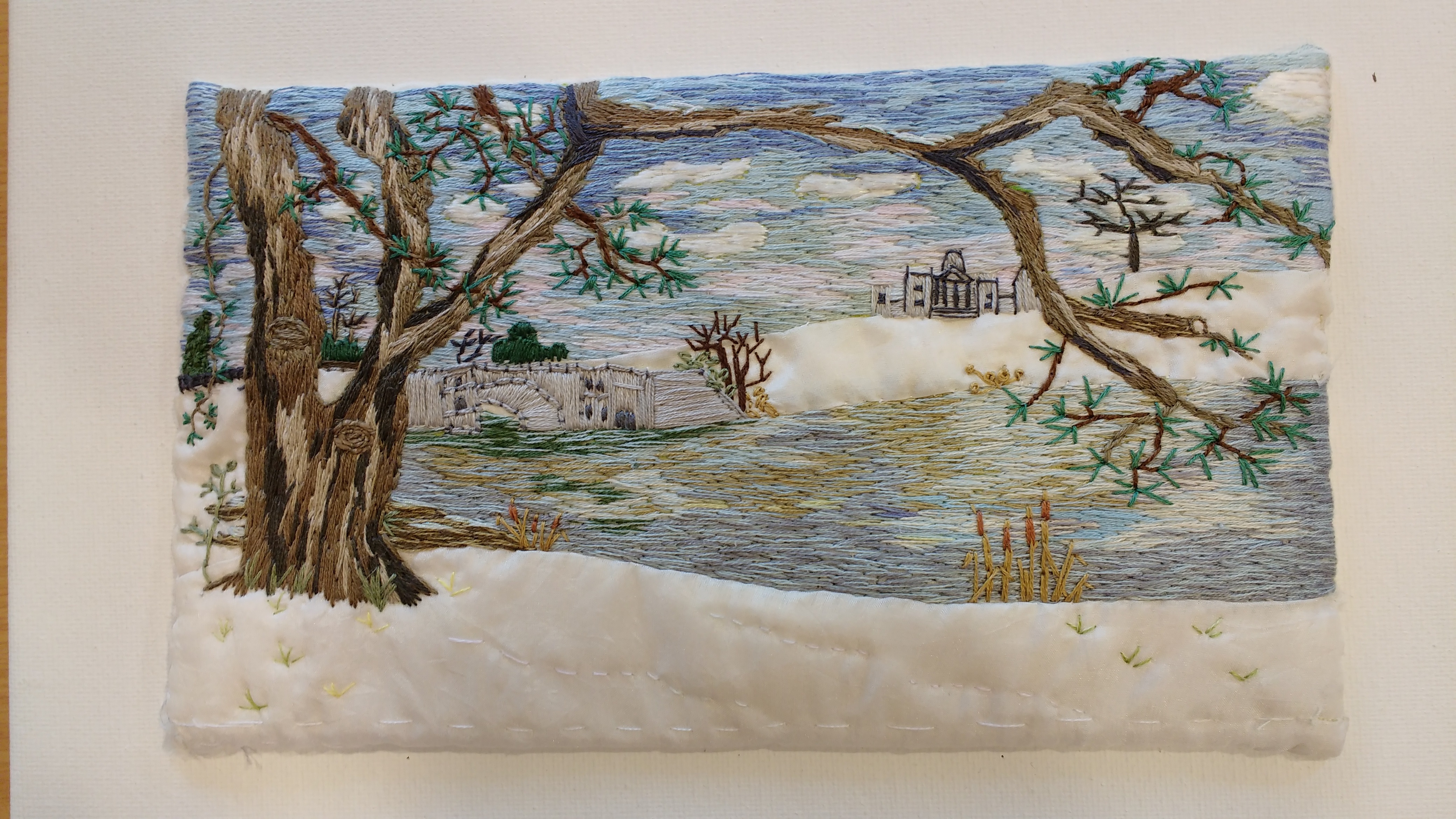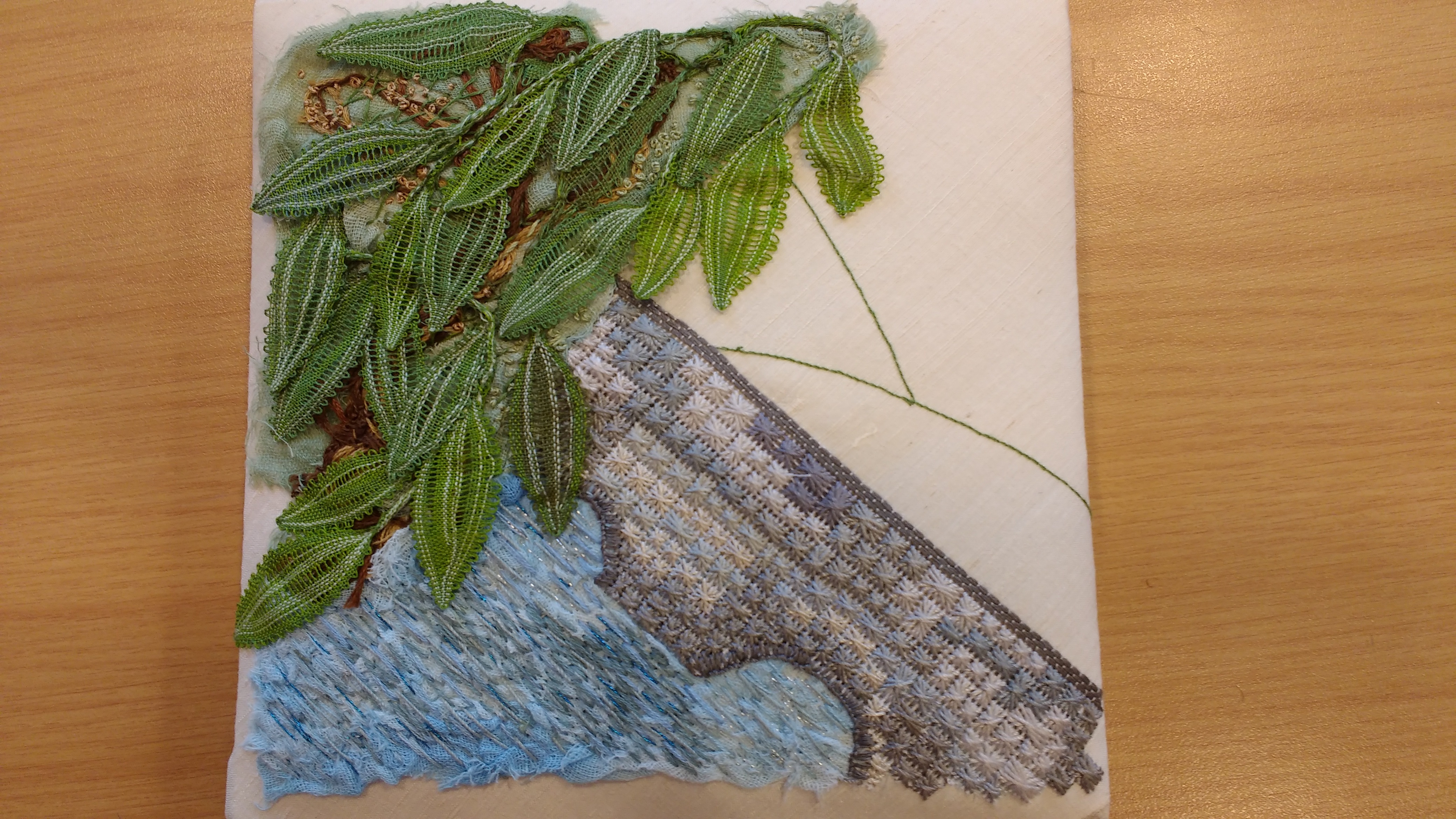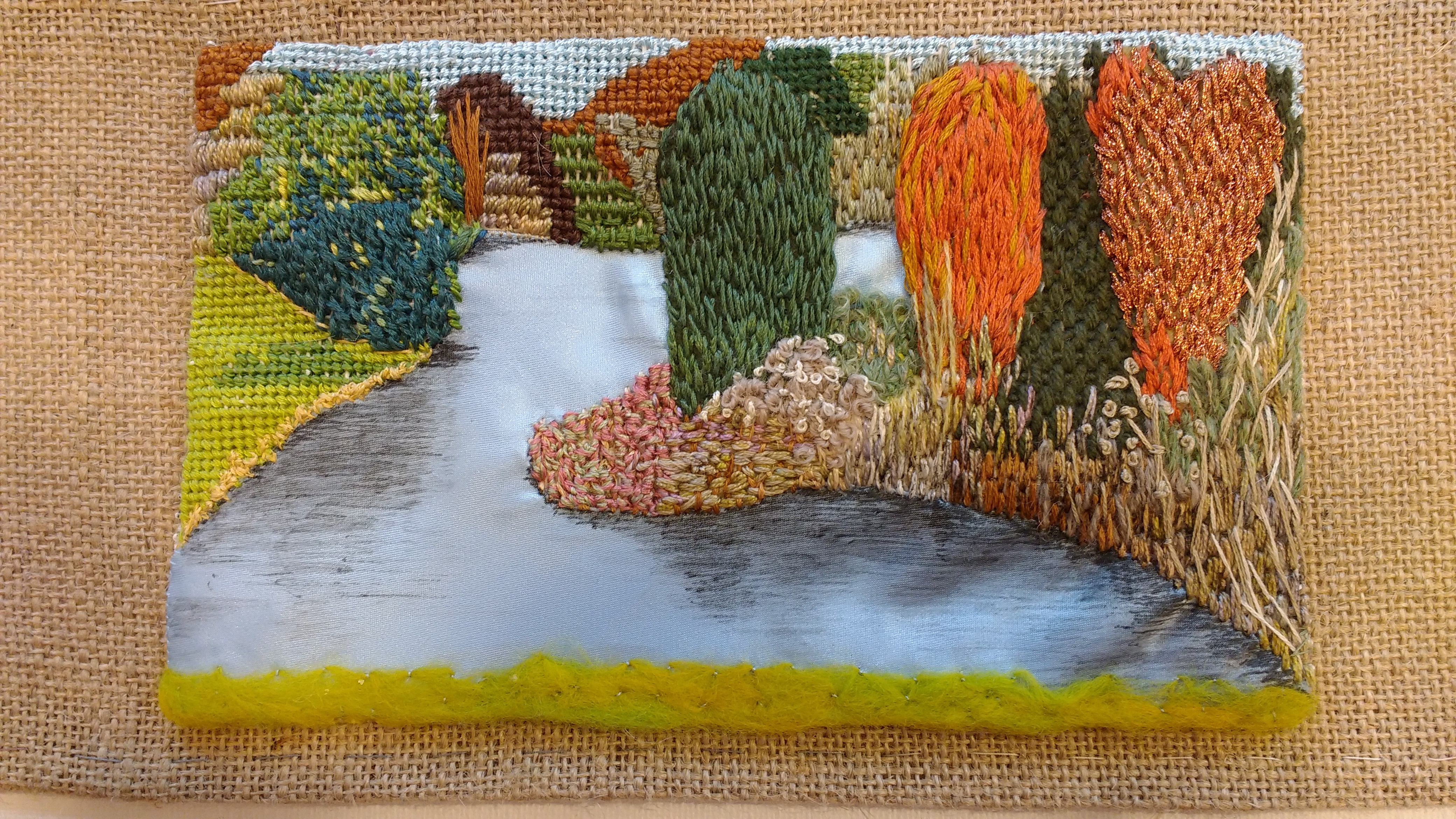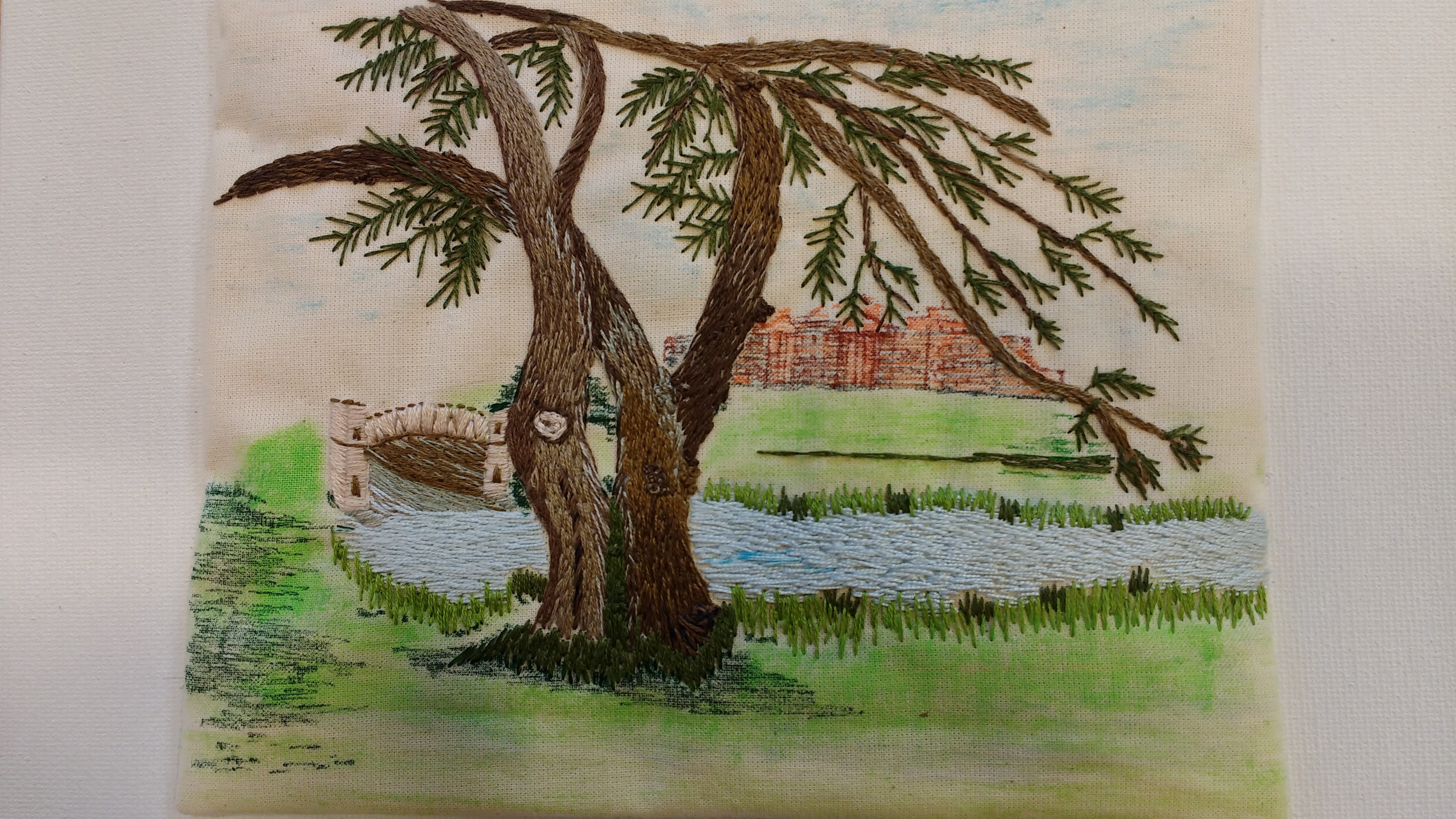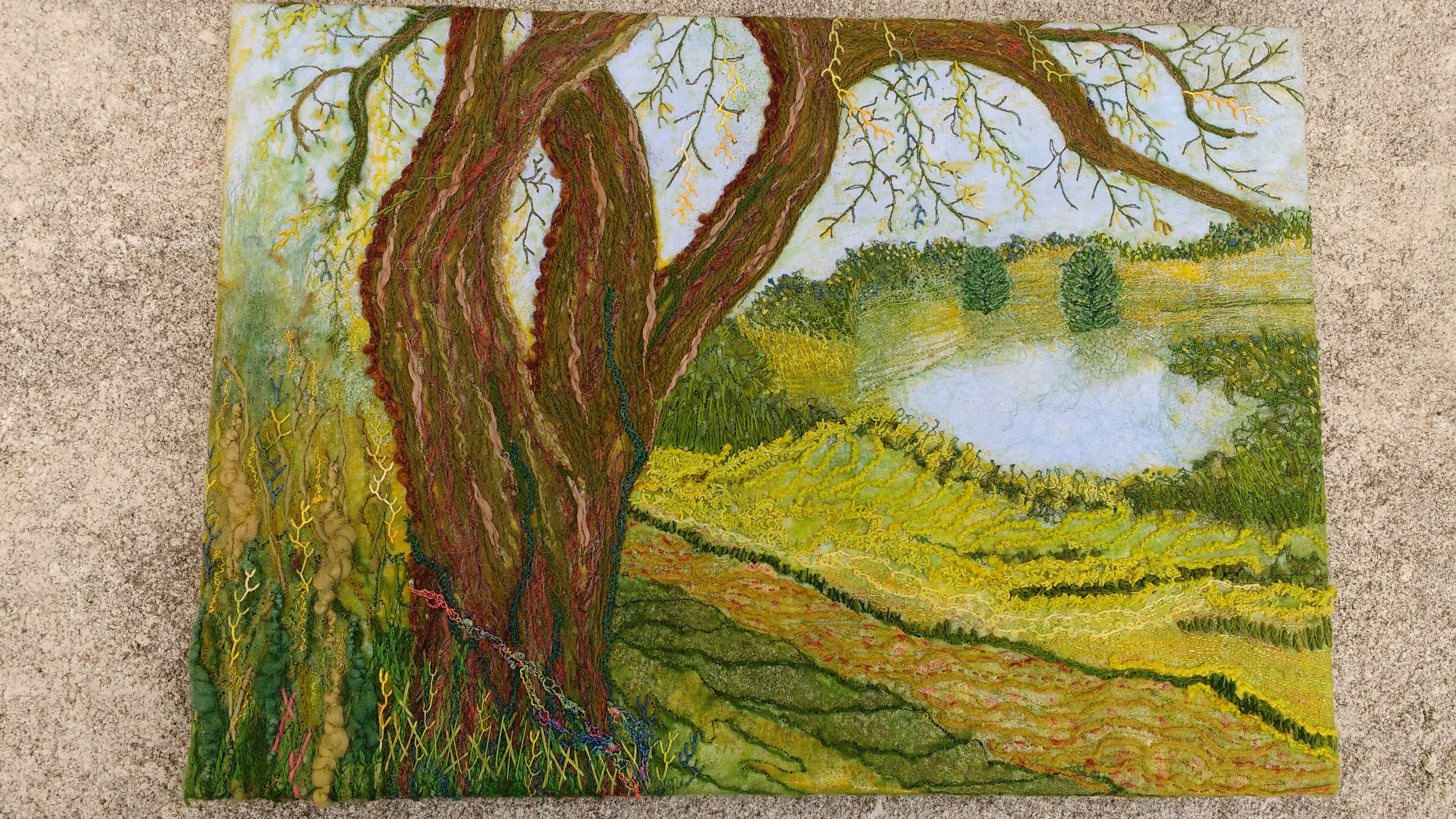 Making Bangles with Caroline Marriot
​This day workshop was good fun and had us all adding a bit of bling to our fabric bangles with sparkly fabric and beads. The fifth picture shows some of Caroline's bangles and her stache of bits for us to rummage through.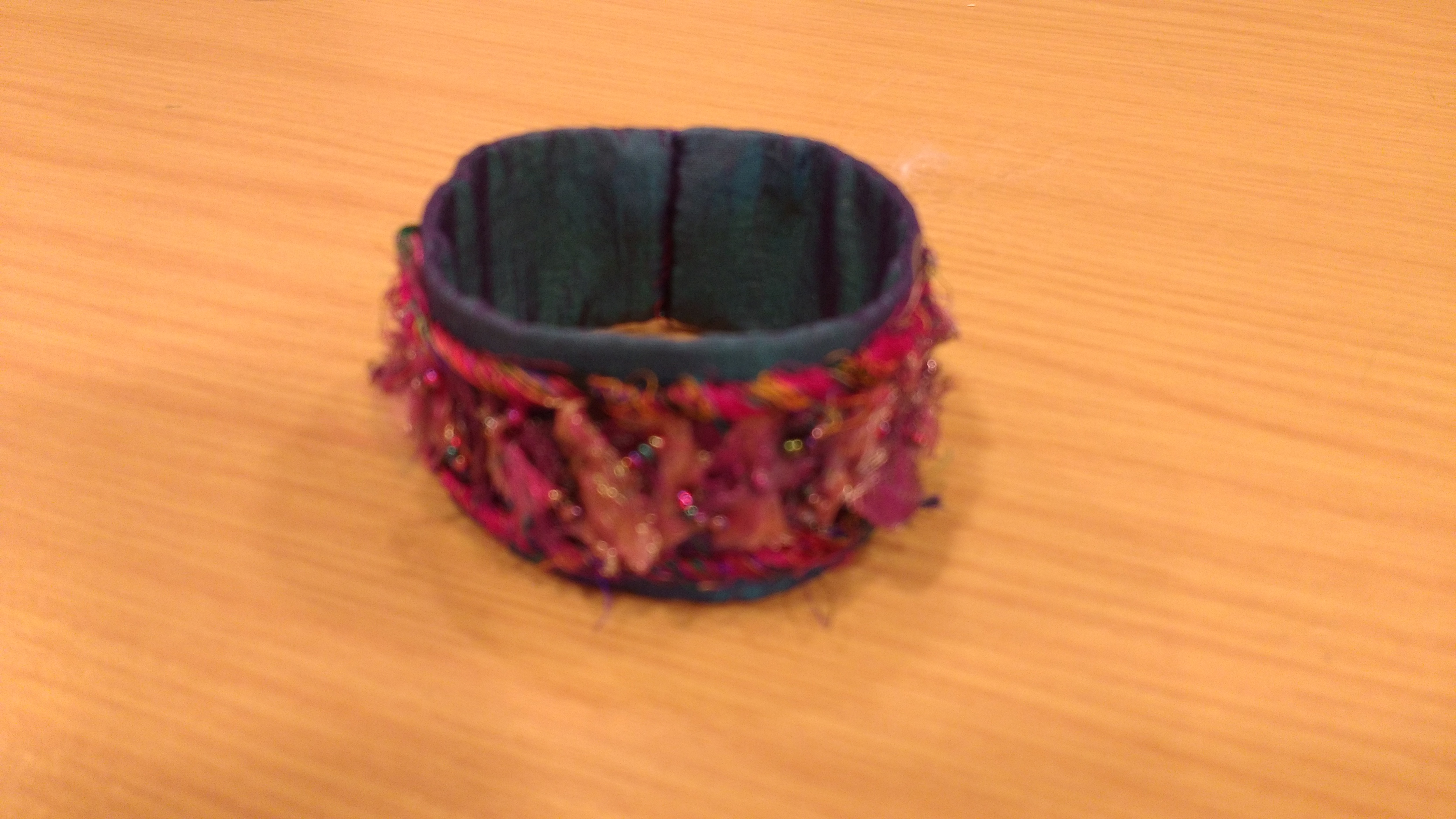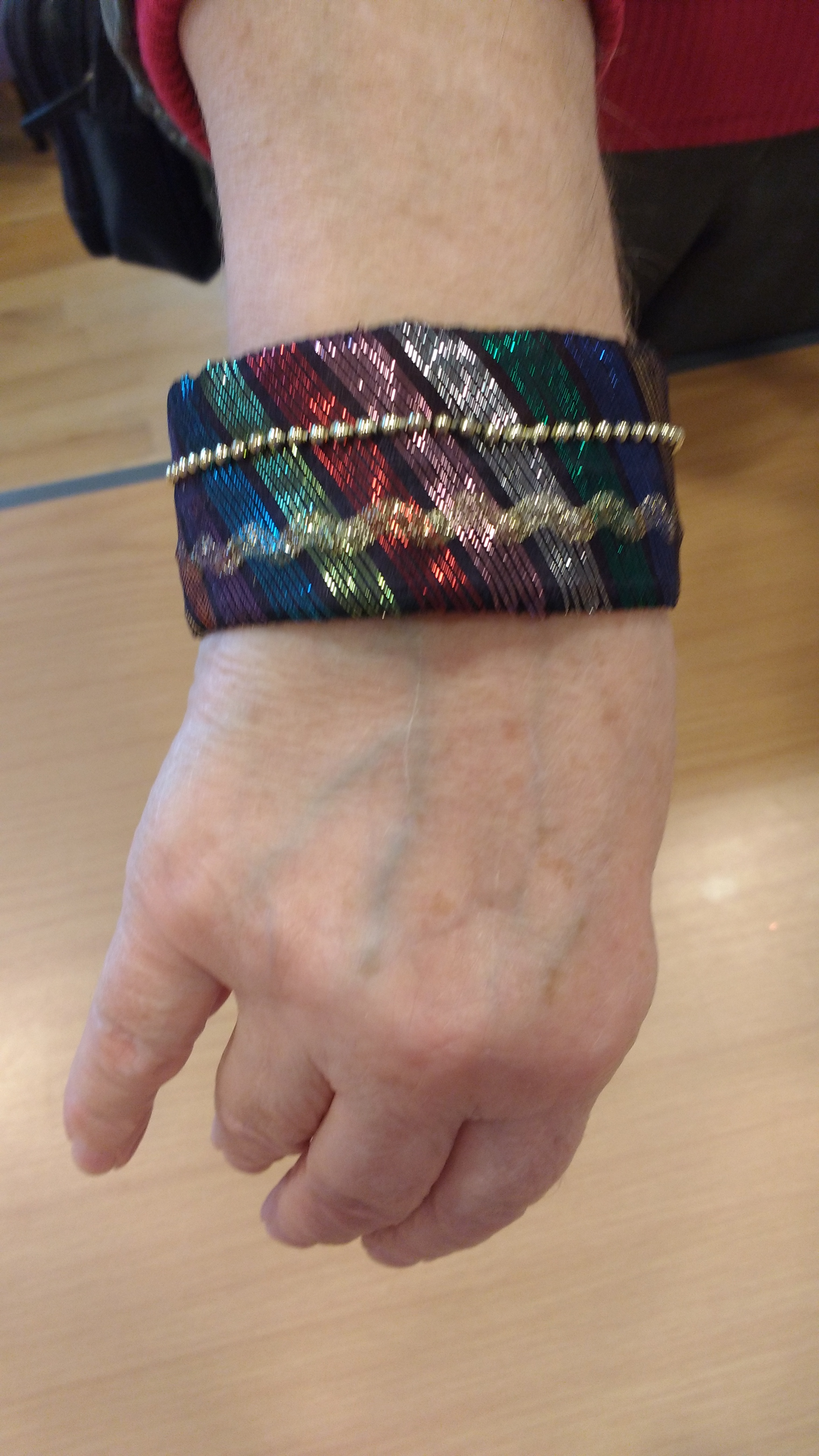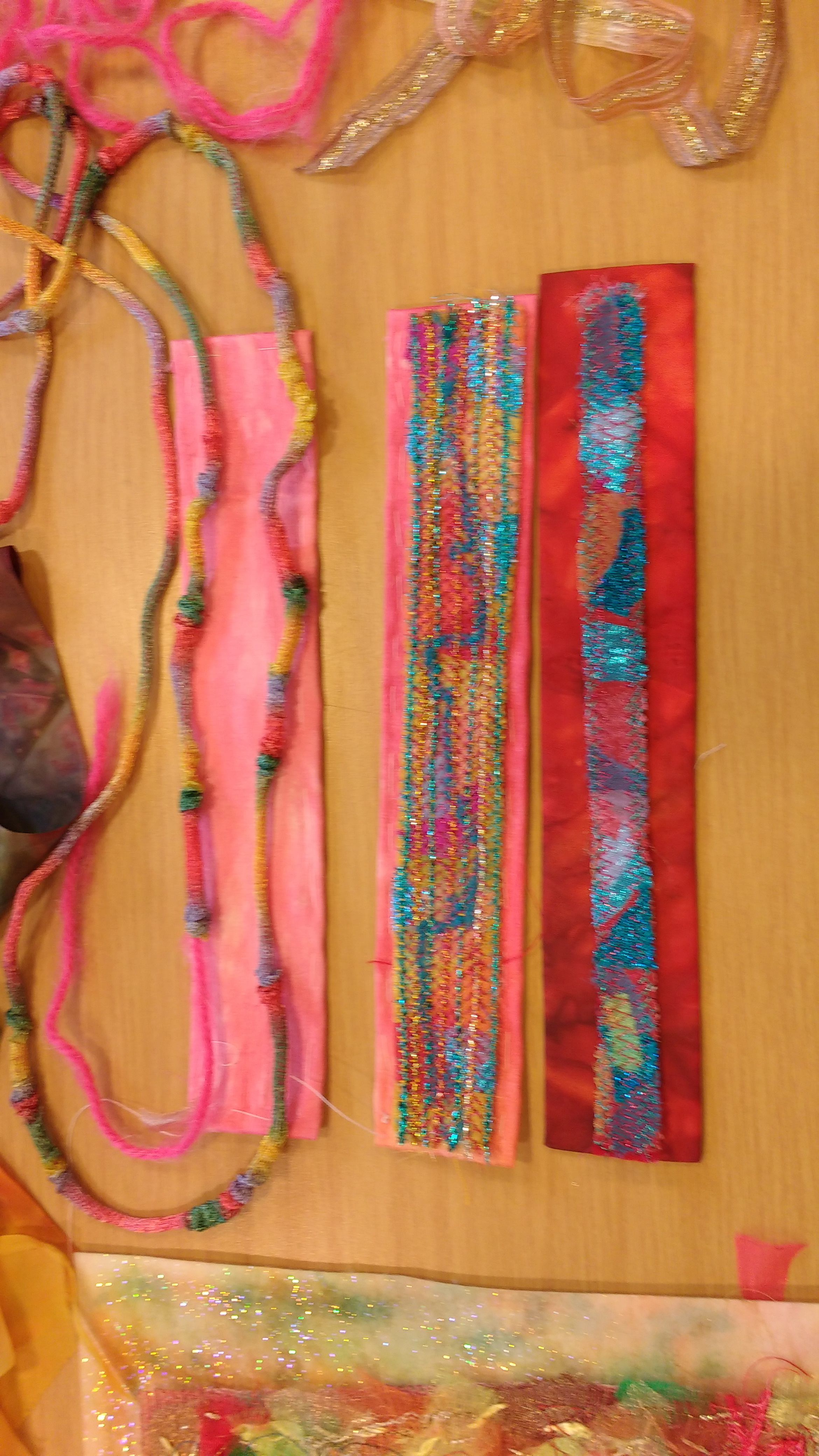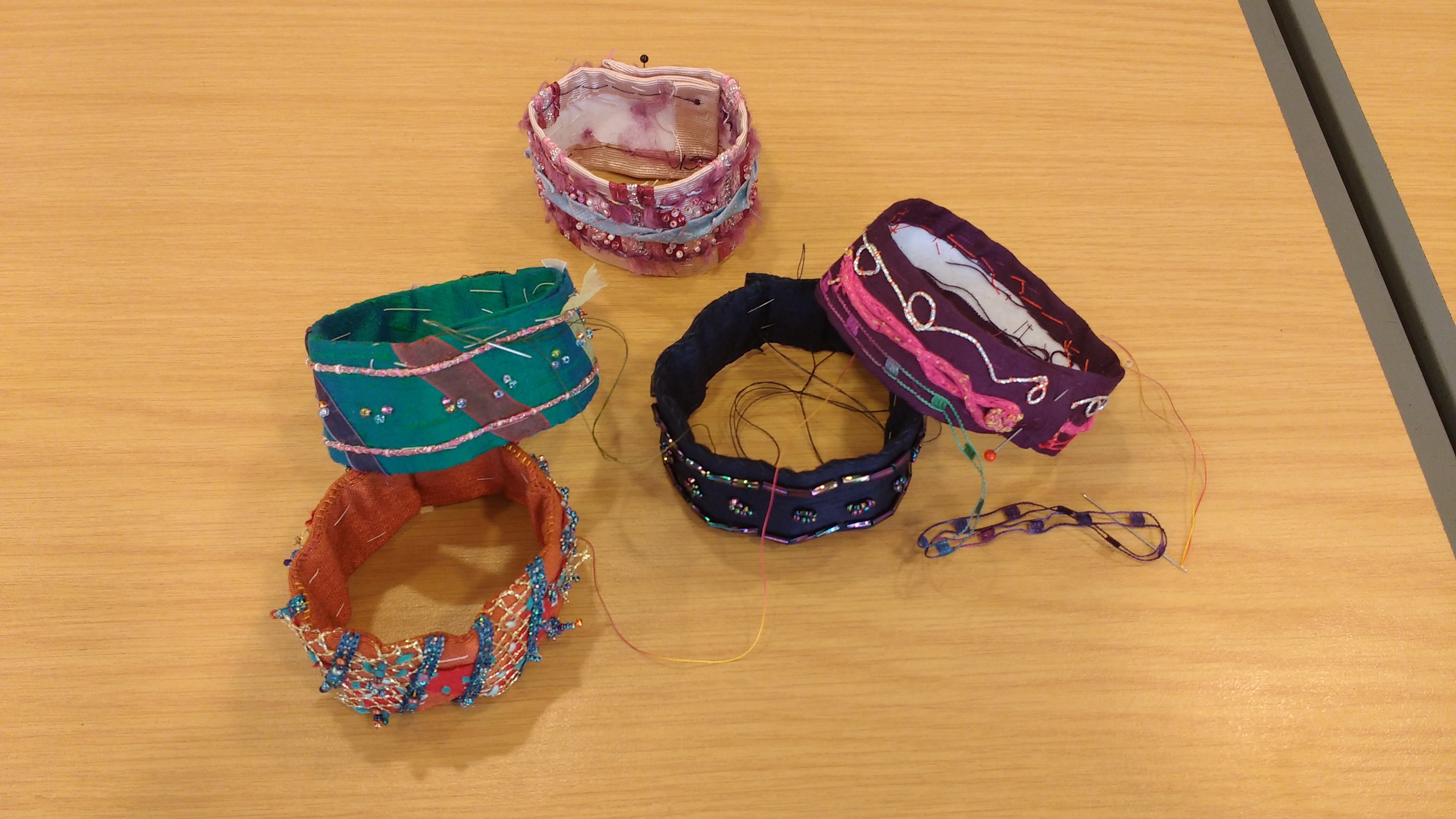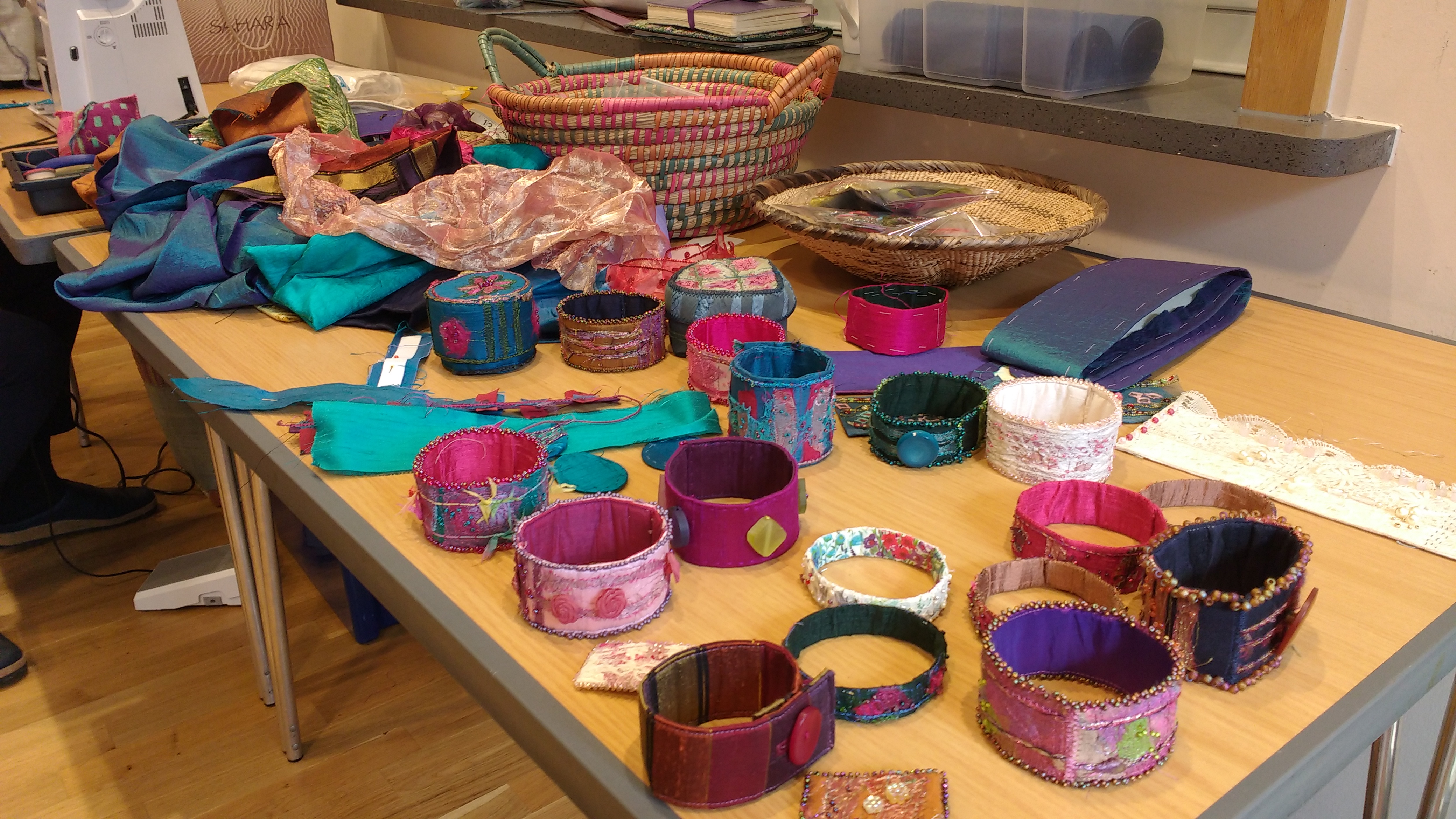 Marilyn Pipe Workshop + Suzy's Finished Pictures
​Some examples of our seascapes from the Marilyn Pipe workshops drying outside. Suzy has contributed lots of pictures of workin progress of this fun if slightly messy workshop.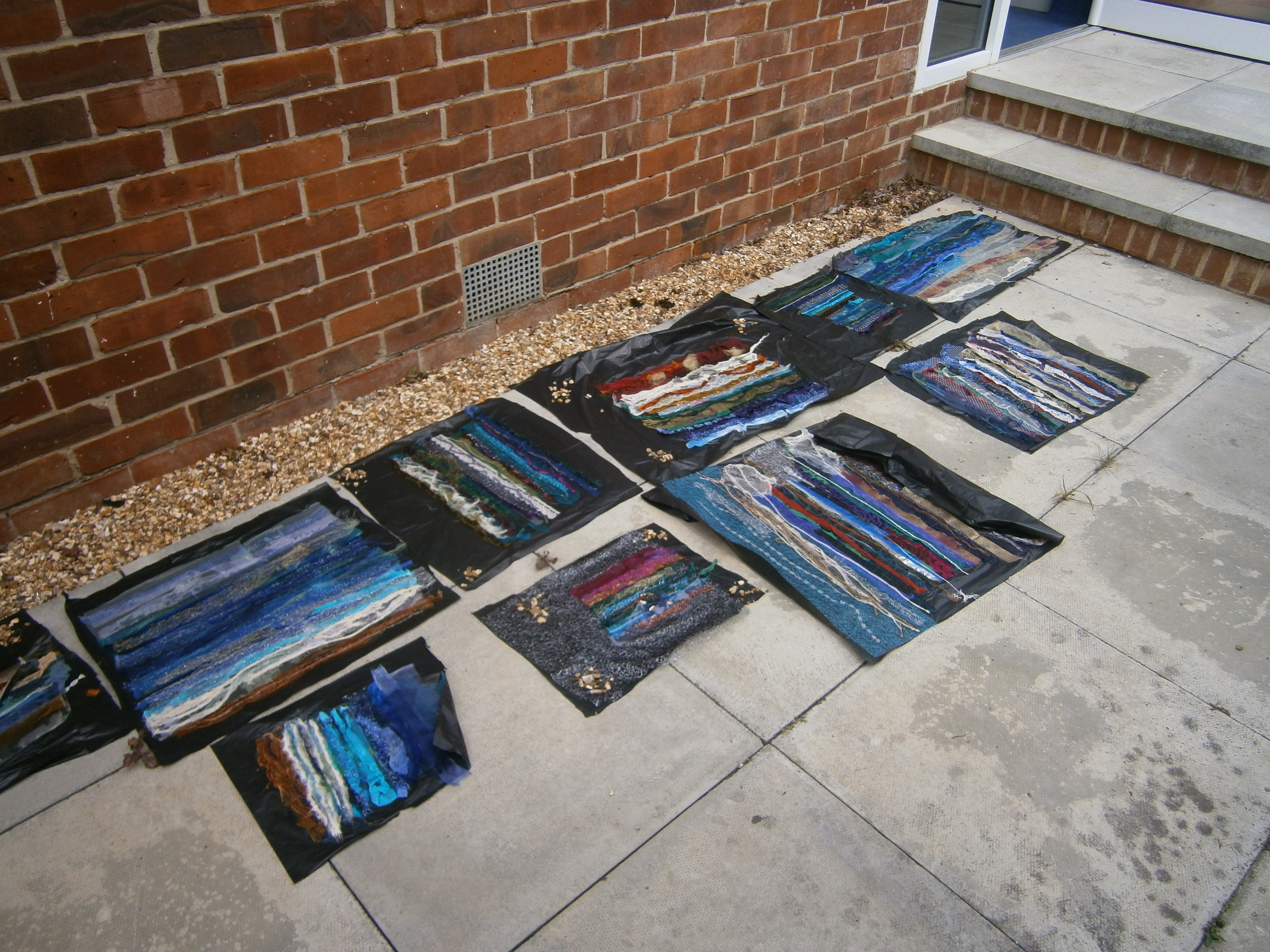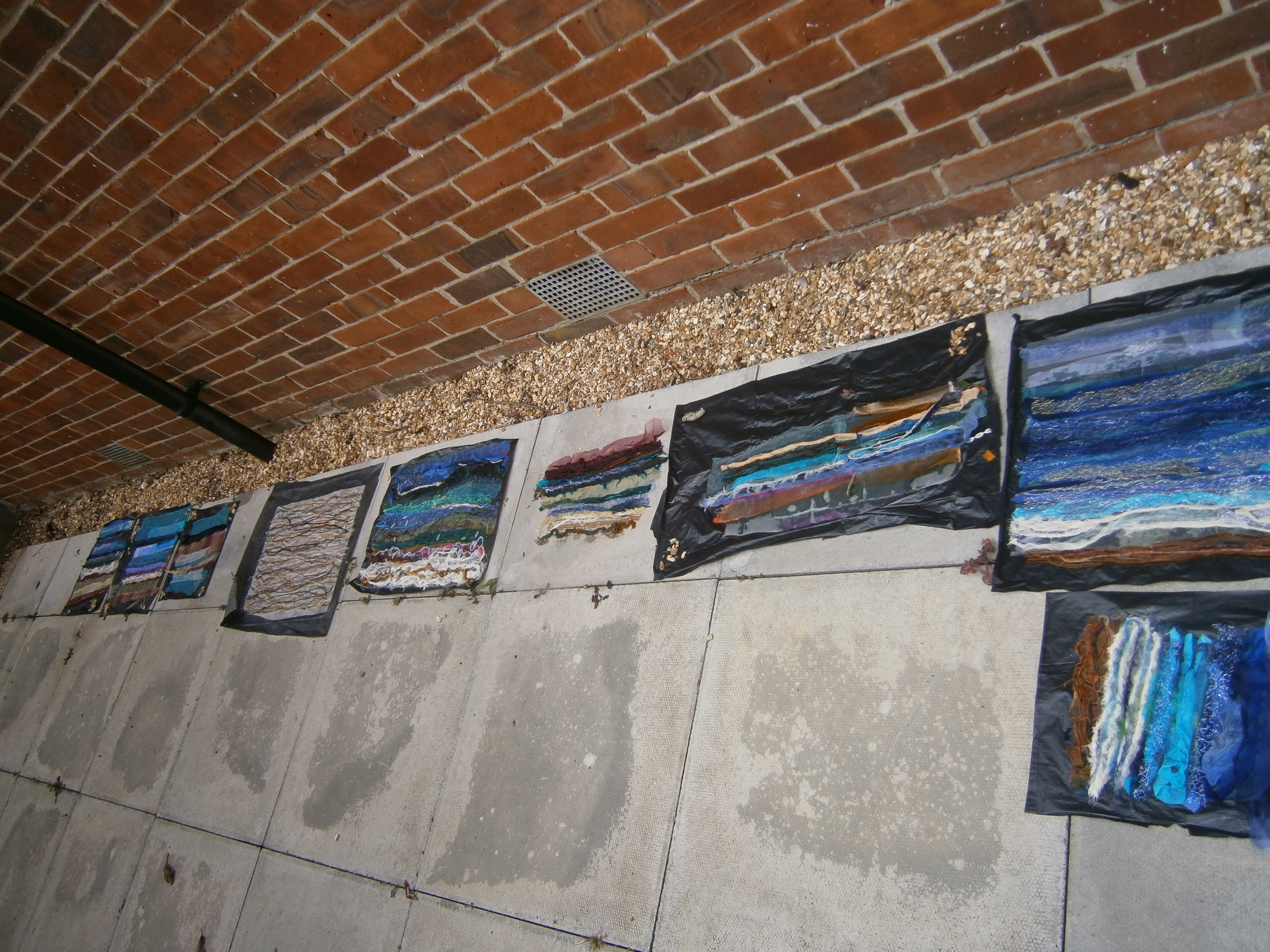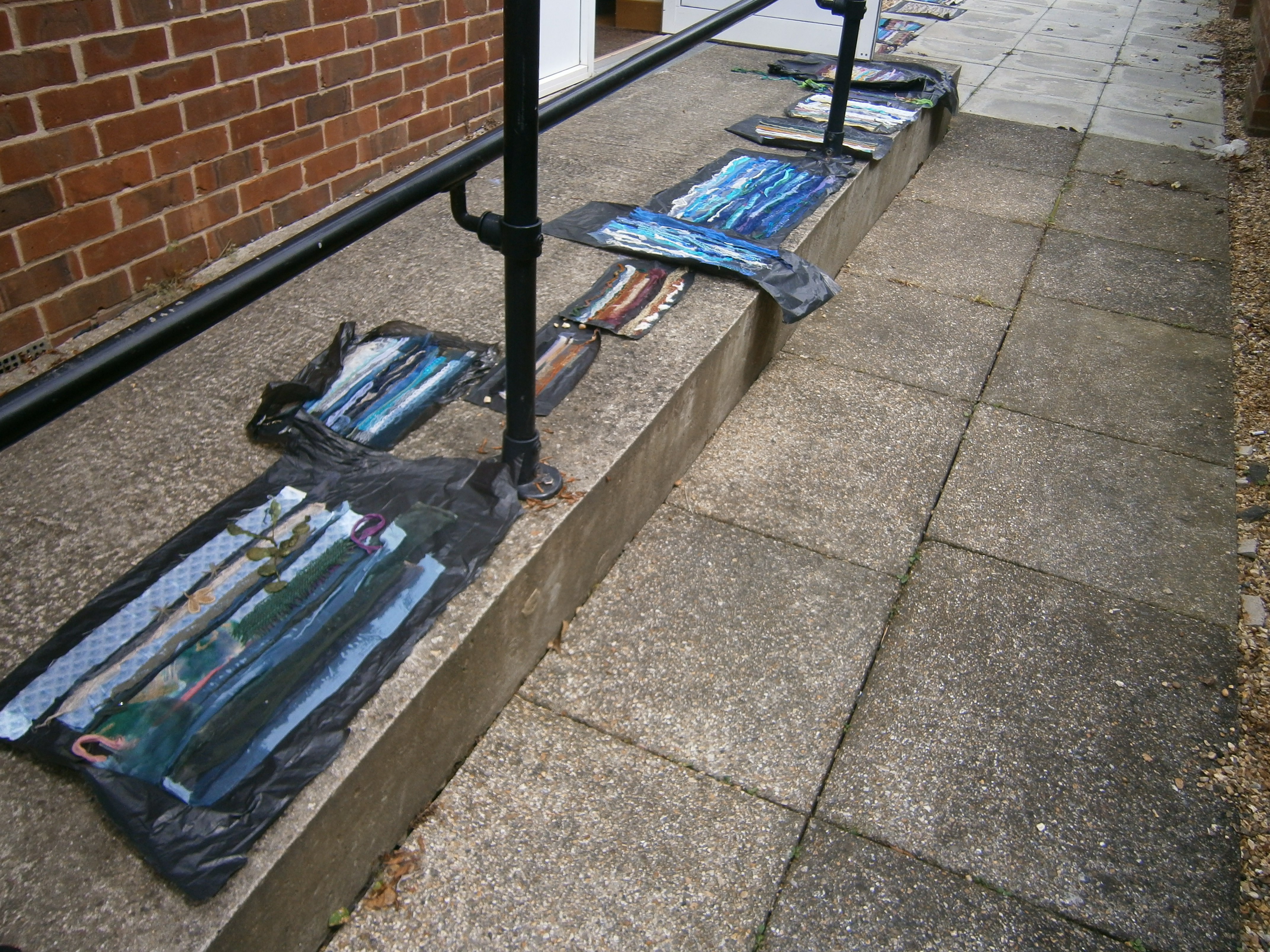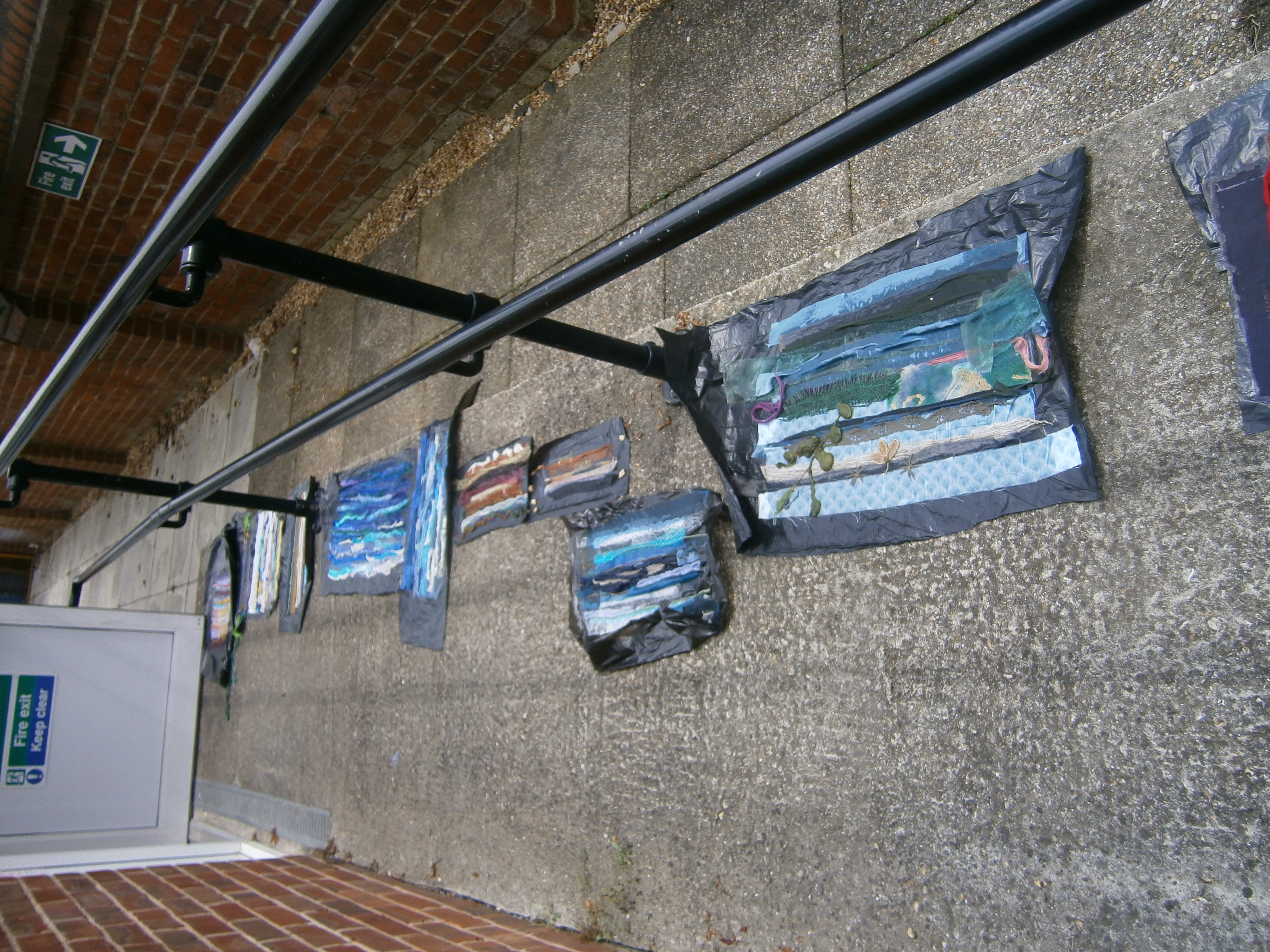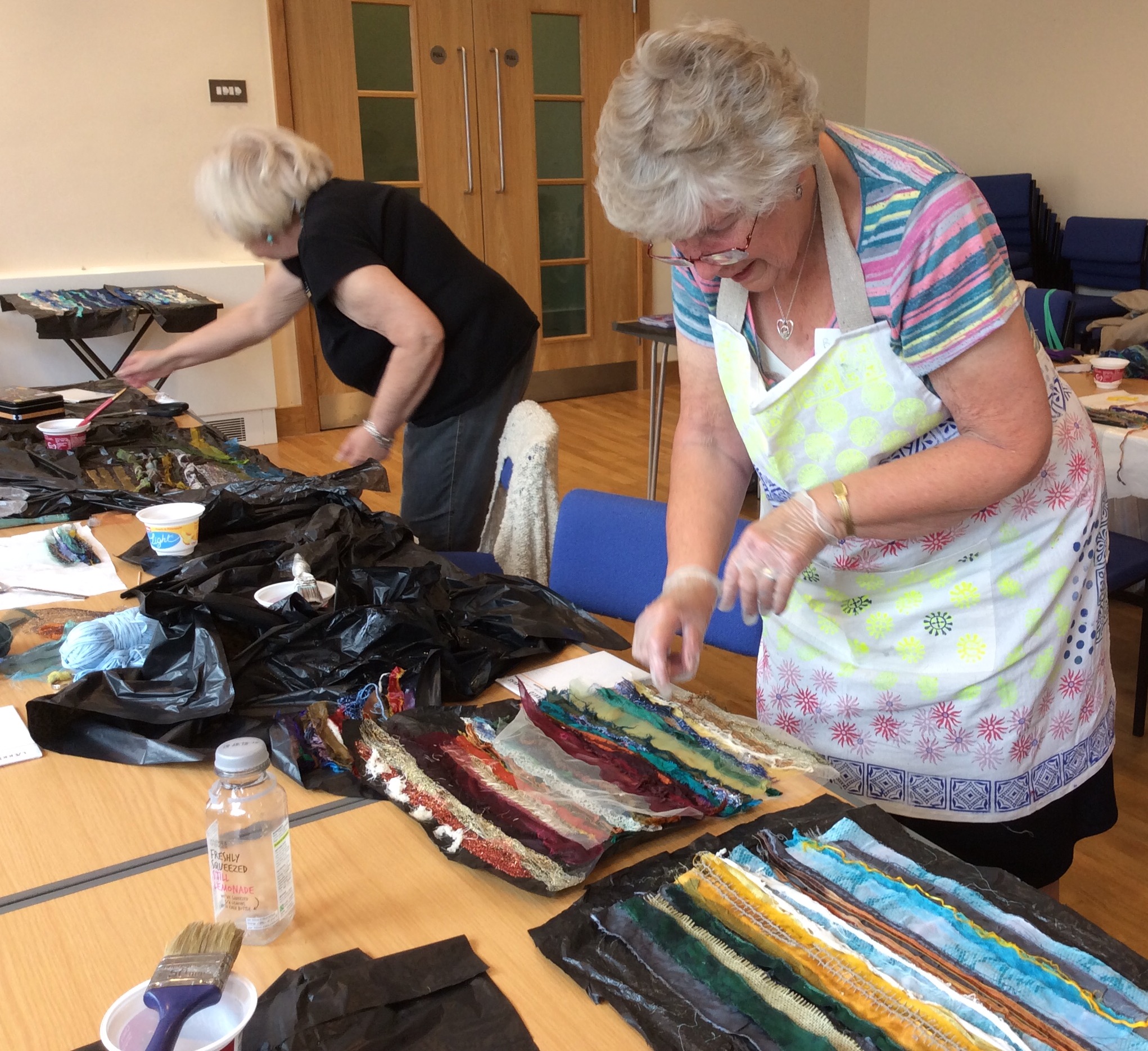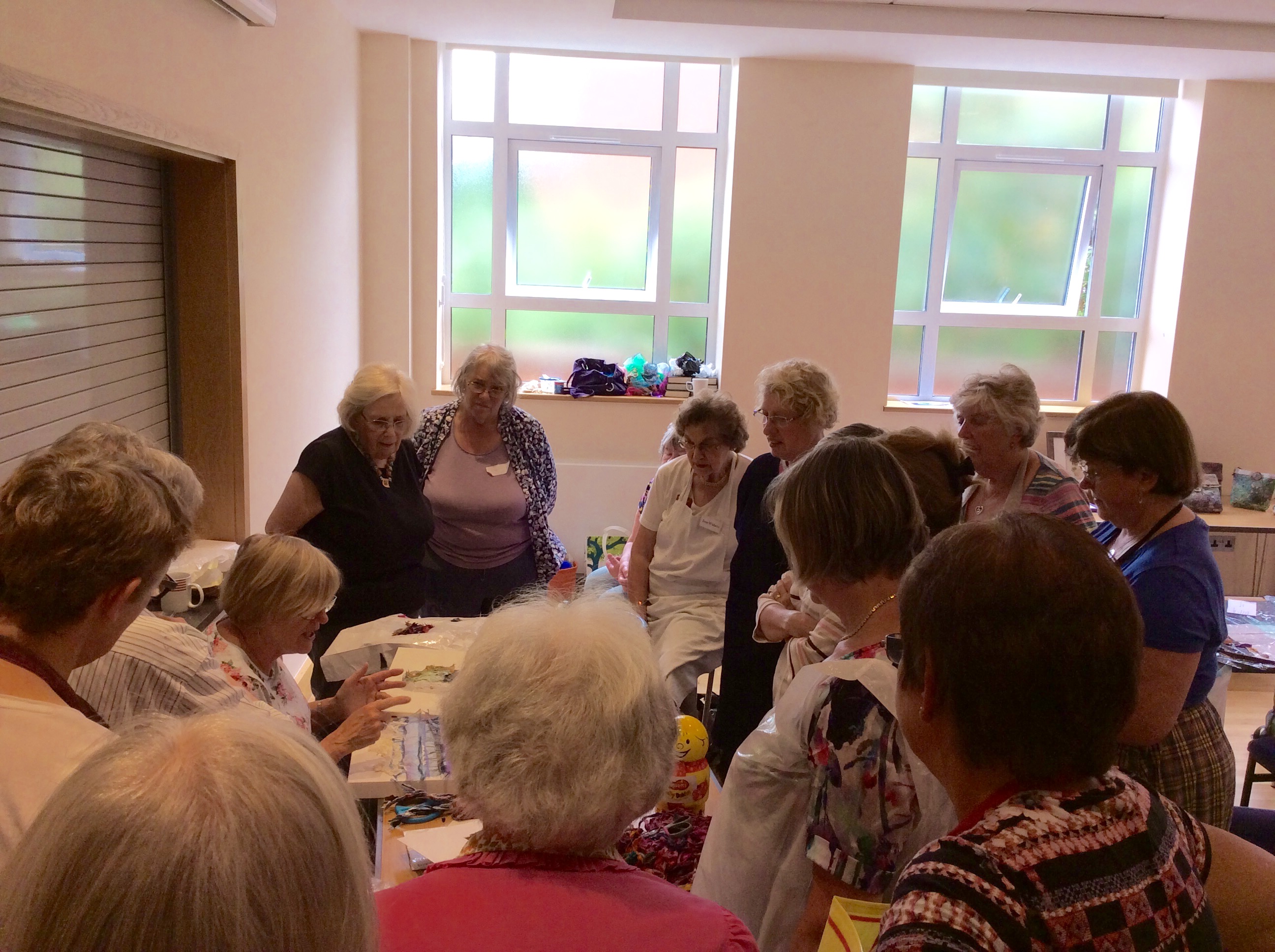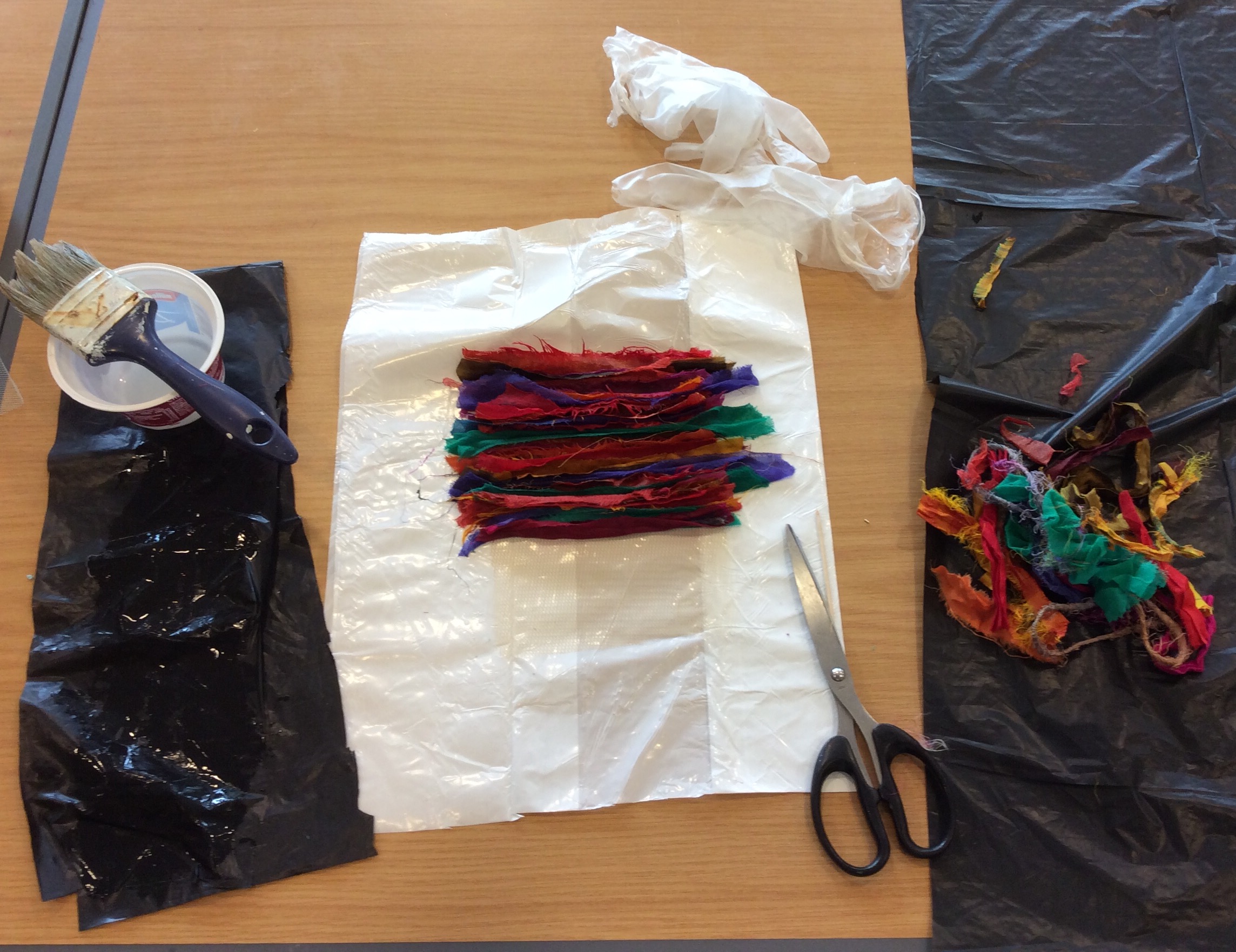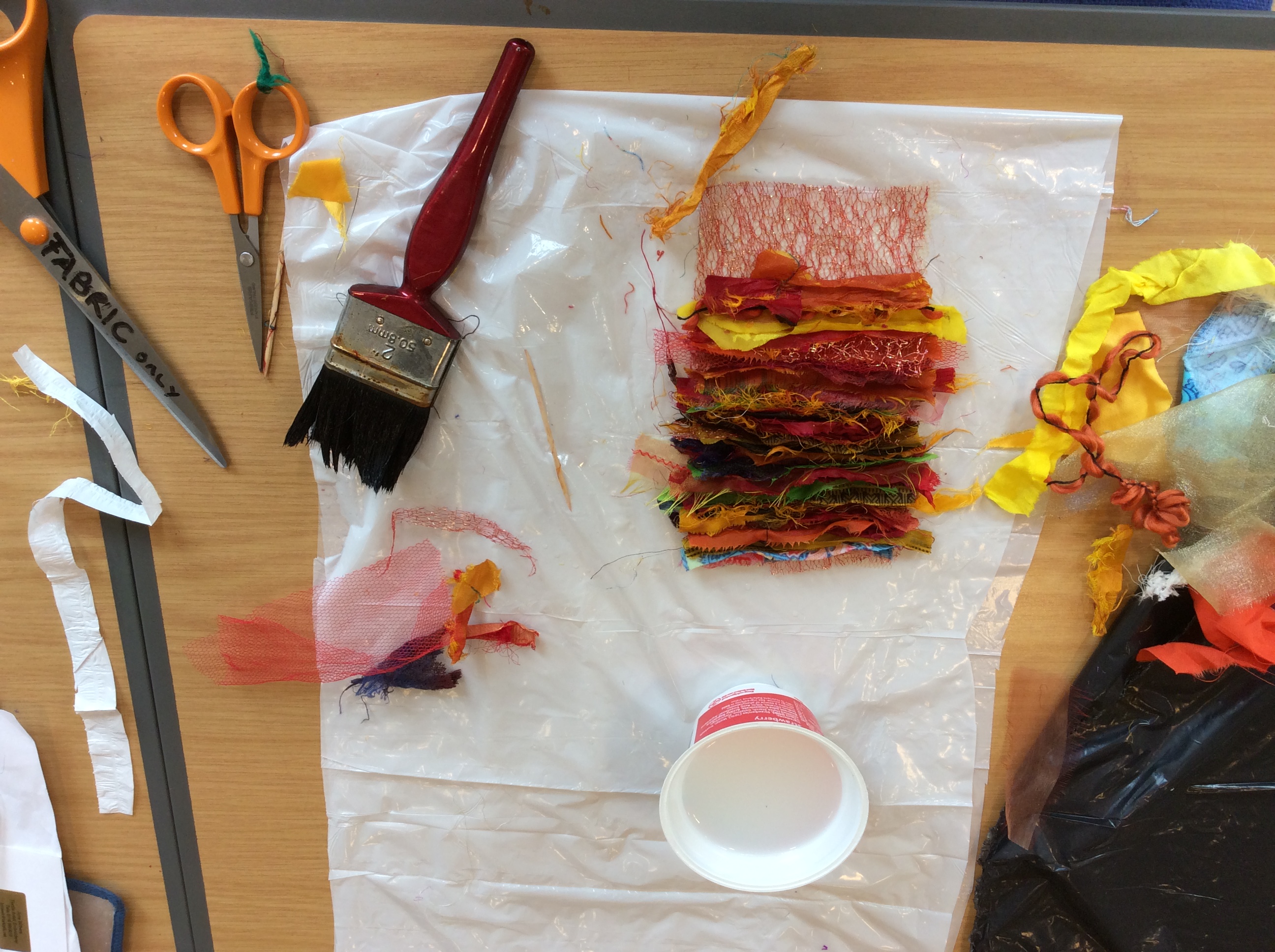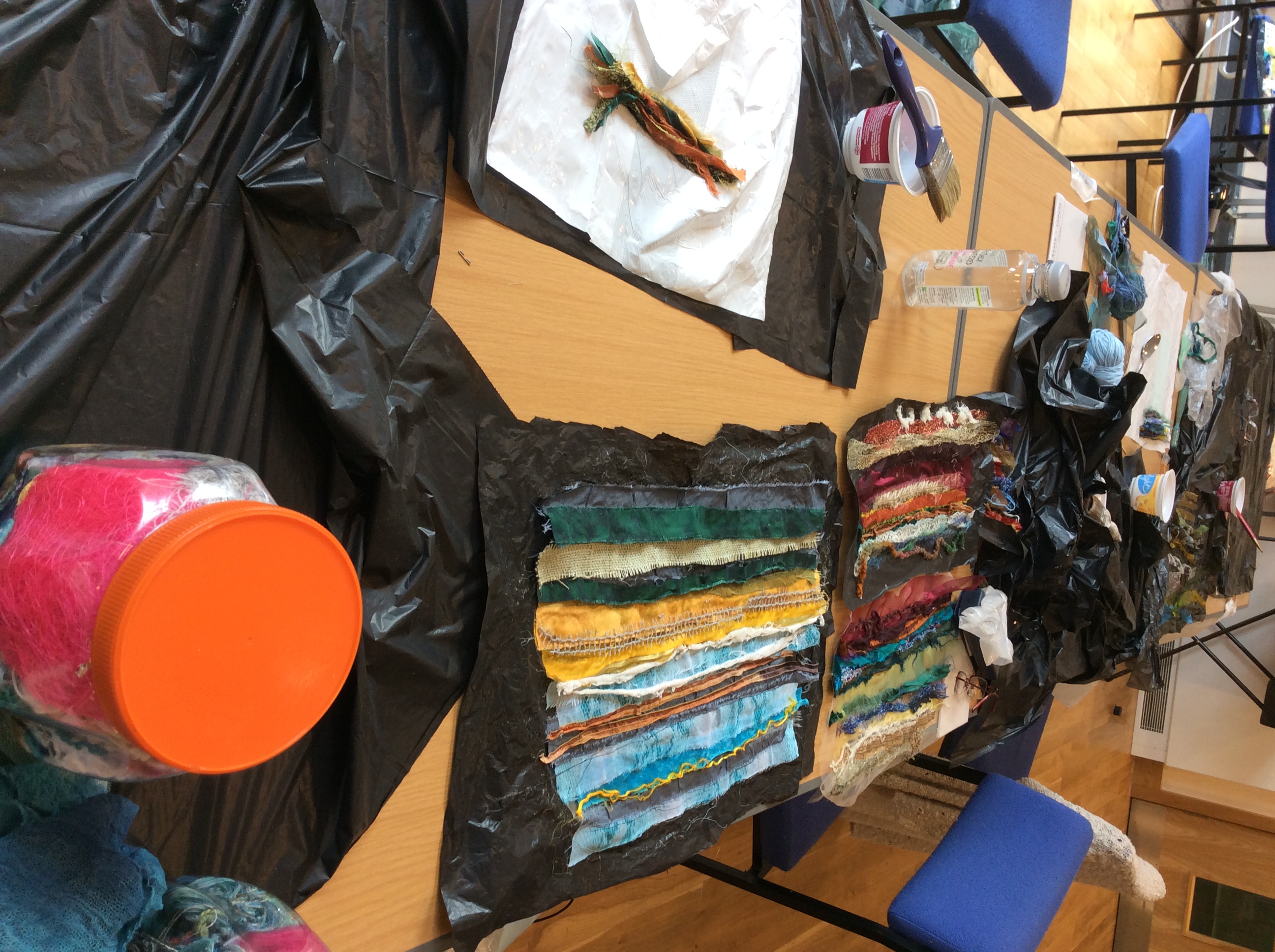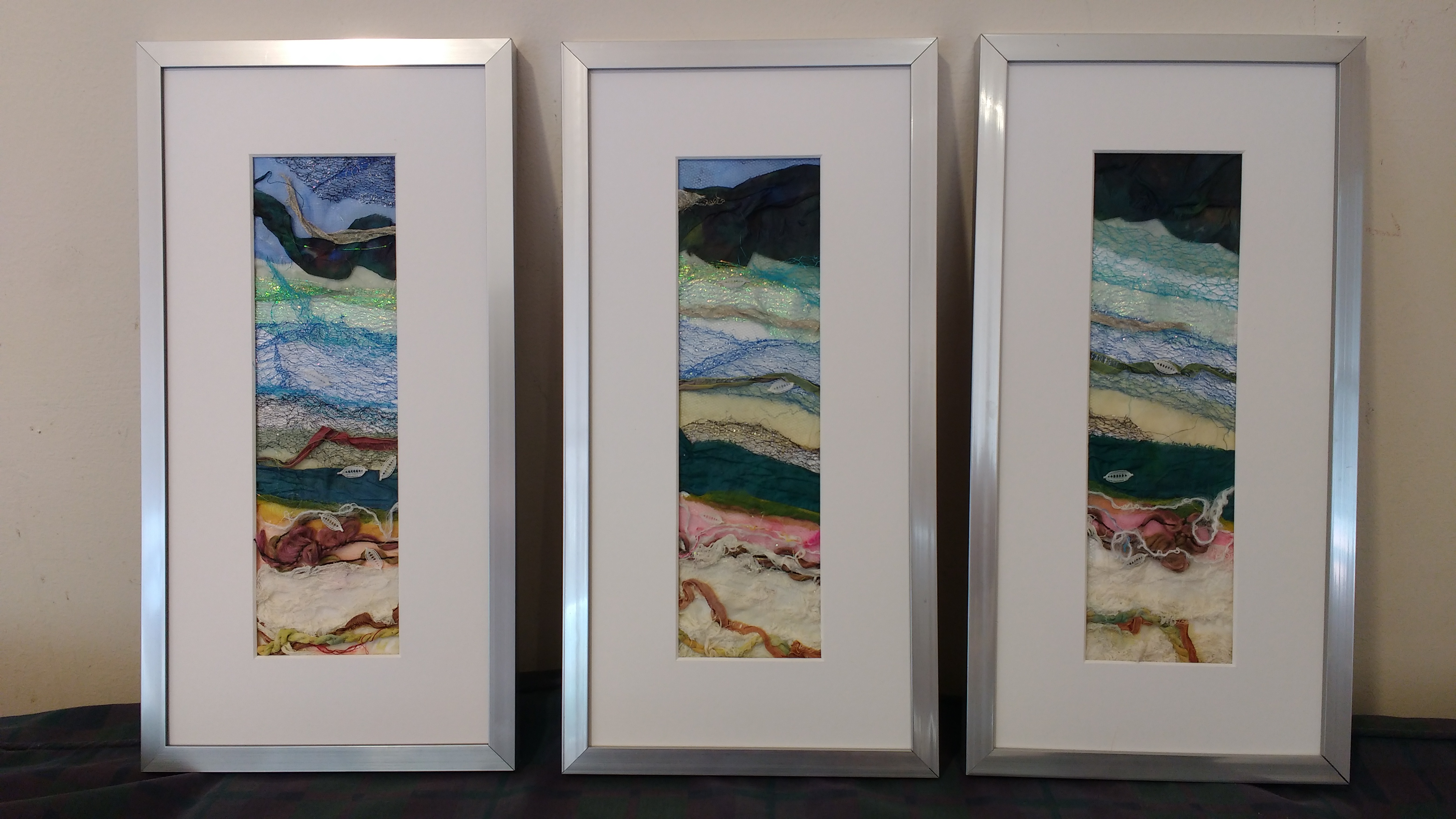 Photos of Marion Clegg's work
​The first two show Marion's winning entry for the 2015 Christmas competition.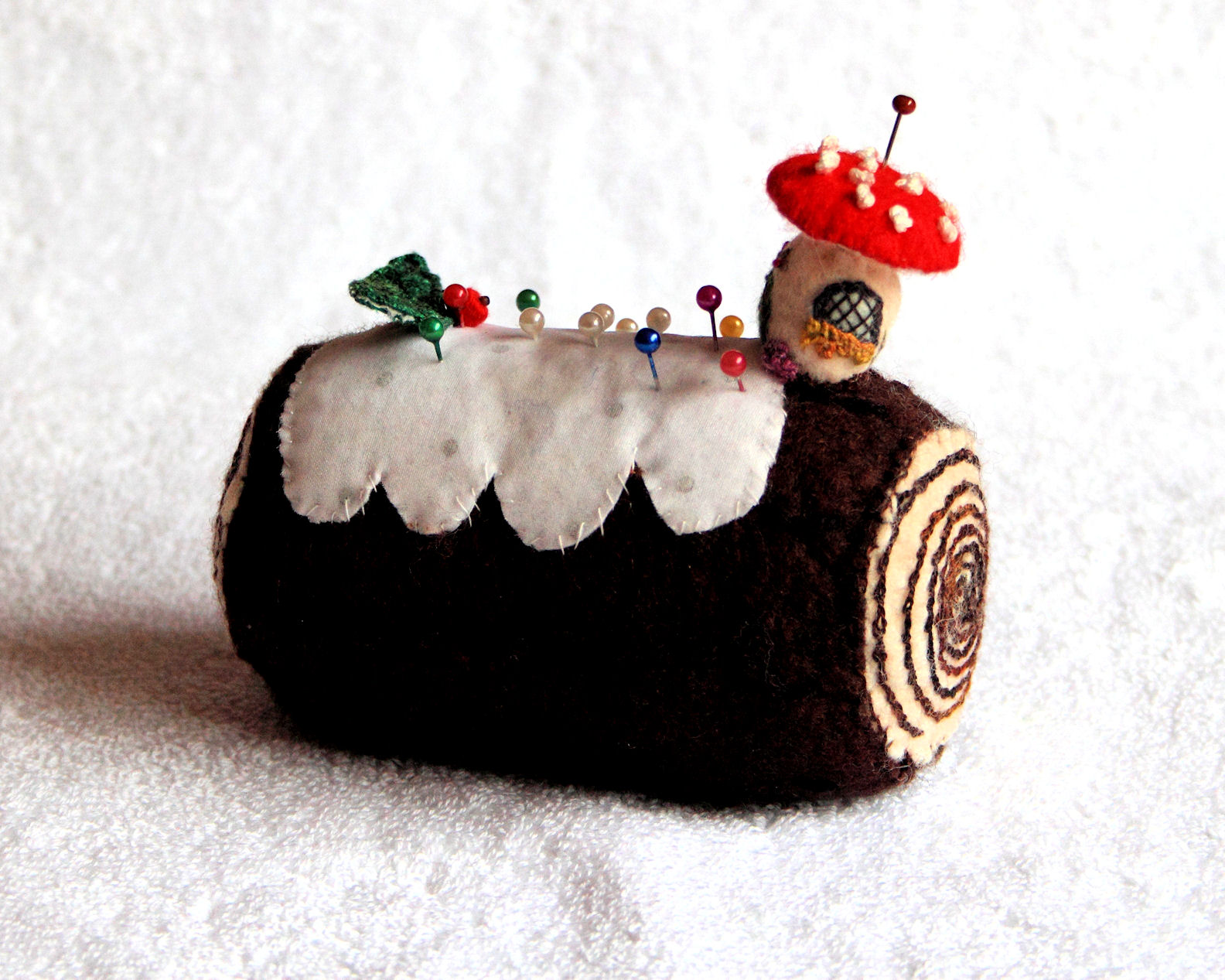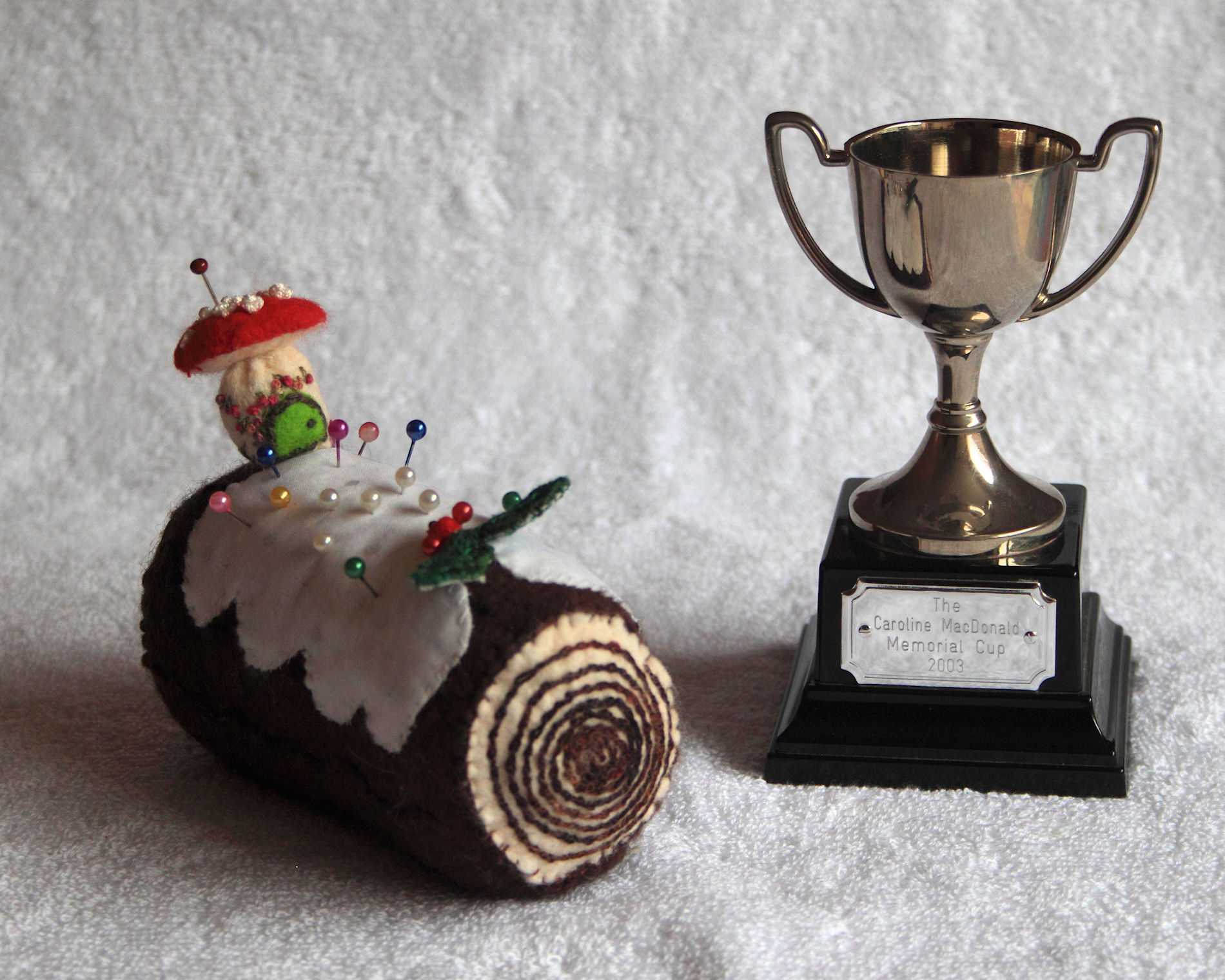 Nicola Jarvis Workshop
​Two examples of crewel workbirds by Nicola Jarvis.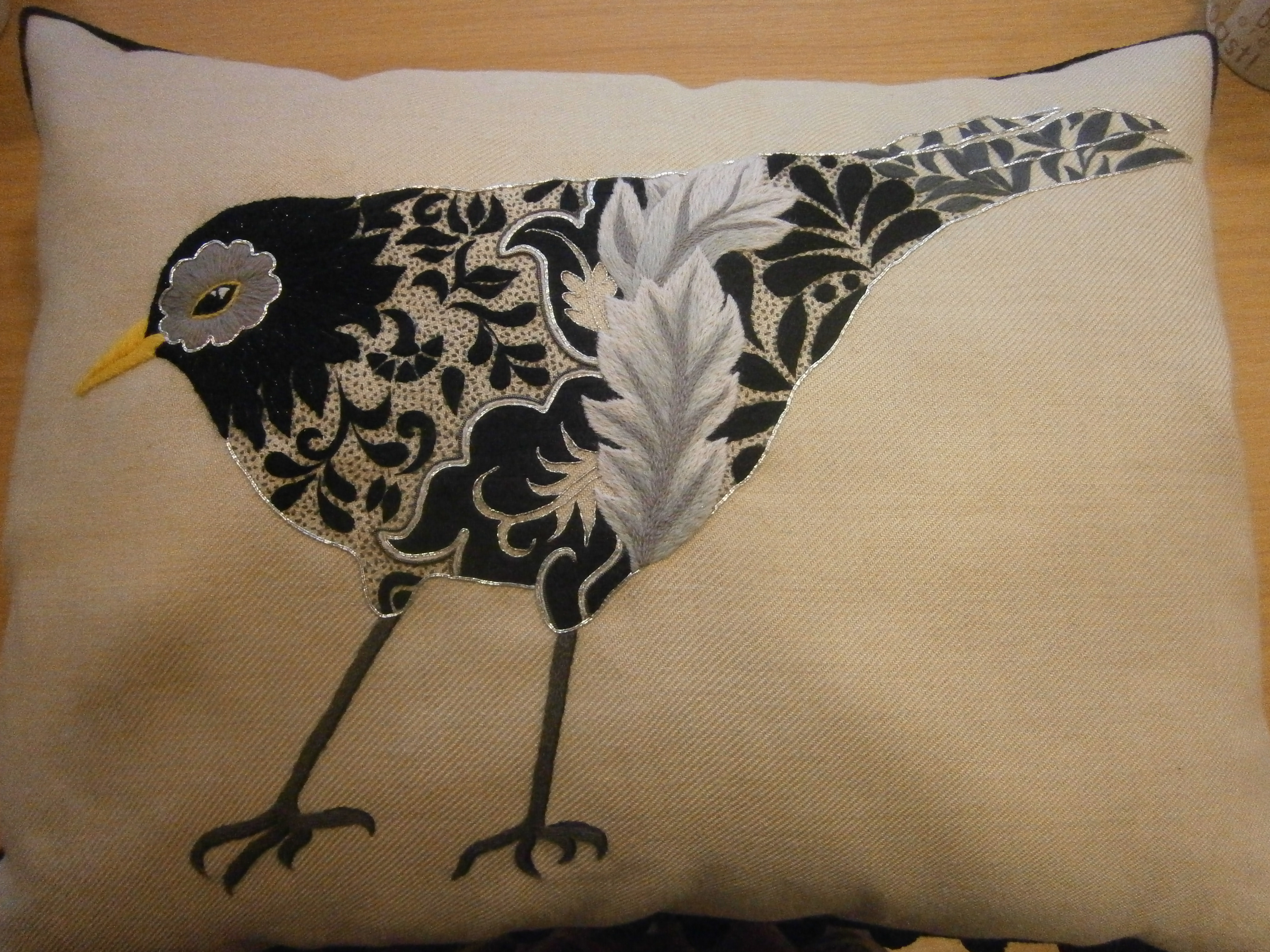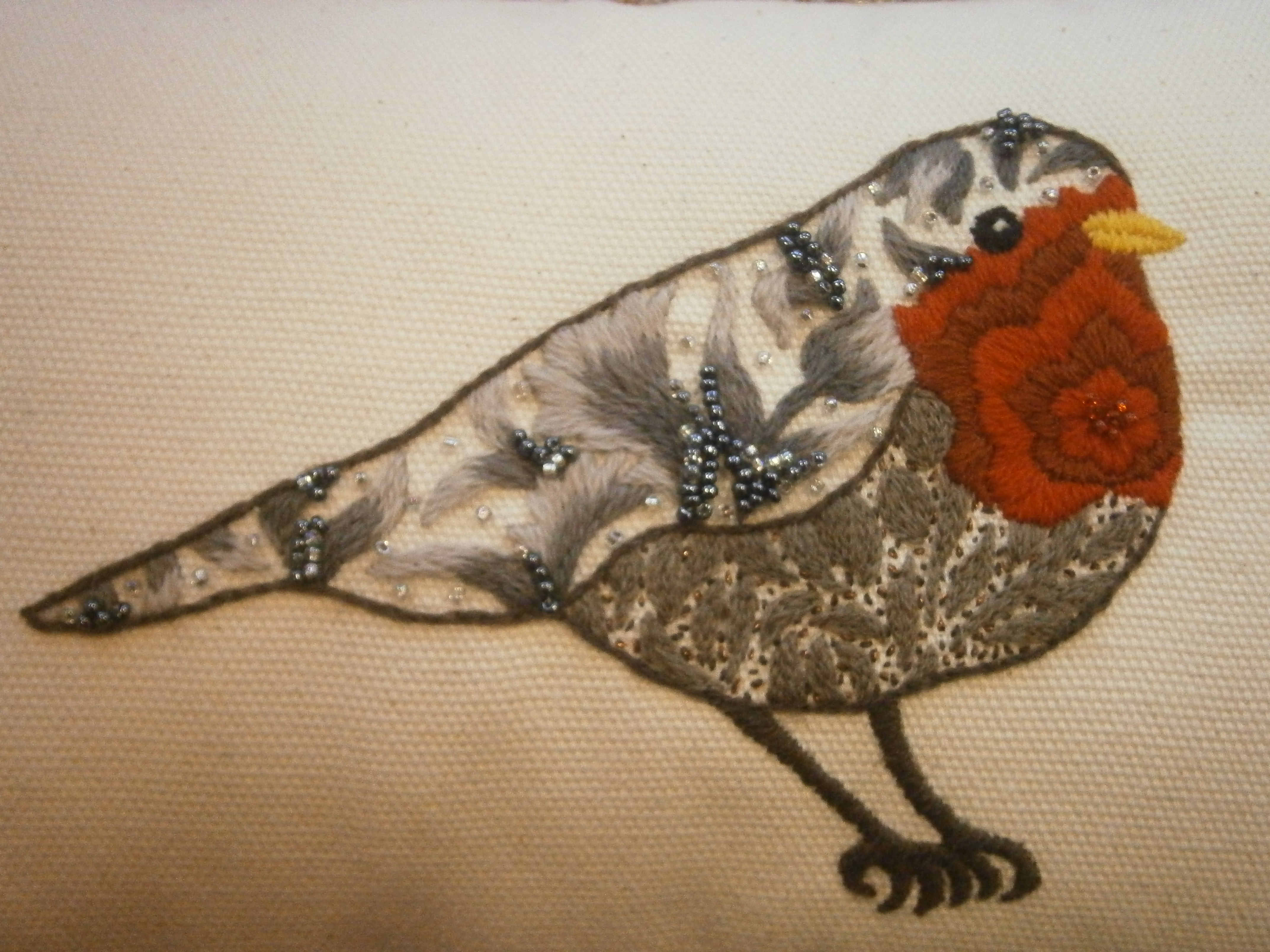 close